If you're into DFS, you know all about usage rate. It's one of the most important stats that won't have a direct impact on fantasy like points, rebounds, assists, steals, blocks, 3-pointers and turnovers -- you could throw minutes in there, too. On top of DFS, usage rate is fairly important in season-long leagues.
Ryan Knaus wrote a terrific article about how usage rate can affect fantasy value. Bang it here to check it out. The highlight of his article was this data relating usage rate to fantasy value:
That's a pretty solid correlation and I'd venture a guess that it's even stronger in DFS with a lot of high-usage guys having a lower field goal percentage. With that, here's a look at who should be in the top 10 for usage rate.


If you're not too keen on usage rate or other advanced stats, I recorded a podcast to explain it along with other things I tend to look at in helping to find out how efficient a player has been and what it could mean going forward.
 
Follow me on Twitter @MikeSGallagher for stats, analysis, Vines and more.




1. Russell Westbrook - He has been first in usage rate in each of the last two seasons and has been in the top two for the last four years. Last season, he crushed everyone with a 37.2 usage rate, which was 2.7 percentage points higher than anyone else (Dwyane Wade was second). With KD coming back, he probably won't dominate quite as much. 
 
Last season without KD on the court, Westy had a ridiculous 42.2 usage rate. We'll see a lot of points, triple-doubles, and plenty of turnovers from one of the league's most exciting players.
 
2. DeMarcus Cousins - He had the highest usage rate for a center ever last year at 33.9. He will now shift to power forward and it looks like it will launch his usage rate even higher. Cousins has a 37.0 usage rate this preseason and he may actually clear 35 this season to be Westy's biggest threat. He was getting to the line a ton and also turning the ball over a lot, too. We could see several 35-15 lines from Boogie this year.
 
3. Damian Lillard - This is a monster increase for Lillard, who wasn't even in the top 20 for usage rate last season. Among players still on NBA rosters, Lillard led the NBA in preseason usage rate at 37.0(!) and it's easy to see why. He is missing all of his other starters from last season. Without LaMarcus Aldridge and Nicolas Batum on the court last year, Lillard had a 31.8 usage rate, which crushes his total usage rate of 26.7. Another big reason why his usage rate is going up is due to him getting to the line more. Lillard had just 4.9 free throw attempts in 35.7 minutes. In the preseason, he's up to 7.4 in less playing time. His preseason pace is also sky-high at 104.7 — that's up from 96.6.
 
This isn't a usage/scoring stat, but Lillard's assists should be going up. LaMarcus Aldridge was assisted on just 58.3 percent of his field goals last year. Meyers Leonard, LMA's replacement, was assisted on 84.8 percent of his field goals last season and that's all the way up to 95.8 in the preseason. Al-Farouq Aminu is also typically relying on dimes from his PGs, but that number is somewhat low in the preseason.
 
One other thing worth mentioning here is that Lillard's efficiency did not go down much while he was without his fellow starters. This is due to him being such a great scorer on pull-ups. He should get over 30 for usage rate, so based on his minutes and efficiency he should be in the 26-27 points per game neighborhood. Heck, he might even flirt with 30 ppg. There's a chance he is also the top guard for DFS points this year, especially in leagues with 3-pointers. If he's not in the top five for usage rate, it'll be because C.J. McCollum went off this year, which works for me.
 
4. Kevin Durant - Back in 2013-14, KD was second in usage rate behind his teammate Russell Westbrook. He could easily be up there again, but I can see a guy like Enes Kanter taking shots away from KD a bit.
 
In the preseason, he only had a 28.0 usage rate, which is hardly impressive. The impressive part was his outstanding 68.1 true shooting percentage. If you saw KD in his last game against the Jazz, you saw a guy who should be in the running for MVP. Here's his shot chart in the preseason: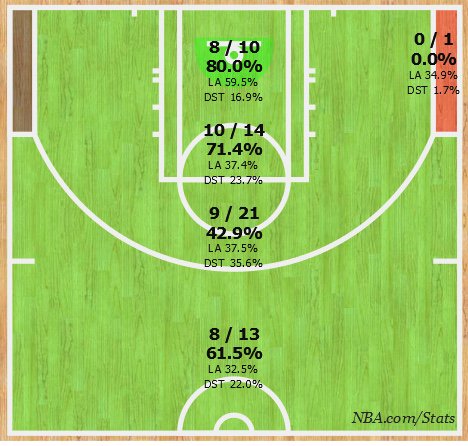 Man, that's good. KD will be posting some massive DFS lines and nobody would be surprised to see him take back the No. 1 spot for season-long leagues — he held that distinction for five straight years before last season.
 
5. Anthony Davis - It's unusual for one big man to be in the top five for usage rate, but two?? It could happen. Davis had a 34.7 usage rate in the preseason. Brow also had a 30.8 usage rate in the postseason last year and it was 29.1 percent after the break, so he's a good bet to clear 30, too. Coach Alvin Gentry wants to turn AD loose and it should help him get to 31-32 in usage rate.
 
6. Carmelo Anthony - The Knicks added some help for Melo, but it's not going to affect his usage rate much. Melo has been in the top six for usage rate for every season since 2006-07. Although, he has been trending down since he led the NBA in usage rate back in 2012-13.
 
7. Paul George - In his limited time last year, George put up a 32.7 usage rate. This year in the preseason,  he put up a 32.8 usage rate in his seven games. He's probably a good bet to be above 30 this season.
 
The problem is his efficiency. For the last 60 regular season games or so, George's shooting at the rim really went south. Even though he is going to play more four, it shouldn't affect his shot distribution and/or shot types as much. The Pacers ran a lot of pick-and-roll last year and Monta Ellis ran more PNR than any non-PG last season. When George is on, he'll be one of the highest scorers in DFS.
 
8. Dwyane Wade - He was second in usage rate last season and his usage rate actually went up after the break when the Heat added Goran Dragic. Of course, a lot of that has to do with Chris Bosh not playing and the Heat added some nice depth to their team. Wade should still be over 29 and he'll put up big-time numbers when he's active.
 
9. Kobe Bryant - He was third in the NBA for usage rate last season at 34.3. He only played 18.1 minutes per game in the preseason and had a 31.0 usage rate while being very efficient at 60.6 true shooting percentage. His usage rate was also 1.9 points lower in the second half of his season of 35 games.
 
There's a lot of help on the way for Kobe. D'Angelo Russell will handle the ball a lot and that should lower Mamba's usage rate. Plus, Julius Randle figures to be a frequently-used guy unlike any of the other Laker power forwards from last year. Of course, Jordan Clarkson is around, too.
 
10. LeBron James - He hasn't been in the top four in usage rate in any of the last three years. LeBron has a lot of help and that explains the dip in usage rate. In fact, when he was next to J.R. Smith, Kyrie Irving, Kevin Love and Timofey Mozgov last year, he only had a 26.7 usage rate in those 529 minutes. Yes, Kyrie is out for a bit, but he'll be back soon. LeBron will have a ton of big lines for DFS, but owners in season-long H2H leagues are not going to like all his DNPs in March and April.
 
Thanks for reading and enjoy the season!