It's been a wild year with injuries and it's even more surprising to see which guys have been getting hurt. If we made up a list of the top-10 fantasy starters who were least likely to miss multiple weeks back in September, who would be on it? I would have probably said Blake Griffin, LeBron James, Kevin Durant, Damian Lillard, DeAndre Jordan, Wes Matthews, Monta Ellis, DeMar DeRozan, Serge Ibaka and Klay Thompson. You could also argue John Wall (184 consecutive games) or Robin Lopez (didn't miss a game due to injury in any of his previous three seasons) over Monta, but Monta's streak of 218 consecutive games in pretty darn impressive -- and may now be snapped on Wednesday.
 Editor's Note: Rotoworld's partner FanDuel is hosting a one-day $250,000 Fantasy Basketball league for Tuesday's NBA games. It's $25 to join and first prize is $20,000. Starts at 7pm ET on Tuesday. Here's the FanDuel link.
Follow me on Twitter @MikeSGallagher for stats and analysis. Also, you can find almost all of this stuff on NBA.com/stats.
Blake Griffin is going to miss the next four weeks due to surgery on his elbow. He has only missed four games since he made his NBA regular-season debut and here's how he ranks in total minutes per season among power forwards starting with 2010-11: Second, second, fifth, first and first. Nobody saw this coming even with some previous issues with his elbow in the past. If you own Griffin in a fantasy league, you have to stash him. He should be back at some point in March, which means he'll be available for the last month of the season.
 
As for the rest of the Clippers, it's pretty clear that Spencer Hawes will be the main beneficiary. Of course, Monday night was a chaotic game. Hawes played just 14 minutes with four points, one rebound, one assist. Basically, all of his DFS owners on Monday morning were very badly burned like Mustafa from Austin Powers 1. This comes on the heels of a 35-minute Hawes outing on Sunday, scoring 17 points with one rebound, one block and two 3-pointers. So what the heck happened? Here are the lineups from yesterday: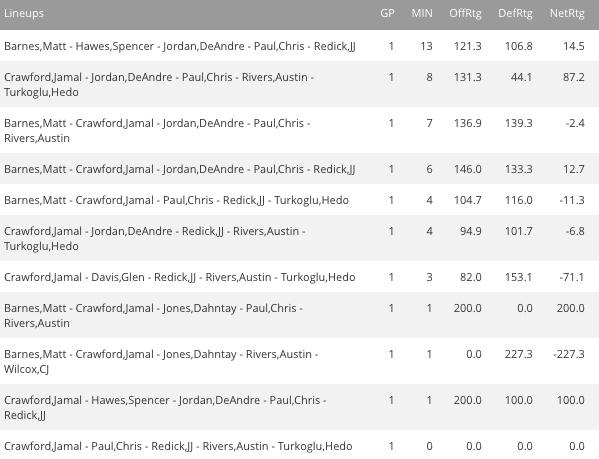 That eight-minute lineup was feasting. An 87.2 net rating?? In case you missed it, Tyson Chandler went down in the first quarter and it basically turned the game into a small-ball special — that also helps explain why DJ had 27 boards last night. Coach Doc Rivers basically used Hedo Turkoglu and Matt Barnes at power forward for 34 minutes last night. Rivers won't be able to get away with that often and he certainly didn't on Sunday. It's also worth mentioning that coach Rick Carlisle said he thought the Clips might go small on the team's website here.  Before Monday's wild game, here's a look at the lineups from Sunday (the highlighted lineup was used in garbage time):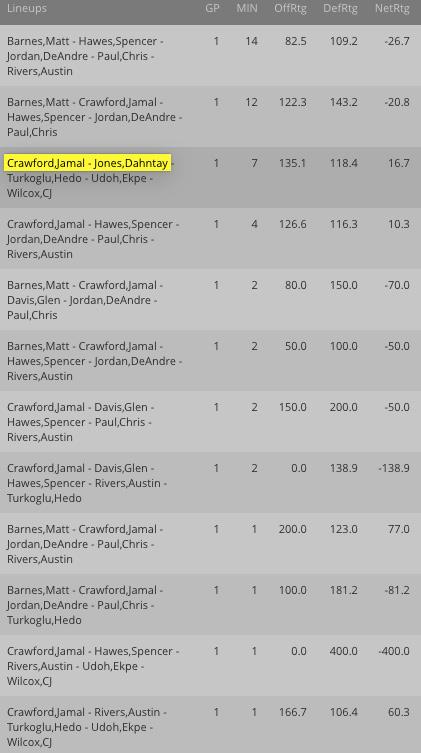 That's a whole lotta Hawes. Rivers basically used two lineups for the first three quarters. Of course, that had a lot to do with J.J. Redick and Glen Davis not playing. They'll play the Rockets on Wednesday, so there's certainly a chance Rivers will put Barnes and Hedo on Josh Smith, Donatas Motiejunas or Terrence Jones. Hawes won't play 14 minutes, though.
 
OK, so another thing that jumps out is what's up with only two boards in his last two games? Yes, DeAndre Jordan is the league-leading rebounder and he does have a ridiculous 23.4 rebounding percentage. Still, Hawes isn't going to be grabbing one board per game. We all know he's an awful offensive rebounder because he just chills on the 3-point line, so he'll be rarely get multiple O-boards in a game. He's had a career 21.6 defensive rebounding rate (DRB%) and put up a respectable 24.2 last season. With DJ for 418 possessions this season, Hawes has a defensive rebounding rate of 13.7. That's still pretty bad, but the sample size is fairly small and we can expect him to up his defensive rebounding rate to around 17-18 even with the monster known as DJ. In simpler terms, I'd project him as a 6-7 board per-game guy.
 
As for the offense, the Clippers have really changed their offense sets with Griffin this year. He floats on the perimeter a lot more and it's resulted in several more catch-and-shoot midrange attempts. That's the forte of Hawes' game and he's likely going to have 4-5 attempts from deep per game. Hawes has a 16.8 usage rate while he's on the court with DeAndre and Paul this season, which seems about right for where he should be the rest of the way sans BG.
 
Bottom line time. We can probably pencil Hawes in for minutes in the mid-to-upper 20s. I'd peg him for averages of 12.2 points, 6.3 boards, 1.8 assists, 0.6 steals, 1.1 blocks and 1.2 treys. That's worth owning in standard leagues. Of course, beware of the Clippers trading for someone. Ex-Doc player Brandon Bass?
 
Let's quickly discuss some of the others to get more shots/minutes. Matt Barnes playing the stretch four is huge. I think he's a more valuable add than Hawes and don't forget he was a third-round value down the stretch last season in standard leagues. Chris Paul should see his dimes go back up because Griffin was handing out a career-high assist total. CP3 does have back-to-back 13-dime games now (CP3 doesn't have triskaidekaphobia). I don't think DeAndre's numbers change much because BG's rebounding numbers are down. Hedo Turkoglu and Big Baby aren't really capable of playing big minutes, so I don't see them changing much. J.J. Redick and Jamal Crawford should get some more shots to help the offense. Austin Rivers will get a raise in his allowance.
 
Mitch McGary - He's one of the more talked-about big men in fantasy circles these days and is the number one player trending on our news page on Tuesday. Steven Adams is going to miss the next three weeks, but it's really like two because of the All-Star break. That should open up some minutes for McGary here.
 
In his last two games, he's looked like the best rookie big man in the last decade, averaging 18.0 points, 10.0 boards, 0.5 steals, 0.5 blocks and 1.0 turnovers on 66.7 percent from the field and 80.0 percent from the line. That's basically a top-50 fantasy guy in just 24 minutes per game without much defense. Before we worry about the return of Adams, can he keep it going while Adams is out?
 
McGary's offensive rebounding numbers are stupid good right now. He has a 26.2 offensive rebounding rate and his 22.8 defensive rebound rate is above average too. To put those offensive rebound numbers in perspective, an average center's offensive rebounding rate will be around 10-12. The good ones will be 13-15, and the elites will be above 15. As it turns out, only 10 rookies in the history of the NBA have recorded offensive rebounding rates greater than 15 and qualified for rebounds per game. Dennis Rodman has the record for offensive rebounding rate with his 20.8 in 1994-95. This season, only four guys have an offensive rebounding rate greater than 15 and qualify: Andre Drummond, DeAndre Jordan, Bismack Biyombo and Tristan Thompson. McGary cannot hit the offensive glass like those guys and this hot start has fluke written all over it.
 
In July, McGary put up some big numbers at summer league. In 26.0 minutes per game, he averaged 14.8 points, 5.8 boards, 1.3 assists, 1.8 blocks and 0.8 steals on 50.0 percent from the field. He did only have eight offensive rebounds in his 104 minutes against inferior/smaller talent. The Wolverine also only had a 15.5 offensive rebounding rate in college last season. In case you were wondering, his other college averages in his career were 7.8 points, 6.6 boards, 1.9 steals, 0.8 blocks and 2.5 turnovers on 58.8 percent from the fiend and 51.3 percent from the line. There's really nothing desirable there, especially the low blocks.
 
The other interesting item in his stats is his efficiency. Here's a look at his shot chart this season (top, via NBA.com) followed by his shot chart for his 2013-14 season at Michigan (via Nylon Calculus):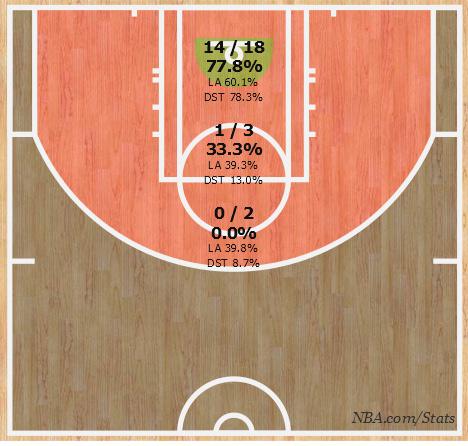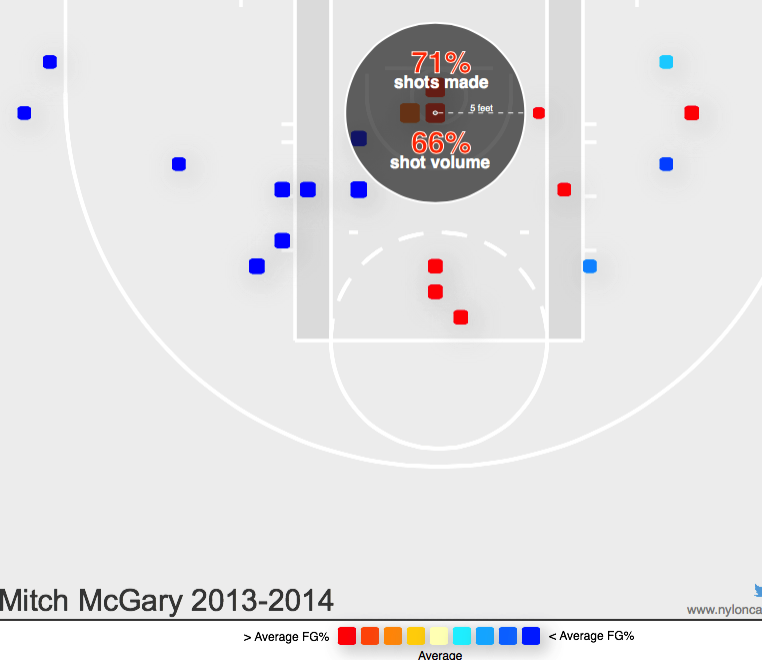 He's certainly an at-the-rim guy in those two instances with 66 percent of his shots in college coming at the rim and 78.3 percent in the NBA, but actually has a decent jumper and made a fair amount of them at summer league. McGary is easily the best offensive center on the team, but I'm certainly not investing too heavily on him over the next two weeks.
 
There's a reason why Steven Adams has fit in with the Thunder first unit this year. He's not an offensive big man. Who needs one, though? Russell Westbrook and Kevin Durant were No. 1 and 2 in usage rate last season and KD showed us last night why there's no reason to run any plays to big men in the low post, which is what McGary does. In fact, KD has a higher shooting percentage in isolation (55 percent) than all but 11 players on unguarded catch and shoot attempts. Who needs a rookie big man? Superfluous.
 
It's always nice to see a guy who has dealt with a ton of injuries come out like gangbusters, especially when he had a season-ending injury in college and has a fracture to his foot and a fracture to his shin already this season. Even if he's logging 20 minutes, there's just no opportunity for him on the team for offensive output. If you want to add him for a couple weeks, it's OK. I just don't see him busting out because of the regression and no defensive stats.
 
James Johnson - One of the bigger fantasy stories from the weekend was James Johnson taking over as the starter at small forward. After he exploded for 20 points, four rebounds and one 3-pointer in 30 minutes, it only led to one question: What took so long? Here's a look at his defensive numbers in his last six:
 

 
The 14.7 percent below average really stands out, but only allowing 0.8 shots per game within six feet is big (15.1 percent of shot total). The Raptors were getting beaten inside when they weren't playing well, so Johnson should help there. Of course, we all knew about JJ's defense and he's better than what he shows on the stat sheet.
 
He actually has a decent usage rate of 16.4 on the season. Furthermore, Johnson has a very respectable usage rate of 16.2 on possessions with Kyle Lowry and DeMar DeRozan this season. When you take into account he's making 61.0 percent from the field on the season with 1.0 blocks and 0.7 steals in only 20.3 minutes per game, he should have your attention. The upside is almost too high to leave him on the wire in standard leagues. If he goes off tomorrow against the Wizards against Paul Pierce, I'd consider him a must-add player heading into the break. I would add him easily over McGary.
 
Mo money, Mo' problems - The big trade news heading into tonight is the Hornets sending a second-round pick and Gary Neal to Minnesota for Mo Williams and Troy Daniels. It's a clear indication that the Hornets are going to try and make the playoffs and we all knew that Mo was going to be traded. So what does this all mean? Let's get the easy side first.
 
We're going to have a time-share split at point guard in Charlotte. Brian Roberts is making just 37.0 percent from the field as a starter in his 33.0 minutes per game, averaging 11.3 points, 2.4 boards, 4.1 assists, 0.2 steals and 0.6 triples. Yes, Al Jefferson is a usage monster, but coach Steve Clifford's offense needs someone to score the ball better from the outside. We all know it's not going to be Michael Kidd-Gilchrist or Lance Stephenson (more on him later).
 
Williams is not really capable of playing 30 minutes per game, so he's likely just going to play around 23-26 minutes. That is still likely going to be enough for him to carry low-end fantasy value in standard leagues thanks to his treys, steals and dimes. If you need a point guard, give him a look. I'd cut Brian Roberts just about everywhere unless you want to use him for tonight because he should get big minutes against the Pistons.
 
As for Minnesota, the move of Williams is interesting for a few reasons. It shows the team clearly wants to use Zach LaVine as a point guard. LaVine has really been bad on the stat sheet, so he's not really someone you're going to want to count on in almost any league. However, that opens up some minutes at shooting guard. Ricky Rubio has played 13.7 percent of his minutes next to LaVine or Mo, so there should be some shooting guard minutes up for grabs to help out Kevin Martin. Let's take a look at the lineups from yesterday: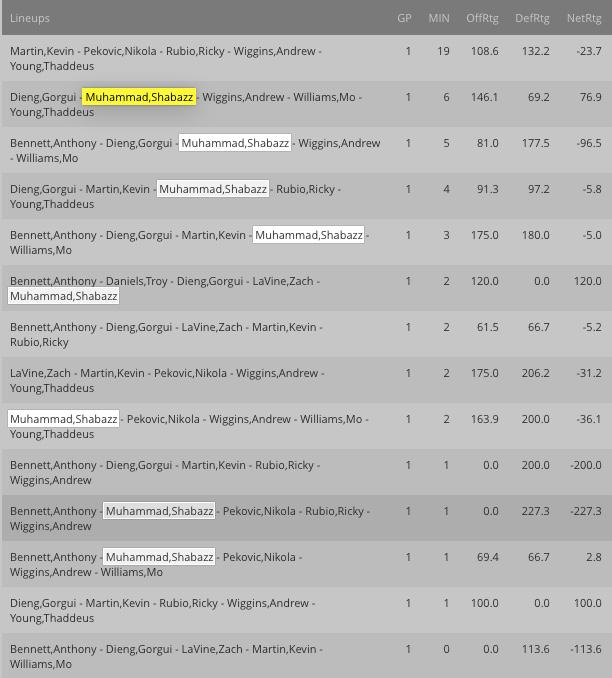 The thing that jumps out here (and not because I highlighted him or anything like that at all) is the versatility of Shabazz Muhammad. He had a very nice game in his return on Monday, scoring 18 points with eight boards and one 3-pointer in 24 minutes. The usage monster was up to his usual tricks with a whopping 33.3. He does have a start at shooting guard this season and coach Flip Saunders isn't opposed to using him next to Thaddeus Young and Andrew Wiggins. The problem for owners in standard leagues is that 'Bazz only really scores. I don't think he's quite worth a grab in standard leagues in his current situation. However, players in DFS will want to monitor him very closely.
 
Besides 'Bazz, the Wolves are clearly going to trade someone else. It is likely to be Thaddeus Young and it could be Kevin Martin, too. If you own Thad, you should be at least trying to deal him because his usage would go south on another team.
 
Lance Stephenson - We really can't overstate how awful he's been since Kemba Walker went down. He might be the worst scorer in the NBA and his turnovers have also gone up. Here's a look at his shot chart in his last seven games: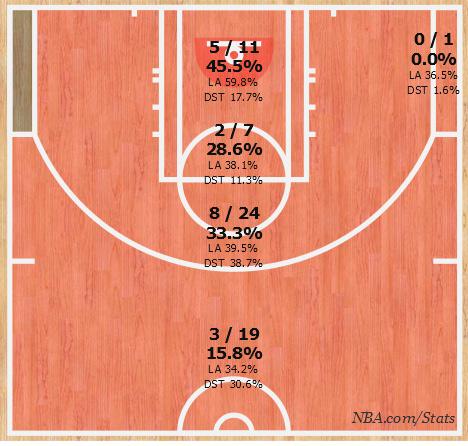 He made just 29.0 percent from the field in that span. There's no way a poor shooter like Stephenson is going to shoot the ball well if he's getting to the rim for less than 20 percent of his shots. Heck, he should be closer to 50 and pull a Tyreke Evans. To take it a step further, he's a specific look at his shot types and how he's done off the dribble in this putrid seven-game span: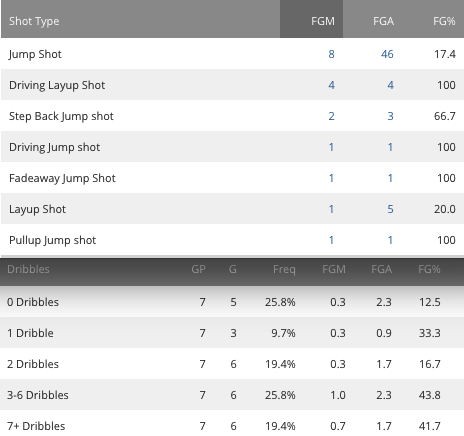 Yikes. In that span, no other player has taken more than eight shots per game and shot the ball worse. Plus, that is the fourth-worst shooting percentage among players with at least 25 minute per game (Tim Frazier, Dante Exum and Evan Turner). Considering his lingering groin issues and knee tendinitis, there's little reason to own him in season-long leagues. The Mo Williams deal doesn't help either. For DFS, he's worth a look some nights, but he's just too unreliable.
 
Giannis Antetokounmpo - Baller status. Ever since the calendar turned to 2015, Giannis has been on a roll and looked like a super star. In those 19 games, he's averaged 11.9 points, 7.5 boards, 3.0 assist, 1.3 steals, 1.3 blocks and 2.3 turnovers on 51.7 percent from the field and 73.8 percent from the line. That's good for fifth-round value in standard leagues.
 
We all knew that the Alphabet was going to put up decent numbers in steals and blocks, but the major concern was the efficiency. That's especially true when all the talk in the summer was about how he'll be doing more in offensive sets. Last season, he made just 41.4 percent from the field, but he's bumped it up all the way to 50.9 percent this season. 
 
Recently, he has been remarkable and is a big reason why the Bucks are 7-1 in their last eight. He's been particularly amazing in his last six, making 60.3 percent from the field with averages of 16.7 points, 10.5 boards, 3.7 dimes, 1.3 steals, 1.5 blocks and 2.5 turnovers. Here's look at his shot chart in that stretch: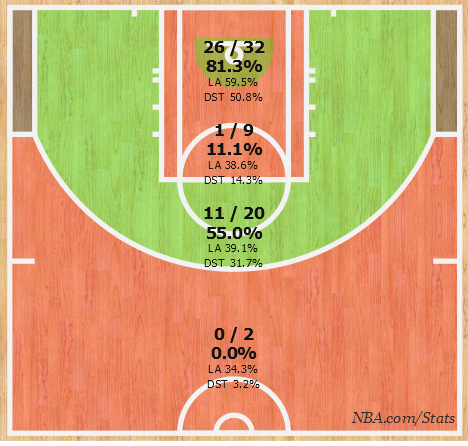 To get over half of his shots at the rim and to make over 81 percent of them is just not fair. Oh and 55.0 percent on his mid-range shots is also a joke — unsustainable, too. Taking it a step further, here's his performance on shot types and off the dribble in this six-game run: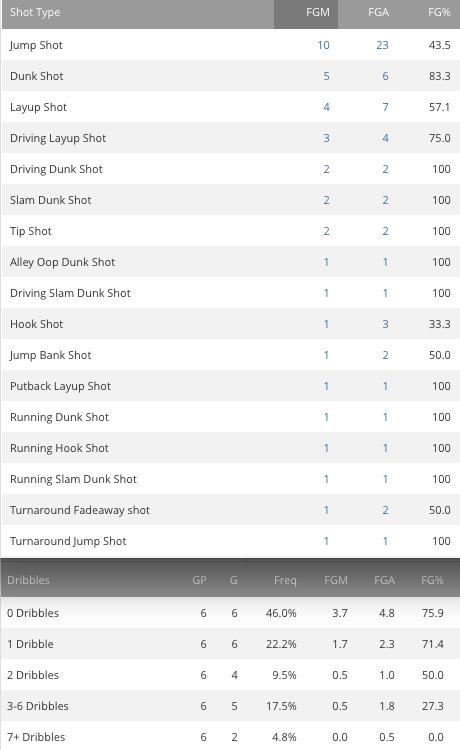 You have to love all of those different shot types and all of those driving/running shots are terrific. The other big thing here is how awesome he is on 0-1 dribbles before his shots. He's not going to be this good, but there are big things on the way. It's also worth mentioning how great he's been on defense, too:
 

If you own him, you're going to have to ask for top-30 value at this point. His usage rate is still a little low, so he's going to be a riskier play in DFS, especially since I'd imagine his ownership is going to be up after setting Twitter on fire. He's 20 years old. It's going to be so much fun to watch him for a long, long time.