There are so many topics with rotations and usage these days. Usually, this column will take 3-5 teams and break them down, but we'll take a look at some more of the rotation action today from most of the active teams from the deadline. The interesting part of all of this is how many point guards changed teams. Six Eastern Conference teams saw some major changes to their point guard situation following a trade this month. We'll also talk about some other developing situations for those teams and a lot of Western Conference stuff, too.
 
Editor's Note: Rotoworld's partner FanDuel is hosting a one-day $400,000 Fantasy Basketball league for Wednesday's NBA games. It's $25 to join and first prize is $50,000. Starts at 7pm ET on Wednesday. Here's the FanDuel link.

 
Follow me on Twitter @MikeSGallagher for stats and analysis. You can also find all of these stats on NBA.com/stats.
 
Bucks - Coach Jason Kidd doesn't like John Henson. I like to imagine Kidd burning Kermit the Frog and Miss Piggy puppets when he gets home after a game. No good? Kidding aside, Henson has only played 17.3 minutes per game in his last three and all of his minutes are coming at center. What's more, Miles Plumlee and Zaza Pachulia are logged all of their minutes at center, so it's basically a three-way timeshare. Fantasy owners in most leagues can ignore this for now. As for the rest of the team, here's a look at how coach Kidd used his lineups in the last three-team games: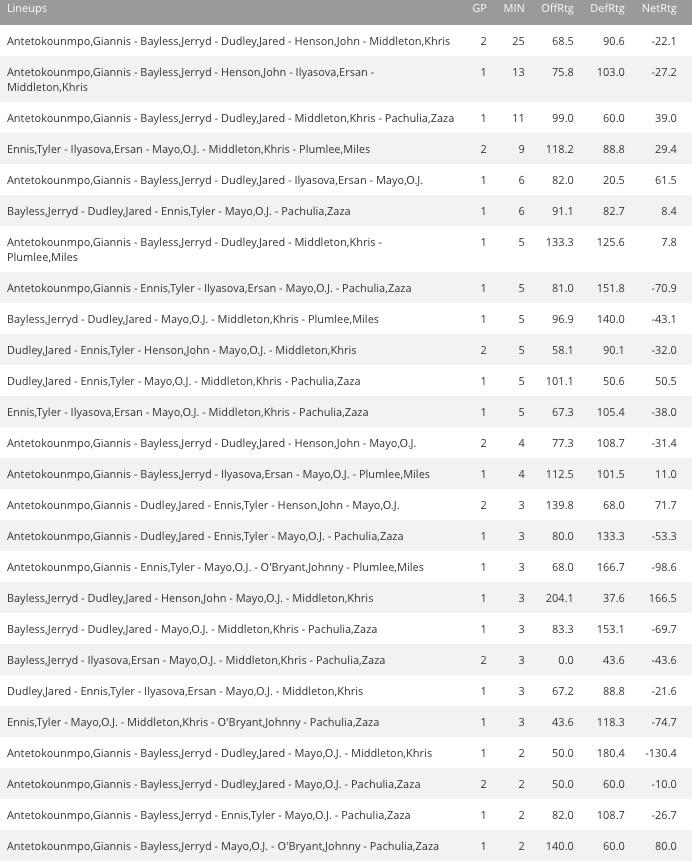 There were 34 combinations (26 pictured), which has been the story for Kidd this season. He brings one guy in at a time a lot and he really doesn't have a "second unit" with his team. On the bright side, Giannis Antetokounmpo, Jerryd Bayless, Khris Middleton and Jared Dudley were each used in about half of those combinations. It's also interesting to see how O.J. Mayo was used, as well.
 
Of course, Michael Carter-Williams is likely going to be thrown into the mix on Wednesday. That means we'll see a lot less out of Jerryd Bayless. Now, Bayless will probably play two-thirds of his minutes at shooting guard, which means less playing time for O.J. Mayo, who logged 34 minutes on Monday. They both will probably go back down to around 25-27 minutes now. 
 
As for usage rates, we've seen Antetokounmpo's usage rate climb to 23.9 in his last three games, which is way up 19.4 on the season. With MCW in the mix now, his usage will likely be in the 20-21 range with big minutes. Khris Middleton also saw his usage spike to 22.2. That's up from 18.4. However, his efficiency is down, so the usage rate hasn't really helped him. His overall stat output should be similar with MCW in the mix and he remains a must-start player. His DFS appeal isn't great now that his price is so high.
 
Speaking of MCW, he's one of the worst offensive players in the NBA. Among qualifiers, he was dead last in the NBA for effective field goal percentage (eFG%) at 43.1 and he's actually much worse this year at 40.6. It's pretty easy to figure out why. Let's take a look at his shot types this season along with his shooting performance based on dribbles this year (middle) and last year (bottom):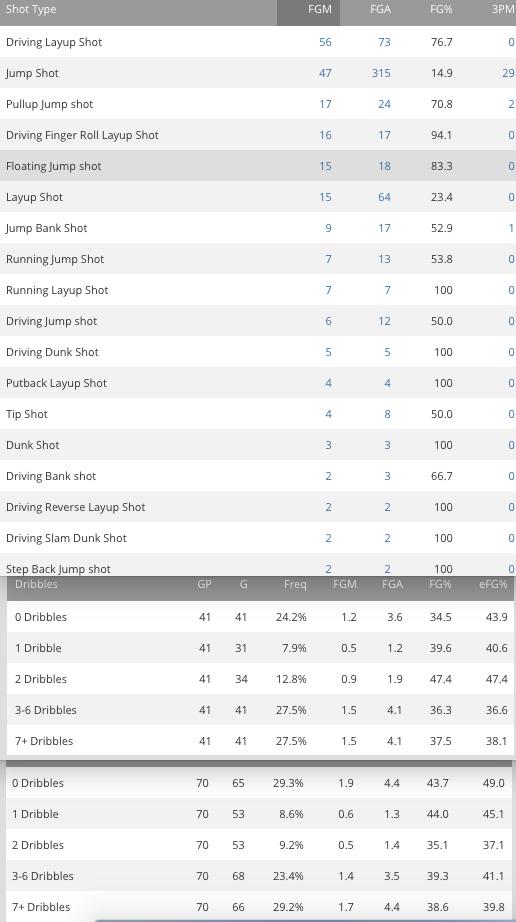 That's a lot of data. Besides the 14.9 percent on jump shots, it's a pretty good job, good effort. Of course, the 14.9 accounting for over half of his shot total destroys him. Plus, his performance on every dribble except two-dribble plays is down. Coach Jason Kidd is going to have to be a miracle worker. He can start with four words: Michael, stop shooting jumpers. For what it's worth, this plan has helped Elfrid Payton a lot lately.
 
Personally, I don't see his value in DFS going up at all because his usage should go down. He will probably shoot less, so that poison pill in FG% shouldn't be as bad. I still don't see him being a top-75 guy the rest of the way.
 
Sixers - Coach Brett Brown has been even more wild with his rotations. He used 43 lineup combinations (!) in his last three games. Like Kidd, none of them were the same in all three games. Here are the top 26: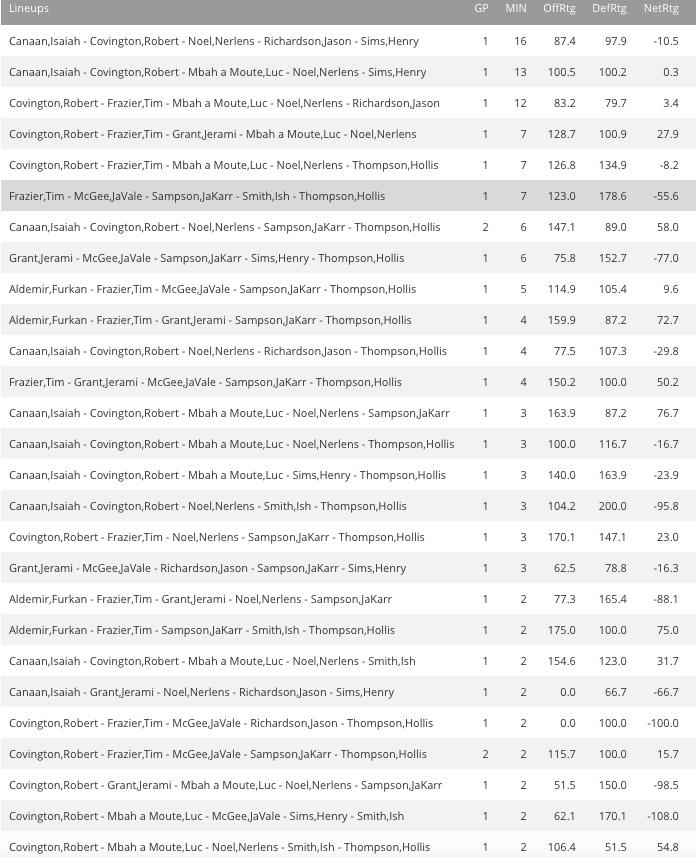 What a mess. None of them were used for more than 16 minutes in the combined 144 minutes of game action. Of course, Isaiah Canaan, Jason Richardson, Luc Mbah a Moute and Jerami Grant each didn't play in one game, so that explains a lot — Ish Smith didn't play in two of those three.
 
One thing that seems pretty clear is that Isaiah Canaan has his job locked up. He's been a pullup machine with the 76ers and he's fared pretty well in his last two games, too: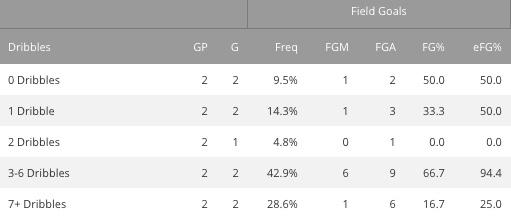 The 76ers haven't had an offensive point guard since Jrue Holiday left on draft night in 2013. Coach Brett Brown would certainly like Canaan to be better on defense, but he should have plenty of opportunity to thrive on offense. You'll want him on your fantasy team and I think he has a shot to put up better numbers in standard leagues than MCW. Canaan could be a guy capable of averaging 14 points, three boards, five assists, 1.5 steals and 2.5 treys. As an aside this is his only non-pullup make with Philly.
 
Secondly, we've seen some vast improvements from Nerlens Noel. His February numbers are superb, averaging 10.6 points, 6.5 boards, 1.9 assists, 1.8 steals and 3.0 blocks on 49.2 percent from the field and 73.0 percent from the line. That's good for second-round value in that span. Robert Covington is also the No. 14 player in February. I think he has a chance to be a top-30 guy the rest of the way.
 
Besides those three, it's a crapshoot. I think Ish Smith is going to get minutes in the 20s, Frazier doesn't get brought back beyond his second 10-day, and the 76ers give Jerami Grant more run as soon as he's healthy. Jason Richardson will also have a minutes cap, but he should put up top-150 value the rest of the way as long as he's healthy. I like Luc Mbah a Moute, but he misses too many games.
 
Suns - They changed their plans from the offseason. At first, they looked like they were not going to Eric Bledsoe, so when the chance to sign Isaiah Thomas to a four-year, $27 million deal unearthed itself, they pounced. Plus, Thomas' dollar amount descends on his deal, so it's a very team-friendly. Eric Bledsoe signed and they were basically trying to fit a square peg in a round hole. It didn't work, so they blew it up on Thursday.
 
The Suns shuffled some things up more than expected. We saw the Goran Dragic trade coming, but Brandon Knight coming and Isaiah Thomas going was a big surprise. Plus, they also gave up the Lakers' first round pick (top-five protected), which was a steep price even for Knight. It was by far the best asset given up this season.
 
The big story so far is that Gerald Green is in the doghouse. He was a DNP-CD on Monday and the Suns are clearly not going to be too aggressive on re-signing him following this season. He was only $3.5 million this year and the Suns don't really want to invest more than that following this season. He can probably be cut in most leagues, especially with Archie Goodwin playing well.
 
Speaking of Goodwin, he has been solid in his three games, averaging 11.3 points, 2.7 boards, 2.0 assists, 0.3 steals and 0.7 treys on 54.2 percent from the field. He doesn't have a jumper yet, but at least he knows it. Here's a look at his shot chart in his last three (top) and his D-League shot chart this season (bottom):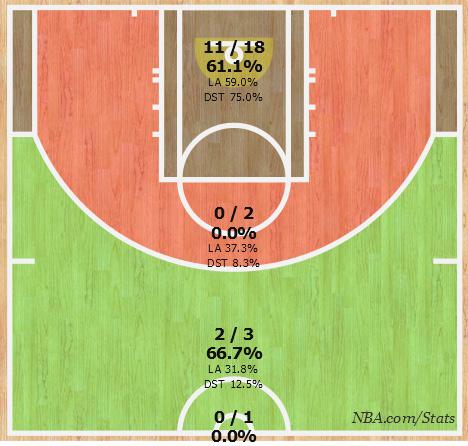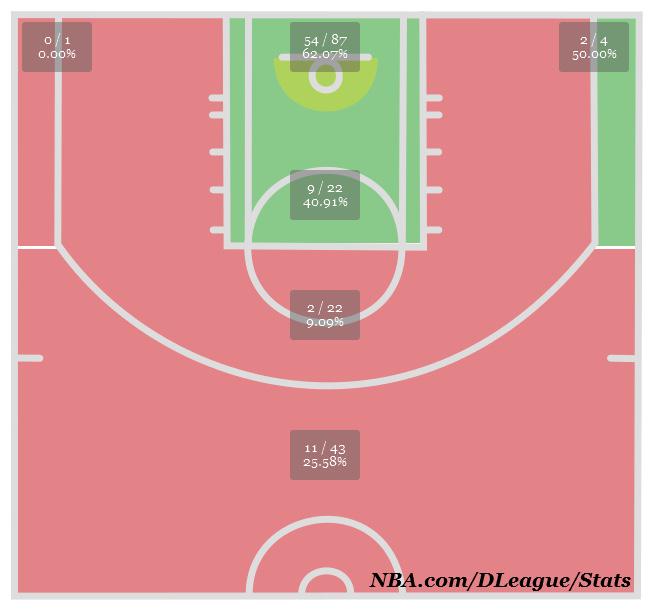 He attempted 75 percent of his shots at the rim (within three feet) in his last three games, which isn't a surprise considering 49 percent of his shots in the D-League were from that range. Ever since his Kentucky days and at 2013 summer league, we all knew Goodwin had no jumper. However, his defense has been his best asset. He actually had a very good game against Andrew Wiggins back in the 2014 summer league. His defense hasn't been great this year, though.
 
Regardless, the Suns are going to give him some run at least for now. Still, he is not going to have a big upside, so he's only worth a look in like 20-team leagues.
 
OK, so the most important thing for the Suns offense is their backcourt. Another big surprise was Brandon Knight taking a whopping 11 triples on Monday. That's just the third time in his career in which he attempted more than 10 treys. Knight was making a career-high 40.9 percent of his treys with the Bucks this season, so it's not a bad thing to see him take so many. The Suns are fifth in the NBA in attempts from deep and rank last in assist percentage, so it's pretty obvious the guards do a lot of the scoring on their own in coach Jeff Hornacek's offense.
 
Although, Eric Bledsoe and Brandon Knight played off each other a lot on Monday. Knight had a season-high 10 catch-and-shoot trey attempts (it's probably a career-high, but I can't check back that far) in the loss to Boston and six of those were off a pass from Eric Bledsoe. It's also worth mentioning Bledsoe passed the ball to Knight more than any other player and Knight passed the ball to Bledsoe more than any other player. They both are going to put up big numbers and log huge minutes. Plus, don't forget Knight was better off the ball in his Detroit days. Bledsoe's role won't change much outside of a slightly higher usage rate with Dragic and Thomas gone. He arguably has the second-highest ceiling of any shooting guard on a given night behind James Harden. Despite the slow start, DFS owners are going to want to use him a lot once he figures out his new teammates.
 
Markieff Morris' role shouldn't change much and he may also have a higher usage rate. We've also seen P.J. Tucker get way more involved in the offense. Tucker has a good chance to be a top-100 player the rest of the way in standard leagues.
 
Lastly, Alex Len is a beast. He has been unleashed and has been a first-round player in standard leagues in the second half so far. Len just needs to stay healthy.
 
Thunder - It's always been easy to bash Thunder general manager Sam Presti. He traded away James Harden basically for Kevin Martin, Jeremy Lamb and Steve Adams. Ouch. Plus, the Kendrick Perkins for Jeff Green deal wasn't great either.
 
However, we have to hand it to him for Thursday. He turned Reggie Jackson and a first-round pick into D.J. Augustin, Enes Kanter, Kyle Singler and Steve Novak. That's even more impressive considering Reggie Jackson reportedly refused to play on Nov. 1 and his teammates were starting to dislike him. I love Reggie, but c'mon man. He is not even close to Russell Westbrook for talent.
 
Anyway, the Thunder got some bad news in their first game after the deadline. Kevin Durant is out indefinitely due to surgery in his surgically repaired foot. Sadly, his season is in jeopardy right now. Durant had a walking scooter at practice on Tuesday and he's almost certainly going to be out way beyond one week. It might be a month or maybe longer. Not good. So what now? Russell Westbrook.
 
His numbers are stupid in his last two without KD, averaging 27.0 points, 7.5 boards, 13.5 assists, 0.5 steals and 1.0 treys on 51.3 percent from the field and 85.7 percent from the line. He put up those numbers in just 31.4 minutes per game, which is almost hard to comprehend. Westbrook might be the number one player in fantasy the rest of the way.
 
It's not going to be all Westy, though. Serge Ibaka has seen his usage rate rise to 24.6 in his last two, averaging 18.0 points, 10.0 boards, 1.0 steals and 5.5 blocks in 30 minutes per game in that span. He won't be quite this good, but he's back to being a top-20 value in fantasy leagues. Ibaka is also much more alluring in DFS in the right matchup now.
 
Besides those two guys, it's interesting. D.J. Augustin is logging a lot of minutes next to Russell Westbrook. DJA hasn't picked it up yet with his 31.3 percent from the field with OKC, but he does have averages of 10.0 points, 3.0 boards, 2.0 assists, 0.5 steals and 2.0 treys in 26.1 minutes per game. He should be able to get his scoring in the teens and is a good bet for 2.0 treys per game. That gives him a top-120 floor with KD out as long as he improves his shooting.
 
Dion Waiters is also an interesting winner. However, his averages aren't great outside of scoring in his last two, posting 13.5 points, 2.5 boards, 0.5 assists, 0.5 steals, 0.5 blocks and 0.5 treys. He's not someone I'd want to add in a standard league.
 
Heat - They finally added their point guard of the future. Dwyane Wade said Goran Dragic is the best point guard he's ever played with and it showed on Monday. Dragic lit up the 76ers with 23 points, 10 assists, two steals and two 3-pointers. Dragic was a big part of the offense with 58 passes in the game — almost half of them going to Dwyane Wade (26). That is a sizable increase from his 43.6 passes per game in Phoenix and it was also just his second game with his new teammates. It's pretty obvious Dragic's numbers are on their way up. Although, they probably won't be as great as Monday because... 76ers.
 
The other big story from Monday was Luol Deng erupting for 29 points. We can also chalk this up to bad defense. He only had a usage rate of 22.0, which is up from 20.3 on the season. Deng will continue to log minutes at power forward as the stretch four. I'd say his numbers in his last five serve as a fair representation of what he'll do, averaging 15.4 points, 5.6 boards, 3.0 assists, 0.8 steals and 1.4 treys. Not bad.
 
Udonis Haslem is logging some empty minutes as the starter. He can be ignored and the Heat almost certainly will add a power forward (Michael Beasley or Andray Blatche?). After a big game on Saturday, Mario Chalmers put up nine points, six assists, one steal and one 3-pointer in 21 minutes. He should be in this neighborhood. Henry Walker and James Ennis figure to split around 35 minutes at the forward spots. Neither are worth grabbing, obviously. Dwyane Wade and Hassan Whiteside shouldn't be affected much with Dragic basically replacing Bosh's usage. Whiteside may have a greater chance to score on offense, so his fantasy value is solidified a little more.
 
Pelicans - One of the bigger surprises is how much Norris Cole is playing for the Pelicans. In his last two games, he's averaged 13.5 points, 3.5 boards, 4.5 assists, 1.0 steals and 1.0 treys on 55.0 percent from the field in 27.4 minutes per game. Of course, that has a lot do with Anthony Davis and Ryan Anderson missing time. He was used in 14 of the top 19 lineups in last two games. His most common lineup was with Tyreke Evans, Eric Gordon, Omer Asik and Luke Babbitt, so clearly the versatility of NO helps him. Evans and Cole are also playing a lot together and that should continue. The Pelicans are going to need to use their SFs as PFs because they're so shorthanded. As crazy as it sounds, Norris Cole benefits most from the Anthony Davis injury.
 
Blazers - Arron Afflalo played just 24 minutes on Sunday, which is right about where he'll be. He's not going to hurt Wesley Matthews and Nicolas Batum. His minutes will come from the other wings.
 
Nuggets - They have been too messy right now, so we'll tackle them next week. Ty Lawson didn't play on Saturday and Wilson Chandler didn't play on Monday. For now, it looks like Danilo Gallinari will benefit most as long as he's healthy. Unlike Jusuf Nurkic, Kenneth Faried isn't a must-own player. Keep an eye on Gary Harris even though he's really stunk it up so far. Randy Foye has also been a letdown.
 
Hornets - Mo Williams looks like he was just want the Hornets needed on offense. A capable shooter has really helped opened things up for Al Jefferson. Plus, it's also given Lance Stephenson more opportunity to miss shots. Williams is a must-own player for the next two weeks. Of course, the problem is that his value goes away after that.
 
Pistons - Reggie Jackson is going to eat. He was the PNR ball handler for 77.3 percent of his plays (resulting in shot or turnover) from Sunday. He's the straw that stirs the drink… again. Jackson has a chance to be a top-20 player the rest of the way and should be a stud in DFS.