The Jazz! The what? They're certainly creating feelings of pizzazz with some of the best play of any NBA team right now. They have gone 11-2 since the All-Star break with impressive wins over the Blazers, Grizzlies and Rockets in that span. It's not really hard to figure out why they're one of the best stories in the NBA. 
 
Editor's Note: Play one-day fantasy basketball tonight! Rotoworld's partner FanDuel is hosting a $125,000 league for Tuesday's NBA games. It's just $2 to join and first place wins $10,000. Starts Tuesday at 7:30pm ET. Enter now!


Follow me on Twitter @MikeSGallagher. You can also find all of these stats on NBA.com/stats.
 
 
Rudy Gobert is just ridiculous. Since the Enes Kanter deal, the Jazz have a defensive efficiency rating of 89.7, which ranks first in the NBA after the break. As a reference point, no team in the NBA since at least 1996 has had a D-rating below 91 over a season. They're first in the NBA for field goal makes allowed in the restricted area since the break and have been shutting down centers left and right. Owners in Daily Fantasy Sports (DFS) can't go against Gobert right now.
 
As for using Gobert, that seems like a good idea. Yes, do that. In March, he's averaged 10.8 points, 17.9 boards, 2.0 assists, 2.1 blocks and 0.9 steals on 53.3 percent from the field and 64.7 percent from the line. The crazy part is that shooting percentage is low. Here's a look at his shot types in March: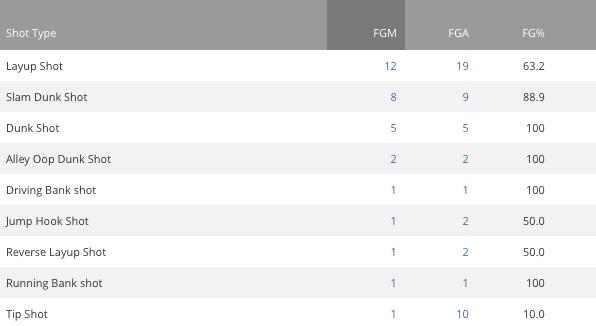 The big thing here is that he's just 1-of-10 on tip shots, which is extremely unusual. He was making 63.3 percent from the field before March and here's a look at those shot types in that stretch: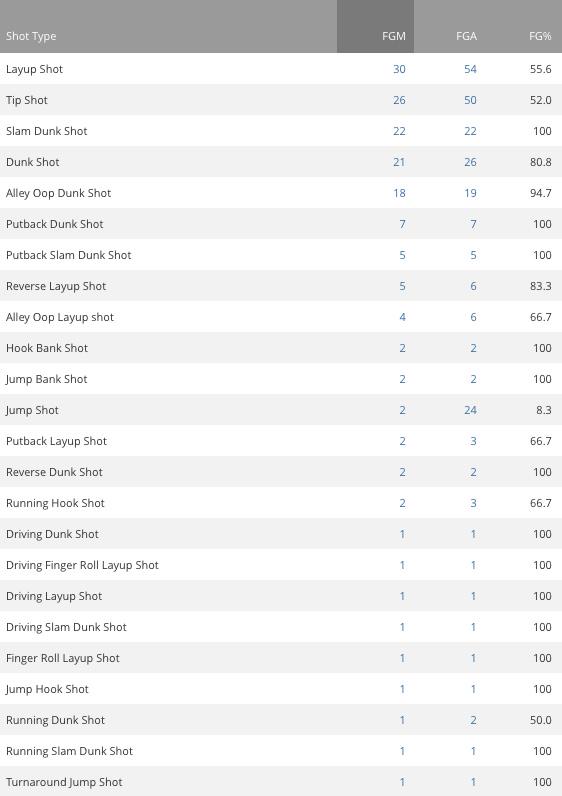 He was 52.0 percent on tips, which is usually right at the norm. Plus, you'd think a guy with a 7'9 wingspan would be even better because his tips are less likely to be deflected. The other thing of note on Gobert is much better on his layups now. His usage rate has remained the same, but the scoring is going up because of more minutes.
 
Of course, the rebounding numbers are what's caused him to dominate and it's not just because of the minutes. Before March, Gobert had an offensive rebounding rate of 14.3 and a defensive rebounding rate of 23.9 (19.2 total). In March, his offensive rebounding rate increased to 16.5 and defensive soared to 38.0 (27.8 total). In the history of the NBA only one player has turned in a season with a total rebounding rate higher than 27 that and qualified for rebounds: Dennis Rodman in 1994-95. Gobert is 22 years old. We also know Gobert is a phenomenal shot blocker, too.
 
At this point, I'll be looking to take him in the second round of fantasy drafts next year. There's a good chance I'd take him in the first round, too. Heck, he's put up first-round value since the break. If he has another leap half as impressive as it was at Vegas Summer League, Gobert might be in the same breath as Anthony Davis for best young players in the NBA. That sounds crazy, but his anticipation on defense is just something we haven't seen in a while from a guy that big.
 
It hasn't been all Rudy, though. Recently, fellow summer league star Rodney Hood has stepped up. Back in July, he had one of the best games at summer league, scoring 29 points on 11-of-16 shooting with three rebounds, five assists, two steals and seven 3-pointers. That was not as impressive as yesterday.
 
In the 94-66 drubbing of the Hornets on Monday, Hood scored 24 points on 9-of-11 from the field with three rebounds, three assists, one steal and five 3-pointers. That's good for an effective field goal percentage of 104.5 and was the third time in the past week he set a career high for scoring. Hood's hotter than Hanzel.
 
Since summer, Hood's primary weapon has been his range. In July, 49.1 percent of his shots were treys at Vegas (most of them were catch-and-shoot, but I can't provide the stat and am just going on what I saw here) and he had 51.3 percent of his shots come from beyond the arc in the preseason. During the season, that number has been consistent with 51.6 percent of his shots coming from deep.
 
Like Gobert, Hood's March is fantastic. As alluded to, he was expected to be more of a catch-and-shoot guy, but his off-the-dribble numbers are really the highlight of his offensive game: 

 The one-dribble shots are just not fair. Plus, 58.3 eFG% on 3-6 dribbles is also elite territory in eight games, especially considering those accounted for 23.4 percent of his shots. He won't be this good, but can he stay above 45 percent from the field after making 50.6 percent from there in his March games? Here's a look at his shot chart in March (top) compared to how he did before this month (bottom):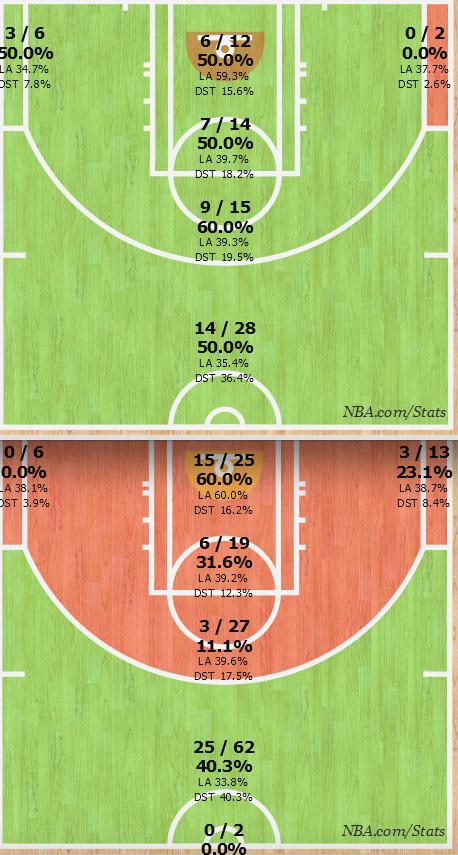 The big thing is mid-range shooting. That obviously isn't a problem for Hood going forward considering he's a plus-shooter and is 6'8. The Duke product obviously won't be as great as he has been, but he's looking like a player you'll want to add in standard leagues and use in DFS while he's cheap. He is shaping up to be a 90-120 pick next season in standard drafts, but that could change depending on what the Jazz draft.
 
Looking ahead, it'll be interesting to see how Dante Exum develops. Back in summer league, he told me his favorite plays to run are pick-and-rolls. As it turns out, that's been a major problem for him as far as scoring goes. He comes in at 1.9 percentile for PNR as a scorer with just an 0.36 points per play. We all knew he was going to be a below-average scorer off the bat, but that is an abysmal start.
 
Exum isn't a bad passer, though. Most of his teammates are shooting the ball well since the break. Here's a look at his passing dashboard for passing made since the break: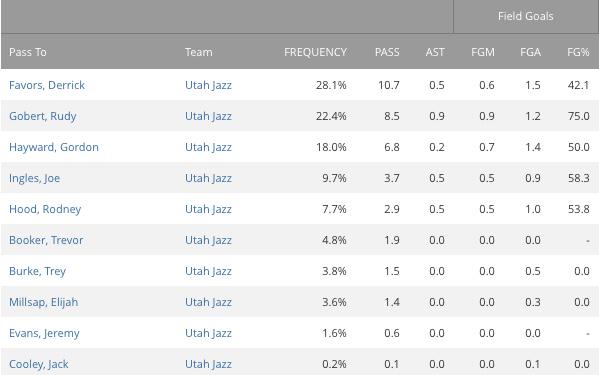 Yeah, Trey Burke is 0-of-7 on Exum passes. Besides that, Exum is doing a good job of passing the ball to his teammates to help create higher field goal percentages, especially Rudy Gobert at 75 percent. Gobert has upped his pick-and-roll frequency to 17.5 percent of his plays and he's also sitting at 86.2 percentile on those on the season. The Exum-Gobert PNRs could really be a go-to play for the Jazz.
 
We're still going to probably need another year of seasoning on Exum. Unless he has a ridiculous summer league, he's not someone to target in most re-draft formats.
 
As for the rest of the key guys, Gordon Hayward has been good. He's leading the NBA on points off hand-offs and he's also doing a much better job of scoring around the basket. Perhaps all of the muscle he put on in the offseason is helping him there. He should be an early-mid round guy in drafts next year.
 
Derrick Favors is also hot again and turning in his second straight strong post-break run. He leads the NBA in scoring off cuts -- a huge credit to coach Quin Snyder -- and he's also shown improved touch from the outside. Since the break, Favors averaged 18.0 points, 8.2 boards, 1.8 dimes, 1.8 blocks and 1.3 steals on 55.2 percent from the field. That's good for No. 15 value in standard leagues. The Jazz are going to be a fantasy factory for years to come.
 
Usually, this column is all about usage rates and scoring numbers, but there's a topic I just have to talk about. The NBA is getting a little ridiculous with resting players. Yes, we all know having the best regular season record is not the ultimate goal, so it's not like resting players should be outlawed. Teams don't want to get their players hurt when the risk is outweighing the reward. For example, the Warriors losing Andrew Bogut last year may have cost them. As much as it would stink to go to a game with all of the stars out, fans just have to make the most of it. 
 
Personally, I went to the Knicks at Suns game on Sunday. The Knicks started three players who were on 10-day deals to start their year with the team (Lance Thomas, Lou Amundson and Langston Galloway), a guy who was out of the rotation with the Rockets before being traded (Alexey Shved), and a guy who was supposed to be bought out (Andrea Bargnani). Still, I had a good time watching how the Knicks were getting away from the triangle offense with a ton of hand-off plays and really the most interesting player on the court for me was Archie Goodwin. Alexey Shved dominating the ball was kind of fun, too.
 
On the other hand, it's pretty easy to make an argument that this has to stop. I've also been to games with Chris Paul, James Harden and Russell Westbrook on the court. As much as I enjoyed watching the Knicks and Archie, it doesn't hold a candle to Westbrook hanging a 39-point triple-double with a 63.4 usage rate in the fourth quarter in an overtime loss to the Suns on Feb. 26. I would have lost my cool if Westy was rested that day, so again I really can't argue with those of you guys who think resting players is egregious.
  
In the world of fantasy hoops, the main problem is how we get the information. Most teams will give us a heads up at earlier in the day, so owners in Daily Fantasy Sports (DFS) can adjust their teams accordingly. Considering how much DFS sites are advertising for the NBA and all the partnerships, teams have to be better. Some teams have been worse than others, too.
 
Last year, the Bucks were renowned for keeping information under wraps. O.J. Mayo was out for "conditioning" for weeks at a time with very little updates along the way and they weren't very forthcoming with Ersan Ilyasova's injuries either. Larry Sanders was also a very strange secret. This year, it's no different and they dropped one of the worst injury bombs of the season over the weekend.
 
About 15 minutes before the 8:00 EDT start time on Saturday, the team announced Michael Carter-Williams would be in the starting lineup. However, at 8:03 they declared him out with an ankle injury for the road game in Memphis. Obviously anyone in fantasy was stuck here and his owners in DFS got a zero.
 
After the fact, we found out MCW's ankle tweak from Wednesday was the reason. Carter-Williams tried to warm up on Saturday and he apparently couldn't go. Back on Wednesday, he didn't go to the locker room and played through it, so you'd think he'd be ready with three days to recover. Plus, no update from Wednesday to Saturday? C'mon. If a similar situation happened with the Los Angeles Lakers, their team reporter, Mike Trudell, would have given us two updates a day on what's up with MCW along with their other great beat guys. In other words, the Bucks not having a team reporter is a major problem, especially for a franchise that just sold for $550 million in 2014. Plus, teams like the Kings will list guys as probable for an extremely minor injury, so MCW would have absolutely been listed as questionable by their standards.
 
There's more to this story based on what else is going on. The Bucks were on the road and are a very good bet to make the postseason. One would think that being on the road was a factor in sitting and I'd be willing to bet he would have played had the game been at home. The fantasy community doesn't get overly frustrated with the NBA sitting guys when we have the information, but there's really no excuse for how the information was kept secret until after the game started and the Bucks listing MCW as the starter just before the game makes that sting even more.
 
While the Bucks are the worst case, teams have been resting players in road games like you wouldn't believe. Kevin Garnett still hasn't played in a road game since he arrived in Minnesota. The Hawks will likely rest their players on every road back-to-back set. Plus, the Warriors, Cavs and Grizzlies have all rested players on road back-to-backs since Thursday. The good news is that most of this info comes earlier in the day.
 
The Warriors announced they were sitting Stephen Curry, Klay Thompson, Andre Iguodala and Andrew Bogut at morning shootaround on Friday. So at least DFS owners were able to plan ahead. The Grizzlies were also able to give us ample time for a heads up. However, the Hawks were a little late on Sunday because they had a late game, but they were almost a lock to rest guys in a road back-to-back set. Plus, the news came hours before the game started. The Hawks are coasting right now and I wouldn't be surprised to see them sit guys in road non-B2B games because they have a 10-game lead in the Eastern Conference. I also think that the injury to Mike Scott makes the Hawks even more scared of an injury and Kyle Korver also suffered a nose injury on Sunday. Could you imagine if they had a serious injury? It wouldn't be pretty for them and would derail their chances. For DFS, I'm not playing any Hawk player in a late game on the road.
 
There was a newer twist on Monday with the Nuggets also getting in on the road resting. That came as a surprise because the Nuggets are tanking like nobody's business. The Pistons have lost 10 in a row while and moved ahead of the Nuggets for the No. 7 spot in the lottery. Meanwhile the Nuggets were playing very well with a four-game winning streak before Monday's loss in Memphis. They were coming off a double-overtime win against the Pelicans on Sunday, so the team opted to rest Danilo Gallinari, Kenneth Faried and Ty Lawson. If you thought that was weird, it gets worse.
 
Coach Melvin Hunt said he and his staff didn't make the choice to rest players and it didn't come from the players either, per Chris Dempsey of the Denver Post. Usually, coaches are the ones with the final say on who plays and who sits. That means it came from ownership and/or the front office.
 
Wilson Chandler had the comment of the day following the loss on Monday. "I have no idea what they are going to do," Chandler said. "Whoever is on the court just has to keep playing. It's the nature of the business. I'm not a GM; I don't know what's going on. It's tough when you're fighting together but you're getting set up for failure." Players on good teams have yet to say something like this and it's a pretty clear indication that Chandler is fed up with what's going on with the Nuggets. He hasn't been a quote machine before this and he's likely going to have a talk with the front office in the next couple days.
 
Believe it or not, it gets even weirder with comments from coach Hunt. "Yeah, but we're in a very unique situation here, having come off what we did last year with so many injuries," Hunt said. "We had players with ACL injuries; our owner's dog had an ACL injury. We had a little bit of everything going on. We have to be very, very careful. We have to be really wise, given the situation that we are in." Wait, what? We've had DNP-OLD before or even "Player X (rest) is out" for a game, but are we going to see "Kenneth Faried (owner's dog torn ACL) will not play tonight" on an upcoming injury report?
 
We can only assume Hunt was annoyed, as well. That's obviously not a great way to be brought back on the surface. Still, the front office can't be too disturbed because Hunt is trying to build a career resume and turning the Nuggets around this month is one of the more impressive feats among coaches in March. The bottom line here is that we have to throw the Nuggets in on the teams that will rest guys on the road. Additionally, maybe more teams follow their lead.
 
OK, so let's actually discuss how we can predict the DNPs. If you're in a weekly league, you have to be a lot better at projecting the risky days out there. The road games on a back-to-back set are the ones to watch out for. They could come on the front end or on the back end, so let's take a look at some playoff contenders and the Nuggets in those situations this week. I also didn't include the Pacers, Heat, Celtics, Hornets, Thunder and Pelicans because they might need every game and all of them seem like they want to get in the postseason:
 
Tuesday: Spurs, Bucks, Grizzlies, Hornets
 
Wednesday: Spurs, Clippers; the Hawks have a non-B2B road game, but they're still risky for a late game
 
Thursday: Nuggets
 
Friday: Blazers, Nuggets, Pacers, Grizzlies; Hawks have a non-B2B road game
 
Saturday: Blazers, Bulls
 
Sunday: Wizards
 
This is something fantasy owners in weekly leagues will have to track going forward. If you have Rotoworld NBA Season Pass, I'll have it included over the weekend to help out. It should be interesting to see how the NBA handles this situation next year with a lot of possible solutions.
 
One other quick note that has been a habitual problem is the incorrect lineups being put out by the official team Twitter accounts. Three teams in the Atlantic Division posted incorrect lineups in a week span from Saturday to Saturday. You'd think a team's public relations department would care more about its relationship with the public.
 
Thanks for reading and good luck on your brackets. For those who aren't too in tune on NCAA, this is a really cool tool to help you build your bracket. Also, Ed Issacson is posting some great Players to Watch columns. Here's his South edition from today.