Monday had its share of bumps and bruises. Dennis Schroder may have dislocated his toe, three players had an upper respiratory illness in Philadelphia (Jerami Grant, Carlos Boozer and Jeremy Lin) and Alex Len broke his nose. The biggest injury story is that we're probably not going to see a lot of Rudy Gay (concussion) and DeMarcus Cousins (rest) going forward. Gay is out indefinitely with a concussion and coach George Karl hinted that he's not going to play Cousins in any more road games. 
 
"I said, 'Instead of thinking about shutting it down, let's try to find some days that you can get your body rested.' We might schedule a piece of our games and [rest Cousins] again," coach George Karl said. "It gives me an opportunity to experiment a little bit. At home, I'd like to go in and [let Cousins play] every game. But on the road, I might experiment a little bit more."
 
Editor's Note: Play one-day fantasy basketball tonight! Rotoworld's partner FanDuel is hosting a $160,000 league for Tuesday's NBA games. It's just $2 to join and first place wins $10,000. Starts Tuesday at 7:30pm ET. Enter now!


Follow me on Twitter on Twitter @MikeSGallagher for stats, analysis and Vines. You can also find most of these stays on NBA.com/stats.
 
We have to hand it to him for being honest. A lot of coaches won't come out and say they aren't going to do DNP-ROAD. For fantasy, he's not worth owning in all leagues anymore. Personally, I would cut him on Apr. 8 based on his schedule. Boogie probably won't play in Houston on Wednesday (your roster might be full on Wednesday anyway), but he does have three of his next four at home. Apr. 8 and beyond, four of his next five are on the road, so it's not going to be worth it to keep him on your roster for just one game the last week of the season. If you can pick him up for the one home game on Apr. 13, that would be ideal.
 
As for Rudy Gay, the fact that he blacked out from his concussion likely means he's out for a while. The Kings tweeted "Get well soon, @RudyGay8" and he's going to have to go through the concussion protocol. You can probably drop him in just about any league now, assuming you need the games this week (there's no point to drop him in a straight weekly format unless it's really shallow).
 
So what about the rest of the team?  Immediately following the injury at the 2:23 mark remaining in the third, the Kings had a lineup of Andre Miller, Sauce Castillo, Omri Casspi, Derrick Williams and Carl Landry. All of those subs were made somewhat close to the injury, so that's basically the second unit with the exception of Casspi, who is now very likely to be the starting small forward now. In the fourth quarter, Karl went with five lineup combos:

 
This is probably a glimpse of what's to come with the rotation to a degree. Sure, this happened in garbage time, but there are a handful of important things to note. The biggest one is that Derrick Williams logged all 7.5 of his minutes at power forward. Williams also had a very high 30.3 usage rate in his time out there. He should be able to keep his usage rate fairly high going forward.
 
Karl also used a small-ball lineup of McCallum, Sauce and B-Mac for five of those 12 minutes. That should also be a popular lineup in the right circumstance, so we should get around 24-30 minutes of Castillo. McLemore also had a 29.9 usage rate in the fourth quarter, so he easily has the highest upside among the perimeter guys. Although, McCallum could be a nice option if he shot the ball consistently. It's possible we see Ray Mac put up a line of 14 points, four boards and five assists. Not bad.
 
Omri Casspi didn't get any minutes at the stretch four. Coach Karl loved using Rudy at the four, but he might not have that luxury anymore with the Kings being so thin. Thompson also logged all of his minutes at center with Reggie Evans not getting in on the action. I'm not a JT guy for fantasy because he doesn't block and his usage rate is too low. He's basically Tristan Thompson. Is there a Thompson surname correlation???
 
While Rudy has missed six games this year and Boogie has missed 17, they have never missed the same game this season. In other words, this is some uncharted territory for the Kings. Those two are by far the leaders in usage on the team with Boogie at 33.7 and Gay at 26.7. Among players with at least 10 minutes played on the team and who are still available, Carl Landry has the next highest usage rate at 18.1. That's followed by Derrick Williams at 18.0, Ray McCallum at 17.8 and Omri Casspi at 17.6 That's a massive hole right there, you guys.
 
Looking at a big differently with the help of NBAWowy.com, the usage rates of a few guys really jump up without Rudy and Boogie — that's not a surprise whatsoever. Most notably since the break, Ben McLemore's usage rate jumps to 25.0, Carl Landry up to 29.1, Omri Casspi to 21.9, Ray McCallum to 24.1, Derrick Williams to 22.1 and Sauce Castillo to 19.0.
 
Looking at it strictly from DFS, Ray McCallum scores 1.1 fantasy point per minute when he's not with Gay and Boogie. After him, Jason Thompson is at 1.0, Casspi is at 0.74 and Ben McLemore is at 0.73. Among those guys mentioned in the above paragraph, nobody else is above 0.60 with Landry and Castillo both below 0.40.
 
Of course, this is a new frontier and there are going to be a lot of different plays run for the Kings. As it stands right now, Williams, Casspi, McLemore, Thompson and McCallum are on the radar in standard leagues. I'd pick up B-Mac or Williams first with all things being equal. After that, Castillo and JT should also get more action.
 
George Karl has been running a nine-man rotation and he's played Andre Miller next to Ray McCallum for just one minute all season. Based on that and some of the information above, here's a quick projection of what I'd expect the minutes and usage rates to be for the nine guys likely to be included in the rotation most nights (I'm assuming no garbage time, which is going to happen a lot):
 
 
Kawhi Leonard - He's rolling. In March, there are only four players who have played at least 30 minutes per game with a usage rate greater than 23 and a true shooting percentage greater than 60: Kawhi, George Hill, Stephen Curry and Chris Paul. (Side note: George Hill is ballin' as well). It's probably not a coincidence the Spurs are playing their best ball, going an very impressive 13-3 in their last 16 games.
 
The efficiency is what's helped Kawhi. Before March, he only had a 53.4 true shooting percentage on a 22.5 usage rate. Leonard has really excelled inside the arc in March: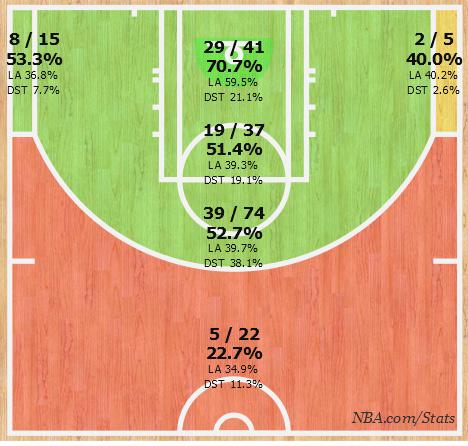 The 70 percent at the rim is elite and it's somewhat sustainable for Leonard. However, he's obviously not going to keep knocking down 52.7 percent in the mid-range game. Still, even if he regresses to like 45 percent, he should still be above 50 percent from the field, which is gold for a guy with a 23 usage rate.
 
Kawhi has been the fourth-best player in nine-cat leagues (!!) this month on a per-game basis. No team has more games remaining than the Spurs, so as long as he doesn't rest there's a decent chance Kawhi is the most valuable asset in fantasy going forward. He was a first-round target for me last year and he'll be up there again next year, too. I'd have no qualms about using him in DFS in the right matchup, especially at home because he won't be rested.
 
Nikola Mirotic - A usage rate greater than 30 while playing over 30 minutes is rare. In March this season, it's only been done by seven players: Russell Westbrook, Dwyane Wade, DeMarcus Cousins, James Harden, LeBron James, LaMarcus Aldridge and Nikola Mirotic. That's some elite company for Niko, huh?
 
Yes, a lot of that came with Jimmy Butler and Taj Gibson out, but Mirotic is still being used a lot. With the exception of Derrick Rose (knee), the Bulls have been healthy for the last two games. In those two, Mirotic was still able to log 26.8 minutes per game with a 29.5 usage rate. Plus, his efficiency is way up with a 66.1 true shooting percentage — no player in the history of the NBA has every put up those three numbers in a season (Small Sample Size Theater, of course; LeBron last season and KD in 2012-13 were actually very close and just missed it by less than 1.5 on TS%).
 
Here's a look at the Bulls lineups in their last two games: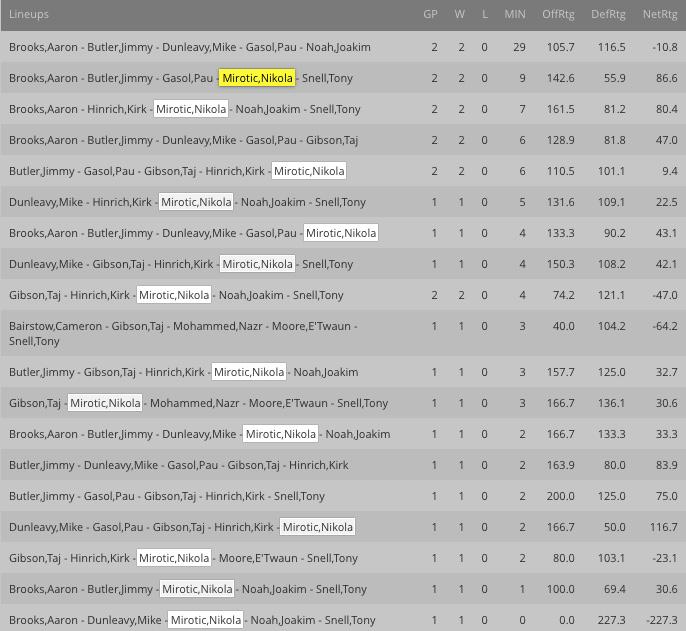 Most of Niko's run is at the four, but it's still a great sign to see him log minutes at the three. That should help him keep his minutes above 25. Plus, the Bulls are likely going to rest Noah a couple more times. Additionally, Mirotic's usage rate is about the same if he's logging minutes at the three or the four.
 
Mirotic has been a third-round value this month, but he'll probably only be a fourth- to fifth-round asset until Rose gets back. Still, not bad for a rookie. The Bulls are also a very scary team in the Eastern Conference, especially if Rose can come back and look decent.
 
Michael Carter-Williams - For a guy as inefficient as he is, there's no way his usage rate should be even close to 25. Here's his shot chart in his last eight: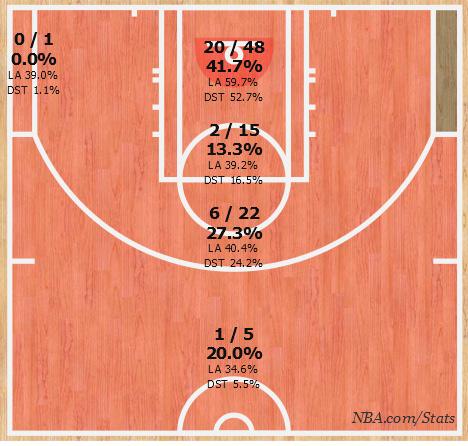 MCW can defend, he's a decent dribbler and I don't think he's sub-par at passing, but his scoring issues are something like we've never seen. He has a huge offseason ahead of him. I won't target him next year in even the late rounds.