Home sweet home, apparently. In the 10 postseason games so far, the home team has won nine times. The Wizards kicked off the playoffs with a road win in Toronto in one of the most visually unpleasing games of the year and Toronto will look to get a win at home tonight. The Cavs and Rockets are also at home and will look to take 2-0 leads tonight.
Editor's Note: Play one-day fantasy basketball tonight! Rotoworld's partner FanDuel is hosting a $150,000 league for Tuesday's NBA games. It's just $2 to join and first place wins $10,000. Starts tonight at 7:00pm ET. Enter now!
Follow me on Twitter @MikeSGallagher.
 
As expected, the postseason rotations have tightened up. A whopping 12 players are averaging at least 40 minutes per game so far. By comparison, Jimmy Butler is the only qualifier to log more than 37 minutes per game during the 2014-15 regular season. Let's discuss which players are seeing the biggest increases in playing time at this early point in the postseason (I'm not going to include the five overtime minutes played in the Wizards at Raptors game here).
 
Draymond Green - He played just 31.5 minutes per game in the regular season, but now he's up to 42.0 in two somewhat close games by Warriors standards. In those two, he averaged 14.5 points, 12.0 boards, 6.0 assists, 1.5 blocks, 3.0 steals and 1.5 treys. Yeah, that's good.
 
Dray's usage rate is also up to 17.9 from 17.1, which is even more impressive considering the massive amount of minutes. His defensive rebounding rate stands at 25.6, which is also up from 21.8 in the regular season. He's not even shooting the ball well at 39.1 percent from the field and his turnovers are somewhat high at 3.5 per game, but it's obvious Draymond is going to post some massive numbers this postseason.
 
Update: Draymond Green rolled his ankle a couple times on Monday, but he said he'll be fine. Basically, you can ignore this update.
  
Bradley Beal - He played 48 minutes in Game 1, but remember overtime gave him five more minutes of action. Still, even at 43 minutes, that's almost a 10-minute increase from his regular season average of 33.5. Beal's shooting line was putrid in the win at 6-of-23 for 16 points, but at least that's a fairly high volume with a usage rate of 27.7 — a huge number in a 48-minute run.
 
The Wizards sort of lived and died by the Beal pick-and-roll plays. They didn't really work out very well, so we probably will see his usage rate dip to around 22 in the rest of the series. As long as his true shooting percentage can go up to around 50, he'll have an excellent chance to average a 20-5-5 kind of line in the playoffs.
 
Blake Griffin - Blake hasn't been known to be a fantasy mega star. He doesn't block, steal, shoot the ball well from the line or even rebound like he used to, but he currently has the line of the postseason with his numbers from the Game 1 win on Sunday. In those 43 minutes, BG scored 26 points with 12 boards, six assists, three blocks, three steals and just one turnover. His 43 minutes are up from 35.2 in the regular season and he also saw his usage rate, rebound rate, foul rate and free throw rate go up.
 
Another really interesting thing from Blake was his shot chart from Game 1: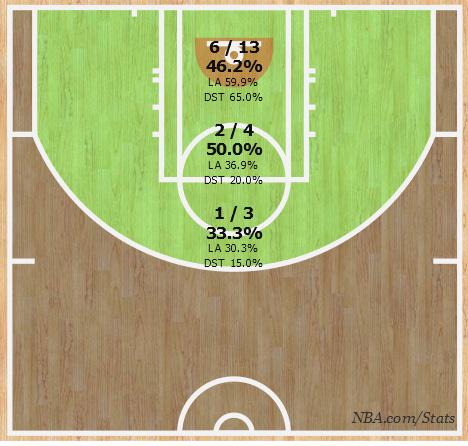 While his numbers weren't great at the rim from an efficiency standpoint, getting 13 of them is truly awesome. In fact, he averaged just 6.4 shots at the rim per game in the regular season. If Blake can keep attacking like he did, the Spurs might be in trouble. As for his stats, it's kind of hard to expect a repeat performance especially on the defensive side of things. Still, Griffin should be in for some big games with 43 minutes of playing time.
 
LeBron James - He didn't play very well in Game 1, making just 8-of-18 from the field for 20 points, six boards, seven assists, one block, one steal, one trey and five turnovers in 42 minutes. LeBron played just 36.1 minutes per game in the regular season and only 35.2 per game after the All-Star break. Obviously, the decrease in playing time was all by design. There's not much analysis needed here. LeBron is going to be much better than Game 1 and he's probably going to have 2-3 triple-doubles and/or 2-3 40-point games in the playoffs. Maybe more on both.
 
Stephen Curry - It's nice for Curry not to get garbage time thrown into the mix. He played just 32.7 minutes per game in the regular season and that has a lot to do with how he missed 20 fourth quarters because of the Warriors smoking teams at home.
 
Curry has a decent line with respect to averages in his two games, scoring 28.0 points with 4.0 boards, 5.5 assists, 2.0 steals, 4.0 turnovers and 3.5 treys in 38.5 minutes per game. He' played 8.8 minutes per game in the fourth quarter during those two wins, which explains the bump right there. Curry's usage rate is also up to 32.2, but his efficiency is down.
 
There are going to be some huge games and tons of Vines on the way from Curry. We haven't even come close to seeing the best from him yet, which is a scary thought for the Western Conference.
 
Anthony Davis - Much like LeBron, Davis has seen his minutes jump up as expected. In 42.5 minutes per game during the two losses, he averaged 30.5 points, 8.5 boards, 2.0 assists, 3.0 blocks, 1.5 steals and 4.0 turnovers. The Brow played 36.1 minutes per game with a usage rate of 27.6 in the regular season. His usage rate launched to 32.3 in the postseason, including his fourth quarter 37.2 usage rate.
 
One interesting thing worth mentioning is how much better AD is without Omer Asik. In the last two games while Asik is on the bench, AD posted a usage rate of 38.3 and a true shooting percentage of 69.4. On the other hand, he only has a 39.1 true shooting percentage and a 29.5 usage rate with Asik. It's extremely clear Asik is holding AD back and this has been the case all season. It's just much, much worse now.
 
The Pterodactyl is also 12-of-16 (75 percent) from the restricted area in this series, so getting him close range shots is huge. Expect him to have two more big games regardless.
 
LaMarcus Aldridge - Holy usage, Batman. In 42 minutes on Sunday, Aldridge made 13-of-34 from the field and 4-of-5 from the line for 32 points against the Grizzlies in Game 1. That's good for a usage rate of 36.9 and a true shooting percentage of 44.2. During the regular season, Aldridge had a 30.0 usage rate, a true shooting percentage of 52.8 and logged 35.4 minutes per game.
 
Interestingly, Aldridge had success against the Grizzlies in the regular season. In three regular season games, he put up a 55.0 true shooting percentage and a 32.1 usage rate in just 30.9 minutes per game. He was very effective with his jumpers, which wasn't the case in Game 1. Here's his shot chart: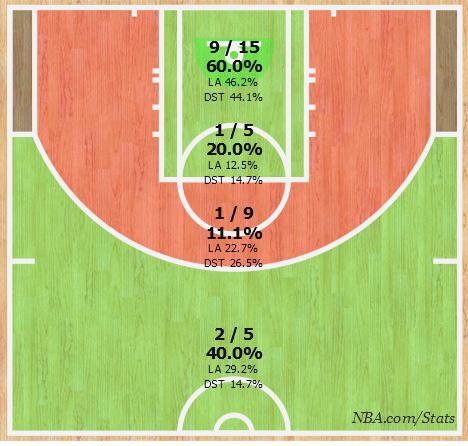 If the Blazers are going to win games, LMA can't make just one midrange shot. Interestingly, of his 16 shots from greater than 10 feet, he had a defender less than four feet away just four times. He should have some bigger games based on his performance against the Grizzlies before Sunday and the increase in playing time.
 
 
Paul Pierce - He had "it" on Saturday. In 37 minutes, Pierce scored 20 points with four rebounds, one steal, one block and four 3-pointers on 7-of-10 from the field. That's good for a true shooting percentage of 91.9 on just a 14.5 usage rate. Pierce was hitting a ton of contested shots and he did all of his scoring with just 0-2 dribbles before all 10 attempts. Cue the "that's why they brought him here" talk.
 
His usage rate was down from his regular season, so obviously the 20-point game was due to his efficiency. He's not going to be involved in the offense quite so much with the Wizards counting on Bradley Beal and John Wall to get the play-making chances. Expect him to score in the teens going forward.
 
Joe Johnson and Thaddeus Young - The Nets really tightened up on Sunday. Johnson played 42 minutes and Thad was up to 40. Young played just 32.3 minutes per game in his April games with the Nets while logging almost all of his minutes at power forward. Joe was up from 34.9 minutes per game in the regular season. Let's take a look at the lineups used in Game 1: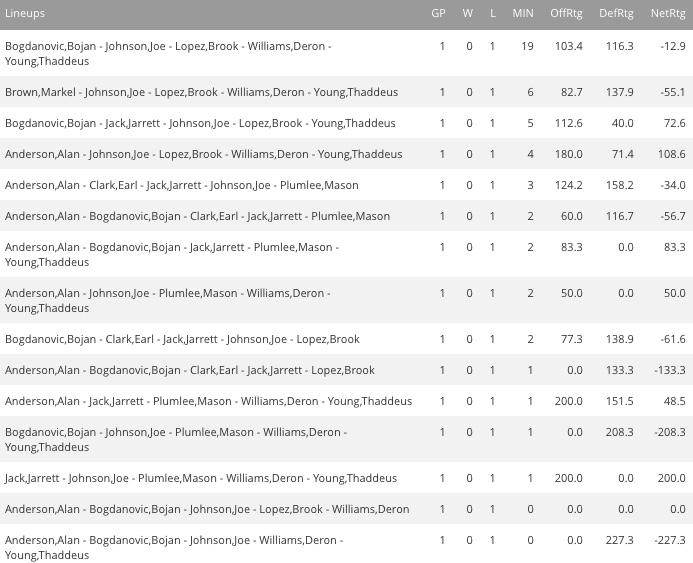 That's 15 different lineup combinations. Sure, most of them were just for a few possessions, but Hollins will probably tighten it up. Basically, it was four starters minus Markel Brown with a number of players filling in for Brown. Plus, there's a good chance Bojan Bogdanovic takes over as the starter in Game 2.
 
 
Marc Gasol - Gasol was logging just 31.9 minutes per game after the break, but his playing time increased to 39 minutes in Game 1. In the win, he flirted with a triple-double with 15 points, 11 boards, seven assists, three blocks, one steal and one turnover. His usage rate was actually down to 21.1 from 24.7 in the regular season, so there could be more scoring on the way. He'll have bigger games on the way in this series, but Andrew Bogut looming doesn't bode well for his averages in the postseason. 
 
Amir Johnson - The Raptors started Tyler Hansbrough in Game 1 and only gave him 13 minutes. It was Amir getting the vast majority of the playing time after halftime, playing 34 total minutes with 18 points, eight boards, one assist and one block. His 18 points led the team, which is surprising because the Wizards do a very good job on power forwards. In fact, the Wizards are first in the NBA for player efficiency allowed to power forwards this season.
 
One bigger threat to Amir than the Wizards defense will be his ankle. He's had multiple ankle injuries in the past couple seasons and it's really a matter of time before he starts dealing with soreness. If the Raptors are going to give him minutes in the mid-30s, he'll probably have one of the wheels fall off. That said, they'll need him out there if they want to have a chance to advance.
 
For now, we can expect Johnson to play minutes in the low 30s even if he comes off the bench. Based on his rebounding and usage rates, he'll be looking at some 13-8 kind of lines in this series.
 
C.J. McCollum - If we gave out a Most Improved Player from March to now, McCollum would be in the running — that's excluding Rudy Gobert, of course. McCollum played 37 minutes on Sunday, scoring two points with five boards, one block, one steal and one turnover on 1-of-8 from the field. Not good.
 
That's too bad because he had himself a magnificent April during the regular season, averaging 15.6 points, 3.5 boards, 2.1 assists, 1.3 steals and 1.4 treys. What's more, he had a true shooting percentage of 61.9 and a usage rate of 23.0 in those eight games. Clearly, Sunday was a letdown.
 
The Blazers are expecting Arron Afflalo to come back on Wednesday, so that means we can rule out C.J. getting 37 minutes again. He should still be able to get minutes in the lower 20s because he was playing better than Afflalo before the injury. For Daily Fantasy Sports (DFS), I'd probably steer clear here unless Afflalo doesn't play.
 
 
Finally, I just wanted to say how good Chris Paul is. He's so good. 
 
Enjoy the games this week!