Before I get to the usage side of things, let's address the bad news of Monday. Michael Kidd-Gilchrist is going to miss six months with a dislocated shoulder and need surgery. This is a massive blow to the Hornets, who are now the thinnest team in the NBA on the wing.
 
Let's get the Kidd-Gilchrist first. He was arguably the best player on the Hornets last year from a reality standpoint and from a numbers standpoint, too. Here's a look at the net ratings of all the Hornets last year: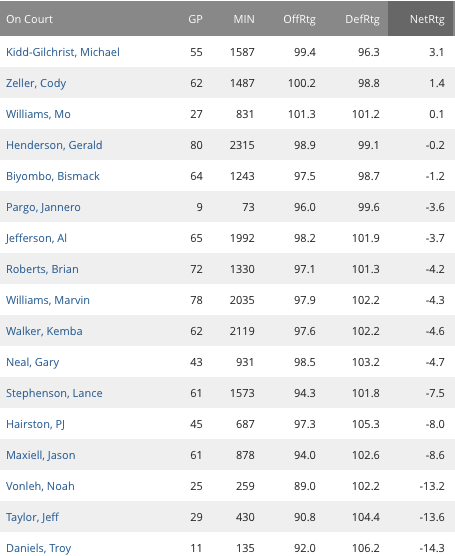 Man, that sucks. On the other side of the ball, MKG was finally finding himself offensively. He attacked the rim a lot more and really only counted on his jumper when he needed it. He attempted 65.3 percent of his shots in the paint and was able to get his true shooting percentage to 51.9. That's higher than a lot of high-profile guys such as: DeMar DeRozan, Andrew Wiggins, Nicolas Batum, Kemba Walker, and obviously fellow Michael hyphen, Michael Carter-Williams. Sadly, fantasy owners can cut him everywhere and hope he'll be back for March and a possible playoff run.
 
Of course, it's not going to be easy to make the playoffs now. Besides shifting Nicolas Batum to the small forward spot more, a lot of changes are on the way to fill what likely would have been around 32-33 minutes of MKG. Batum was already set to run the offense a lot and the chances of him having a big year go up a lot more now.
 
Who else? Well, you'd think Marvin Williams would see an overwhelming amount of minutes at the three now. There was already talk of him shifting over there anyway. For his fantasy value, no thanks. The bigger impact of shifting Marvin to the three is that we should see more power forward minutes out of Cody Zeller and Frank Kaminsky. We can probably move Frank the Tank into the 100-110 range with the likely increase in minutes and usage — he's a 80-100 guy in points leagues.
 
There will also be some new pieces in the rotation. P.J. Hairston should pick up more playing time while we should see a nice amount of Jeremy Lamb. Based on what Lamb has done in the past two years, there's really no need to draft him. Pullup Jumpers Hairston is basically in the same boat, too. No thanks.
 
OK, so let's get to the planned column for the day:
 
In a perfect world, your best fantasy players are posting high usage rates and high efficiency, especially in Daily Fantasy Sports (DFS). If they're doing so, there's a very good chance they put up a big line in games with heavy minutes. Additionally, everyone loves the younger players. Many of them haven't hit their ceilings yet. If you can get on board before everyone else, you're ahead of the game in season-long and especially in DFS.
 
Sometimes we see the signs after the break in the season before -- you can also check out this Second Half Studs column in the Draft Guide. Klay Thompson was probably the poster child for this theory back in 2013 with his huge increase in usage rate after the break, which prefaced his insane 2014-15. Of course, there are a handful of guys in this group that do not. Dion Waiters was a big flop, but obviously the changes to the Cavs altered his outlook. Alec Burks is another, but the injury to his shoulder really derailed him, too. Still, if these following guys get minutes, they could be in for big seasons.
 
So, the qualifications for this group are 23 years old or younger right now with post-break numbers of an effective field goal percentage of at least 50.0, a usage rate of at least 20.0 and at least 20 minutes per game.
 
Anthony Davis - Hide your kids. Hide your wife. Hide your fantasy teams. In his 22 games after the break, Brow had a 29.1 usage rate, a 50.5 eFG% and is just 22 years old. I'm not really sure we need to go into this. Anthony Davis is going to dominate. In his first game on Friday, he had a 43.8 usage rate and was running at a pace about 15 more possessions greater than last year. Although, the Pacers are also stressing pace, so it was kind of a perfect scenario as far as pace goes. He's gonna eat like Method Man keeps feeding him and feeding him and feeding him.
 
Kyrie Irving - His efficiency was something special last year as he exceeded all expectations. In 23 games, he had a 28.2 usage rate, a 53.5 eFG% and the Cavs went 20-3. When it comes to Kyrie, it's obviously not a question of his skillset and more about his health. He should have a similar role and he could get even better given his youth. You can target him at the turn of the second and third rounds right now.
 
Jordan Clarkson - He was arguably the best rookie after the break last year. He posted a 24.4 usage rate and a 51.2 eFG% in his final 28 games last year. His role is so different this year, though. Kobe is back and clearly the Lakers want to use D'Angelo Russell at the point guard spot. He is going to do most of his damage in transition and we should certainly see his numbers come down. If  you can grab him in the 85-105 range after your other favorite targets go, you're in a good spot. He really needs a 3-pointer to shine again.
 
Andre Drummond - The usage rate really climbed for Dre, increasing all the way to 23.1 to go with his 53.6 eFG%. Drummond is just 21 and he's really in a good spot. Here's his shot chart after the break: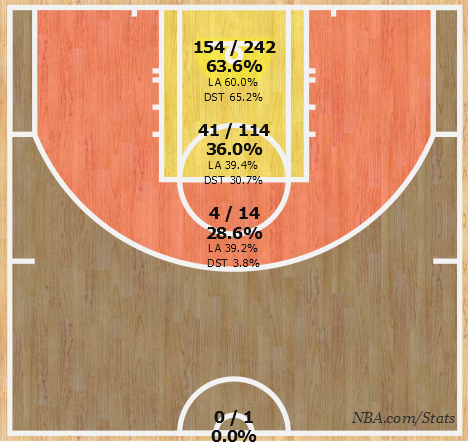 Yes, that mid-range percentage stinks, but don't forget Drummond only had those shots account for 3.8 percent of his total. His non-restricted numbers aren't too bad, but that 31 percent distribution is a big piece. He's still young and hopefully he can cut down on the 8-10 footers while getting more 4-6 shots.
 
There are two really big pieces set to help Dre. The first and most obvious is that Greg Monroe is gone. Monroe had a 23.8 usage rate last season and was among the leaders for field goal attempts in the paint. With him gone, that should give Drummond the run of the yard in the paint. The pace could also increase even though Drummond's pace was similar with and without Monroe.
 
The other is Reggie Jackson. No player after the break ran the PNR more than RJ last year and it wasn't even close. The Pistons are really going to use that to drive their offense and to help space the floor for their shooters. That should help Drummond's usage rate and the switching on PNRs could even help him get better position under the basket for O-boards.
 
We should see a lot of 15-15 lines from Drummond this year. DFS players can eye him on the nights with weaker interior defense and likely sub-par pick-and-roll D vs. centers. In season long, you have to punt FT% with Drummond, but he could dominate for owners OK with that.
 
Enes Kanter - Not having Kevin Durant was a big factor as Kanter went off to the tune of a 22.6 usage rate and a 57.1 eFG — that's the top efficiency on this list. We can just dismiss this. Kanter's usage rate is falling big time.
 
C.J. McCollum - My boy! He went off in 24 games, playing 21 minutes per game with a 52.8 eFG% and a 21.9 usage rate.
 
Perhaps no player is looking at a bigger increase in role than C.J. McCollum. He goes from what was the seventh option to easily the second. Yes, Damian Lillard will likely be second in usage rate for point guard behind Russell Westbrook, but not even Westy and Kobe Bryant on the same team can result in a combined usage rate of 100. OK, maybe not.
 
The thing about C.J. right now is we don't know what his specific role is. He could come off the bench to get more minutes at point guard — as a C.J. backer, I would prefer this — or he could get in the starting lineup to get more minutes at shooting guard. Regardless, the team clearly wants to play him in the neighborhood of 28-34 minutes this season.
 
Looking at his numbers superficially outside of the qualifying stats above, we saw him be mostly points-based with some threes, steals and dimes mixed in while his foul shooting clearly needs some work at 69.4 percent post-break. After the break, his averages were 9.8 points, 2.2 boards, 1.5 assists, 1.0 steals and 1.0 treys. When McCollum really blew up in the series against the Grizzlies, he put up averages of 17.0 points, 4.0 boards, 0.4 assists, 1.2 steals and 2.2 treys on 47.8 percent from the field and 76.9 percent from line. Money.
 
We've covered him a ton all season (and on my Twitter @MikeSGallagher). Draft him aggressively.
 
Rodney Hood - My other boy! Once he got healthy, Hood absolutely tore it up with a 21.7 usage rate and a 51.3 eFG%.
 
Hood really showed some improved ball-handling at Summer League and he was aggressive during his first game in Hawaii against the Lakers. He did come off the bench, but that's fine. 
 
The Jazz are one of the most interesting teams to watch. They're a lot of fun, but there is a glaring weakness in their offensive arsenal: Shooting. Trey Burke still can't get free for clean looks on or off the ball, Gordon Hayward has become more aggressive and isn't the floor spacer like many other wings, Alec Burks is a Dwyane Wade-like attacker even though he stresses his increased range, and obviously Derrick Favors and Rudy Gobert aren't going to help offensive flow with spacing. Plus, Raul Neto can't shoot worth a lick right now, so Hood's skill set as a shooter may be more important to than Jazz than any other shooter on other team's — Kevin Martin and Khris Middleton also comes to mind here.
 
With the way the Jazz are likely going to slow things down, it'll be really important for Hood to take and make 3-pointers. Based on his play after the break, Summer League and the one preseason game, he seems much more savvy at creating space for himself with and without the ball. Chances are he will also be more aggressive and get shots near the basket with his size. Here is his shot chart after the break last season: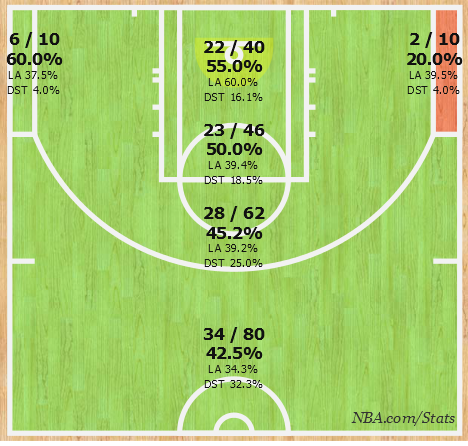 That little read guy in the corner? I wouldn't worry about that little guy. Hood should be all set for a huge season and just needs to stay healthy.
 
Khris Middleton - The usage really saw a spike here with Middleton going up to 21.5 in his final 29 games while posting an efficient 51.3 eFG%.
 
He's in a very strange situation this season. Thanks to injuries to Jabari Parker, O.J. Mayo and a host of others, Middleton found himself getting major minutes on the wings. Like Hood, Middleton's skills as a shooter are huge. He's never been a high-usage player and it would be a tall task to repeat with all the help he has this year.
 
The Bucks should look a little different on offense. While they do have a ton of youth on their team, you'd think their length on defense would want to have their players slowing things down and taking higher-percentage shots. It's a lot easier to have your defense set when your opponent is taking the ball out of the net.
 
Ideally, Middleton turns into Klay Thompson. Of course, the big problem is that Middleton is going to get his minutes next to players with high usage rates. Michael Carter-Williams and Greg Monroe were in the top tier for usage in their positions.
 
Here's a look at his shot charts and some other data after the break: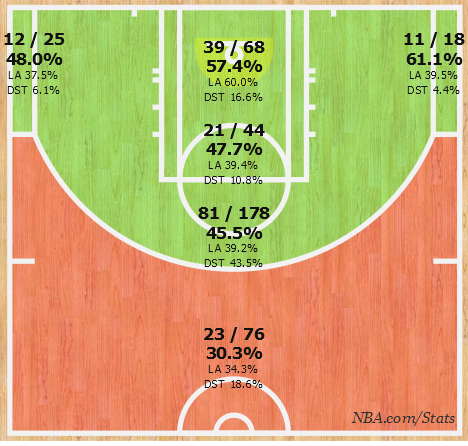 The first thing that jumps off the OH MY GOD HE WAS GOOD IN THE CORNERS. The Bucks are going to do all they can to get Khris shots from there and he could be in the top three for 3-pointers this year. Plus, I really like how he had 53.0 eFG% on his shots with a defender 2-4 feet away. That shows you it wasn't a fluke, especially since those accounted for 24.4 percent. To be clear, nobody should be expecting him to be that good again from the corner. Also, that pullup shooting on 3-6 dribbles is really nice, too.
 
There is really a lot of data to like on Khris in season-long leagues. He probably will see his usage rate go down, but he is a very important part of the offense as the only reliable 3-pointer shooter getting closer to 30 minutes. He's a solid pick in the middle rounds and is probably the only Buck I'm going to draft in standard leagues. For DFS, he'll probably be a matchup play against teams with faster styles of play.
 
Tobias Harris - Another guy getting paid this offseason, Tobias just met the usage rate requirement here with a 52.7 eFG%.
 
The Magic are a lot of fun. In case you missed my piece from the weekend, check it out right here for some stats on their defense and possible lineups. If you don't want to, here's the short, short version: Oladipo, more Aaron Gordon, do a better job on PNR and transition D, and guard SFs better.
Also, he takes a big chunk of his shots without a dribble even though he's a smaller PF. According to NBA.com, he had a frequency of 34.5 for catch-and-shoot shots, so what's the difference? Let's cut to the chase on that… it's cuts (BOOOO 🍅🍅🍅🍅🍅). 
 
Harris came in at 93rd percentile on his cutting efficiency for the season and he was 24th on points off cuts in just 68 games. Guys like Kawhi Leonard had similar success to get points off cuts, but that's a big proponent of efficient power forwards.
 
All told, you'd think Aaron Gordon would be a better suited small forward. Gordon was somewhat enthusiastic about wanting to play small forward. However, there were several scouts and people in his corner shooting that down. If you saw AG at summer league, you could tell he is working his tail off to get what he wants as far as positioning goes.
 
This begs the question: How did Harris perform last year with AG? It actually wasn't bad. The Magic had a net rating of -5.2, which is actually good because that's a lot better than their team net rating of -8.3. Furthermore, the Payton-Dipo-AG-Tobias-Vooch lineup was -6.5, which is much better than the net rating of the lineup with Frye in and AG out — it was -21.6(!!). Seems like a no-brainer to me, but I'm not coach Scott Skiles.
 
With a new coach, it's still unknown what Skiles will do. He's burned Tobias before — if you've followed me on Twitter for a while you'll know how much I hated Skiles during his last Milwaukee year, but I digress. Anyway, a guy with that kind of upside, efficiency, solid foul shooting with potential across-the-board production, you have to like #TeamTobias. I wouldn't target too aggressively, but he's on a number of my teams so far.
 
Guys who just missed the cut due to lower efficiency
 
Dennis Schroder - He had a 46.1 eFG%, a 29.9 usage rate and is just 21. If Teague misses time, he will be a must-add player. He's sloppy, but he's still very young.
 
Trey Burke - He only had a 43.1 eFG%, a 27.1 usage rate and is 22. The Jazz probably want him to stay on the bench if they can help it. I won't be targeting.
 
Victor Oladipo - You have to love his 26.1 usage to go with those other stats. He's 23 and looks like he's set to explode.
 
Michael Carter-Williams - His 25.4 usage rate is a big reason why I am kind low on the Bucks this year for each guy's fantasy value. His 43.5 eFG% is why I'm low on him.
 
Zach LaVine - He's the youngest in this entire group at 20 and had a 25.0 usage to go with his 48.8 eFG%, which is actually pretty good. The Wolves have SO many guys back now, though. I won't be too aggressive.
 
Andrew Wiggins - If he made 3-pointers, he'd be a lot better than 45.2 eFG%. His 24.3 usage is obviously nice and could hold even with the extra talent around him.
 
Tim Hardaway Jr. - Nah.
 
Brandon Knight - He only played 11 games, but his efficiency was not great in PHX at 43.0. He'll be better and should be a fine pick in the middle rounds. Knight slides in drafts a lot, too.
 
Dion Waiters - Nope.
 
Kentavious Caldwell-Pope - He is getting talked up big time in camp. SVG may want to play him next to Stanley Johnson and Reggie Jackson, which should make him open a lot.
 
Vander Blue - Two games.