Monday was a crazy sports day. The NFL had a barn-burner game on Monday Night Football, there were four MLB playoff games (#LGM, by the way), and we have six interesting NBA preseason games. You needed like six TVs to keep track of it all.
 
When it comes to preseason hoops, we can't get caught up in performance, but there were a lot of interesting developments in rotation, offensive systems, and players making some changes. I think the big trend so far is how much teams are pushing the rock this preseason. Interestingly, the 76ers led the NBA in pace last preseason at 102.4. This year, there are eight teams above that numbers (GSW is barely behind that, so it's almost nine). Besides that, let's take a look at some of the headlines from the past couple days:
 
Follow me on Twitter @MikeSGallagher for stats, analysis, Vines and more.
 
Light Lowry
 
MVP of the preseason! In his three preseason games, Lowry has an NBA-high 30.3 points per game to go with 1.7 boards, 3.7 assists, 1.0 steals and 3.7 treys. The results are really nice, but the most impressive thing is how he as an 86.6 true shooting percentage. That's like 20 percentage points above elite and he's doing it with a 33.5 usage rate. Here is his shot chart: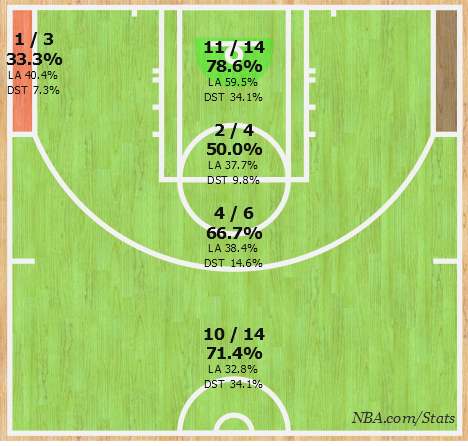 That is nice. Besides all those makes — especially above the break on 3-pointers — the distribution is very impressive. Only 10 of his shots are non-restricted two-pointers, which is pretty close to perfect. Lowry has never really been a bad shot guy, so what's the difference?
 
Again, preseason, but there are a couple key differences in Lowry's game. The first and most visible is how he's lost so much weight. He actually looks cut and perhaps that's helping his case. Although, I think the bigger part would be if the weight loss can help him stay healthy. You could say the weight loss helps his pace, but it's basically been the same compared to last year.
 
The other thing worth mentioning is how coach Dwane Casey wants to play him off the ball. That's helping him a lot and that could also help keep him healthy, too. Also with Casey, you have to like how Casey wanted him to lose weight and Lowry came through. Ya gotta like a player getting on his coach's good side.
 
Lowry is a solid player off the ball. On his shots without a dribble, he had an effective field goal percentage of 53.3. He's killing it in that regard in the preseason, but he's not going to flirt with a 90 true shooting percentage, obviously.
 
Lowry's fantasy value gets a slight uptick in the new system and it may even help his 3-pointers rise. He's worth a look near the turn of the second and third rounds despite how he really struggled down the stretch last year.
 
SlowBe Bryant
 
Yes, we know Kobe is old and yes you've probably seen 100 people voice their opinion on ESPN ranking Kobe at 93 for their NBA player rank (not fantasy). He's a lightning rod even before he steps on the court, but what we can learn based on his play so far?
 
By far the biggest thing about Kobe this preseason is his slow pace. He only has a 90.5 pace, which is the lowest in the NBA (minimum of 36 total minutes played). The Lakers have a weird mixture of young, faster players to go with older, slower ones. It's a very odd combo.
 
Last year, the Lakers had a pace of 98.3 while Kobe was on the court. Interestingly, that was actually down with Kobe off the court at 95.8. In other words, we shouldn't press the panic button on the slow pace yet.
 
Although, a bigger concern is Roy Hibbert slowing it down. Yes, he's saying all the right things about losing weight to help push the tempo and play the 2015 style with stretch fours, etc. However, he really slowed down the Pacers while he was there. It's just something to keep an eye on.
 
So how is Kobe's performance? Actually, it's really good. Here is his shot chart: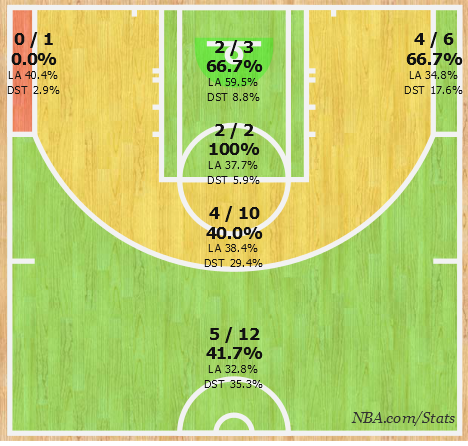 He's not attacking the rim at all with just five shots in that range. He has a 29.4 usage rate and a 67.5 true shooting percentage, so it is definitely working for him. Based on that distribution, we have to call it a fluke. He's basically just practicing his shots, which is what he does anyway right?
 
Even though he's highly entertaining, I'm probably not going to draft him. Last season, he was one of just four players to have a usage rate greater than 26, not hit 50 true shooting percentage and play in at least 10 games (Michael Carter-Williams, Tony Wroten and Derrick Rose were the others). He actually crushed those numbers with a 47.7 TS% and a 34.3 usage rate. I think he will have some big games for DFS, though.
 
Al-Farouq AminWHO??
 
If there is a player who looks totally different compared to what we're used to, it might be Al-Farouq Aminu. Last year, he only had 15.6 percent of his shots come without a dribble and he was assisted 74.8 percent of the time. In the preseason this year, he's putting the ball on the hardwood and has been assisted just 50.0 percent of the time.
 
The other big thing is his 21.1 usage rate in the preseason, which crushes 15.1 from last year. He has looked fantastic on both ends while Gerald Henderson (hip) has yet to be cleared. It's worth mentioning that Allen Crabbe has some very impressive showings in the preseason, but he's not as good of a fit with Damian Lillard and my man C.J. 
 
It's best not to overreact in the preseason, but Aminu's role is changing in a big way and it might be the most noteworthy storyline of the preseason. He's not a late-round flier anymore and has separated himself as the No. 4 target on Portland. I still really like Meyers Leonard, who has looked awesome so far. Leonard could be a monster.
 
French Fried?
 
Rudy had a bad game on Monday, scoring just three points with seven rebounds and one block. He was in foul trouble for most of the game and was incredulous on his fifth foul call — it was bad. In his four games, Gobert has averaged 5.3 points, 6.5 boards and 0.8 blocks on just 46.7 percent from the field and 50.0 percent from the line.
 
Should you be worried? Nah. The Jazz are running a lot more PNR with Gobert and that's affected his efficiency. Synergy had him at a frequency of him running PNR just 16.7 percent of the time and I'd guess it's in the 25-30 percent range in the preseason — there is no Synergy data in preseason. They are very experimental with him and they will likely shift him back to being more of an offensive guy from last year.
 
On defense, are you really going to worry about low blocks? It's preseason. He doesn't want to get hurt, so he's not going to take chances. I mean, you're worried about a guy's blocks after he did this last night?
 
He's a strong second-round pick.
 
A.B. See?
 
Alec Burks has looked great. Here is his shot chart in the preseason: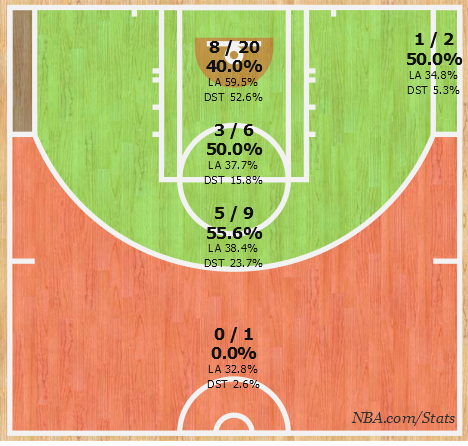 That is a lot of shots at the rim. He certainly has to improve on making those, which was his biggest problem last year. Burks is handling the ball a ton and is facilitating the offense for the Jazz. Trey Burke has struggled a lot and the Jazz are more open to the lineup of Burks, Rodney Hood and Gordon Hayward. Coach Quin Snyder said he likes how it can help the Jazz be more aggressive on defense, and we all know how much they love that. Plus, They're also playing more stretch fours.
 
If you're in a points league or a DFS guy, Burks looks like he's going to be very valuable. He's not too good with steals, threes or even efficiency, so he's still only a late-round pick in standard leagues.
 
Bobby's World
 
Bobby Portis looks amazing and he killed it at Summer League, too. On Monday, he had 20 points, 11 rebounds, one assist, three blocks and two 3-pointers on 8-of-12 from the field and 2-of-2 from the line. He is dominating like few others and shows no signs of slowing down. Here is his shot chart: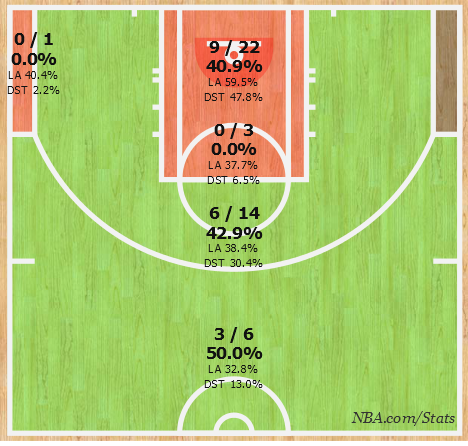 Yikes on the paint numbers. However, he made 75.4 percent at the rim at Arkansas last year, so there is no need to worry. The problem is that he is extremely buried on the depth chart. The Bulls still have Pau Gasol, Nikola Mirotic, Joakim Noah, Taj Gibson and even some Doug McDermott at the four, too. If one of the bigs gets hurt (traded?), Portis could climb into standard-league convo. If you're in a Dynasty draft, go get 'em.
 
If you're into the preseason storylines and missed the column from Sunday, bang it here. It's all about the 15 teams who played on Friday and Saturday.