A game with a ball will never match the accomplishments of Martin Luther King Jr. That said, the NBA still spends the third Monday of the year to honor one of the greatest speakers and visionaries in American history. The basketball-related tributes were wonderful yesterday, so feel free to check out these clips of a choir at Atlanta doing the intros, the NBA Breaking Barriers intro and the Chris Bosh MLK spot. It's obvious the NBA is the most progressive league in the world.
 
As for the actual basketball, we had 12 games and most of them were not entertaining. The morning games were extraordinarily bad, especially at the point guard position. In fact, the eight starting point guards to start their games before 4:00 EST made a combined 28.7 percent from the field. If you played DFS (Daily Fantasy Sports) for the early slate and were able to score 250 on FanDuel, you probably cashed in a tournament and definitely won in 50/50s and double-ups. We'll spend some time talking about which point guards are really struggling the most in today's column. We'll also take a look at some of the guys doing big things.
 
Editor's Note: Rotoworld's partner FanDuel is hosting a one-day $175,000 Fantasy Basketball league for Tuesday's NBA games. It's $25 to join and first prize is $15,000. Starts at 7:30pm ET on Tuesday. Here's the FanDuel link.
 
Follow me on Twitter @MikeSGallagher for stats, analysis, Vines and more.
  
Russell Westbrook - Believe it or not, Westbrook is dead last in effective field goal percentage (eFG%) among players with at least 32 minutes per game in 2015. So what's going on? Let's take a detailed look, starting with is shot chart in his seven games in 2015: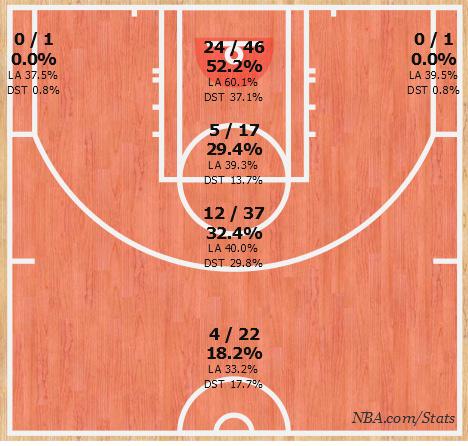 Besides it being completely red (below the league average), it's his shots at the rim that have pulled him, as well. He is actually taking more shots at the rim this season compared to last season, but he's shooting 3.9 percent worse on those. What has really been bad has been the mid-range — the most inconsistent part of a guard's game. Last year, Westbrook was outstanding in the mid-range at 43.5 percent, but it's fallen off a cliff lately. He also has been dreadful on his above-the-break 3s, but the frequency is down.
 
Furthermore, let's look his shot makes based on type this season: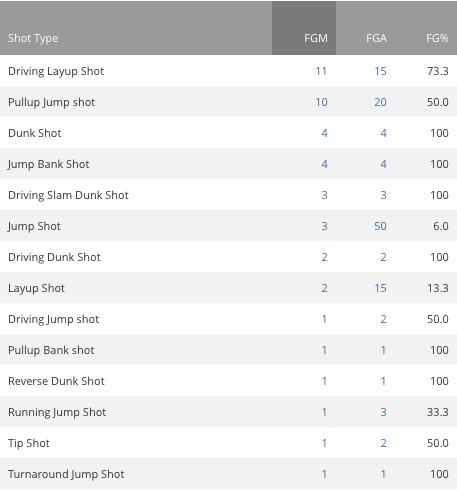 Problem status: Identified. When you're shooting 3-of-50 on jumpers, it's going to hurt your efficiency (#Analysis would apply here). To explain some of these types above, a jumper is basically a catch-and-shoot attempt, a layup shot is no dribbles, and slam dunks are two-handed. OK, we all knew that Westbrook isn't exactly Kyle Korver, but he did make 26.3 percent last season and 24.1 percent in 2012-13 on his jump shots. Westbrook thrives off the dribble and he's been above 58.0 percent on his pullup jumpers in each of his last three seasons. Hopefully, he'll take more of those.
 
The efficiency has actually hurt his usage, which is the way it should work. In 2015, his usage is just 32.1 -- still an extremely high number. However, it was at a ridiculous 39.3 before Jan. 1. Besides the lack of efficiency, he's really been productive on the stat sheet this year in 2015 with 6.4 boards, 8.3 dimes and 2.4 steals per game. I think he'll come around soon. It's also worth mentioning he's improved his shooting after the break by at least 3.1 percent in each of his last two seasons. 
 
Michael Carter-Williams - Another point guard who can't make a jump shot. Here's a look at his shot types this season: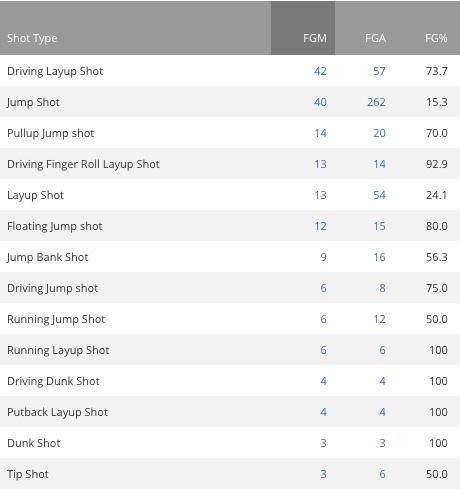 He has a much bigger sample size than the Westbrook graphic above and he's also routinely been a disaster on his jump shot. Plus, he was at just 20.0 percent on jumpers last year in his rookie season, which accounted for just a shade under half of his shot total — this is why he was last in the NBA in eFG% among qualifiers. Besides the awful jump shooting, his numbers are actually solid in other areas. He made 62.5 percent at the rim in 2015 and he'll really need to excel there. Although, the Wizards would not allow him to get to the rim and chances are most teams will have a similar plan.
 
The big story for the 76ers offense is the loss of Tony Wroten. He's missed the last four games, which has helped MCW raise his usage rate to 33.1 in that stretch. His efficiency hasn't really fallen off, but his assist percentage, turnover rate and rebounding rate have taken a turn for the worse. That's a big reason why fantasy owners have been disappointed in his production despite the solid usage rate.
 
If you're in a season-long standard league, you're basically going to need a miracle for MCW to put up top-60 value. However, there is still plenty of hope for him in DFS. If a guy is posting a usage rate of greater than 30 and is playing 35 minutes per night, he's going to have a huge upside. If the matchup is right, you should certainly consider him.
 
I was going to stick with point guards, but let's go off on a tangent here and stay with the 76ers. Luc Mbah a Moute is out with a knee contusion. He was a late scratch on Monday, but I just get the sense he's going to miss more time. That's opened up some playing time for Jerami Grant and he hasn't really squandered his chance. In his last five, he's averaged 8.4 points, 2.2 boards, 0.8 blocks, 0.8 steals and 1.4 treys. He didn't block, steal or hit treys at Syracuse last season, so apparently it's a byproduct of the system. In that five-game span, his usage rate is still low at 16.7 and his rebounding rate is a joke at 5.6, but he's got a good chance to play in the mid-20s. I'd keep an eye on him in standard and DFS. Everyone knows Henry Sims isn't the answer.
 
John Wall - Another superstar point guard having offensive issues here with his scoring is down to 15.8 points in 2015. His numbers have been trending down since Bradley Beal has been in a groove. Since Beal played more than 35 minutes in his first game this season on Dec. 3, Wall has scored just 16.2 points with a usage rate of 23.8 and an effective field goal percentage of 51.2. Before that, Wall had a 26.8 usage, a 45.8 eFG% and 18.1 points per game. Most of his other stats are down, too.
 
While the scoring is down, his assists are up and he's the league leader in assists per game (tied with Ty Lawson). Since Dec. 1, here's a look at who Wall passes the ball to the most: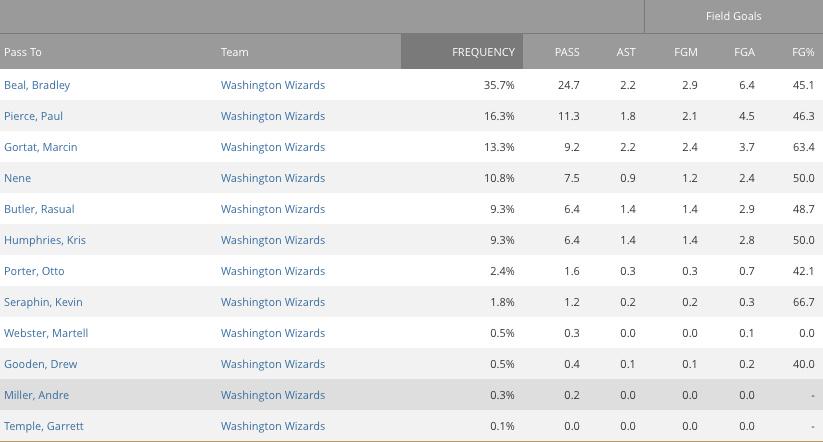 It's pretty clear that he's giving away scoring opportunities. To take it a step further, Beal has only been taking 2.8 3PAs per game off a Wall pass since December, which is tops on the team off a Wall pass. Trevor Ariza, Martell Webster and Beal averaged 2.4 each last season (7.1 total between them).
 
As much as this sounds bad, Wall is still doing just fine. His biggest bugaboo to his value in standard leagues has been at the foul line, making just 74.2 percent in December. He's back to to 81.0 percent in January, though. Wall will be a top-15 player the rest of the way in standard and a top 5-10 guy in eight-category. He's also someone worth using in an up-tempo matchup.
 
Stephen Curry and Klay Thompson - Let's get to some scoring studs. These two guys are just rolling right now. In fact, they're the only two players to play in at least 10 minutes of action in 2015 and post a usage rate of at least 27.0 and an effective field goal percentage of 60.0 Yeah, that'll help a team go 10-1 in their last 11. We've kind of beat the 'Steph is ridiculous' horse to death, so let's focus more on Klay.
 
Everyone knows he's a knock-down shooter in catch-and-shoot situations, but he's really done well off the dribble in 2015 (nine games):
 

To clear 53 eFG% on all of those is elite status. He's really become a complete scorer as the year has gone on. Back in the preseason of the 2013-14 season, we really saw Thompson put the ball on the floor. It didn't quite come around in 2013-14, but it's seriously on right now. In his last nine, 36.8 percent of his buckets have come unassisted (34.9 on the season), which is a massive increase from his 24.9 in 2013-14. That's crazy.
 
His usage has held steady all season at 27.0 in his first 19 games and 27.1 in his last 19 games. This season, he's also seen his block percentage, steal percentage, rebound rate, assist percentage and free throw attempts hit career highs while his turnover rate has gone down.
 
He's a max player and is going to be good for a long time.
 
Kyle Lowry - DeMar DeRozan is back, so let's take a look at what's different in Lowry's game. In his 21 games without DeRozan this season, Lowry turned in a usage rate of 28.7, an effective field goal percentage of 49.3, a rebound rate of 11.3 and an assist percentage of 38.3. Before the DeMar injury, he was at 23.7 usage, 50.7 eFG%, 9.0 rebound rate and a 31.2 assist percentage. In other words, everything is down with DeMar except a slight uptick in his efficiency.
 
In his last four games with DeRozan back, it's been very similar to the pre-injury numbers. Plus, the Raptors were only running at a 94.1 pace in those four while Lowry is on the floor, which is down and would rank 27th in the NBA on a season rank.
 
Lowry was a little bit of a disappointment from a DFS standpoint without DeRozan. He's still going to be a stud in season long, but chances are he won't hang too many 50-point games in DFS. In fact, he's only scored 34.4 FanDuel points per game with DeRozan compared to 41.5 without him.
 
 
Derrick Rose - Another Use It or Lose It regular. Since Rose sat out two Saturdays ago with knee soreness, he's bounced back nicely in his last five. In that span, he averaged 24.0 points, 3.2 boards, 6.8 assists, 0.8 steals, 3.8 treys and 2.0 turnovers on 48.4 percent from the field. He's still putting up 30.3 usage rate and the treys have him at a 58.6 eFG% in that span. So what's the difference? Here's a look at his shot types in this hot stretch: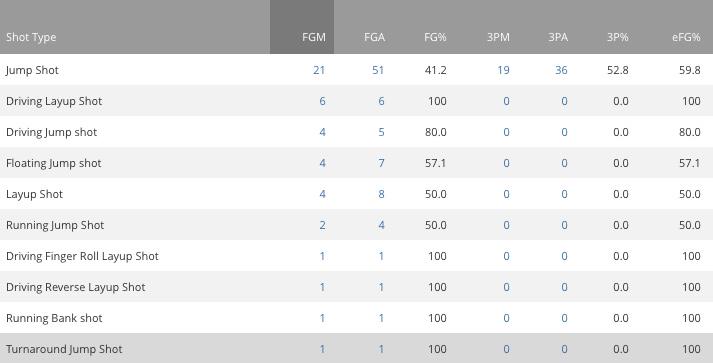 That 59.8 eFG% on jump shots is almost double what he posted before the five-game stretch this season, which was just 32.4. That has fluke written all over it and only taking 22.6 percent of his shots at the rim in that span is also another bad sign that this recent increase in efficiency is a mirage.
 
If I owned Rose in fantasy (I don't), I'd look to trade him ASAP. As for DFS, it's really hard to completely dismiss a guy with a usage rate of at least 30. I would consider using him on Friday against the Mavericks and on Jan. 29 against the Lakers. 
 
Kemba Walker - He's back at practice after a knee injury finally cost him time in his NBA career. Walker is dealing with a cyst on his knee, which isn't really a major issue. He said the only previous knee injury he had in his playing days was a minor meniscus injury in his high school career. That's not a red flag at all, so I'd guess he'll be fine.
 
However, his usage has really spiked because the Hornets were missing a lot of their guys. Al Jefferson is a usage monster with DeMarcus Cousins as the only other center to play more than 30 minutes per game and log a usage rate higher than Al Jeff's 26.8 this season. 
 
The loss of Al Jefferson explains why Kemba posted a massive 31.5 usage rate in 37.1 minutes per game in 2015.  In fact, no player with at least five games in 2015 has more than Walker's 21.3 shot attempts per game. What's more, he put up a solid 49.7 eFG% in that span, which explains his averages of 27.0 points, 4.7 boards, 4.6 assists, 1.3 steals, 1.0 blocks and 2.0 triples. That's first-round value in standard leagues and something DFS players will take every night.
 
The most interesting part is how well he's done off the dribble. Here's a look at his seven 2015 games (bottom) vs. the 33 games in 2014 this season (top):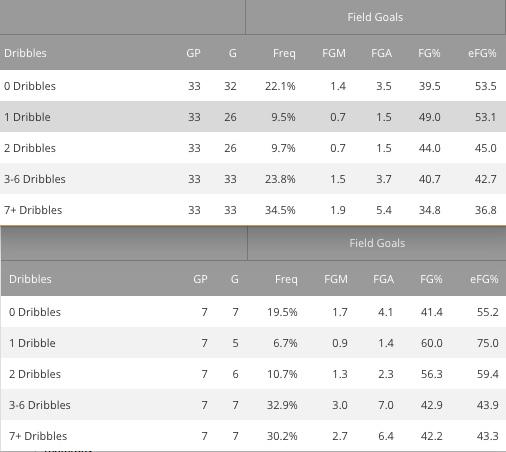 He's made some tremendous strides in scoring off the dribble. While I do think we have to slightly discount that stuff because he had favorable matchups basically for every game, that's still some rare air to put up that kind of efficiency off the dribble.  It's hard to attribute the improvement to the loss of Al Jefferson and Lance Stephenson, but it certainly is possible.
 
As touched on, Walker's usage was only a 24.7 in the 2014 part of the season. I would be shocked to see it be above 27 even if he's scoring the ball extremely well. Personally, he was a go-to guy for me in DFS almost every night to start 2015, but now his price is a little too inflated. Looking at the schedule and assuming he plays, I'd probably only consider using him on Saturday against the Knicks and on Jan. 31 against the Nuggets this month.
 
Thanks for reading and good luck!