So are the Warriors just really, really lucky this year? They are 4-0 and have the biggest margin of victory in NBA history in four games at 100 points. Keepin' it 💯 for sure. It's been a bloodbath and it's not like they went against chumps with the Grizzlies, Rockets and Pelicans twice — all made the playoffs in the Western Conference last year. It's been ridiculous.
Editor's Note: Sign up for FanDuel today and receive a FREE ENTRY into a one-day fantasy basketball league for real money! And all you have to do is finish anywhere in the top-half to win cash. Enter now.
Follow me on Twitter @MikeSGallagher
 
As you could imagine, it's all about reigning MVP Stephen Curry for some of the most magnificent numbers you could imagine. He has three 20-point quarters while the rest of the NBA has just one with C.J. McCollum's 22-point first quarter from his opener. If you're new to this column, it's all about offense, usage rates, efficiency, how they're getting that efficiency, and if it can continue. I also did a pod to explain some of the terms and how they help as a fan and as a fanatsy owner. Let's start with Steph and his shot chart: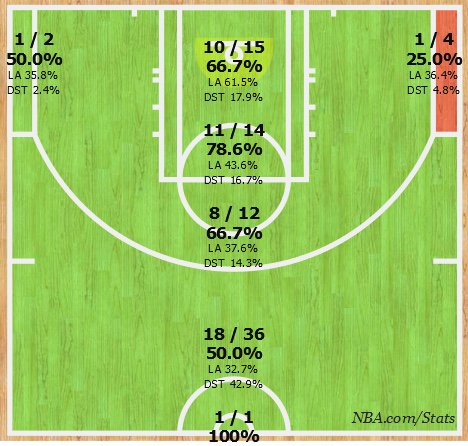 What? He has a 76.8 true shooting on his 34.3 usage rate. How unreal is that true shooting percentage? Only two players have qualified for minutes and been above a 70.0 true shooting percentage (Tyson Chandler and Artis Gilmore). He's at almost 77. So how is he doing it? As you probably know, leaving Curry open is basketball death. Check out his shooting numbers off the dribble (top) and how he does with his closest defender on him (bottom):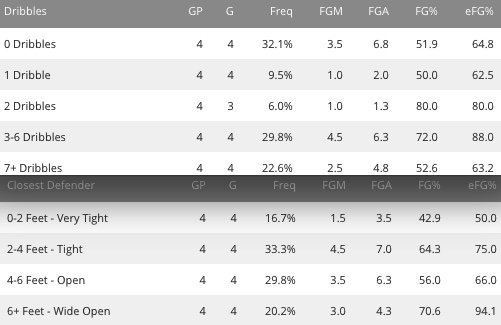 Defenses would be safer leaving their front door open when there is a kleptomaniac convention across the street instead of leaving Curry open. He has an unfathomable 94.1 effective field goal percentage (eFG%) when he's wide open, so it's basically a free two points. Steph is basically like, "You gon' learn today, defenses. You gon' learn today!"
 
Besides that, he's still at 66.0 eFG% or greater when his defender isn't within two feet of him, which is just not fair. Heck, he's even at 50.0 eFG% when the defender is within two feet. Most players would take that efficiency if they're open.
 
His dribbling numbers are almost as impressive. Usually, guys drop off when they dribble more, but Curry has a 77.6 eFG% on shots coming off multiple dribbles. The way he can create space and launch a trey in a split second is like nothing we've ever seen.
 
Can he keep this going, though? I mean, there's no way he can be this good the rest of the way. That said, he found his identity last season and it really looks like he's figured out how to improve in his strengths. The Warriors also seem to be setting more screens for Curry to help him get more shots. Looking at last year, he has a 63.8 true shooting percentage and a 28.3 usage rate. It looks like he'll be over 30 for usage rate and maybe even a 65 true shooting percentage — no player in the history of the NBA has put up those two numbers before and qualified for minutes.
 
For DFS, his numbers are even more appetizing because his pace is also four possessions per game faster and his assist and rebounding percentages are up, too.  Curry was actually more efficient and had a higher usage rate on the road last season, so you would think he's even more of a must-play guy away from Oracle. Hopefully, the Warriors don't send the home folks on the road before the fourth quarter, though.
 
If you're looking for an early MVP choice, he's the one like Rod Strickland. 
 
A Leonard can change its spots?
 
Believe it or not, there are a lot of other players making news in the world of usage. The two guys taking a massive leap so far this season are Kawhi Leonard and Damian Lillard. One is expected while one is not. Let's start with the bigger surprise.
 
Kawhi Leonard has a surprisingly-high 30.0 usage rate this season. That is a hefty increase from just 23.1 last year and even a bigger increase from 18.3 in 2013-14. When the Spurs won the title, coach Gregg Popovich said he was starting to make Kawhi the focal point and he wasn't lying… for a change.
 
Kawhi's style in which he's scoring is actually quite similar. He's doing a similar amount of work on and off the dribble, but he's actually been really bad on catch-and-shoot so far. Surprisingly, he has just a 31.6 eFG% on catch-and-shoot jumpers, but overall he's at 44.5 on all jump shots. In other words, we haven't seen Kawhi fully go off yet. Scary, right?
 
On the season, he's sitting at averages of 21.3 points, 9.3 boards, 1.0 assists, 2.3 steals, 2.0 blocks, 0.8 treys and 2.8 turnovers on 48.6 percent from the field and 100 percent from the line, which is still almost 22 percent below Curry on TS% with Kawhi's 55.0 — comparing anyone to Curry is dumb, though.
 
Kawhi's usage has been consistent in each of his four games with a usage rate above 25 in each of his four games and a season-high 37.8 in his highest game (Friday). It's on.
 
Damian Iller
 
To nobody's surprise, Damian Lillard is a usage monster this season. He's sitting at 32.1 with a pace of 104.3 in his 37 minutes. Besides his 36 minutes from last year, those numbers are up big time from last year, posting just a 26.7 usage rate and a pace of 96. His assists are also up to 8.0 per game (6.2 last year), too. Plus, it hasn't caused his efficiency to drop either.
 
For the first two years of his career, Lillard was a guy who was sub-par at the rim, but last season he was above league average for the first time at 61.8. He wasn't just bad in his first two seasons, he was about 10 percent below league average in both of those two seasons. Here's what his shot chart looks like so far this year: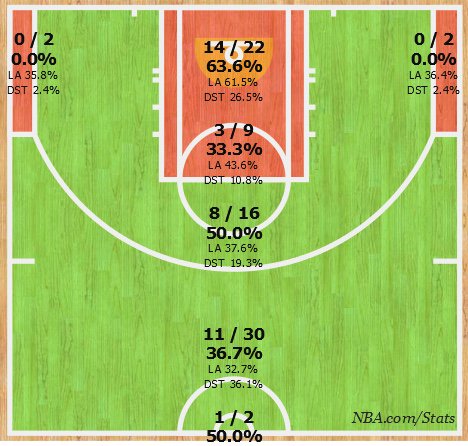 That's a pretty good distribution of his shots and again he's above the league average so far. If you watch Lillard, you'll notice he's a lot better at taking contact and using his body around the basket. That attribute likely explains the improvements at the rim and it's a sign it's here to stay. Plus, that will allow him to fire away from deep and still keep his field goal percentage around 44-45.
 
On the season, only Russell Westbrook (22.0 shots per game) and Stephen Curry (21.0) have more field goal attempts than Lillard (20.8). He hasn't quite improved his free throw attempts just yet at just 5.0, but that should be coming shortly.
 
Lillard and C.J. McCollum are playing well off each other and the Blazers look like they're going to compete in most games, which will keep Lillard on the court to prevent garbage time. He should post some massive lines.
 
Side note: C.J. McCollum looks like the real deal.
 
BG's eFG%
 
When it comes to high-volume, non-Curry efficiency increases, Blake Griffin jumps out. Among players with more than three minutes played and a usage rate greater than 27, Curry is the only player with ah higher true shooting percentage than Griffin. He is sitting at a tidy 66.0 with his 31.4 usage rate. He's been 60 for true shooting percentage in each of his four games while he's been over 29 usage in three of his four games. Plus, his turnovers are down to a career-low 2.0 — that probably won't continue. Here's a look at his shot chart: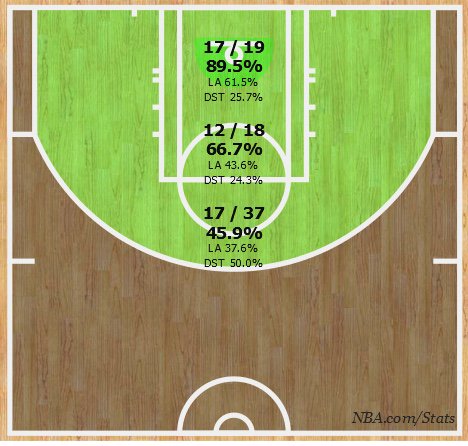 He's not just a dunker anymore. I don't have data on this, but Blake looked like he swished a bunch of those jumpers, too. His rebounding rates are up and he's better from the line, but we'll see if remains.
 
Whatever the case, Blake is all set for a career year in his age-26 season.
 
Steve Alexander and I did a podcast today! We covered all you need to know about the Wolves with plenty of other questions.