We're two weeks in and some teams are close to 10 percent through with their season. In other words, Small Sample Size Theatre may be shutting its doors soon. Although, one of my favorite things about usage rate is that it's typically one of the most predictable stats. Teams tend to count on their guys a similar amount most nights, so figuring out when the efficiency is up to the level of the usage rate is really the biggest challenge of DFS -- at least for scoring points.
Editor's Note: Sign up for FanDuel today and receive a FREE ENTRY into a one-day fantasy basketball league for real money! And all you have to do is finish anywhere in the top-half to win cash. Enter now.
 
Now that we have a decent sample, we can take a look at which players are on the way to a big uptick in usage rate. Kawhi Leonard, Blake Griffin, Stephen Curry and Damian Lillard were covered last week and it's still holding true, so feel free to check that out here.
 
 
 Follow me on Twitter @MikeSGallagher for stats, analysis, Vines and more!
 
 
Not sorry Mr. Jackson ... Whooo! He is for real
 
Reggie Jackson has seen a huge uptick in usage rate this season. Last year, it was just 24.9 on the year, but it's increased all the way to 32.6 this season. Yes, Jackson had a lower usage rate in his OKC days, but his current rate is still much higher than his 28.4 usage rate in his 27 games with the Pistons last season.
 
It's not just the volume for Jackson, too. He's increased his efficiency to a 53.5 true shooting percentage (TS%) from 51.5, and his pace is also five possessions faster per game. Obviously, all those factors have led to him increasing his points per game to 22.7 from 14.5 last season.
 
One of the biggest reasons he's been able to boost his efficiency is because his 3-point percentage is 39.3, which is almost a full 10 percent increase from his career 29.4 percent before this season. Overall, here's a look at his shot chart this season: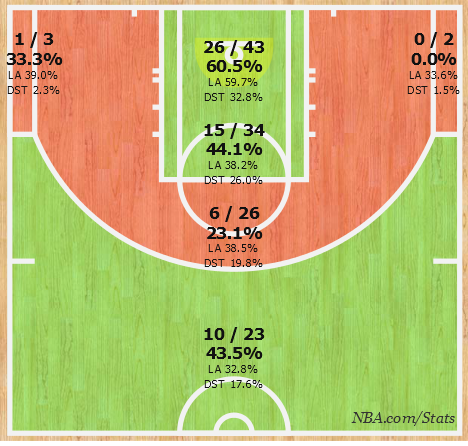 OK, so that above-the-break trey stuff certainly jumps out. He also is taking a lot more, as well. Does it have anything to do with the system or maybe he's getting better looks? Here's a comparison of his shooting off the dribble and closest-defender stats (this year has the top two, last year below) -- keep an eye on that column on the right: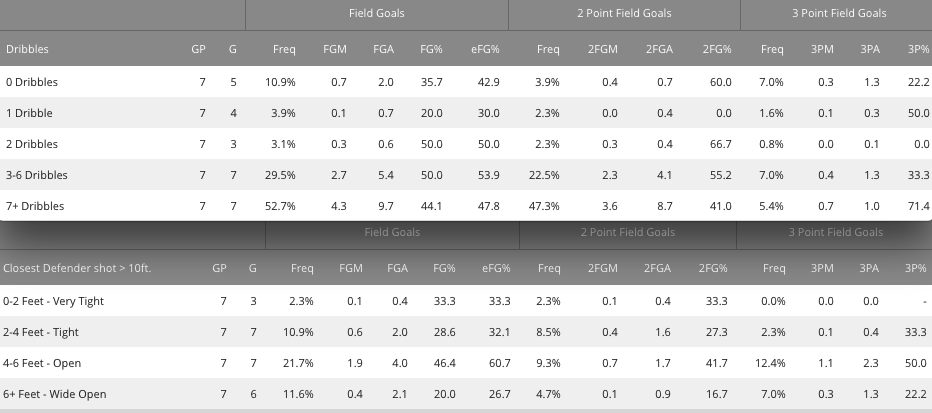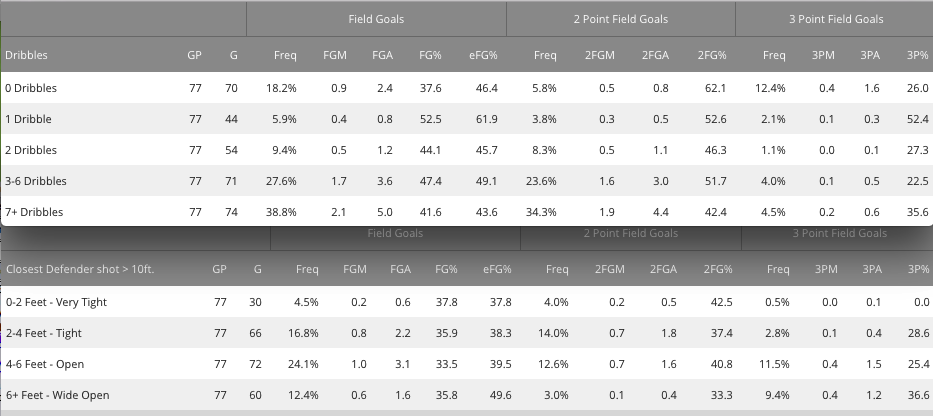 There really aren't too many differences based on how open he is or if he has a different distribution on pull-ups and catch-and-shoot shots. The only big difference is how he's shooting 71.4 percent on shots with seven-plus dribbles. Yes, that is unsustainable and basically explains the increase. In other words, that jump in efficiency from deep has fluke written all over it. He should certainly see a nice boost, but he'll likely be close to 34-35 percent from deep and not 40.
 
Besides the 3s, everything else is pretty sustainable. He's a career 62 percent guy at the rim, but his distribution is way up from that range -- that's a terrific sign. Before this year, he was at around 27 percent of his shots coming at the rim, so that is a very encouraging rise at 32.8 percent.
 
Another interesting aspect of RJ's game is how he runs PNR. After the break, no player had more possessions in PNR than RJ. To nobody's surprise, he is leading the league again and it isn't close either. His 16.1 possessions of PNR per game are almost four possessions per game higher than No. 2 Russell Westbrook. Another big positive is that he is 75.7 percentile on efficiency, which is the fourth highest among players with more than 50 possessions (C.J. McCollum, Eric Bledsoe and Dwyane Wade are higher among the 19 players qualifying here). That's pretty good stuff. Also, Andre Drummond comes in at 87.3 percentile as a roll man, but he only has 14 possessions. That'll probably be going up.
 
So to wrap it up, we should be buying RJ's usage increase. He probably will regress to being a 52 true shooting guy and not this 55 guy — the 3-pointers will bring him down soon. Whatever the case, he should be an elite PG in DFS in coach Stan Van Gundy's system.
 
Usage Pizza
 
You might be surprised to know that the Celtics are first in the NBA for pace. You probably won't be surprised to know that the Pizza Guy is leading the team with his 31.7 usage rate. Among players with more than 20 minutes, only DeMarcus Cousins, James Harden, Russell Westbrook, LeBron James and Reggie Jackson have a higher usage rate than IT4. Obviously no bench player comes even close to sniffing that high clip on usage rate either.
 
Thanks to getting to the line 7.0 times per game and burying 91.4 percent of them, the Pizza Guy is sitting pretty at a 53.7 TS%. That's not great or anything, but it's just to show his 40.2 percent from the field is not as bad as you think. Here's what his shot chart looks like: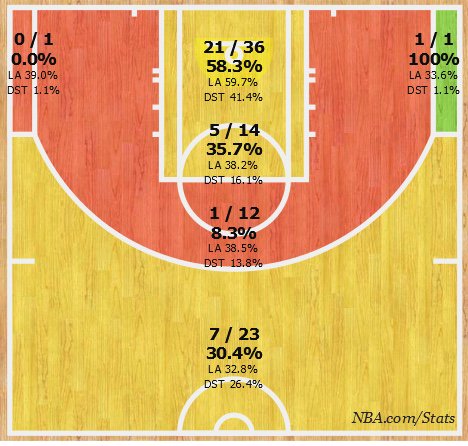 Thomas is one of the few little guys in the NBA to flirt with 60 percent at the rim, so that decent number is sustainable. The big knock right now is his mid-range, but he's usually about average from there, making an impressive 45.9 two seasons ago.
 
You have to really like the volume of his shots in the paint, so the efficiency may even catch up with the usage rate soon. He should be one of the highest-scoring point guards in the league.
 
 
C.J. MIPCollum
 
Yep, no player with at least 50 possessions is more efficient on PNR ball-handling shots than C.J. He's also 79.4 percentile on his spot-up players and 88.5 percentile on isolation. He's having a very special start to his season as a scorer.
 
The minutes increase was obviously coming to C.J. and he's sitting at 34.5 from his 15.7. Plus, he is also using those minutes very well, increasing his usage rate from 20.5 last year to 25.8 this year, and also raising his true shooting percentage from 53.4 to 56.1. Pretty impressive stuff right there. How impressive? Here are the players with at least 34 minutes per game, a true shooting percentage of 56 and a usage rate of at least 25: C.J., Damian Lillard, Kevin Durant, Bradley Beal and Blake Griffin. That's it. All studs. Here is his shot chart: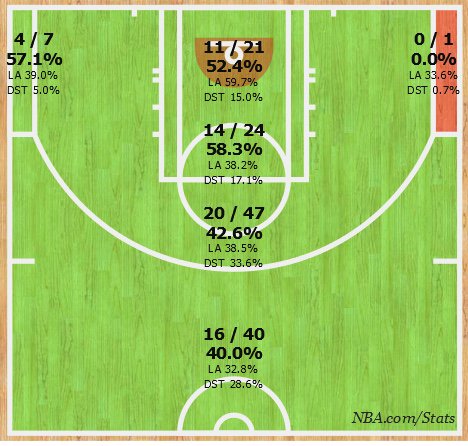 Even though C.J.'s my guy, he does have to improve his shooting at the rim a little bit. The less a guy gets to the rim, the more inconsistent he'll typically be. He did have nice increase last year to basically the same efficiency as above, so he'll probably start trending up soon. C.J. will probably be around 55 percent at the end of the year, which is still sub-par even for a guard. That said, his other in-the-paint shots are really good. Plus, his mid-range shots are elite.
 
As you could expect, he's one of just four shooting guards to clear 20 points per game: James Harden, Bradley Beal and DeMar DeRozan are the others — Beal is the only one who is more efficient right now.
 
One thing that was pretty clear to see a big improvement was his free throw shooting. Last year, he managed just 69.9 percent from the line last year. Now he's up to 85.0 percent this year on his 20 attempts. That should be for real.
 
C.J. is turning in second-round value on the season. He probably won't be quite that great, but he should be able to stay in the round 3-4 range. He should have plenty of value in DFS for a long time and his price is still too low.
 
20,000 Teagues under the rim
 
When you lose a starter, it usually results in some higher usage rates from his former teammates. That's the case with the Hawks losing DeMarre Carroll. Last season, Jeff Teague had a 25.0 usage rate, but now it's all the way up to 28.3. Simply put, he should be very good and I'd expect him to be a top-35 player this season.
 
One other tangent I have to hit here is how much Teague is playing next to Dennis Schroder. The Hawks are not going to be rest Kyle Korver as much, so that means we should see less Schroder. If you exclude the two games without Kyle Korver, Dennis has played just 21.7 percent of his minutes next to Teague. On top of that, his usage rate is lower, too. Basically, we should probably expect Schroder to take a bit of a dive as Kyle Korver gets healthy. Hey, Kent Bazemore is also ballin' like it's 2013 Summer League — he led the Warriors to the title that year. #SummerLeagueMatters
 
Keff Concern
 
You might be surprised to know that only DeMarcus Cousins, Blake Griffin, Paul George and Anthony Davis are the only power forwards with a higher usage rate than Markieff Morris. The problem is that he certainly isn't using that high volume. Among all starters with a usage rate of at least 24, only Derrick Rose has a lower TS% than Morris — barely too with Morris at 41.6 to Rose's 41.5. Here's his shot chart.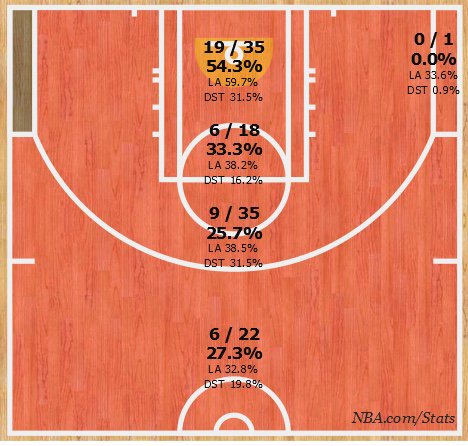 Yikes. Thank goodness he has 31.5 percent of his shots at the rim or else that would be one of the worst shot charts in the NBA. Morris has been a somewhat good shooter, making 40.5 percent of his jumpers last year. This year? It's just 25.0 percent.
 
If you want to be that guy who says he's forcing shots that aren't there to try to increase his trade value, that might work. Plus, he's only been assisted on 52.5 percent of his shots, which is down from 57.4 last year.
 
To argue against that, he's faced tight defense on shots from greater than 10 feet this year (defender less than four feet away) 16.2 percent of the time. That's actually down from 21.7 percent last year, so he's not doing the J.R. Smith special with contested shots.
 
Morris really needs to figure it out and I think he will. He's a prime buy-low candidate based on the bad J numbers.
 
Kawhi Update
 
His usage is staying high. That preseason usage rate looks like a really strong indication. Here are his usage rates in his NBA seasons:14.3->16.6->18.3->23.1->27.5(!!). So, so good.


OK, so Ethan Norof (@Ethan_Norof) joined me on a podcast. We covered tons of stuff about the Pistons, Wolves, Magic, and like 12 other topics. Check it out! It's also on iTunes for Rotoworld Basketball