We love scoring and it's always overblown, but almost all of the MVP candidates this season are sitting at the top of the scoring list. Stephen Curry leads the NBA with 33.4 points per game followed by Kevin Durant, James Harden, LeBron James, Russell Westbrook, and Blake Griffin. Probably the only other MVP candidate not in that group is Kawhi Leonard at 13th. Kawhi might be No. 2 on the MVP list, by the way. These were two really cool KawHilights from last night:
We've talked about Kawhi every week and it's justified, but let's take a look at some other guys making some headlines in the world of efficiency and usage.
Follow me on Twitter @MikeSGallagher for stats, analysis, Vines and more.
Mt. Bledsoe's eruptions
He's been one of the best offensive players on the year. Eric Bledsoe is obliterating his previous career-high 17.7 points per game with 23.2 per game this season. He also has career-highs 49.7 percent from the field, 40.0 percent from deep, and 80.4 percent from the line. He's also increased his usage rate almost five points higher than any other year at 28.6. Here's what his shot chart looks like: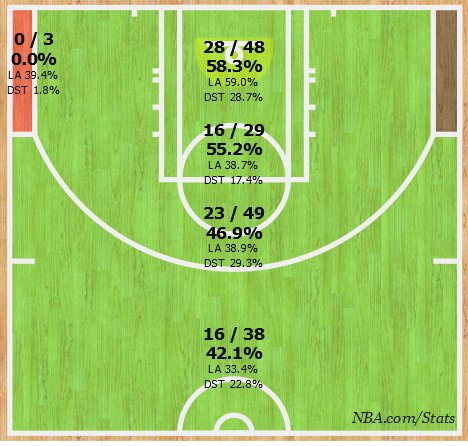 That's pretty nice. Compared to last year, Bledsoe is 9.7 percent better on above-to-break treys, 9.7 percent better on mid-range, and 21.6 percent better on his non-restricted paint shots. Obviously all those things are not sustainable, but Bledsoe isn't quite as dominant at the rim. He's taking 8.9 percent less of his shots at the rim and his shooting percentage is down 3.2 percent from there, so he could improve from there, too. 
 
Interestingly, there are some very positive specific things about Bledsoe's shots that suggest he could be good from the outside. Here's a look at his shooting based on how open he is and how he shoots off dribbles from the year (top) and last year (bottom):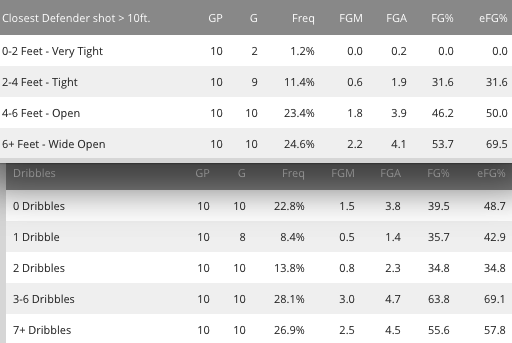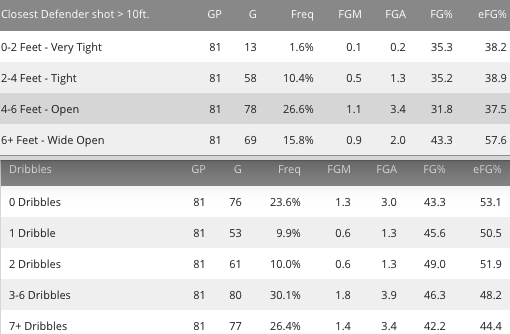 That's a huge difference on how open he is. He's taking two more shots per game wide open this year, 1.4 more per game when he's open, and his shots with tight or very tight defense are basically the same. Does that explain his tremendous jump in efficiency? Probably not all the way, but it really shows how this bump isn't for no reason. 
 
Perhaps one of the most surprising things of all this is how Bledsoe is unassisted a whopping 81.9 percent of the time on his makes this year. Among players with at least 16 minutes played per game this season, only Reggie Jackson and Russell Westbrook have a higher unassisted percentage. Bledsoe has been much more efficient than those guys with his 59.5 true shooting percentage.
 
Taking it a step further, Bledsoe has been really good in pick-and-roll. Among the 17 players with at least 70 possessions as a pick-and-roll ball handler, Bledsoe is the only one with an effective field goal percentage above 50.0. The addition of Tyson Chandler has probably helped here with Chandler being one of the best pick-and-roll centers in basketball. He's also been unbelievable in isolation, posting an points per possession of 1.23. Nobody with at least 25 possessions even comes close to that (Kevin Durant would be higher, but he doesn't have enough possessions yet; KD is so good).
 
It's been smooth sailing for Bledsoe and one other thing worth mentioning is that his usage rate is 30.4 without Markieff Morris and he's been more efficient, too. Bledsoe probably won't be this good all year and he's gone up against some soft defenses, but he looks like a great bet to be a top-20 player in nine-cat and top-15 in eight-cat.
 
Super Mario World
 
We haven't seen a Mario this hot since the SNES Mario had a fire flower. Chalmers is leading the NBA in offensive rating, defensive rating and net rating. Say what? How weird does this look on NBA.com?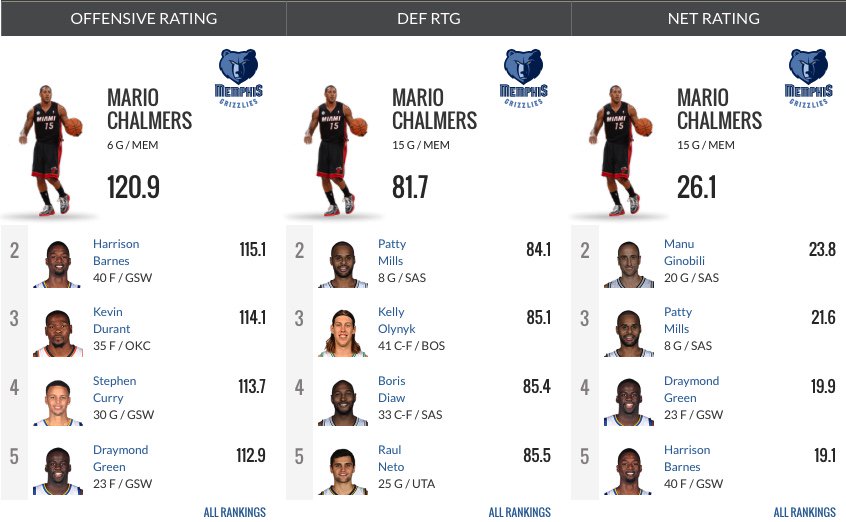 He's been unbelievably efficient in his three games, posting an absurd 80.3 true shooting percentage on his 28.5 usage rate.  Obviously there is no way in a hellish Bowser's Castle that will continue, though. Chalmers is getting to the line an unfathomably high 9.0 times per game in just 20.3 minutes per game. James Harden goes to the 13.9 times per 48, so Chalmers is crushing that at 21.3 per 48. He's also made 58.3 percent from deep, so that won't continue obviously.
 
 
Chalmers has been unreal PNR and maybe the Memphis bigs are helping him there. Again, we can talk about how good he's been, but there's no way he'll be at 80.3 TS% and probably won't clear 60 either. Perhaps the most important part is where he can get his playing time.
 
Mike Conley isn't going away, so Chalmers will have play next to him for minutes in the mid 20s. On Monday, he played a season-high six minutes next to Conley with six minutes coming in the second half (Memphis had one Chalmers-Conley possession in the first half). If he can get even four minutes per half, that would bode very well for his chances for regular playing time.
 
That raises the question of who loses out? You would probably think Courtney Lee and/or Matt Barnes. The Grizzlies have a net rating of minus-21.7 in the 102 minutes with Matt Barnes and Conley, and it's minus-10.4 with Lee. Plus, Lee's numbers have been better off the bench based on the net ratings recently.
 
If Chalmers can get 25 minutes per game, he'll have some nice value. Again, he's not going to be this good, but I don't hate the idea of using him in DFS or adding him in season-long. By the way, the Grizzlies can go small against the Rockets on Friday, so Chalmers has a very good shot at 25-27 minutes for that home game.
 
It's not Batumor!
 
It was pretty cool to see Nicolas Batum earn Eastern Conference Player of the Week honors last week. In those four games, he averaged 25.5 points, 6.0 boards, 3.0 assists, 0.8 steals, 0.5 blocks and 3.8 treys on 56.9 percent from the field and 76.7 percent from the line. Not bad. Here's what his shot chart looks like in that span: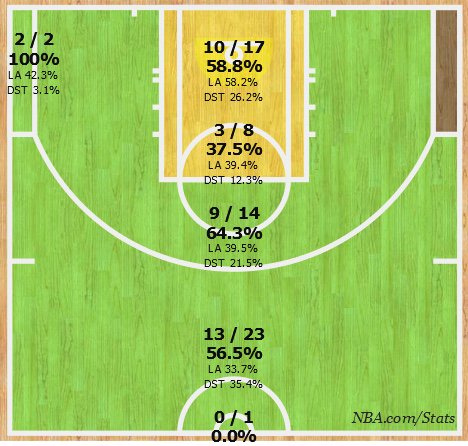 Whew. That's certainly not sustainable, but you have to like how he got 26.2 percent of his shots at the rim. That number was just 19.2 percent last year and he actually made 67.8 percent of those, too. Batum has been awesome at the rim in his career, making a career 68.3 percent of those shots. However, the distribution really took a dip in his last two, which helps explain why his field goal percentage went south last year.
 
One other terrific aspect of his game this year is how well he's playing off Kemba Walker and Al Jefferson. Batum has attempted 54 shots off passes from those two and he has a pristine 60.2 eFG%. He's been killing it on off-screen plays in the new system, too. Among players with more than 15 attempts on off-screen plays, only Stephen Curry has a better efficiency off screens.
 
The Hornets embracing the three has really helped basically their whole team except for Al Jefferson. Batum has second-round value on the season and I think he can stay there. He's also a guy I'd look to use in DFS tonight against the Knicks. He'll be starting at shooting guard, but he should get most of his minutes at the three with Jeremy Lamb getting more minutes off the bench.
 
Keeping up with the KarTrashians
 
 
OK, so how about we talk about a bad guy? You need people like him so you can point your friggin' fingers and say, "That's the bad guy." James Harden got the money from his shoe deal, then he got the power, but he's lost a little respect in the fantasy world.  OK, no more Scarface references. 
 
One big question about Harden this year was how much Ty Lawson was going to affect him and how much he'd touch the ball. Believe it or not, Harden has actually touched the ball more this year. His time of possession is 6.6 minutes per game, which is up from 6.0 last year. His usage rate is also up in a big way at 33.3 from 31.3 last year. That means he basically has a higher ceiling as a scorer with the added opportunity and he's even playing more minutes per game, too.
 
Harden also getting a higher percentage of assisted shots this year. He's also only had 10.7 percent of his shots blocked at the rim this year. That's down from 14.7 last year. So you'd think with all these positives he'd be better around the basket with all this extra usage and not being blocked as much. Well, no. Here's his shot chart this year (top) and last year (bottom):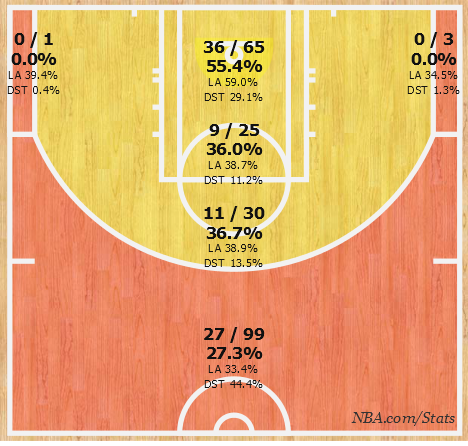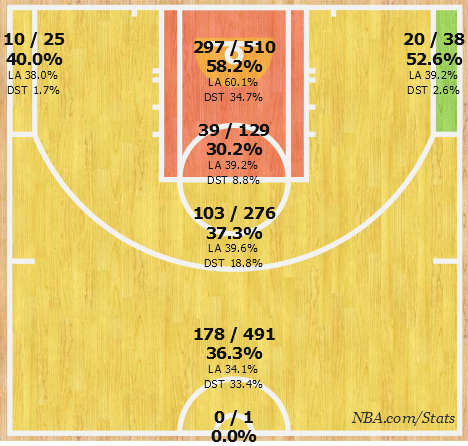 As alluded to, Harden has been bad with his bread and butter. His distribution at the rim is down and his efficiency is down almost three percent, too. He's also taking a ton of above-the-break 3s instead of taking corners. Last year, he made 47.6 percent of his corner treys, which accounted for 4.3 percent of his total. This year, he has zero makes with just 1.7 percent of his shots coming from there. 
 
You could probably say his worst game of the season came last night. Harden somehow managed to take a season-low 10 field goal attempts and four free throw attempts. In other words, the perception of Harden is really bad after that one game.
 
The good news is that he's trending up at the rim and he's been better from deep in his last five, too. In that span, he attempted 33.7 percent of his shots at the rim and made 55 percent of them, as well. That's very similar to last year, so perhaps just that adjustment period with Lawson hurt him.
 
Usually, when players have more open shots, they're better. Eric Bledsoe above is a great example of that. However, Harden has really struggled on his open looks. Here's a look at his off-dribble and closest-defender numbers from this year (top) and last year (bottom):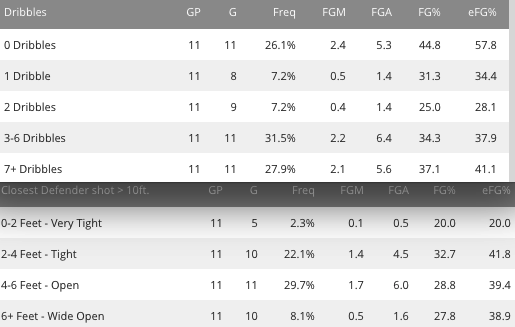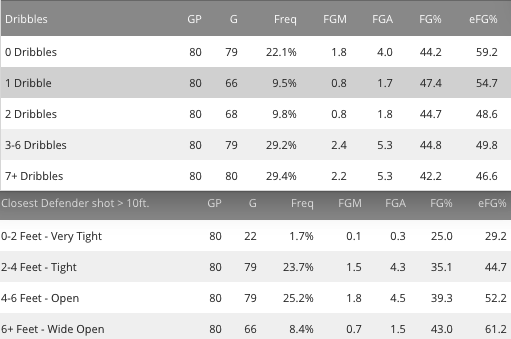 There is a huge issue on his open looks. His distribution is very similar, but his eFG% on open and wide-open shots this year is below 40. Harden was almost 15 percent higher last year, so that has fluke written all over it. In fact, his efficiency in his last five is somewhat similar to last year, too. Harden only had an 18.8 eFG% on his wide-open shots in his first five games, so he's clearly coming around a bit.
 
One last thing worth checking out is how well he's playing off Lawson. As you'd probably guess, it's really bad. He's made just 30.6 percent from the field off Lawson's passes. Unlike the other stats, it's not trending up either. This probably helps explain why Lawson should be coming off the bench, which is the smart thing to do and help Harden. Also, the Rockets have a net rating of minus-66.2 in the 13 minutes when Harden, Lawson and Patrick Beverley are on the floor together. That is stupid.
 
One thing that has helped Harden trend up is how well he's playing off Terrence Jones and Dwight Howard. Perhaps if those two stay healthy, Harden can keep on rising.
 
If not for his massive dud on Monday night, the narrative on Harden would be a lot different. He's starting to trend up and his awful start has pulled him down and kept him out of first-round value on the season. Most signs point Harden snapping out of it, so buying low seems like a wise move. He should absolutely still be viewed as a top-five player in eight-cat and probably in nine-cat, too.
 
Mailbag pod is up! Chris Welsh (@IsItTheWelsh) and Scott Bogman (@BogmanSports) joined me on a loaded edition. Check it out!
Thanks for reading! All of these stats were found on NBA.com.