The Warriors are 15-0 and every day after they play you can't avoid having a convo with someone about how great Stephen Curry is and how magnificent Draymond Green is during that small-ball lineup. Heck, you have to talk about it because it's the greatest run almost any of us have seen to start a season. I mean, they do have an offensive rating of 160.9 (!!) and a defensive rating of 90.8 with the Curry, Klay Thompson, Andre Iguodala, Harrison Barnes and Dray lineup. Insane.
Follow me on Twitter @MikeSGallagher for stats, Vines, analysis and more. 
 
Barnes Burner
 
One player who we probably aren't giving enough credit to is Harrison Barnes. He's leading the NBA in offensive rating — yes, it is a product of him being on the floor with Dray and Steph — and he is by far having the best offensive season of his career. Barnes has always struggled with his consistency. In 2012-13 during the playoffs, we saw Playoff Barnes go off for 16.1 points per game. The next year, Playoff Barnes was a horse of a different color with just 7.9 points per game on 39.6 percent from the field. 
 
If you watch Barnes, you'll often see a guy getting some of the easiest shots in an offensive system. That's not his fault and he is really capitalizing on those chances right now. Here is his shot chart in his last 11 games: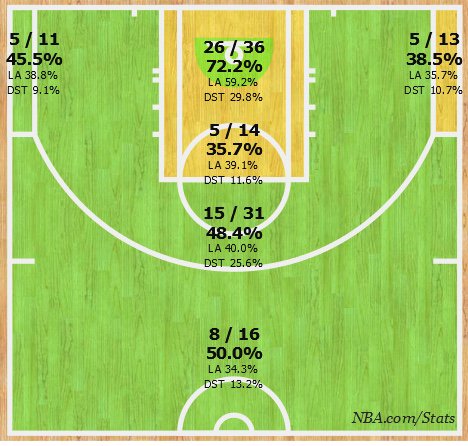 Whew. Yes, that above-the-break 3 stuff isn't sustainable and really jumps off the page, but I love seeing Barnes get 30 percent of his shots at the rim and making 72.2 percent of them, too. As you might expect, he was assisted on 76.9 percent of those makes. As for the 3-pointers, he's been assisted on 100 percent of those. There's no way I'd compare Barnes to Kawhi Leonard on offense from a talent standpoint, but we all saw Kawhi have a similar pattern when he first started to break out on offense with a similar style in which he scored his points. If Barnes is going to convert at such a high clip like his 64.4 true shooting percentage (TS%) over this hot streak, he should be something special and will make some major cash this summer.
 
Taking it a step further regarding the easy shots, here's a look at his off-dribble numbers and his closest-defender numbers (shots greater than 10 feet away) in his last 11.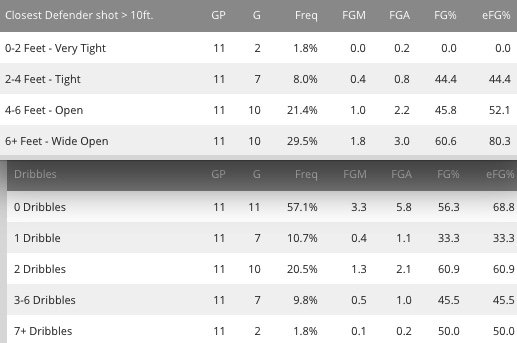 Yeah, an 80.3 effective field goal percentage (eFG%) will get it done when he's wide open. He's also getting less than 10 percent of his shots from beyond 10 feet with a defender within four feet of him. That kind of lack of defense on him would never happen if he's No. 1 or 2 option and all that space on offense is a testament to the GSW system, too.
 
For fantasy, Barnes is now in the top 50 for the season for per-game value, which is pretty incredible for a guy with a usage rate in the teens, doesn't really bring defensive stats and is really just building his value on the points side of things. Believe it or not, he's actually out-producing Klay Thompson in standard fantasy leagues -- buy low on Klay, by the way.
 
I think we all can agree Barnes won't be shooting 50 percent on his above-the-break treys, especially after he made just 33.3 percent of those last year. He probably won't be quite as good as his 87.8 percent from the line either, but the days of him not being fantasy relevant in all leagues looks like it's behind him. Plus, his usage rate has a noticeable upward trend along with the minutes increase, too. Make that money Harri$on Barne$.
 
Walker, Charlotte Ranger
 
Walker is a winning name for fantasy owners. If we wanted us some wussies we would've drafted Doctor Quinn or Medicine Woman. Anyway, Kemba is shakin' and bakin' his way to second-round fantasy value on the season.
 
He's completely transformed into an efficient player in November. In those 12 games, Walker averaged 18.8 points, 3.8 boards, 5.3 dimes, 1.8 steals, 0.7 blocks and 1.8 treys on 49.1 percent from the field (!) and 76.4 percent from the line. He's put up a 24.0 usage rate and has kept his turnovers down to just 1.8 per game, too. He's one of the hottest players in the Eastern Conference. Walker had a ridiculous 21-point fourth quarter on Monday to help the Hornets overcome a 22-point deficit to the Kangz.
 
How different has he been? Well, his shot chart in November this season (top) is quite different from his shot chart last year: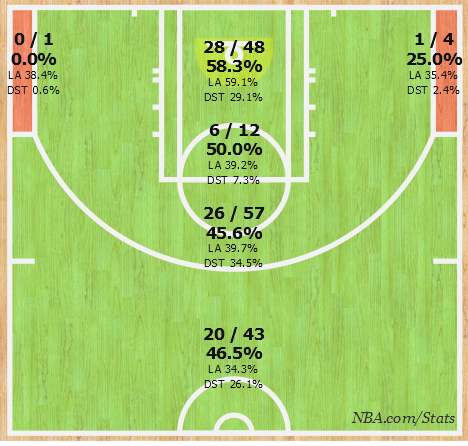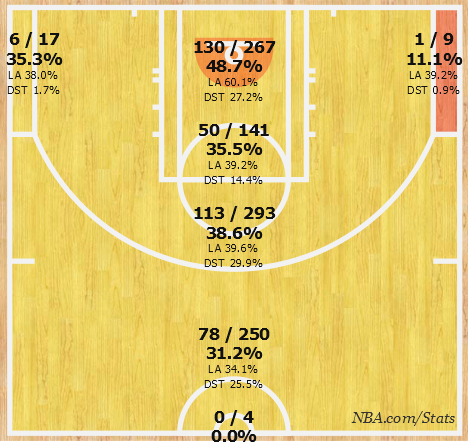 Excluding the corners, he's almost 10 percent better at every depth. So what gives? Surprisingly, he's actually been assisted less this season, dropping to 29.6 percent assisted in his last 12 from 34.9 assisted last year. 
 
As far as play types go, Kemba is killin' the game on PNR. He's 87.2 percent on his PNR plays, which is tops among the top 15 players for PNR possessions per game. He's also 74.7 percentile on spot-up plays and has somehow put up 86.3 percentile on isolation plays. Most of this stuff is unsustainable, but he gets a ton of credit for all of his plays clicking at the same time.
 
The Hornets have really counted on the 3-point shot. Last season, they managed to make a league-low 31.8 percent from deep and only attempted 19.1 treys per game. This year? They're taking 26.6 per game and are making 36.3 percent — both are top 10 in the league. They've also increased their pace to 98.9, which is up from 95.3 last year — their pace is also trending up, too.
 
So does all this pace and space give Kemba better looks? Let's check that out. Here's his off-dribble numbers and closest defender numbers from his last 12 (top) and last season: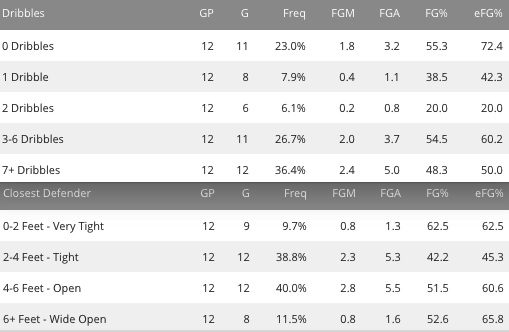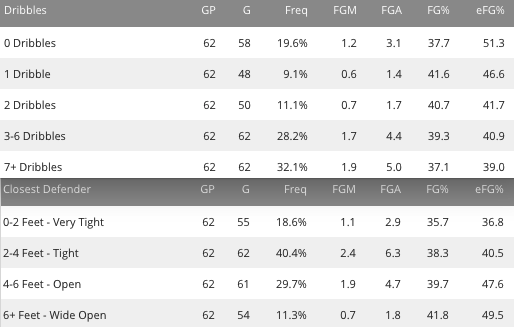 Those are some pretty significant differences. The biggest one is how he's seen his very tight defense drop by almost half, which is easily the best sign on here and bodes well. However, he's making 62.6 percent of his shots with very tight D, which is certainly not sustainable. Walker is also smoking defenses when he's open and wide open. The 10.3 percent increase on open shots is a really good sign, though.
 
As for the dribble stuff, he's lethal on no-dribble shots right now. The distribution is also an encouraging sign, but it is still pretty unlikely to continue.
 
One other positive is how well he's playing off passes from the rest of the starting staples. In fact, Walker has a 60.3 eFG% on shots off passes from Nicolas Batum, Al Jefferson and Marvin Williams in his last 12. That kind of stuff wasn't happening last year, which is probably a product of the spacing.
 
Basically, we're pretty much going to have to say this is mostly a fluke. He's still a very good bet to be able to shoot a career-high 43 percent.
 
Another thing to worry about is how awful Kemba was after the break last year. He made just 35.1 percent from the field after the break and saw basically every other stat go down, too. For what it's worth, Walker's field goal percentage after the break has been less than his pre-break percentage in every NBA season — he also had a putrid 35.2 percent after the break in 2013-14, too.
 
Walker is probably not going to be a top-20 guy, but I like his chances of being a top-35 player. Considering how he's struggled after the break in every season to this point, selling high makes a lot of sense.
 
Knight Rider
 
Brandon Knight is a shooting guard. Yeah, he has a surge as a point guard last year, but he's always been a better guy on the wing than at the point. Back in his Detroit days, he was one of the worst point guards for assist:turnover ratio. That's still been a big problem for him with a whopping 4.5 turnovers per game in his last eight. He'll need to fix that to have elite value.
 
Knight is a lot like Walker. He's seen his efficiency rise, but he's actually doing it with a lower assisted percentage. Last year, Knight was assisted on 41.6 percent of his makes, but that's down to 28.7 percent this year. Unlike Walker, Knight isn't even good playing off his teammates, posting just a 39.0 eFG% off Eric Bledsoe passes. In fact, if you took the Bled shots off of his total, Knight would have a 55.6 eFG% on the year instead of his 51.6.
 
As for his shot location stuff, he's seen some positives and negatives. Obviously, he's making an unsustainable 41.3 percent from above the break on treys. Besides, that's he's actually not really doing much different from previous seasons. He's actually worst at the rim this year than his previous two seasons, so that could mean we haven't seen the best out of him yet inside the arc.
 
Knight is also putting up a 27.0 usage rate on the season, which has trended up to 29.8 in his last eight games — that's actually kind of bad because of all the TOs inflating that number. The Suns will probably get away from using so much Markieff Morris and his absence from the lineup has helped Knight with more shots.
 
He's kind of a fluke with his increased efficiency lately and he'll probably cool off soon. He's still a very good bet to be a top-40 player in nine cat and maybe top 30 in eight cat.
 
Thanks for reading! All of these stats were found on NBA.com/stats.
 
PODCAST! Jonas Nader and I spend a ton of time on the Magic and answered some questions. Check it out!