Everyone always talks about the best. Nobody asks you what your second-best restaurant spot is or your No. 2 vacation trip. Yes, Stephen Curry is the top guy by any offensive standard, but Kevin Durant isn't too shabby. No qualifier for points in NBA history has put up a 29.0 usage rate and a 65.0 true shooting percentage (TS%) ever. However, both Curry and KD are both on pace to do so this season.
Follow me on Twitter @MikeSGallagher for stats, Vines, analysis, news and more.
 
KD has been particularly hot in his last four since returning from his hamstring injury. In those games, he put up a 71.5 true shooting percentage and a 28.5 usage rate. Here's a look at his shot chart in that span: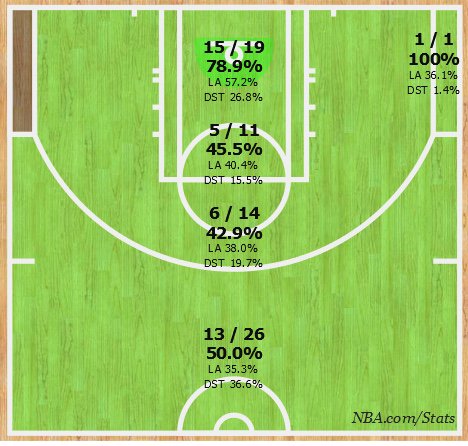 He is destroying guys at the rim and is getting over 42 percent of his shots in the paint. KD has also been ridiculous on jumpers all season. In fact, even when he has a defender on him within 2-4 feet this year, he's posted a 64.5 effective field goal percentage. As far as pure one-on-one scorers go, KD is the man.
 
We won't really go in depth here because everyone knows how good KD is and most people probably think KD has a legit chance to go 30 in usage rate and 65 TS%. He's also been fantastic in other areas outside of scoring, averaging 7.4 boards, 3.4 dimes, 0.9 steals, 1.8 blocks and 2.9 treys. So he's within shouting distance of scoring 30 points per game with 2.0 blocks — Bob McAdoo is the only player ever to do that in a season.
 
He's the No. 2 player in eight- and nine-cat leagues. If he's healthy, he should stay there.
 
The Manhattan Project
 
Kristaps Porzingis has been ridiculous in his last seven games. In that span, he's been the No. 13 player in nine-category fantasy leagues thanks to averages of 17.3 points, 10.7 boards, 1.3 assists, 0.6 steals, 3.1 blocks (!) and 1.1 treys on 48.3 percent from the field and 84.4 percent from the line.
 
What might be most interesting about those averages is how he's scoring. Here's his shot chart in those seven games: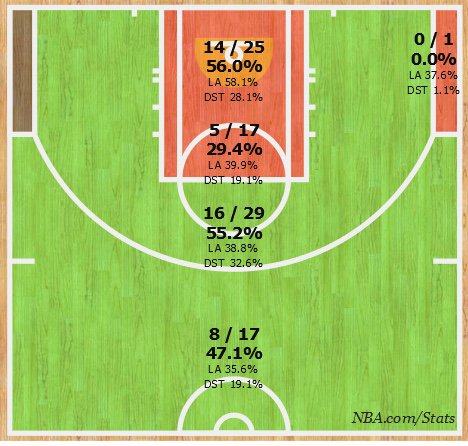 Weird, right? He's been somewhat bad in the paint, but he's as elite as basically anyone this side of Curry/KD on shots from mid-range and beyond.
 
He's basically turned into a hybrid of peak Meyers Leonard from last year and with a little bit of a post game. KP6 has been catching and shooting most of the time as a stretch four. In that hot seven-game run, here's his off-dribble and closest-defender (shots greater than 10 feet from the hoop) data in that span: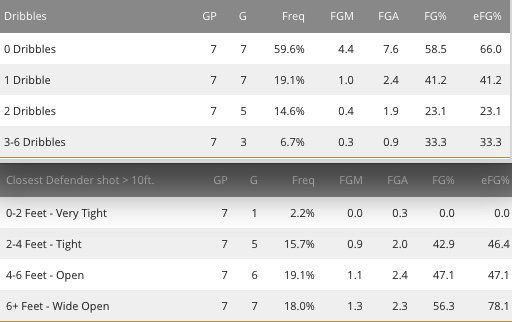 He's killing guys on the wide-open shots and without a dribble, so some of the credit has to go to the offensive system. He's been assisted on 66.7 percent of his buckets on the season, as well. To a degree, that indicates it's not very sustainable, but that's OK.
 
If not for the open shots, he would look pretty ordinary as a scorer. Looking at the Synergy stats, he's not in the top 55 percentile for PNR, post-up or isolation. Yes, he's a rookie, but he's still going to be a little bit behind the average power forwards for scoring on his own. He could develop into something special for those plays as soon as next season, too.
 
He's certainly overachieving right now and teams will probably cover him a little better when he's spacing the floor. Plus, Porzingis had a lot of leg injuries this summer, so there's a little bit of an injury risk.
 
A Very Bad G
 
That's not bad meaning bad, but bad meaning good (I hope you got the RUN DMC ref). Avery Bradley has been absolutely on fire as a scorer in his last 10 since returning from injury, averaging 19.4 points, 2.2 boards, 2.0 assists, 2.1 steals and 2.9 treys on 50.7 percent from the field. That helped him put up second-round value in that stretch.
 
On the season, he's made 41.8 percent of his shots from beyond the arc to give him a pristine 54.9 effective field goal percentage. Interestingly, he's been putting up great numbers from deep in unconventional fashion. Here's his shot chart on the season: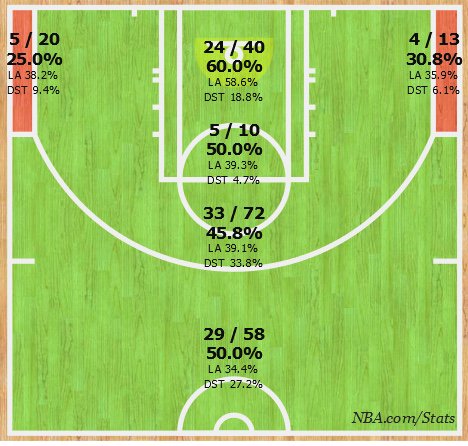 If he was making corner treys effectively, he'd be putting up over 3.0 treys right now. Besides the treys, just about everything Bradley is doing is similar. He's still taking about half of his shots off the dribble and he's getting an assist on 74.0 percent of his makes (72.8 last year).
 
He spent a ton of time in the offseason working on his treys, so is that the only reason? It just clicked for him? This kind of stuff happens from time to time and that seems to be the case. Last year, he was open or wide open on 27.9 percent of his treys, which increased to 29.6 this year. The only real difference is that he's taken 31.0 percent of his treys without a dribble, which is up from 25.3 last season.
 
So it's a little bit of both, which means we should probably split the difference going forward. He made 35.2 percent from deep last year and is up to 41.8 percent this year. Expect Bradley to be at around 38 percent and still stay above 2.0 treys the rest of the way. He should be a top 45-65 player with his steals, scoring and a handful of other stats.
 
OK, so how about some not-so-great guys with efficiency?
 
We have to start with Emmanuel Mudiay, who is on pace for one of the worst offensive seasons ever. In his last 10, he has a putrid 37.6 true shooting percentage to go with a very high 27.1 usage rate -- yes, KD and Curry are basically doubling up his efficiency. Plus, considering he turns the ball over, he basically has a success rate ending his possessions at around 25 percent. Yeesh.  No wonder why the Nuggets have lost seven in a row. Here's his shot chart in his last 10: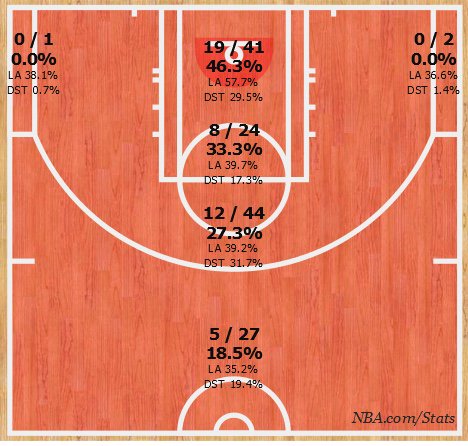 That's red. On the positive side of things, he's actually putting up decent distribution numbers with 46.8 percent of his shots coming inside of the paint. Of course, he's missing way too many. When he gets to the rim and misses, 32 percent of the time it's been because he's blocked. He still needs to cut down on the mid-range shots, but at least there is some progress in shot selection.
 
Worst yet, he's been horrendous when he's wide open. When he doesn't have a defender within six feet of him on a shot greater than 10 feet away, he has a 22.7 eFG%. That's disgusting for a guard.
 
In nine-cat leagues, he is 315th per game! Here's the All Better Than Mudiay Per Game Team in nine-cat (min 10 games, and no I'm not saying drop Mudiay for these guys):
 
PG Phil Pressey
SG Wayne Ellington
SF Rasual Butler
PF Johnny O'Bryant
C Thomas Robinson
 
If you have him in nine-cat and there is anything decent out there, you should probably cut him, especially if you're in Roto. If you're in a deeper league or in an eight-cat league, there could be some hope. He's obviously not going to be this bad on open looks and the shot distribution is encouraging. I still don't see how he'll be a top 100 player in nine-cat even if he can manage 38 percent from the field on the season, which probably won't happen.
 
Besides Mudiay, there are only three players with at least 20 minutes per game, a usage rate greater than 20 and a TS% less than 45. You probably know two are Derrick Rose and Kobe Bryant. We really don't need to beat those dead horses anymore, though. The last one might surprise you because it's Nerlens Noel.
 
If you've read his blurbs recently, you've probably seen me talk about how disastrous he's been outside of three feet. On the year, he's made just 15-of-73 (20.5 percent!!!) on those shots. On shots outside of the paint he's down to 16.2 percent and those shots account for 26.1 percent of his total. WHY SO MANY?
 
There really is no way the 76ers can support Noel taking almost any shot outside of the restricted area right now. You know how Mudiay had a 22 eFG% on wide-open shots greater than 10 feet away from the rim? Well, Noel is at just 11.1 percent (2-of-18). He has to stop shooting. Period.
 
On top of the disastrous shooting, he's banged up with his knee tendinitis. If there's good news on this, it's that the knee soreness is to his right knee and not his surgically-repaired left knee. The bad news is that the 76ers will be handling him with kid gloves. If you can ship him for anything close to top 50 value, I'd do it. If I wanted to trade for him, I wouldn't give up a top-80 player right now.
 
Steve Alexander joined me for the latest podcast on Tuesday. Check it out!