UNDER FOR TWO REASONS
Coming off one of their most embarrassing losses of the year, 5-1 to New Jersey on Saturday, the Washington Capitals will have their hands full on Monday against the Carolina Hurricanes. The Canes have won three straight and are coming off back-to-back shutouts on Friday and Saturday.
The Capitals will go with goalie Ilya Samsonov as No. 1 Braden Holtby's struggles continue. Samsonov has won each of his last four outings and is 4-1 O/U in his last five. The Caps' backup owns a sub-2.00 goals against so the Over/Under record is a little deceptive. 
We like a low-scoring game with a team that hasn't allowed a goal in over six periods and another team that is coming off a bad loss.  Take the Under 6.5.
TRIED AND TRUE
As mentioned above, the New Jersey Devils knocked off the Capitals 5-1 on Saturday and then the Lightning on Sunday. However, they have been a bit lucky as they were statistically dominated by both teams. With No. 1 goalie Mackenzie Blackwood dealing with an upper-body injury, the Leafs' potent offense will face off against Louis Domingue or Cory Schneider — both of whom aren't NHL starting-caliber goalies.
Toronto is 5-2 O/U in its last seven tilts at home and is tied for the league lead in goals per game since January 1 at 4.00 goals per contest. Both teams combined for nine goals back on December 27 and they are 3-2 O/U head-to-head in the last five meetings. We are taking another ride on the Leafs Over 6.5 this Tuesday.
A VEGAS PICK-ME-UP
A date with the Buffalo Sabres is just what the doctor ordered for the Vegas Golden Knights who have dropped three straight and are losers of four of their last six road games. Buffalo has struggled over its last 10 matchups going 3-7 and losing by two or more goals six times. Injuries up front have hurt Buffalo as two of its top-six forwards are out and the offense is putting up well under three goals per game over its last 10 contests.
Vegas will begin a monstrous eight-game road trip Tuesday in Buffalo — with the All-Star break in the middle. The Knights' offense hasn't been bad scoring 3.3 goals per game, but the defense has been leaky, giving up 3.5 goals per game over that time.
We are looking for the Knights to kick off their road trip on the right foot and will take them 3-way on the Moneyline and might even consider the Puckline as well.
WORST AGAINST THE WEST
No Eastern Conference team in the league has a worse record against the West than the Philadelphia Flyers. On the year, the Bullies are 6-11-3 versus their cross-conference opponents and 3-7 ATS in their last 10. On Wednesday, Philly who has dropped five of their last six, travel to St. Louis to take on the Blues who start the week off on a three-game winning streak and have won eight straight at home.
The Blues have the best home record in the league with a 16-4-3 record and have won by two or more goals in five of their last eight home victories. The Flyers could also take this game off as it will be their only road game between now and the All-Star break.
Take the Blues on the Puckline if the 3-way Moneyline is too juicy.
GOALIE PROFILE: Elvis Merzlikins, COLUMBUS BLUE JACKETS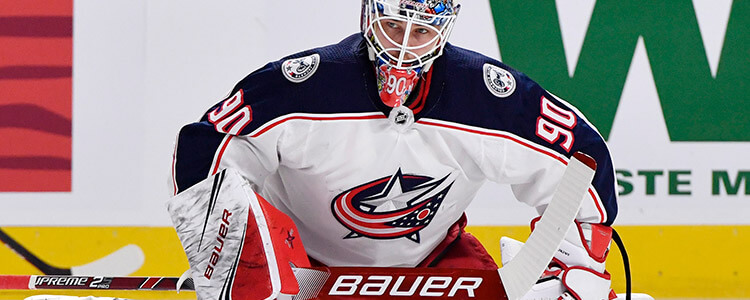 When starting goalie Joonas Korpisalo went down with an injury in late December many thought, ourselves included, that the rookie Latvian Elvis Merzlikins would not be able to hold his head above water. Well, the King has proved us wrong as the Jackets' new starter has allowed just 13 goals in his seven starts and is most recently coming off a shutout of the Golden Knights on Saturday night.
The Jackets are 5-2 SU with Merzlikins starting and have returned $100 backers over $700 in profits over those seven games. The BJs are hosting the Boston Bruins on Tuesday who will be on the backend of a traveling back-to-back and have already lost to Elvis and Columbus on January 2 as -220 favorites. We are taking the Blue Jackets Moneyline in what should be great value for an overvalued Boston team.
INJURY UPDATE: G Jonathan Bernier, DETROIT RED WINGS
The worst team in the league could be without its best goalie as Jonathan Bernier is dealing with a lower-body injury and missed Sunday's game. Bernier had won three of his last four starts and had a 2.10 goals against and a .938 save percentage over the last month.
The last-place Wings will have to rely on veteran Jimmy Howard who has allowed four or more goals in three of his last four starts. In Detroit's last five wins, the Wings held their opponents to two or fewer goals. With Howard between the pipes, Detroit loses it M/O to win games and we will be looking to fade them on the Puckline in its three games this week starting on Tuesday versus the Islanders.
HAT TRICK TRENDS
• The Tampa Bay Lightning have set the difficulty mode to easy since Christmas. The Bolts have won 10 of their last 11 and are 7-4 ATS. Tampa will look to keep it rolling as it travels to L.A. to take on the Kings Tuesday.
• Away favorites are trending these days. Over the last week, away favorites went 11-5-0-2 (61%) but be careful of the Puckline as they covered just three times. Over the last month, away favorites are hitting at over 65 percent.
• The New York Rangers are still crushing Overs of late as they picked up three more last week and are 12-1-1 O/U in their last 14 dating back to December 12. This week, they will face the Islanders on Monday. The Islanders are one of the better road Under teams in the league so the total sits at six but could possibly move to 5.5.
If you or someone you know has a gambling problem and wants help, call 1-800-GAMBLER. 21+. NJ only. Odds may vary. Eligibility restrictions apply. See website for details. If you or someone you know has a gambling problem and wants help, visit our responsible gaming page. 19+. Canada only. Odds may vary. Eligibility restrictions apply. See the website for details. If you or someone you know has a gambling problem and wants help, visit our responsible gaming page. 18+. Odds may vary. Eligibility restrictions apply. See the website for details.