AWFUL AWAY FROM ANAHEIM
The Anaheim Ducks (1-4 SU, 4-1 O/U last five) enter Monday's game in Washington as losers of five of their last six. Over those six games, their opponents are 4-2 O/U on team totals of 3.5 as the Ducks' once elite goalie John Gibson has struggled. 
Gibson holds a 3.79 goals against average and .884 save percentage over his last four starts and is 2-5 on the road this year. That's great news for the Capitals (3-2 SU, 3-2 O/U last five) who have scored three or more goals at home in eight of their last nine.
With how good goalie Braden Holtby has been playing of late, we are leaning more on the Over Capitals team total of 3.5 than the game total of 6.5.
TWO LOSING TEAMS COLLIDE
The Toronto Maple Leafs (0-5 SU, 3-2 O/U last five) will play the second game of a six-game road trip in Vegas on Tuesday as they take on the equally struggling Golden Knights (1-4 SU, 3-2 O/U last five). Toronto comes in losers of five straight while the Knights recently ended a five-game losing streak of their own on Sunday as they beat the Flames 6-0.
No team has given up more goals in their last five games than the Leafs. Mike Babcock's team is giving up nearly five goals a game and their penalty killing has been the third-worst unit over the last month. 
Vegas is averaging under three goals a game on the year but are scoring 3.7 at home. The Knights are also third-last in high danger shooting percentage, a number that should progress to the mean going forward, helping the Knights put up more points.
Toronto leads the league in goals against in the first period and is being outscored 11-1 in the first frame over their current losing streak. We like the Knights first-period ML and the Over at 6.5.
CHICAGO HEATING UP
The Blackhawks (4-1 SU, 3-2 O/U last five) struggled to put up points out of the gates this year. Through the opening month, they were dead last in goals per game at 2.3. However, flipping the calendar has done wonders for the club as they now lead the league in goals for in November at four per game.
On top of scoring at such a high rate this month, Chicago is also fourth in the league in high danger chances against. This will only help Over backers on Tuesday when the Blackhawks host the Carolina Hurricanes (3-2 SU, 4-1 O/U last five). Combined, these two are 10-6 O/U in November as Carolina is also scoring 3.7 goals in their last 10.
Take the Over 6.5 on this Tuesday tilt.
JACK THE SNIPER
Buffalo's Jack Eichel has been on a tear since the Global Series. The man picked after Connor McDavid has scored all five of the Sabres' goals over the weekend and has six in his last four games — all at even strength. On Tuesday, he will face a Minnesota Wild team that has given up 18 goals in their last five games.
The Buffalo captain hasn't played against the Wild very often but does have two goals and five assists with 26 shots in his six games against Minnesota. Take Eichel's anytime goal scoring prop and if you're feeling lucky, take his 2+ goal prop for a big win on one of the league's hottest players.
GETTING MASSACRED IN MONTREAL
The Ottawa Senators (3-2 SU, 1-4 O/U) will try to snap their losing trends to the Canadiens when they travel to Montreal on Wednesday. The Habs (3-2 SU, 2-3 O/U last five) have dominated the Sens, having won the last five matches as well as nine straight at home dating back three seasons.
Montreal has gotten a point in six straight games, winning four. The Canadiens' special teams hasn't been special by any means this month but the play of their goaltenders has helped them move into second place in the Atlantic Division. Netminder Carey Price has won three straight starts with a strong .921 save percentage over the last two weeks.
We are taking the Canadiens' puck line -1.5 as the Sens have allowed their opponents to cover in six of their 10 road games.
GOALIE PROFILE: Braden Holtby, WASHINGTON CAPITALS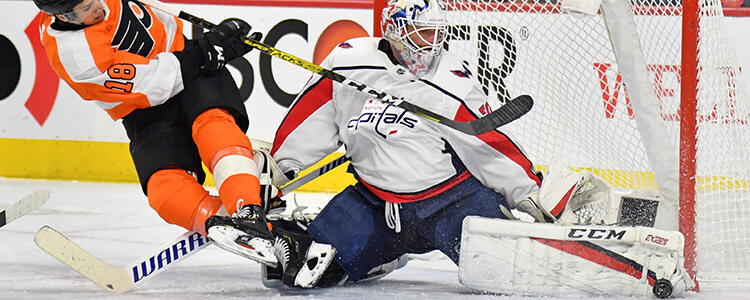 The Washington Capitals are 8-1-1 in their last 10 and sit atop the Eastern Conference. A lot of that has to do with the play of Braden Holtby. The Caps netminder was pulled in a game on October 14 after allowing three goal on three shots but 9-0-1 with a .924 save percentage since then. That only loss coming in overtime to Connor McDavid and the Oilers.
Washington plays on Monday versus the Ducks and on Wednesday against the Rangers and we wouldn't be surprised if Holtby played both as the Caps have sent backup Ilya Samsonov to the minors. 
Feel free to ride the hot Capitals this week with 3-way ML and/or puck line plays versus the Ducks and the Rangers. 
INJURY UPDATE: F Matt Calvert, COLORADO AVALANCHE
Hockey players are as tough as they come, but Matt Calvert paid a huge price for blocking a shot on Saturday's game against the Canucks. As the forward lay on the ice, bleeding out of his head, the referees allowed play to carry on and the Canucks scored the 4-3 goal and would later tie the game up. 
The injury leaves a shorthanded Avs team even more depleted as Calvert was playing on the top line due to the injuries to Mikko Rantanen and Gabriel Landeskog.
Colorado takes on the Flames this Tuesday in what could be a low-scoring game as Calgary has scored just three goals in their last four games and has held their opponents to three goals or less in five of their last six. Don't hesitate to play the Under here.
HAT TRICK TRENDS
• Overs are starting to hit with more consistency of late. Last Week, totals went Over at 58 percent. That's a big uptick considering it was nearly 50/50 O/U heading into last week. Washington (15-5-1 O/U), Nashville (13-6 O/U) and Florida (14-5-1 O/U) are the top-three Over teams on the season.
• The puck line (-1.5) is a beautiful thing when it hits as values range from +100 to up to +250 for favorites to win by two or more. However, favorites covered the -1.5 just eight of 51 games last week, good for 15.7 percent. On the year, favorites are covering at just 33 percent which makes the puck line a volatile play, especially with underdogs hitting at nearly 49 percent over the last month.
• The Buffalo Sabres, Colorado Avalanche and Ottawa Senators are all hitting first-period Overs at 80 percent in their last 10 games. The Vegas Golden Knights, Columbus Blue Jackets, Philadelphia Flyers and Anaheim Ducks are hitting their first-period Overs at 70 percent over their last 10.