SENS WITHOUT BENEFITS
The Ottawa Senators (2-3 SU, 3-2 O/U last five) are winless on the road this year having scored just 10 times in five games and have back-to-back road games against the New York Rangers on Monday and the New York Islanders on Tuesday. The schedule has been good to the Sens so far this year as this will be the first back-to-back set for the league's worst team.
The Rangers are 3-2 SU in their last five and have put up 14 goals in their last three home games. New York has been getting great goaltending from backup Alex Georgiev while Henrik Lundqvist recovers from a minor injury. The 23-year-old goaltender has stopped 61 of his last 63 shots in a pair of wins over Tampa Bay and Nashville last week. We like the Rangers in regulation (3-way).
OPPOSITES ATTRACT
The Nashville Predators (3-2 SU, 1-4 O/U last five) kick off a five-game road trip Monday as they bring the league's second-best offense (3.86 goals per game) into Detroit to take on the Red Wings (1-4 SU, 2-3 O/U last five). With a healthy Filip Forsberg back on the ice, the Preds' offense will look to do what every other team in the league has been doing against the Wings — score goals. 
In their 10 losses this year, Detroit is averaging 4.4 goals against, and both netminders (Jimmy Howard and Jonathan Bernier) have save percentages in the .800s and a GAA of at least 3.50. We like Nashville's team total Over 3.5 for this Monday night matchup.
PLAYING FROM BEHIND
One bet that holds a lot of value is the "team scoring 1st wins game NO". Tuesday's contest between the New Jersey Devils and the Winnipeg Jets will feature two of the worst teams in the league at winning after scoring first. 
The Jets (3-2 SU, 2-3 O/U last five) have lost four games after scoring the first goal while also winning five times when their opponent scores first. The Devils (2-3 SU, 4-1 O/U last five) haven't done much winning of late but are losing 83 percent of the games in which they score first. Grab the plus-money play Tuesday night and wait to see who you will be cheering for after the first goal. This play has cashed in two of the last five games with the Jets, and four of the last five contests for the Devils.
CLOSE ENCOUNTERS
No two teams in the league have played each other as competitively over the last couple years as the Detroit Red Wings and the New York Rangers who will renew their Original Six rivalry on Wednesday. Over their last 15 matchups, spanning six seasons, the clubs have had 14 games decided by one goal — including 10 going into overtime.
We aren't here telling you to put your hard-earned money on a tie or play the Red Wings at +1.5 with heavy juice, but with a track record of such close games, we are leaning on the underdogs here. The Red Wings have won the last five matchups (all by a single goal and with four conests going to OT) and will face goalie Henrik Lundqvist who is playing his first game after sitting for a week with an upper-body injury.
GOALIE PROFILE: Mike Smith, EDMONTON OILERS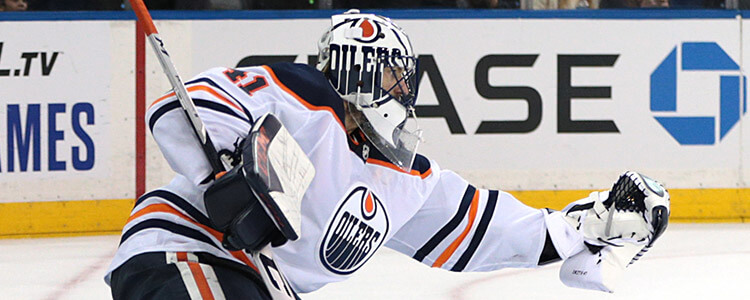 The well-traveled goalie heads into this week's matchups on the heels of a sensational 51-save, 2-1 win Saturday. Smith hasn't allowed four goals or more since the second game of the year and has allowed two or fewer in five of his last seven contests. 
The Oilers are at the top of the Pacific division and the play of Smith has a lot to do with it. Edmonton is 2-7 O/U in games that Smith has started this year.
INJURY UPDATE: D Victor Hedman, TAMPA BAY LIGHTNING
Victor Hedman hopes to play Friday in Sweden against the Buffalo Sabres after missing two games. The Bolts went 1-1 in two games without their No.1 defenceman but allowed 11 goals.
Getting the Swede back will help out the team's defensive struggles as Tampa was 5-2 to the Under in their previous seven games before Hedman's injury. With Hedman's return and both teams playing in an unfamiliar environment, the Under is a reasonable play here.
HAT TRICK TRENDS
• The Boston Bruins have dominated the Pittsburgh Penguins at home over their last 11 matchups. The Eastern Conference champs are 10-1 against Crosby's squad in Boston, including five wins in regulation in their last six. Pittsburgh travels to Boston on Monday.
• Going to Sin City has had a serious effect on visiting teams since the Vegas Knights came into the league two years ago. Teams are 30-55 (35%) all-time in their game after playing in Las Vegas. The Winnipeg Jets will test this trend Tuesday as they play the New Jersey Devils after a 4-3 overtime win Saturday in Las Vegas. 
• The Colorado Avalanche, Montreal Canadiens, San Jose Sharks, Anaheim Ducks, New Jersey Devils, Buffalo Sabres, Columbus Blue Jackets, Carolina Hurricanes and Arizona Coyotes are all hitting at 70 percent or better on first-period Over 1.5 plays in their last 10 games. The Minnesota Wild, Chicago Blackhawks, Calgary Flames and Pittsburgh Penguins are hitting at 70 percent or better on the first-period Under 1.5 plays.