The squeaky wheel finally got the grease as Kawhi Leonard was sent packing to The North in a trade with Danny Green for DeMar DeRozan, Jakob Poeltl, and a protected first-round pick. Of course, Chris Haynes of ESPN.com adds that Kawhi has "no desire" to play in Toronto, so the move carries significant risk to unload a happy All-Star in DeRozan for a guy who has reportedly dodged his own team's front office in New York City, per Michael C. Wright of ESPN.com.
There are a lot of aspects to this trade, but let's start with what we know on the Kawhi side. Most importantly, we actually don't know much. In today's NBA information age where star reporters are letting us know what's going on with a team or player, it's fair to say we were misinformed on the Kawhi news more than any big NBA story in this era. Time after time, we were getting incorrect target dates and details on his injury. Was all of this because Leonard was so upset with the Spurs? Was there a missed diagnosis on his quad injury? Something else?  Were the Spurs being the shady ones? Heck, we all know they've been shady before. We still have a lot of questions to be answers.
So the Raptors are going to inherit this problem, but of course we're talking about arguably a top-five player when healthy. In his last healthy season, Leonard averaged 25.5 points, 5.8 boards, 3.5 dimes, 1.8 steals, 0.7 blocks and 2.0 treys on a 48.5/38.0/88.0 shooting line in 2016-17. Obviously Kawhi's defense stands out as a two-time Defensive Player of the Year, but his offense is in rare air. Besides Kawhi's 2016-17 season, only one player in NBA history had at least a 60.0 true shooting percentage with at least 25 points per game and fewer than his 2.1 turnovers per game (Kiki Vandeweghe in 1983-84). Here are what his Synergy numbers look like from the 2016-17 season.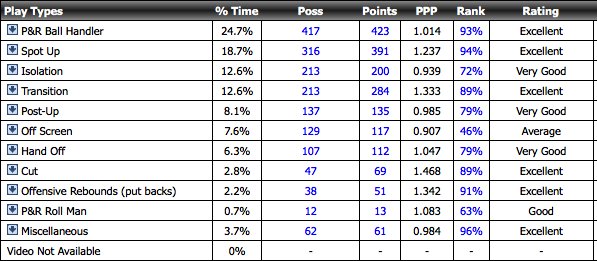 Whoa boy. We talk about Kawhi being a system player, but he's a system, player. There's almost no doubt he'll be able to fit into whatever the Raptors need, assuming there's no funny business. Again, we still don't know what's going to happen with Kawhi and if he'll have an issue-free season, but from a pure basketball standpoint I'd expect him to be a truly elite player when he's on the court.
Editor's Note: Be sure to checkout DRAFT's $1,000,000 Best Ball Championship. Best Ball is season long but with no management. Just set it and forget it! Once you're done drafting, that's it – no or waivers– you don't even have to set your lineup. Your best players get automatically selected and you'll get the best score, every week. For a limited time, DRAFT is giving Rotoworld readers a FREE entry into a real money best ball draft with your first deposit! Here's the link
Back to the actual health issue, this isn't just a one-time flare up. Leonard had a quad tendon issue back in 2013 and Leonard has never hit 75 games in any season. After a guy played just nine games last season, it's fair to say he'll have a tough time hitting 70 games.
Fantasy wise, he should be going outside the top 10 and there's no doubt he'll have more risk than anyone taken in that range for nine-cat leagues. Back when we thought he was going to Los Angeles, we had pegged him as a guy who should go in the 8-12 range. Now that he apparently doesn't want to go to Toronto, you have to slot him into the 12-18 range. Maybe the Raptors can eventually flip him to Cali, so that could help his fantasy floor in the second half. Based on what a lot of the Spurs reporters have said since this fallout, you do have to be concerned about Kawhi acting up again.
There are a lot of other aspects to this deal for the Toronto side, but for overall usage it's basically a swap for DeRozan and Kawhi. Both a healthy Kawhi and DeRozan play just a shade under 34 minutes per game, and Kawhi posted a 31 usage rate while DeRozan was at 29.2 last season. That means guys like Kyle Lowry really shouldn't be affected too much. Lowry may actually gain more value because he only assisted DeMar 1.4 times per game, and DeMar was unassisted 68.1 percent of the time last year. Compare that to Kawhi's full 2016-17 season with his 52.4 percent unassisted. Plus, DeMar blossomed as a passer last year with his 5.2 dimes per game, so that is a noteworthy bump up from the 3.5 Kawhi had in 2016-17. Lowry went in the fourth round in our last mock, and I'd certainly consider him at like 30-35. Maybe earlier. 
The Danny Green factor is an interesting situation, and it certainly hurts OG Anunoby more than anyone else. OG had an underwhelming Vegas trip, and he's really not polished enough to be an offensive factor in the near future. Green's arrival could also take minutes away from Fred VanVleet and Delon Wright. The Raptors trusted those guys perhaps more than any team trusted second-unit guards, and they actually led the team in minutes per fourth quarter at 9.0 each. FVV and Wright played 12.6 minutes per game next to each other, Wright was with K-Low for 6.9 and FVV was with Lowry for 7.0 per game. The Raptors would be less likely to roll two-PG lines, assuming Green fits. He should. That basically takes FVV and Delon off the board in 12-team leagues.
The loss of Jakob Poeltl is also significant. As just about everyone knows, the Bench Broskis made a major impact with a +17.1 net rating over 340 minutes during the season. The Raptors have talked about how they don't think they can sustain another season with Serge Ibaka playing next to Jonas Valanciunas for substantial time. That duo played together for 1,476 minutes as the sixth most-used duo on the team, so that number should drop with Serge playing more five. That should help Serge's value, and of course the biggest winner from this fallout would be Pascal Siakam. We've seen him make some offensive strides, and now he shouldn't have a problem hitting 24 minutes per game. He might be able to score close to double-digit points with around a block, steal and maybe close to a three. This should also help solidify JV even more, so he can be a nice value pick in the sixth to eighth rounds, especially with the dearth of centers in the earlier parts of drafts this year.
Moving to the Spurs, you have to feel for DeMar. He's best buds with Kyle Lowry and their post-game humor was one of the more uplifting stories off the court. According to NBA.com's David Aldridge, DeRozan is "extremely upset" with the move and he felt he was lied to. Damian Lillard summed up what DeMar is feeling when he tweeted "smh cold game" this morning. DeMar is a pro's pro and he'll be out there giving his all, and he won't carry nearly the same amount of risk as Kawhi.
Regarding durability, DeRozan is basically the opposite of Kawhi. Over the last eight seasons, he's missed just 5.2 games per season, which is an incredible number for a guy who logged an average of 35.6 minutes per game. Kawhi has never hit either of those numbers in even his best seasons for playing time.
As alluded to above, it's basically a straight swap for DeRozan and Kawhi on usage. He'll have to adjust to the Spurs system with their heavy usage of hammer plays and shooting more 3-pointers. Although, DeRozan has grown as a shooter with his career-high 1.1 makes per game from deep last year, but obviously the 31.0 percent from that range has to come up. He did also see his playing time drop to 33.9 minutes per game, averaging 23.0 points, 3.9 boards, 5.2 assists, 1.1 steals and 0.3 blocks. Simply put, he should be able to flirt with that kind of production again, so that makes him a guy to take in the fifth round.
Looking at the Spurs as a team, it's something else in 2018 and they make an interesting case for watchability. What's that? You love mid-range jumpers? Well, the 2018-19 Spurs are just for you! LaMarcus Aldridge ranked first in mid-range shots last season and DeRozan was just behind him at third (Russell Westbrook was second). Aldridge was basically in a perfect situation last year with no high-usage players next to him, so his 29.4 usage rate is likely falling back to his 24.9 in 2016-17. He also hit 75 games for the first time since 2010-11, so I'm pretty sure I won't be taking him in the top 40 for nine-cat leagues. Rudy Gay is basically a wash with DeMar, and he should still be able to hit around 25 minutes per game as a combo forward. Gay may also get the start, but he would shrink the offensive court a bit because he's not the strongest shooter either. It's a strange fit, for sure.
The wing minutes are certainly interesting here with Green in Canada and Kyle Anderson in Memphis. The Spurs did add Dante Cunningham, but he projects as more of a four — the Nets used him as a five a bunch, too. Marco Belinelli was also added, and he'll likely get 20-24 minutes. So who are the candidates to log more minutes?
Let's start with the Spurs' star of Summer League, Derrick White. The second-year guard likely slotted into the PG3 spot in the depth chart, but now he's likely going to play more SG with this news. I could see White being a factor in the rotation if really anyone in the starting lineup misses time. 
I was all in on Dejounte Murray before today, but he did lose a touch of value. He is still going be among the league leaders for steals, and he should have a strong FG%. It would be nice for him to grow to a 3-pointers guy, but that won't happen overnight. Considering how raw he was coming into the league and how coach Gregg Popovich actually trusts him now, Dejounte could improve on his post-break averages of 10.5 points, 6.7 boards, 3.1 dimes, 2.0 steals and 0.4 blocks in 26.9 minutes per game. I'm still looking at him in the 80-100 range in standard leagues.
I was impressed with what I saw out of Lonnie Walker IV in summer league. He controlled the tempo when he had the ball, and he is clearly an NBA athlete with plenty of skill. He's still likely a year away from value, but he also lost some value today because he has a roadblock on DeMar. 
The Spurs clearly want to give Davis Bertans minutes, and they are more committed to him than they were to Slow-Mo (obviously). Still, he doesn't make a defensive impact and his minutes won't be high enough to be a reliable part of the rotation on  a nightly basis.
As for The Yak, I'd be a little worried about how he's used next year. Poeltl did slow down as the year went on, and losing occasional minutes to Lucas Nogueira is even more concerning. Pau Gasol should still be safe for now, but he'll obviously be getting games off at age 38.
If we're grading the trade, I'd say it's a win-win. Even with the loyalty concerns and the risk of Kawhi leaving next year, I love that president Masai Ujiri made this call. We know what this Toronto team's ceiling is and even LeBron James leaving still may not have put them over the top. Plus, they'll have a clearer cap sheet in 2019, and DeRozan was likely going to start to decline on his next deal at age 30 heading into the 2019-20 season. I will truly miss the DeRozan-Lowry hijinks, though.