The NBA's talent pool became a little diluted on Sunday with the announcement that Oklahoma City forward Kevin Durant is expected to miss 6-10 weeks with a Jones fracture in right foot. This obviously has massive implications, but let's start with Durant and discuss his injury.
The Jones fracture is a break to the middle of the fifth metatarsal. Here's a helpful picture (via Orthoanswer.org):

 
There are a handful of players who suffered Jones fractures in the NBA. Chris Singleton had a Jones fracture and had surgery on Sept. 18, 2013 and was able to make his season debut on Nov. 26.  C.J. McCollum missed about 12 weeks and didn't get the surgery, which is rare and could be an option for Durant (reportedly unlikely). Lastly, Brook Lopez had one in 2011 and needed two months, but he's dealt with multiple foot injuries since. Sadly, Brook didn't miss a single game in his three seasons before the Jones fracture and he's become one of the most injury-plagued big men in the league.
 
Based on that, it's pretty clear Durant won't have a miraculous return to the lineup and beat that 6-8 week prognosis. That means he's likely going to miss close to 25 percent of the season. If he misses 10 weeks, it could be closer to 30 percent.
 
Prior to the injury, everyone and their mother had Durant as the No. 1 player on their boards because he's been fantasy basketball's best player for each of the last five seasons, which is totally ridiculous. He has been remarkably durable and led the NBA in minutes over that span.
 
So what does that mean for his fantasy value now? As Ryan Knaus (@Knaus_RW) mentioned last week, Durant wasn't just the best player in fantasy, he crushed everyone. As far as auction prices go, he yielded a league-high $95.14, which trumps second-ranked Anthony Davis at $82.91 and LeBron James at $75.55. If he does miss 20 percent of the season, that's still about a value higher than LeBron's at $76.11. Of course, he could miss a lot more, which would push him down to a second-round value over the entire season.
 
We do have to remember that Durant was absolutely magnificent while Russell Westbrook was out of the lineup. With Westy out from Dec. 27 to Feb. 13, Durant averaged 35.0 points, 7.5 boards, 6.3 dimes, 1.3 steals, 0.7 blocks and 2.6 triples on 53 percent from the field and 88 percent from the line. Insane. In other words, his MVP season was a bit inflated.
 
OK, so what does this mean? If you're in a head-to-head league, I still think Durant is a top-five pick. He is just so good that you would love to have him in the playoffs. If you are in a league where you're always in the playoffs (six out of 10 teams make it, or you are just a better owner), you could consider him at No. 1. In most cases, he's the No. 3 player in head-to-head behind Davis and LeBron.
 
It's a little trickier in Roto. Personally, I would put him at 10 on my board. James Harden was the top player after the break last season, Stephen Curry is just a stud and there are a few other players I'd feel more comfortable drafting. If we knew KD would come back at 100 percent in eight weeks, I'd put him at five. Foot injuries are just too scary and there are a lot of sure things in the first round. Of course, if you have an I.R. spot in your league, he's an option at five for 10- and 12-team Roto leagues.
 
Moving on, OKC is going to have to count on Russell Westbrook a ton. As it turns out, he had an absurd 44.6 usage rate while Durant was on the bench. Westbrook led the NBA with a 33.3 usage rate and Durant ranked second, so it'll be the Russell Westbrook Show for OKC. If you're in an eight-cat league, I wouldn't mind Westbrook going off the board at No. 3. Although, I have him at six because of his three knee surgeries. He comes in at nine on nine-cat boards and is the No. 2 point guard in both formats.
 
After Westy, it gets really tricky. Here are the five most-used lineups with Westbrook in and Durant out (per NBAwowy):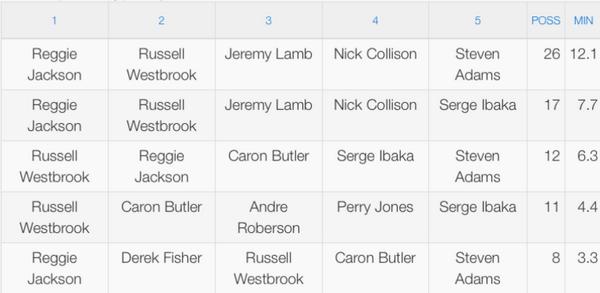 You'll notice the top lineup was only used for 12.1 minutes, so coach Scott Brooks has some serious work to do. The Thunder really need some offensive firepower and you'd think Reggie Jackson gets more opportunities. He did only have a 20.2 usage next to Westbrook, so he's not going to be a major stud. 
 
The Thunder are absolutely going to need him to help space the floor in both the second and first units, so I wouldn't panic if he doesn't start. He's a solid target around pick 80-90 in standard leagues because there is a huge drop-off compared to the rest of the team. That raises the question: Who the heck plays small forward?
 
Newly-acquired Anthony Morrow does have a chance to get some extra run, but it really doesn't make sense to start him. He played some small forward for the Pelicans last season, but the Thunder will really need him on the perimeter to help spacing for R-Jax and Westy. I still think he can score 10 points per game with 1.5 triples, which gives him late-round value. There's not a lot of upside, so I'd look elsewhere in most cases.
 
The heavy favorite to start at small forward has to be Perry Jones III. PJ3 hasn't been healthy since his right knee scope from over the summer and we haven't had a great look at him at traning camp. Although, he was actually pretty good at summer league, averaging 12.3 points, 5.3 boards, 1.0 blocks, 0.8 steals and 2.3 triples. Jones has been used at both forward spots, which will really help him adapt to KD's role. Don't forget that coach Scott Brooks likes playing Durant at the four a lot. There is a lot of upside here, so he's worth a look in standard leagues to see what happens.
 
Like Jones, Andre Roberson had a nice summer league with averages of 9.5 points, 8.3 boards, 2.0 assists, 2.2 steals, 0.8 blocks and 0.5 triples in 48.3 percent from the field. Although, it's worth mentioning he shot 8-of-25 (32.0 percent) from the line. He's probably a better option for offense than PJ3, and almost has to start at shooting guard now. If I'm in a deeper league, I'd grab Roberson over PJ3 because he's a little safer. I'd prefer the upside of PJ3 in standards, though.
 
Jeremy Lamb has looked terrible in his career, so unless something magical happens, he shouldn't see much of an increase in fantasy value.
 
 
Shifting to the frontcourt, Serge Ibaka will likely have to take more shots. He'll probably lose out on some efficiency because he's wide open all the time while KD is on the court, so I don't think his value goes up or down.
 
It's too bad Mitch McGary got hurt because he probably would have been used a lot more at power forward for offense. He's going to miss some time in the regular season due to a foot fracture.
 
Steven Adams is an interesting pick in head-to-head. He's looked great on offense so far this season and you'd think Brooks would want him in the first unit. Funaki is still a little too sub-par on FT% to draft in Roto.
 
 
At the end of the day, we are putting our faith in coach Scott Brooks' hands, so we all know how that'll go. We'll keep you posted on the developments all month long on our Player News page. You can also follow me on Twitter @MikeSGallagher.