Well, so much for the offseason. The NBA season ended just a week ago and we're already loaded with news about the draft and free agency. The draft is coming up on Thursday and we'll be blurbing every player selected on our Player News page and break it down what it could mean his new team. You can also check back for tons of columns this offseason to track all off the fantasy and non-fantasy stories this summer.
We're looking at a fairly deep free agency group this summer, so I thought it would be cool to rank all of them. The following is a list of the entire 2014 free agency class. Any player who played last year and even has a chance of being a free agent is on this list. Even if they have said they're going to opt in on their deals, they're still on there. For instance, Amare Stoudemire is opting in on his early termination option (ETO), but he's still on the list.
The rankings are more or less based on which players I'd want on my team. I have an affinity to 3-point shooting and defense, so those two attributes will help a guy move up the rankings. Plus, youth also gets a huge bump because some players haven't shown their ceilings yet. Well, here we go:
You can follow me on Twitter for all sorts of stats and analysis Follow @MikeSGallagher
(Updates on status are provided in bold)
1. LeBron James (ETO, Reportedly opted out) - He can do whatever he wants. If LeBron actually looks to join another team, that team would instantly become a championship contender. There is no other player on this list that even comes close to that. He's not going anywhere, though.
 
2. Carmelo Anthony (ETO, Officially opted out) - Melo is going to opt out of his deal with the Knicks and become a free agent. The Rockets, Bulls and Heat (!) are in play for the NBA's No. 2 scorer from last season. The problem with Melo is that he does so much of his damage in ISO. In fact, a ridiculous 26.6 percent of his shots came in ISO last season, which crushes the 16.2 percent of Kevin Durant (Synergy).
 
Any team that brings Melo in would completely change the way their offense operates. That said, there aren't many who can score better than Melo and he is obviously going to go wherever he wants.
 
3. Eric Bledsoe (Restricted) - I love this guy and I almost wanted to put Bledsoe at No. 2. If you think Melo can score on his own, Bledsoe is certainly in the same class. The Kentucky product had just 18.5 percent of his buckets come off an assist last season to lead all players with at least 15 minutes per game. He also shot a very respectable 37.2 percent from deep in his last two seasons.
 
The Suns have to know he's a max player and better pony up like Ginuwine for this franchise guy.
 
4. Chris Bosh (ETO)-  It's easy to pile on Bosh for not showing up in the NBA Finals. For a max player to get just 12 touches — like Bosh did in Game 3 — it is completely inexcusable. That said, Bosh is one of the best power forward in the game. The personnel have undoubtedly changed his style of play, but he should still be able to thrive anywhere. He'll be with the Heat next year, obviously. This is also a really cool graphic and column about his shot distribution over the years from Grantland, so check that out.
 
It's not too long ago CB4 was able to score at the rim at will. He's still a max guy, but he's not opting out unless it's to take less money with the Heat.
 
5. Dirk Nowitzki (Unrestricted) - He's recently said that he doesn't need to take meds to get through games, which isn't a surprise after he was on fire last season. Dirk turned in an impressive 54.9 effective field goal percentage, which ranked third behind LeBron James and Kevin Durant among player with at least 15 field goal attempts per game.
 
He's not going anywhere.
 
6. Tim Duncan (Player option, Officially opted in) - Five rings, yo. As Eric B.  & Rakim would say, don't sweat the technique. We probably won't see another quite like The Big Fundamental and he's still one of the best players you'd want on your team. He has clearly moved closer to the rim lately and 35.7 percent of his shots last year came at the rim. That has increased in each of his last four seasons — not a surprise. It's also worth noting he had 43.2 percent of his shots at the rim in the playoffs. He made 67.5 percent of those shots and made just 41.8 percent of his other shots.
 
Could you imagine him in another uniform? That's as bad as Michael Jordan in a Wizards uniform, Joe Montana in a Chiefs uniform or when the Rams brought on Joe Namath. Also, I thought this was a really cool graphic from the Boston Globe: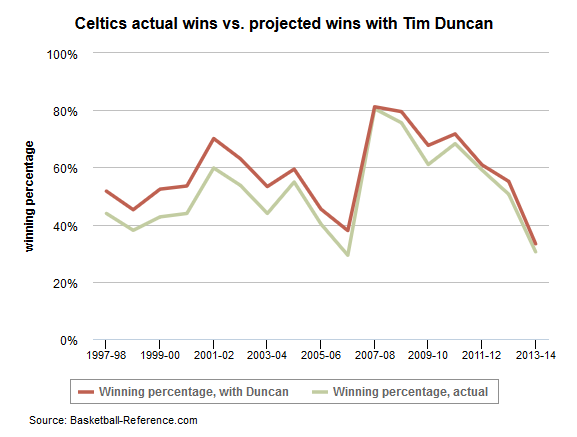 7. Greg Monroe (Restricted) - The Pistons will be have some changes to their roster. Stan Van Gundy will definitely be looking to add some 3-point shooters to his team based on how the Pistons ranked 29th in 3-point percentage, which has been SVG's bread and butter. During his Magic days, they ranked first for 3-pointers in the last four years he was there. They were also first in above-the break 3-pointers in that span and it wasn't really close. Again, the presence of Dwight really opens things up for shooters, but ranking first in each season speaks volumes. It's obvious the new coach is going to want to get some shooters on his new team.


He can score at the rim with the best of them and someone (the Pelicans) could wind up paying him max dough.
 
8. Kyle Lowry (Unrestricted) - Perhaps no player came up bigger than Kyle Lowry last season. He obliterated his career-high for points per game, effective field goal percentage and was the best player on the Raptors. In the first three years of his career, he had greater than 40.9 percent of his shots come at the rim. In his last four, each have been less than 29 percent. That clearly shows he's ready to flourish as an elite player. As for fantasy, he had first-round value on the season. Stud muffin.
 
As mentioned, last year was a bit of an anomaly. Back in the 2008-09 days, he was a man on a mission for going at the rim and getting to the free throw line. He had some problems staying healthy, but he'll be a franchise point guard if he's able to avoid that issue in the future.
 
9. Chandler Parsons (Team option) - General manager Daryl Morey has made it abundantly clear he will do whatever it takes to make his team better. As much as we want to discredit him as a second-round pick, he had a sterling effective field goal percentage of 56.7 percent in 2012-13 and 53.8 in 2013-14. Only 2 PG/SG/SFs have qualified better than Chandler Parsons in eFG% in each of the last two years: Jose Calderon and LeBron. Baller.
 
The Rockets are certainly running at a fast pace, but that kind of efficiency is undeniable. He can't really defend and there are undoubtedly some issues on the other end, but he would see a hefty raise if the team doesn't want to bring him back.
 
10. Lance Stephenson (Unrestricted) - If it just came down to the first half of the season, Lance would have blown away the competition. That didn't happen and he fell on his face in the second half of the season. Here's a look at his shot chart pre-break vs. post-break:
 



 
 
Teams clearly put the clamps down on Indy, so it cost Lance a lot of shots at the rim. I think he will get it going again soon.
 
 
11. Marcin Gortat (Unrestricted) There are not many centers better than Gortat in PNR. The Wiz had more success in PNR with MG than without him and it had a lot to do with the team being apprehensive in scoring the ball. He showed he's a starter in this league.
 
12. Rudy Gay (Player option) It was an easy call here, but Rudy should be joining the Kings. Let's take a look at his shooting last year with the Raptors (left) vs. the Kings (right):
 
 



 
The Kings made it clear Gay needs them more than the other way around. DeMarcus Cousins wants Rudy to stay and I highly doubt anything else happens.
 
13. Pau Gasol (Unrestricted) - The Lakers were bad last year. Yes, really bad. That wasn't Pau's fault, though. They were able to get just 30.8 percent of Pau's shots to come at the rim, which was a career low. He's basically been a 17-10 guy for three of the past four years with the Lakers and still has plenty left in the tank. There are some durability concerns now, too.
 
14. Isaiah Thomas (Restricted) - It's easy to pick on IT2. The Kings were dead last in assists per game, but it didn't have too much to do with Thomas. DeMarcus Cousins and Rudy Gay tend to get a good chunk of their shots on their own, which explains the low dimes. The Kings got a pleasant surprise out of Ray McCallum and it's made Thomas a bit more expendable. The team and local media haven't been too supportive of him, so it wouldn't be a surprise to see him in another uniform next year.
 
The Kings did not know how to run a PNR all season and it had a lot to do with their scheme. It could be fun to see IT2 on another team.
 
15. Gordon Hayward (Restricted) - The Jazz had some issues in scoring the ball last year. Trey Burke was one of the worst shooters in the league and Hayward had some shooting issues, as well. He shot just 34.1 percent in February, but did turn it on late, making 43.3 percent from the field after the break. He probably shouldn't get max money.
 
16. Zach Randolph (Player option) - Could you imagine Z-Bo on another team? Me neither. Randolph isn't going anywhere and hopefully he'll have Marc Gasol with him when the Spaniard becomes a free agent in the summer of 2015.
 
17. Dwyane Wade (ETO) - There are some reports that Wade will opt out of the remaining two years of deal. Ummm, why? He has $41.5 million left on that deal and there's really no way he'd get that kind of money in a new, long-term deal. Wade has really hit a wall and his decline is imminent. The numerous attacks on the rim have finally caught up with him and he just can't stay on the court. He missed 28 games last year and didn't even really suffer any bad injuries.
 
That all said, he basically is the Heat.
 
18. Paul Pierce (Unrestricted) - The Nets sound like they're going to bring back The Truth. Pierce isn't a max player anymore and teams probably won't want to sign him to a long-term deal. They should be able to bring him back, but the Bulls are also in the mix.
 
19. Avery Bradley (Restricted) - He had an awesome finish after the break, turning in an impressive true shooting percentage of 56.5. Bradley was considered as a better prospect out of high school than John Wall and he's starting to live up to the billing. He's still just 23 years old and could grow even more.
 
20. Trevor Ariza (Unrestricted) - Perhaps no player had a breakout in fantasy like Trevor Ariza. He turned in No. 22 value despite not going in the first 10 rounds of standard drafts. Why? Well Otto Porter was supposed to come on his rookie season, but that never happened. The Wizards are probably going to let Ariza walk with Martell Webster also capable. I could see a team paying him serious money. He also had an impressive postseason.
 
21. Luol Deng (Unrestricted) - That trade to Cleveland did not help him at all. Deng shot just 41.7 percent from the field in his time with the Cavs last year and he couldn't stay healthy. He led the NBA in minutes per game a few seasons ago, but that may have caught up to him. Some teams might not want to give him more than three years on a deal.
 
22. Spencer Hawes (Unrestricted) - When he headed to the Cavs, he was expected to fade in a big way. That didn't happen at all and Hawes showed he can play in a normal system. The 76ers led the NBA in pace, but the slower Cavs still were a nice fit for Hawes. In fact, he had a tidy 54.7 effective field goal percentage with the Cavs in his 27 games with them.
 
He probably won't get another chance to shine in the starting lineup, and may have to move into a backup role.  
 
23. Greivis Vasquez (Restricted) - If the Raptors actually let Kyle Lowry walk, they have to bring GV back. While he wasn't great at handling the ball in Toronto, he really grew as a scorer, especially from deep. Vasquez made 38.9 percent of his 3-pointers while with the Raptors, which crushed his previous career shooting of 32.5 percent from the range. He's still probably not a starting-caliber point guard.
 
24. Anthony Morrow (Player option) - All of the injuries to the Pelicans probably helped Morrow's bank account. In March and April, he almost doubled his shots per game compared to before that stretch, and he was also taking much more two-point shots. We all know Morrow is a terrific 3-point shooter with his career 42.8 shooting percentage from that range, but adding a little versatility to his game should get plenty of attention.
 
Morrow has opted out and a lot of teams will probably want to add him as a bench scorer.
 
25. Shaun Livingston (Unrestricted) - What a great story. Livingston was able to log a total of 2,301 minutes last season to shatter his previous career high. He became a one-of-a-kind guy with his post game and it really set up the Nets offense nicely. How great was Livingston in the post? He shot an absurd 60.6 percent in post-up last year to rank fourth in the NBA.
 
The Nets might not be able to bring him back and that's too bad.
 
26. Darren Collison (Player option) - He's opting out and will be an unrestricted free agent. This is probably good news for the Clippers and it allows them to make some moves in the offseason. Collison was a below-average point guard as a starter in Indiana and Dallas, so a team probably won't be too excited about starting him. Remember when Mike James beat him out for the starting job in Dallas? Yeah.
 
That said, DC was fantastic last season and he might get a nice four-year deal or so.
 
27. Jordan Hill (Unrestricted) - Not staying healthy has really hurt Hill, and his minutes cap was very apparent last season. From Dec. 1 and beyond last season, he played over 30 minutes just four times, which is a bit surprising considering how decimated the Lakers were by injury. He probably won't get much attention.
 
28. Patty Mills (Unrestricted) - He's one of the more interesting players on this list. There are not many players who helped themselves in the offseason than Mills. I wrote about Mills and the possibility of him going to NY. In case you missed it, here it is:
 
The Knicks are believed to be interested in unrestricted free agent Patty Mills. Why wouldn't they be? He ranked in the top 10 among qualifiers for effective field goal percentage last season at 56.5 — no Knick backcourt/wing player ranked in the 50 — and was also at 56.0 in the postseason. 
 
Many of Phil Jackson's teams had a sharp-shooting, score-first point guard while he'd let his system create the assists. Building off the eFG% points in the first Mills paragraph, he had a ridiculous 65.5 effective field goal percent on his 216 spot-up shots last season. *Ace Ventura voice* Yummy!
 
If he gets starters minutes with the Knicks, it could be a stat fest. He's only played over 30 minutes just four times in his career, so it should be interesting to see if he can get that kind of playing time. Regardless, I'd put him as a top-70 guy should be get 26 or more minutes. He did come in at No. 80 last year in just 18.9 minutes despite a somewhat average usage rate of 22.5 percent. 
 
29. Nick Young (Player option) - Swaggy P scored a career-high 17.9 points per game and he actually didn't do it in usually Swaggy fashion. Surprisingly, 58.7 percent of his buckets came off an assist and he turned in a career-high 51.1 effective field goal percentage. Those two stats kind of went hand in hand with his terrific 63.9 eFG% on spot ups (Synergy).
 
The Lakers are probably going to bring him back even though he can't throw a pitch for his life.
 
30. Vince Carter (Unrestricted) - He's 37 years old and is now ranked 25th on the NBA's all-time scoring list. Despite the miles on his tires, he missed just two games in the last two seasons while logging 25 minutes per game in that span. Carter did shoot a career-low 40.7 percent from the field last year, so the end is definitely near. He won't be getting more than a two-year deal.
 
31. Marvin Williams (Unrestricted) - His minutes really took a turn for the worse last season and shooting 38.5 percent from the field in March was a big reason why. It's tough to score in an efficient manner when just 34 percent of his shots came in the paint and Marvin's offensive ceiling will never be that high. Don't expect teams to be too excited about picking him up.
 
32. Channing Frye (Player option, Officially opted out) - He's been a product of the system for a while and really maximized his output thanks to guys like Goran Dragic. Frye was one of the best stories of 2013-14 after missing all of 2012-13 due to a heart procedure, so teams may not want to offer him a long-term deal. You'd think he's opting in for his $6.8 million next year.
 
33. Ramon Sessions (Unrestricted) - He was a near-perfect fit for the Bucks down the stretch last year. Sessions was among the league leaders in drives per 48 minutes and that was just what the Bucks needed to help kick start their offense. He's taking more 3-pointers and is not just a drive-to-the-rim guy anymore. Sessions would make sense as a nice backup on just about any team.
 
34. Shawn Marion (Unrestricted) - The Matrix sounds like he wants to play on a championship team. He'll be looking at a mid-level exception deal and teams like the Heat, Thunder or Clippers would be lucky to have him.
 
35. P.J. Tucker (Restricted) - He was awesome on defense all season and was able to shut down guys like James Harden, Kevin Durant and countless others. Tucker also grew as an offensive weapon for his career-high 9.4 points per game. The Suns had one of the best bargains with Tucker's $884K on his contract last year, but they won't be that lucky if they want to bring him back.
 
36. Andray Blatche (Player option, Officially opted out) - He's opting out. Blatche is also playing for the Philippines this summer even though he is not Filipino whatsoever. He started off last season with a bang, but really fizzled out despite the Nets losing a lot of bodies. You'd think teams wouldn't chance it on him for more than a two-year deal.
 
37. Amare Stoudemire (ETO, Officially opted in) - Obviously, he is not going to opt out. STAT will make (gulp) $23.4 million next year. That's going to hurt the Knicks' chances a bit.
 
38. Rodney Stuckey (Unrestricted) - He had a decent bounce-back year for the Pistons, but they don't owe him anything. You'd think Stan Van Gundy would want to add a guard with some 3-point range, but Stuckey is not that with a career 3-point percentage of 28.6. He'd probably best be served on an up-tempo team.
 
39. Boris Diaw (Unrestricted) - Another player who probably made at least a million from his spectacular play in the playoffs. He was great on both sides of the ball, especially in the passing department. The Spurs will want to re-sign him, but it's going to depend on how much other teams raise the price on him.
 
40. Jodie Meeks (Unrestricted) - He was awesome last year with a shooting line of 46/40/86 on his way to a career-high 15.7 points per game. His defensive skill set also grew last year with 1.4 steals per game. I could see a team like the Pistons going after him.
 
41. Jordan Farmar (Unrestricted) - After taking some time off from NBA ball, Farmar really hit the ground running with the Lakers. Injuries did hurt him significantly, but at least he showed he's capable of playing at the highest level. Plus, shooting 44 percent from deep in each of his last two NBA seasons is gold.
 
42. Josh McRoberts (Player option) - McBobs is going to opt out of his deal, but you'd think the Hornets would want to bring him back. He was second among power forwards in assists per game while adding a career-high 1.3 treys per game. He's not going to do his job with a lot of flash and flare, but you'd think the Hornets would love to have him back.
 
43, D.J. Augustin (Unrestricted) - One team's trash is another team's treasure. The Raptors waived DJA and the Bulls picked him up, turning him into a Sixth Man of the Year candidate. It was by far the best stretch of his career, but will teams be totally sold on him in a 61-game sample size after he was below average in the first 5.5 years of his career?
 
44. Emeka Okafor (Restricted) - He's a bit of a forgotten man. Okafor has career averages of 12.3 points, 9.9 boards and 1.7 blocks, but those numbers are obviously trending down. After a back injury derailed his entire 2013-14, his price tag should take a major hit. He'll likely be a backup somewhere.
 
45. Mario Chalmers (Unrestricted) - LeBron James has yelled at him more than Ralph Kramden, but the Heat may want to bring him back. Mario was a ghost like Boo in the playoffs and his defense was exceptionally bad. With the way LeBron handles the ball, the Heat will value defense at the one spot.
 
46. Ed Davis (Restricted) - Boss wasn't living up to his moniker with the Grizzlies. They had to deal with all sorts of injuries to their frontcourt and he still couldn't edge out Kosta Koufos and Jon Leuer for minutes. Davis was effective in his Raptors days and maybe the right team will get him back on the right track.
 
47. Nate Robinson (Player option, Officially opted in) - After a devastating ACL tear, you'd think Nate would opt in on the last year of his deal. He was playing very well before the time of his injury and it really left the Nuggets shorthanded in the backcourt.
 
48. Ray Allen (Unrestricted) - He better not retire.
 
49. Evan Turner (Restricted) - We basically got to see his true colors with the Pacers. He basically had his worst year as a pro and it comes at a horrible time. Most teams probably wouldn't want him to start anywhere.
 
50. Chris Andersen (Player option) - Prrrrrrrr.
51. Patrick Patterson (Restricted)
52. Jerryd Bayless (Unrestricted)
53. Devin Harris (Unrestricted)
54. Darrell Arthur (Player option, Officially opted in)
55. C.J. Miles (Unrestricted)
56. Jordan Hamilton (Unrestricted)
57. Steve Blake (Unrestricted)
58. Caron Butler (Unrestricted)
59. Wesley Johnson (Unrestricted)
60. Kris Humphries (Unrestricted)
61. Mo Williams (Player option, Officially opted out)
62. Kent Bazemore (Restricted)
63. Trevor Booker (Unrestricted)
64. Jeff Adrien (Unrestricted)
65. Richard Jefferson (Unrestricted)
66. DeJuan Blair (Unrestricted)
67. Mike Miller (Unrestricted)
68. Andrei Kirilenko (Player option, Officially opted in)
69. Jermaine O'Neal (Unrestricted)
70. Mike Scott (Unrestricted)
71. Al-Farouq Aminu (Unrestricted)
72. Aron Baynes (Restricted)
73. Jordan Crawford (Restricted)
74. Xavier Henry (Unrestricted)
75. Drew Gooden (Unrestricted)
76. Robbie Hummel (Restricted)
77. Chris Kaman (Unrestricted)
78. Jeremy Tyler (Restricted)
79. Jason Smith (Unrestricted)
80. Jason Richardson (Player option)
81. Alan Anderson (Player option)
82. Brian Roberts (Restricted)
83. Shelvin Mack (Restricted)
84. Glen Davis (Player option)
85. Joel Anthony (Player option)
86. Beno Udrih (Unrestricted)
87. Elton Brand (Unrestricted)
88. Brandon Rush (Unrestricted)
89. E'Twaun Moore (Restricted)
90. Thabo Sefolosha (Unrestricted)
91. Anthony Tolliver (Unrestricted)
92. Lavoy Allen (Restricted)
93. Chris Douglas-Roberts (Unrestricted)
94. Jonas Jerebko (Player option)
95. Francisco Garcia (Player option)
96. Ryan Kelly (Restricted)
97. Udonis Haslem (Player option)
98. Bernard James (Restricted)
99. Greg Smith (Restricted)
100. Danny Granger (Unrestricted)
101. Luke Ridnour (Unrestricted)
102. Michael Beasley (Unrestricted)
103. Kirk Hinrich (Unrestricted)
104. Aaron Brooks (Unrestricted)
105. Ekpe Udoh (Restricted)
106. Eric Maynor (Player option)
107. Gustavo Ayon (Restricted)
108. Andrea Bargnani (ETO, Officially opted in)
109. Darius Miller (Restricted)
110. Andrew Bynum (Unrestricted)
111. Toney Douglas (Unrestricted)
112. Garrett Temple (Unrestricted)
113. Jannero Pargo (Unrestricted)
114. MarShon Brooks (Unrestricted)
115. Chris Singleton (Unrestricted)
116. Matt Bonner (Unrestricted)
117. Dante Cunningham (Unrestricted)
118. Earl Watson (Unrestricted)
119. Jimmer Fredette (Unrestricted)
120. Aaron Gray (Unrestricted)
121. Byron Mullens (Player option)
122. Rashard Lewis (Unrestricted)
123. Greg Oden (Unrestricted)
124. Greg Stiemsma (Unrestricted)
125. Ryan Hollins (Unrestricted)
126. Jan Vesely (Unrestricted)
127. Nando De Colo (Restricted) 
128. Charlie Villanueva (Unrestricted)
129. Nazr Mohammed (Unrestricted)
130. Jared Cunningham (Unrestricted)
131. Cole Aldrich (Unrestricted)
132. Tyshawn Taylor (Restricted)
133. Kevin Seraphin (Restricted)
134. Al Harrington (Unrestricted)
135. Cartier Martin (Unrestricted)
136. Othyus Jeffers (Restricted)
137. Toure' Murry (Restricted)
138. Damion James (Unrestricted)
139. D.J. White (Unrestricted)
140. A.J. Price (Unrestricted)
141. Shannon Brown (Unrestricted)
142. James Jones (Unrestricted)
143. Grant Jerrett (Restricted)
144. Damion James (Unrestricted)
145. Adonis Thomas (Restricted)
146. Ryan Gomes (Unrestricted)
147. Andris Biedrins (Unrestricted)
148. Kenyon Martin (Unrestricted)
149. Rasual Butler (Unrestricted)
150. James Southerland (Restricted)
151. Jamaal Tinsley (Unrestricted)
152. Jason Collins (Unrestricted)
153. Chauncey Billups (Team option)
154. Hedo Turkoglu (Unrestricted)
155. Royce White (Unrestricted)