OKC's defense gets reconstructive Serge-ery
 
To quote Vince Lombardi: "What the hell is going on out there?!" Just when it seemed like the Spurs were going to coast to the NBA Finals, OKC comes back and looks like the best team in the history of team sports. It doesn't take a lot of fancy analytics to figure out why either. Serge Ibaka has come back and completely shut down the Spurs' interior game. That was never more apparent than in Game 4. Here's a look at San Antonio's shot chart from Tuesday: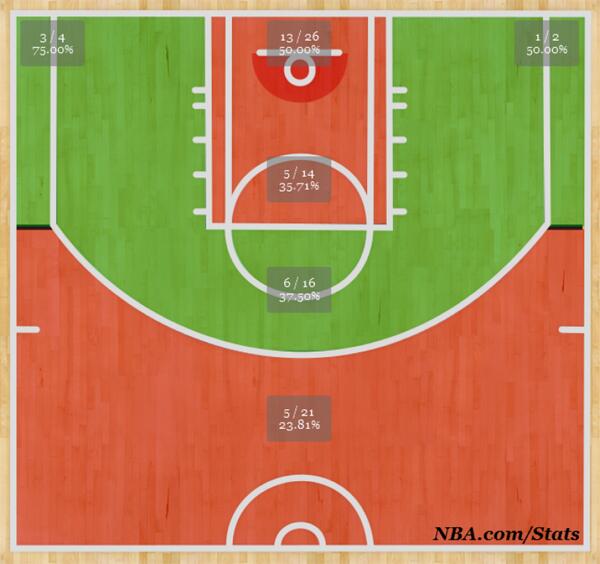 What a difference from the earlier part of the series. Last night, they shot 45 percent in the paint on their way to 39.8 percent overall. That's a far cry from what happened in Game 1 and 2: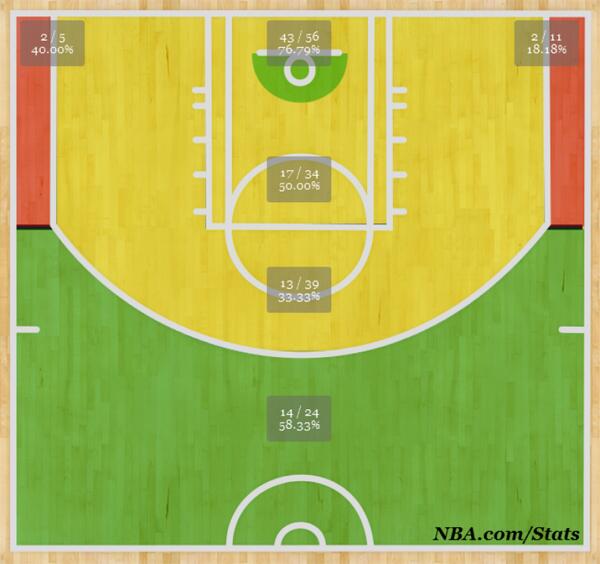 They shot 66.7 percent from the paint in those two games. Obviously, the Spurs are going to have to neutralize Ibaka somehow. Perhaps Pop goes with Tony Parker, Tim Duncan and three 3-point shooters to help keep Ibaka out of the paint a bit. While Ibaka has been the headliner, the move of Reggie Jackson has helped OKC, as well. Coach Gregg Popovich said he was worried about Jackson before the series started and he probably did his research. In fact the foursome of Jackson, Ibaka, Russell Westbrook and Durant posted a very impressive net rating of 28.3 in their 36 minutes together vs. the Spurs in the regular season. That net rating has actually gone up in the postseason at 36.3. They also have played 31 minutes together in the last two games.
 
As for Russell Westbrook, let's just go with this:
 
 
See ya, Indy
 
Remember when we liked the Pacers? It seems like just yesterday they were 17-1 to start the season with a margin of victory of 11.1 points per game in that span. Paul George was all set to take away LeBron James' MVP trophy and Roy Hibbert was lapping the field for Defensive Player of the Year. Now, it seems like we all just can't wait for them to get knocked out.
 
Monday night was one of their worst nights both on and off the court. After playing with very little effort on defense — and we'll get to that in a bit — they kept pointing fingers at anything they could. Usually when it comes to the blame game, it's one guy taking the low road. That wasn't the case with the Pacers. Paul George hinted that the refs were helping Miami, and he even said the Pacers "outplayed" the Heat. Yeah, OK. Obviously, you've heard about Lance Stephenson saying he was in LeBron James' head, which might be boneheaded enough for Stephenson to come up with an elaborate plan to kidnap Snowflake years later. Lances out! OK, maybe not. Lastly, Hibbert blamed coach Frank Vogel's game plan for not using him enough. What?
 
Hibbert probably had it backwards. Why would any coach want to use a guy like Hibbert in an offensive game plan? He may be the most inept offensive player in the postseason. The big man has made just 10 of his 51 jumpers (19.6 percent) and he can't put the ball on the floor whatsoever. Yes, that's not Hibbert's game, but the Pacers haven't found any way to get him the ball in a favorable spot, and how could they? Teams are so unafraid of Hibbert that they don't even defend him on a high pick-and-roll. We could beat this dead horse all day, but what does it mean for next year?
 
One popular reason for Hibbert's emergence back in November was his 2013 summer. He worked out with the Spurs, changed his diet, hit the weight room and focused more on stretching. He never really focused on that type of development to his game and he actually couldn't even do a pushup at his days at Georgetown. Plus, Jeff Green, his college teammate, said Hibbert "couldn't run" and he even called him "pigeon-toed." The funny thing is those are some common things we're saying about Hibbert now. It's probably not too unfair to say he ran out of gas.
 
Worst yet, this postseason fiasco isn't even the worst part of his season. In the last 13 games of the regular season, Hibbert shot 29.3 percent from the field. Here's a look at his shot chart in that span: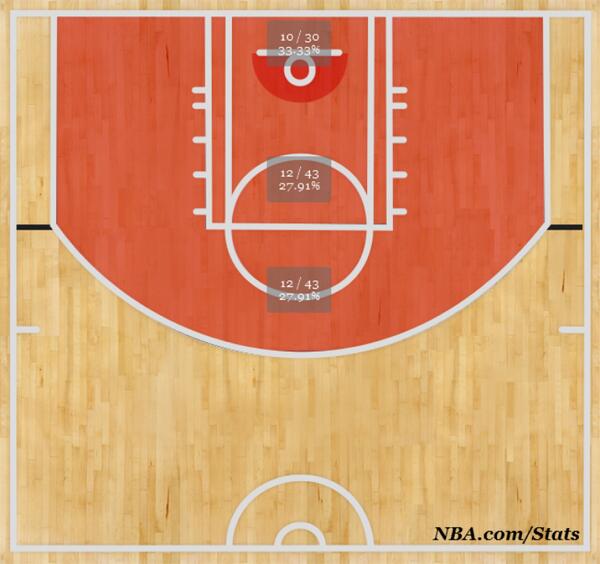 Yikes. How can a 7'2" guy shoot 33.3 percent at the rim? Anyway, his upcoming offseason training program will be a interesting storyline. Perhaps he won't run out of gas in such spectacular fashion next season, but he definitely won't be getting the benefit of the doubt. He's not really going to be worth drafting before pick 80 and most of his value lies as a sell-high player after the first month or so.
 
As alluded to, the Pacers have minimal effort, especially on defense. If Miami didn't get so many ways buckets, the Pacers probably would have won Game 4. Here's Miami's shot chart:
 
That kind of efficiency around the basket is a big reason why Frank Vogel is now on the hot seat. His team seems to have given up on him and it's easy to see in their body language. Guys are just moping around and they're not playing team defense. We'll revisit some of their other players next week, but they are likely going to look a little different next season.
 
D(activated)-Will
 
Deron Williams had surgery on both of his ankles on Tuesday and will be on crutches for 4-6 weeks. The team also said he won't begin basketball activities until September. This doesn't come as a surprise after he needed numerous injections on the season, missing 18 games on the year. Although, it wasn't just the missed games as his statistical output fell off. His 24.3 points per game and 6.1 dimes per game were his fewest since his rookie year in 2005-06.
 
He's going to turn 30 years old on June 26 and all the miles on his tires may be catching up with him. Williams dealt with ankle injuries for a sizable chunk of his time with the Nets and the problems date back to 2008. The former All-Star really flopped in the postseason, making just 39.5 percent from the field. On the bright side, his minutes were actually up after the break while also seeing an increase in points, triples and steals. On the whole, the season was definitely a letdown.
 
Outside of his ankle rehab, the big offseason story will be whether the Nets bring back Paul Pierce. One of the bigger misconceptions out there was how Deron was used while on the court with Pierce. Both players are believed to be ball-dominant, but they were able to share the ball. Interestingly, D-Will had a usage rate of 21.7 while Pierce was on the bench vs. posting a 21.1 percent with him.
 
His value is really only going depend on himself, which is shaky ground. He's going to be a very risky player to take due to his injury history and now that he's on the downside of his career. There are going to be too many safer players with higher upside to take over D-Will.
 
Make that a strong Gibson
 
The Bulls reportedly have told Taj Gibson that he'll be taking over as the starting power forward next season. Most people saw this coming from a mile away because he outplayed Carlos Boozer all season. The news came down over the weekend and I broke down Gibson's game in my Saturday stats piece. In case you missed it, here's most of it:
 
Taj Gibson probably should have won Sixth Man of the Year and he did it with his 6.2 close touches per game leading to 6.3 shots per game in the paint. Gibson's offense came around in a big way and his developed jump shot made him a treat to get to the hole. The Bulls are going to be looking to unload Carlos Boozer at all costs and that could open up some minutes for Gibson. Regardless, Gibson is the favorite to start and he'll be a popular target in fantasy leagues. I'll be one of them thanks to his output in blocks. 
 
Furthermore, the big man who would replace Boozer could have a nice amount of touches near the rim. Coach Tom Thibodeau is another guy who gets his team close shots, so just keep that in mind for now.
 
Bogut is still not 100 percent
 
Andrew Bogut is still not all the way back from his fractured rib and will have tests to get an update on his status. He suffered his fractured rib in April, causing him to miss the last two games of the regular season and all of the seven-game series vs. the Clippers in the postseason.
 
The former No. 1 pick exceeded most expectations last year, playing in 67 games at a 26.4 minutes-per-game clip. That more than doubled his 32 games from 2012-13 and quintupled his 12 games from 2011-12. 
 
Summing up the season, Bogut's injuries weren't severe ones. Besides the fractured rib last season, the Aussie suffered a pelvic bruise, two separate sprained ankle injuries, a knee issue, a bone bruise to his shoulder, and a strained right calf. It's somewhat amazing he only missed 15 games, right?
 
You'd think he won't be as lucky next season and will likely be close to missing 40 or more games. Of course, that could open things up for Draymond Green, a player I would much rather own over Bogut and it's not even close.
 
Dave Joerger gets his extension
 
The Grizzlies announced they have extended the contract of head coach Dave Joerger. It didn't come without drama, though. Grizzlies owner Robert Pera was reportedly trying to fire Joerger for much of the season, but he shot down those rumors on Twitter.  "What happened to journalistic integrity? No wonder people are calling me crazy. I would too if any of that was true," Pera said.
 
The story didn't stop there. Pera reportedly wanted Joerger to wear a headset, he thought it might be a good idea for Mike Miller to be a player-coach, and he also challenged Tony Allen to a game of one-on-one back in September.
 
The 36-year-old billionaire has been under the microscope for a litany of reasons — mostly not serious ones. I couldn't resist and went through his Twitter account in an attempt to get a feel for him. Here are some of my favorite tweets:
Workout in NYC today. Thanks for the game @landryfields ! pic.twitter.com/pULJlHMgpp

— Robert J Pera (@RobertPera) July 20, 2013
@mattwaits Very involved. I was at the draft combine in Chicago. Who do you like at 22nd pick?

— Robert J Pera (@RobertPera) May 25, 2014
@mynewhate The Graduation hands down the best one

— Robert J Pera (@RobertPera) May 25, 2014
@ChrisMannixSI Why don't we just talk here so there is full transparency? #FactsOnly

— Robert J Pera (@RobertPera) May 26, 2014
 
 
You may have noticed he has a sleeve on his non-shooting elbow in his avatar. Also, who thinks Graduation is the best Kanye album?? College Dropout all day, yo. Kidding aside, he seems to really care about his team and the issues with his coach look to be behind him. #FactsOnly