I'll admit it's tough to even focus on basketball right now and I've probably spent too much time fine-tuning my fantasy football draft strategy thanks to the Rotoworld Fantasy Football Draft Guide. If you're going to take fantasy football seriously, you definitely should check that thing out. It's worth it, especially if you're spending a lot of league dues.
 
Speaking of which, the Rotoworld NBA crew is gearing up for the draft guide. We're adding a ton of features and more mock drafts than ever before. It is expected to go live in early September and hopefully Eric Bledsoe will have made a decision by then.
 
Follow me on Twitter @MikeSGallagher. You can also send me a tweet for this weekend's Fantasy Hoops Mailbag.
 
Monroe Doctrine
 
In similar restricted free agent news, Greg Monroe is reportedly going to sign his qualifying offer to remain with the Pistons for one season and become an unrestricted free agent in the summer of 2015. It's a curious decision from Monroe, who will now make just $5.5 million next season. Yes, that's a lot of money, but relative to Channing Frye getting $32 million over four years, it's not much.
 
New coach Stan Van Gundy is going to be in a tight spot. His team is shaping up to be an inefficient offense now that they're likely starting two power forwards again. He is probably still scratching his head how the Pistons ranked 24th in effective field goal percentage while Andre Drummond ranked second in the NBA for that category. How? The Pistons had three of the worst eight players in effective field goal percentage in Brandon Jennings, Josh Smith and Rodney Stuckey. Basically, coach Gregg Popovich probably couldn't even watch their tape because he wouldn't want it to make a bad impression on him.
 
SVG's Orlando Magic teams ranked in the top six for effective field goal percentage for every season he was their head coach. If he could somehow get the Pistons into the top 10, he'd be a miracle worker.
 
In previous columns, we've discussed how his teams have been built on shots at the restricted area and triples, but let's look at play types this time. Here is Synergy's breakdown of the SVG's last two seasons with the Magic: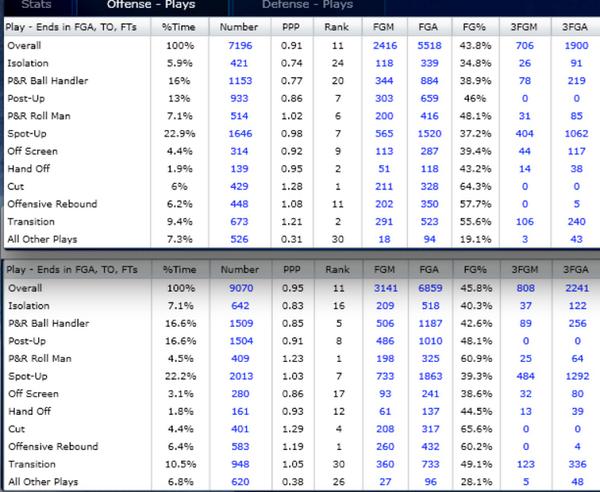 That's a lot of information to the untrained eye, but the second column (%Time) is the most interesting part. The Magic had at least 22.2 percent of their shots come from spot-up shooting while they also had at least 21 percent of their points come in pick-and-roll. That's a lot, and it's also not exactly how the 2013-14 Pistons operated. Hey, how about those Pistons last year?
 

 
Yep, you'll notice the massive drop offs in PNR, spot-ups, and also post-ups. Meanwhile, they had more isolation, cuts and O-board production. We'll get to Andre Drummond in a minute, but obviously those isolation numbers at a pathetic 36.2 effective field goal percentage have to sting. As a reference point, my boy Kawhi Leonard had a 54.8 effective field goal percentage in isolation last season.
 
SVG isn't going to say it, but he probably doesn't view Brandon Jennings and Josh Smith as terrific assets to his offense. Smith played 35.5 minutes per game and Jennings was at 34.1, but I think both guys will see a decrease in playing time. Simply put: Don't draft them in eight- and nine-category leagues.
 
But what about Andre Drummond and Greg Monroe? Drummond had one of the best offensive rebounding seasons in the history of the NBA. No player since 1999 averaged at least 30 minutes per game with an offensive rebounding percentage of 17.0 or more. Drummond shattered it with 32.3 minutes per game and an O-board percentage of 17.7. I'd expect him to get more pick-and-rolls in his age-21 season. If you don't care about free throws, he's basically a top-15 guy.
 
Greg Monroe is a little trickier. He's a very good post defender — especially compared to J-Smoove and Drummond — so SVG should look to give him more run. He's always been great at getting shots around the rim on offense and that should open up some shots for guys like Jodie Meeks, D.J. Augustin, Caron Butler and Kentavious Caldwell-Pope. Monroe is a safe guy to take in the middle rounds, except I'd like to see his free throw shooting increase. By the way, I think Butler could be a sneaky add in deeper leagues. I also don't mind Jodie Meeks in the early-late rounds or KCP as a late-round sleeper.
 
On Schedule
 
The NBA also released its schedule on Wednesday and we finally get to analyze it. We'll be breaking down the schedule on a week-to-week basis in our draft guide, but let's go over some of the main story lines.
 
We'll leave the national TV schedule to the mainstream guys, but one of the more interesting aspects is a breakdown of the back-to-backs on the schedule. Here's a list of all the teams with their back-to-back sets:
 
Hornets 22, Pistons 22, Bucks 21, Nuggets 21, Spurs 21, Hawks 21, Cavs 20, Rockets 20, Pelicans 20, Bulls 20, Knicks 20, Grizzlies 20, Nets 19, Jazz 19, Raptors 19, Sixers 19, Clippers 19, Warriors 19, Wolves 19, Blazers 19, Thunder 18, Wizards 18, Celtics 18, Magic 17, Mavericks 17, Kings 17, Heat 16, Lakers 16, Suns 16 Pacers 16
 
Of course, the first two things that come to mind here are the Spurs and Dwyane Wade. While Wade was rested countless times on his way to missing 28 games last year, he probably won't be missing quite as much last year due to pure rest. That said, it's definitely a plus to see the Heat only have 16 back-to-backs, but there's still no way I'm touching him in drafts with his banged-up knees.
 
Meanwhile, the Spurs come in tied for third at 21 back-to-back sets. Two seasons ago, the Spurs were resting guys in back-to-backs left and right, but they took a bit of a different approach last year. Obviously that worked out as they put up one of the best postseason runs I've ever seen, so it shouldn't be viewed as a huge negative. Although, I'd be a little more concerned about Tim Duncan and Manu Ginobili because they're a year older now. I wouldn't worry about Kawhi, Tony Parker or any other guy too much, though.
 
Also, There were some really cool graphics from Ed Kupfer on Twitter last night. He broke down which teams have an advantage with more rest:
 


 
The Nuggets and Mavericks have more rest than their opponent 28 times while the Hawks and Celtics have the fewest at 13.
 
I also thought it was also interesting to see which teams get their opponents on a back-to-back set:
 


 
It's interesting to see that two of the best teams, OKC and Cleveland, have the fewest games against a team coming off a back-to-back set. Meanwhile, the Jazz, Heat, Wolves and Bucks have the most. Hmmm.
 
Anyway, we'll also have a longer All-Star break with teams getting 8-10 days off. That means fantasy commissioners will probably want to merge their schedules for the week heading into the break and the week after.
 
One last thing I thought that was super weird was that the first Friday of the season only has six games. It is Halloween, but it's still very strange to see either a Friday or Wednesday night with less than 10 games. Meanwhile, Saturday has 10 games, so that should be a busy night for me in Blurbland. Well, at least now we have a look at what we're dealing with and can figure out which days we can spend with our friends and family.
 
New Melo
 
Carmelo Anthony lost some weight, you guys. Here's a pick of what he posted on his Instagram mixed with a game photo brought to you by SB Nation: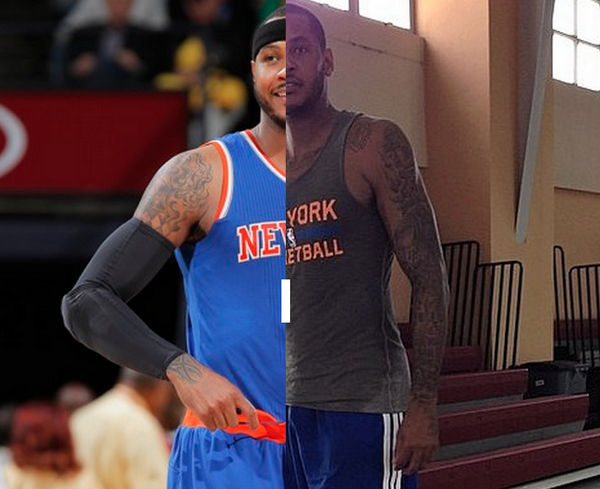 According to the NY Post, Melo lost the way so he could be the facilitator of the triangle offense. That would be great and all because Jose Calderon was brought on for his 3-point shooting more than just distributing the ball. Can Melo be that kind of a guy, though?
 
He has never averaged more than 3.8 dimes per game in any season and averaged just 3.1 dimes per game with the Knicks during his time there. Yes, Mike Woodson's offense isn't exactly the beacon of ball distribution, but Melo's body of work suggests he won't be able to clear 4.0 dimes per game. I think he'll likely improve on his 3.1 from last year.
 
Another interesting aspect has been Melo's move more to the 3-point line in his time with the Knicks. In the three-plus seasons with the Knicks, each year resulted in a higher treys-per-game average than what he posted in Denver for any season there. He continues to take a mind-boggling amount of isolation shots, but it actually didn't hurt him last year as he turned in a career-high in effective field goal percentage. He might be able to increase his shooting percentage, which would really help his numbers in standard formats.
 
I'd look to grab him at the turn of the first and second round, but I'm probably going to be higher on other guys and don't anticipate drafting him.
 
Super Nintendo Chalmers?
 
Mario Chalmers is expected to play a little shooting guard for the Heat this season. He kind of has to, right? The Heat have some major depth concerns on the wing with Dwyane Wade, Danny Granger and Luol Deng missing an average of 29.3 games last season. Plus, they really don't have anyone else to help at the SG/SF spot besides Reggie Williams and James Ennis — I love Ennis in deep leagues, by the way.
 
I was able to snag Mario Chalmers in the 12th round of a 12-team, eight-category mock draft earlier this month, which was a robbery. He put up mid-round value last season and I think you can sneak him in the ninth round or maybe 10th if you're eyeing someone else and think you can wait a bit.
 
King Solomon
 
Solomon Hill received some praise from coach Frank Vogel and it's becoming clear he'll be in the rotation. Looking at how the Pacers operated their offense last season, they simply can't rely on Rodney Stuckey, C.J. Miles and C.J. Watson to fill the void left by Lance Stephenson and Paul George. Here's a look at their play distribution from the last two seasons (13-14 on top):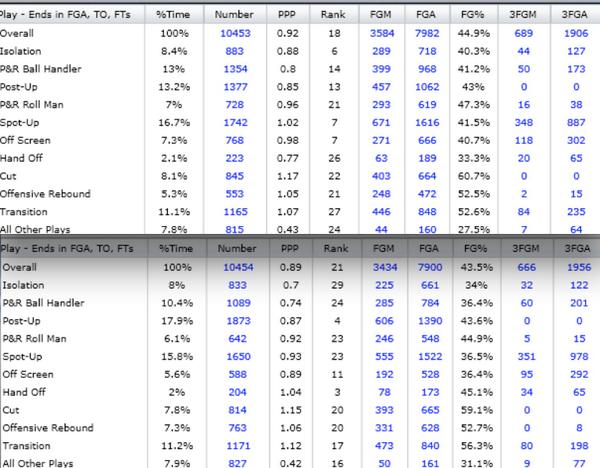 They are going to have a major issue at matching those PNR numbers from 2013-14, and they'll really have to bring their post-ups back to life. David West is really the only capable offensive player with a proven track record, so why not find out what young Solomon could do?
 
I think Hill has a floor of 18 minutes per game and a ceiling of 27 in the first two months of the year. He's capable of filling up stat sheets, so he's a nice late-round pick.