We're back with the second installment of player you'll want to keep an eye on in training camp. If you missed the first edition, bang it here for some talk on Giannis Antetokounmpo, Kenneth Faried, Terrence Jones, Victor Oladipo, Elfrid Payton, Marcus Smart and more.
 
Definitely check out our Player News page. The past two days have been crazy and we've had about 200 blurbs up there on Monday and Tuesday. You can also follow me on Twitter @MikeSGallagher for all things fantasy and NBA.
 
Our Draft Guide for this year has tons of content is is updated every day. Check it out.
 
K.J. McDaniels - On Wednesday morning, K.J. McDaniels signed a non-guaranteed, one-year deal with the 76ers. This is an extremely rare move and is certainly a risky one. He's basically banking on a huge rookie season and it's hard not to based on what the Philly roster looks like. On the bright side, he will be a restricted free agent after this year and could have tremendous earning power. On the down side, he'll make about $200,000 less this year compared to his counterparts and a major injury would seriously hurt his chances to land a multiple-year deal.
 
His agent, Mark Bartelstein, is one of the best in the business and he wouldn't do this without do a bold move unless it was a smart gamble. Here's a quick look at some noteworthy clients of his: David Lee, Gordon Hayward, Taj Gibson, Jose Calderon, Bradley Beal, Carl Landry, Jose Calderon, Doug McDermott, Tim Hardaway Jr., Steve Novak, and of course Nick Young. I can't even imagine what it's like to deal with Swaggy P as an agent. "What? My contract isn't $100 billion?" "Nick, the NBA has a salary cap." "So you're saying I should play baseball? I can't throw but my swag will get me paid. Make the call, bro." But I digress. Plus, Bartelstein has about 20 other clients in the league.
 
McDaniels and Bartelstein probably had this plan from the moment he was drafted. The 76ers did do the ol' GM-speak saying he was much higher on their board, but they needed a wing badly. They have Michael Carter-Williams at the point and have two quality young big men in Nerlens Noel and Joel Embiid (foot).
 
In his first three games at summer league, he averaged 13.0 points, 3.8 boards, 1.0 boards and 1.5 triples on a very impressive 57.6 effective field goal percentage. McDaniels had an ankle injury curtail his summer league, so this preseason is extremely important to him. He has the potential to be an Eric Bledsoe/Dwyane Wade-like guard with respect to blocks from the guard spot and he's also taking threes for the team.
 
It sounds like Hollis Thompson is going to start at the small forward position, which means McDaniels will compete with Jason Richardson, Chris Johnson, Jordan McRae and Elliot Williams at shooting guard. In case you're wondering where Tony Wroten and Alexey Shved are in that group, coach Brett Brown has said he's going to use them more at the point. That could be due to how Michael Carter-Williams is hurt, but it makes sense for them to stay there. Shved had a 38.3 effective field goal percentage last year and he simply can't score. Meanwhile, Brown has said in previous instances that he doesn't want to play Wroten next to MCW.
 
Once McDaniels gets on the same page as the coaching staff, it is likely his job to lose. He's one of my favorite late-round targets and I'd probably grab him around 100 right now. A strong start in camp could push him to 85.
 
Andrew Wiggins - If you stayed up for the Dunks After Dark in Mankato, MN on Monday night, you were probably disappointed. Outside of interviews of players saying they added muscle, working on their jumper or looking to better "every single day," there wasn't much. As for the game action, nothing really happened outside of some impressive alley-oop slams from Wiggins and Zach LaVine.
 
Anyway, it's still unclear where the Wolves are going to play Wiggins in his first season. Coach Flip Saunders has been noncommittal on Wiggins starting, which basically means he'll have to earn it at training camp.
 
Considering how Corey Brewer is a nightmare in halfcourt sets, the Wolves really are going to need some help in the first unit. Brewer only shot 39 percent in halfcourt last year and he only shot 22.7 percent on his pull-ups last year — only Derrick Rose was worse among players with at least one pull-up attempt per game and 30.0 minutes per game.
 
As for Kevin Martin, he was really inept, as well. While Kevin Love was on the bench, K-Mart shot just 35 percent from field. That is obviously much worse than his 44 percent with Love last year. He was also one of the worst players in the NBA on field goal percentage on drives, making just 34.1 percent of those attempts. Considering how Nikola Pekovic stays near the rim and Ricky Rubio can't shoot, they'll need more production on those drives.
 
Basically, Wiggins would have to be a complete disaster not to earn his starting spot. He's a mid-round target right now, but it's not worth reaching for him. Maybe that'll change if he gets really hot.
 
Gorgui Dieng - Sticking with the Wolves, it should be interesting to see where Dieng gets his minutes. Right now, it would be a surprise to see him get minutes at power forward, especially next to Nikola Pekovic. The two of them did not play next to each other for even a second last season. Dieng is still a major project on offense, but he did have some bright spots. Here's a look at his shot-type breakdown (NBA.com) and performance on plays (Synergy):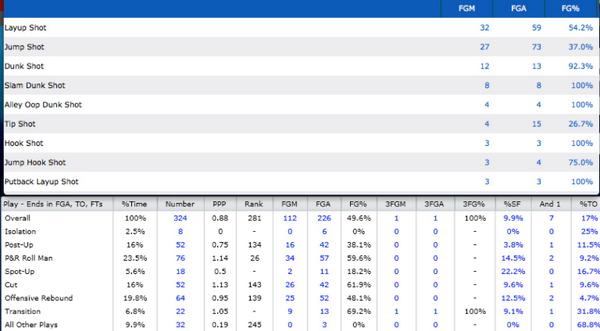 He was pretty much useless in all but two areas: pick-and-roll and on jumpers. Those are actually two very important facets to his game for the upcoming season. Ricky Rubio said he's working more on pick-and-roll and the Wolves will want him out there to space the floor with his jumpers.
 
There is still talk that he will get some minutes at power forward, which will likely come next to Ronny Turiaf. Dieng is more than likely just going to be a backup center and if he gets any minutes at the four it will really help his outlook. He's a late-round flier right now.
 
Otto Porter - He made the first team at Las Vegas Summer League thanks to averages of 19.0 points, 5.8 boards, 1.8 assists, 0.5 steals, 0.3 blocks and 1.2 treys. As great as he was in Vegas, he was worse on the bad spectrum in the regular season. Porter shot just 23.8 percent on his jumpers and only 23.1 percent of his shots came at the rim, which is why he only shot 36.3 percent from the field. Porter didn't make a single shot in isolation last year (Synergy) and somehow ranked 351st in spot-up plays at 17.9 percent. Yikes.
 
He's going to be the backup to Paul Pierce and one would think that his minutes drop below his 28.0 from last season. The Truth only played 26.5 minutes per game after the break with the Nets, which is probably a fair expectation this season. Also, Martell Webster (back) has not been cleared.
 
That means Porter could see minutes in the mid-20s. He does have a chance to eventually be a factor in blocks, steals and threes while he could be solid in both percentages. There is a lot of upside and most of the chatter around the team suggests he'll be a big part of the pre-season plans. That said, he's still not worth drafting in standard leagues yet and probably won't be a pickup unless Pierce goes down.
 
Bojan Bogdanovic - The Nets seem like they're going to give the starting wing job to Alan Anderson, but it's not set in stone just yet. As mentioned above, Pierce's 28.0 minutes per game are off the books and they're also missing Shaun Livingston's 26.0 minutes per game. Most of those minutes were next to Joe Johnson and the Nets probably have at least 35 of those minutes up for grabs for Bojan and Anderson— Jarrett Jack will help fill that Pierce-Livingston hole, too.
 
Bogdanovic played really well at FIBA, averaging 21.2 points, 4.2 boards, 1.3 assists, 0.8 steals and 2.2 triples per game with Croatia. Plus, he also shot an amazing 59.7 percent on his shots within the arc in the Euroleague last season.
 
If Bojan can get to 25 minutes per game, he'll have a chance to score in the 10-13 points-per-game range with around 1.5 treys per. To be clear, that hasn't happened yet, so he's not worth drafting in most cases.
 
The Bucks - Welp. Some teams have one uncertain spot in their lineup. Other teams even have two or three because they want preseason to mean something. As for the Bucks, there are questions at all five spots.
 
Let's go over some key quotes and reports in a quick-hit style:
 
Brandon Knight said he wants to play point guard.
 
Giannis Antetokounmpo said he has been focusing on playing point guard and small forward.
 
Jason Kidd said he could use a committee at point guard.
 
Jabari Parker said he would rather play some power forward.
 
John Henson said he has no idea where he is going to get his minutes.
 
Kidd said Larry Sanders is going to anchor the defense and be a leader.
 
Khris Middleton said he doesn't know what his role is.
 
The Racine Journal Times reported that Henson is going to start at center now that he added some weight.
 
O.J. Mayo said he won't talk about his weight.
 
We'll let you know what else we can find on our Player News page. As of right now, only Jabari Parker is worthy of a pick in the top 75 and he might not even start. Antetokounmpo is in the 76-100 range right now, depending on who else is there.
 
I'll be back with Part 3 this weekend.