It's a lot easier to get things done when you're close. A three-foot putt is much easier than a 30-foot one, talking to someone is easier when you're at a comfortable distance — no close talkers please, nobody tries to watch TV from 100 feet away, and if a tree falls and… OK, you get the picture. It's the same for scoring a basketball.
 
It doesn't take a life-long NBA fanatic to know that getting to the rim is a top priority for NBA offenses. Sure, 3-pointers have gained a lot of popularity and it's made effective field goal percentage a more suitable measurement for efficiency than just plain ol' field goal percentage. Still, shots at the rim are the way to go. In fact, the league average at the rim was 60.8 percent while players shot 39 percent on corner triples — 35.3 percent above the break. That 39 percent translates to an effective field goal percentage of 58.5 percent, which is still pretty good — and will be addressed in an upcoming stats column. 
 
No player is more adept at scoring around the rim than LeBron James. Here's a look at his shot chart from the season up against the league averages (LA):
 
 
 
LeBron ranked second in the NBA with 455 makes at the rim behind Blake Griffin's 461. The stunning part is LeBron had 70 less attempts than Griffin and he ranked fifth in the NBA. No other player attempted more than 225 shots from within three feet and matched LeBron's 78.3 percent from that range. Plus, he's shot 81.9 percent at the rim in these playoffs. Nutso.
 
While no player is as great as LeBron, there are still plenty of studs in scoring around the basket. On the other hand, a number of players still haven't developed their games enough to score in traffic. We'll be taking a look at guards, forwards and centers who have thrived and failed in shots from within three feet over the next few weeks, leading off with guards.
 
Another cool thing about players who get to the rim more often is that their shooting is more consistent, making a higher field goal percentage more sustainable. This is extremely important in fantasy leagues for those who want to be competitive in field goal percentage. For example, Paul George counted on mid-range jumpers quite a bit this past season, but the milk went bad on his shot and he saw his field goal percentage take a nose dive. Meanwhile, LeBron was on cruise control thanks to attacking the basket.
 
Follow me on Twitter @MikeSGallagher for all sorts of stats, observations, shot charts and all things hoops.
 
Good guards
 
Tyreke Evans
 
Power in Numbers wasn't just a cool album from Jurassic 5 in 2002, it's also a big reason why Evans ranked fourth in the NBA in makes at the rim on the season. He shot a whopping 589 shots at the rim, which doesn't even really tell the whole story. In the last 25 percent of his season, he attempted 10.9 attempts per game at the rim. If he kept up that rate for a whole season, he would have led the league after just 62 games — Andre Drummond ranked first at 667 in 81 games. As you could imagine, his shot chart is stupid in that aforementioned span:
 
 
 
Those shots at the rim accounted for 72.3 percent of his shot total in that stretch. He's really the extreme here and ranked third in the NBA in drives per game. All those close shots actually led him to a disappointing 43.6 percent from the field on the season. However, he shot 46.6 percent after the break compared to just 41.1 percent before that point. Teams will probably figure out ways to force him to take jumpers, but he should still finish as one of the better guards for field goal percentage. 'Reke should be around 46 percent next season.
 
Goran Dragic 
 
He didn't earn the NBA's Most Improved Player Award for nothing. Dragic's efficiency was a huge reason, posting an effective field goal percentage of 56.1, which was up from his 49.1 percent in 2012-13. He did it in arguably the most impressive fashion of any guard in the league.
 
The Dragon got to the rim for 37.5 percent of his shots from last season, making 67.6 percent of those. Both of those numbers are up compared to 2012-13 and ranked second behind Evans for shots at the rim among guards. His 3-point shooting also went up and that was able to buoy his sub-par shooting from other two-point shots.
 
The Slovenian guard was dynamite in pick-and-roll, ranking ninth in the NBA with 207 makes on those plays (Synergy). The Suns offense was set up extremely well and chances are Dragic will be ready to dominate again next season. His usage rate didn't fall off too bad upon the return of Eric Bledsoe, so there shouldn't be a big drop off in production. He'll be a fantasy stud again and just turned 28 this month.
 
John Wall
 
He got his first All-Star nod of his career thanks to a career-high 47.3 effective field goal percentage. A big part of that was his ability to get to the rim and succeed. He shot 64.4 percent at the rim, which bolstered his field goal percentage in a major way because he's not a very good shooter and thrives off the dribble. The former No. 1 pick shot just 21.4 percent on his regular jump shots, but 81.9 percent on pull-ups, per NBA.com/stats. Yes, that's not a typo. Crazy, right?
 
He still has plenty of room to improve. About 10 percent of his shots at the rim were blocked last year, and of course he can only go up with respect to his jumper. Wall should be able to flirt with 45 percent from the field next season. He's a first-round pick in fantasy leagues and Bradley Beal getting better should only help Wall's shooting numbers.
 
Lance Stephenson
 
I'm not going to spend too much time on Stephenson because he's been talked about way too much these days. He was at the rim a lot and made 67.4 percent of his 369 attempts during the season. Stephenson actually shot 67.9 percent in 2012-13, so that eye-popping number was no fluke. He also improved in just about every other area in scoring the ball, including a six percent increase in mid-range jumpers. He should be around his 49.1 percent from the field again next season no matter where he winds up.
 
Oh, and I have to throw this out there: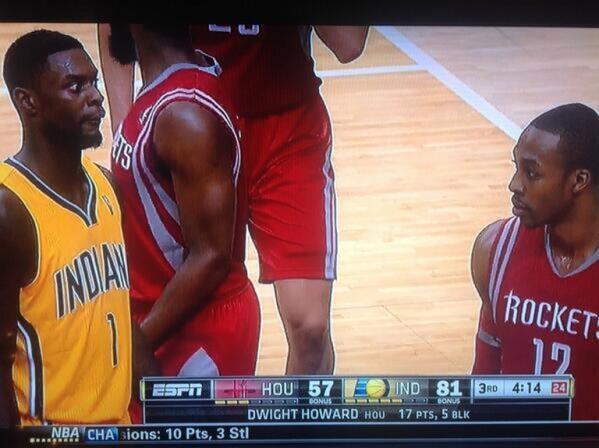 Tony Parker
 
Perhaps no guard is better at finding his way to the rim than Tony Parker. The difference with Parker is he's looking to pass to a teammate most of the time, partly due to his smaller size. That said, he can finish with the best of them.
 
Parker has routinely been among the best point guards for field goal percentage and last year was no different with his pristine 49.9 percent from the field. He also shot a career-high 37.3 percent from downtown. T.P. hasn't shot below 48 percent in any of his past 10 seasons, so there's no reason to think that'll change next year.
 
Tony Wroten 
 
Murder She Wroten was basically the Eastern Conference version of Tyreke Evans. After the break, 66.6 percent of his shots came at the rim. His shot chart is also another ridiculous one:
 
 
He had seven mid-range shots after the break. Awesome. LaMarcus Aldridge has seven mid-range shots after the break too — as in halftime. As for Wroten, the Sixers will probably be adding some depth to their and he really can't score at all when he's not at the rim, so he should be considered a detriment to field goal percentage. He's also the only person in the NBA to make two shots from beyond halfcourt, which is super duper important.
 
James Harden
 
Ya gotta love the Houston Rockets offense. They led the NBA in 3-pointers as a team and led the Western Conference in makes at the rim. One of my favorite stats is how they made just 251 mid-range shots as a team, which is basically half of the 29th-ranked Sixers' 501.
 
Harden's ability to get to the rim was a big reason why he shot 45.6 percent from the field. He was on fire after the break and ranked third in points per game while ranking just 10th in field goal attempts per contest in that span. His shot chart is just too good not to show: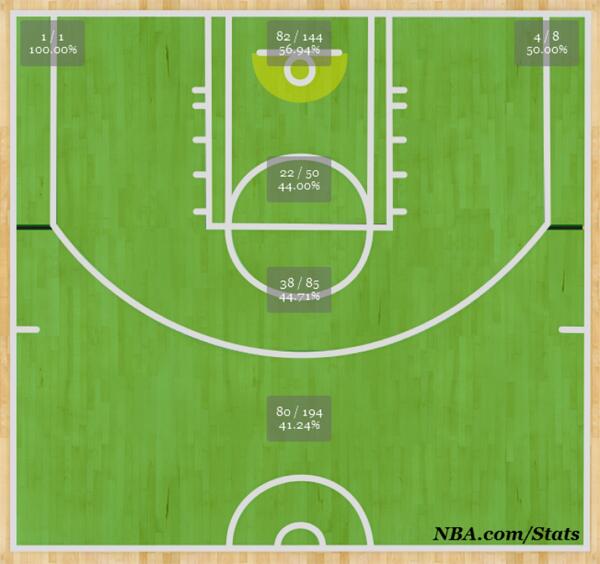 Harden is a top-five pick next year along with Kevin Durant, LeBron James, Anthony Davis and Stephen Curry.
 
Reggie Jackson
 
If there's an under-the-radar breakout player from this season, Jackson is in the mix for that distinction. He's moved into the spotlight lately as a starter for the Thunder and has shown flashes of being a stud in the near future. Before Game 6 on Saturday, Jackson shot a beautiful 70.6 percent at the rim and he's added a full arsenal of scoring the ball. The Thunder are clearly a better team when he's on the court and he has room for improvement next season. If for some reason he gets traded, Jackson would be a fantasy beast.
 
Bad guards
 
Ricky Rubio
 
There probably isn't a worse guard at scoring the basketball than Rubio. He shot 38.1 percent from the field thanks to shooting just 36.1 percent before the break. Everyone and their mom knows Rubio has no J, but he can't score around the rim either. No other player even worth talking about shot below 48 percent from within three feet and he really can't do anything as far as scoring. Here's what his horrific shot chart looks like: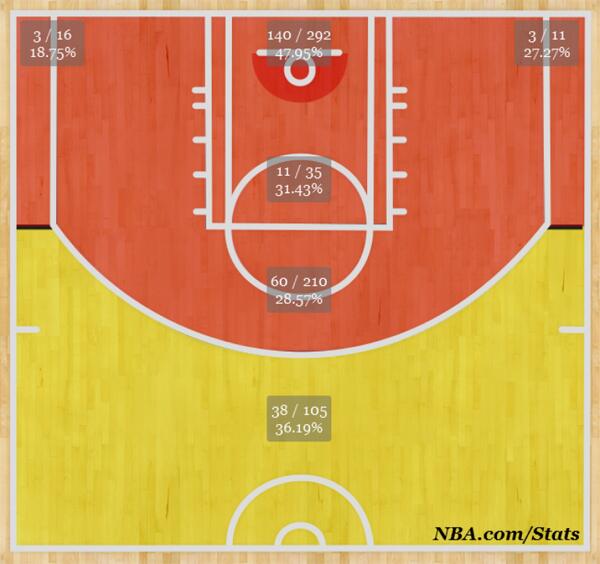 So what does this even mean? One of the stranger stats out there is that he shot a very respectable 43.9 percent in isolation, which ranked 26th in the NBA (Synergy). On the other hand, he didn't rank above 97 in any other type of play. Basically, teams just let him beat them because he isn't an effective scorer on pick-and-roll. One offseason isn't going to fix Rubio's scoring, so the odds are against him to shoot above 40 percent. Of course, the steals and dimes will be there.
 
Damian Lillard
 
Let me start off by saying Dame is one of my favorite players. His shot to beat the Rockets was one of the best of the entire year. He led all non-Warriors in 3-pointers this season and ranked 12th in the NBA in total shots from the field. Lillard has quickly become one of the best score-first point guards in the NBA, but he really could use some improvement around the basket. On his 411 shots at the rim, he shot just 49.9 percent.
 
I don't have a stat to back this up, but it looks like Lillard needs to work on finishing with his left hand. The second-year guard put on a clinic on getting to the rim in the playoffs and he excelled in that department all season, but it just didn't translate to points on layups. LaMarcus Aldridge takes the most mid-range jumpers in the NBA, so keeping him on the wing really opens up some space for the point guard.
 
The good news is he did improve his shots at the rim to 53.9 percent after the break. It's certainly possible he'll be able to get his field goal percentage closer to 44 from his 42.5 last season. If we rewind back to the summer, he said he wanted to improve on his close-range shots, so that failure suggests he'll give it even more focus next year. He's a No. 1 PG in fantasy leagues for drafts next year.
 
Michael Carter-Williams
 
He ran away with the Rookie of the Year, but it wasn't because of his scoring. He couldn't really get any part of his shooting going all season, making just 40.5 percent from the field including 26.4 percent from deep. Although, MCW really did turn it on in April, making 52.5 percent from the field in his last eight. So does that carry over?
 
It's actually a very impressive distribution and he made a stellar 68.6 percent of his shots at the rim. The problem is sample size since it's only 10 percent of the season. Chances are he's still going to be a nightmare, but the reigning Rookie of the Year could get his shooting to around 43 percent as a best-case scenario just because his jumper isn't there yet. Personally, I don't plan on targeting him, but that could change if the Sixers have a draft to help him out.
 
Trey Burke
 
If you thought MCW's offense was bad, then you probably don't even want to read this. The rookie out of Michigan was a disaster on offense, making just 38.0 percent from the field. He joins Ricky Rubio in the sub 50 percent club at just 49.0 at the rim, which accounted for just 17.1 percent of his total. Basically, he may very well be the worst starter at the rim in the NBA.
 
If you saw him at Orlando Summer League, you probably noticed how his 6'1", 190-pound frame couldn't shoot over big guys in the paint. He shot just 24.1 percent on 13.5 attempts per game in his four summer league games, which really set the tone for the season.
 
Some of the time players can put up a decent month, but Burke couldn't top 41 percent in any single month last year. In fact, he had just six games above 50 percent shooting. As an aside, Brandon Jennings had just nine above 50 percent. Worst yet, Burke had 19 games shooting below 30 percent from the field. Care to guess how many of those games LeBron had? Yep. Zero.
  
Here are some other guards with deficiencies around the hoop: Kyrie Irving, Dion Waiters, Brandon Knight, Austin Rivers, D.J. Augustin and Jeff Teague.