Friday kicked off the Las Vegas Summer League and it was like nothing we've ever seen before. You can call the hyperbole police on me if you want, but the Cavaliers vs. Bucks game had to be the greatest game in the history of Summer League.
The entire arena was completely packed, the public address announcer had to constantly inform people not to sit in the aisles, people were told not to leave the their seat or they might lose it (general admission),  the buzz when Jabari Parker and Andrew Wiggins touched the ball was something out of a playoff game, and sophomores Giannis Antetokounmpo and Anthony Bennett were all the rage. Some players spotted at that the arena yesterday were James Harden, DeMarcus Cousins, Kyle Lowry, DeMar DeRozan, Amir Johnson, Carlos Delfino, Larry Sanders, Harrison Barnes, Draymond Green, Kent Bazemore, Devin Harris and Jae Crowder. Plus, there were tons of coaches, GMs, owners and even Lions defensive tackle Ndamukong Suh checked out the game. He didn't even get a courtside seat -- to a preseason game! It was just a great place to be.
As for the game action, it was certainly nothing to shake a stick at. A lot of teams ran plenty of ISO plays and scored in transition, which can be a fun brand of basketball to watch. Not every team can be the Spurs.
If you're into prospects and somewhat esoteric players at Vegas, I'll be tweeting all week @MikeSGallagher.
Let's take a look at some winners and losers from Friday:
Winners
Andrew Wiggins - He was a loser in overall playing time and usage rate earlier in the day from the obvious developments, but he really showed how dynamic he could be. Wiggins shot 7-of-18 from the field for 18 points with three boards, one steal, one block and one 3-pointer in 31 minutes. The shooting line is a bit ugly, but he did shoot just 1-of-8 from 3, so 6-of-10 from inside the arc is pretty solid.
He's a prototypical scorer and can really jump out of the gym. Wiggins is going to be all over the highlight reel with his ability to make plays, but he did take some bad shots. I don't think we can blame him, though. The stage was huge and he wanted to show he was worth of the top pick in the draft. He is.
As for his fantasy value, he'll have a tough time being the third option in an offense. I really hope he gets traded and we can watch him grow as a primary guy.
Jabari Parker - Not to be outdone, Parker was phenomenal. I was most impressed with his skills at the rim. He was able to finish with both hands, get creative to confuse the weakside help and he has some serious size at 6'8". The Duke product shot 5-of-11 from the field, 7-of-11 from the line and 0-of-3 from downtown for 17 points with nine boards, one assist, one steal and one block in 30 minutes. The shooting line wasn't very efficient, but the allotments are definitely eye-catching.
He is going to be a fantasy factory. If you don't have to reach for him too badly, he's a great target. You will, though.
Giannis Antetokounmpo - If you're familiar with anything I've written, you know I love the Alphabet more than Sesame Street. He showed why on Friday, shooting 6-of-12 from the field for 17 points with six boards, two assists, one steal, one block and two 3-pointers in 30 minutes.
The Greek Freak was uber aggressive in the second half, which was something his game was missing a bit in his rookie season. He is 6'11" now and he didn't lose any of his agility. There is serious superstar potential here. Antetokounmpo will have his growing pains, but he's worth the risk late in drafts. Coach Jason Kidd is likely to play Parker and Alphabet together a lot.
Anthony Bennett - Before the game started, he was in the zone. Bennett was jamming to his music and was not really even talking to anyone even when his headphones were off. It's almost like he got the message from last season and the fallout from this summer.
The most surprising thing is that he played 31 minutes, finishing with 15 points, seven boards, two steals and one 3-pointer. The bad news is that he looked tired with his hands on his hips throughout the game and also had eight fouls. I still wouldn't touch him in fantasy drafts and the Cavs have to be looking to trade him.
Cleanthony Early -  Early was getting some brownie points during warmups. He was throwing down some sick dunks in layup lines and it was easy to tell he was psyched to play ball. I love that.
When the game started, he played with a chip on his shoulder and really showed off the whole arsenal. His defense was great with nice range and ability to close out, he got to the rim, and hit a few treys. Early finished shooting 5-of-10 from the field for 13 points with one board and two blocks in 27 minutes.
He's going to take a bit of seasoning, but you'd think his range is going to help him get minutes in Derek Fisher's triangle offense. To be clear, he's not a target in standards yet.
Tim Hardaway Jr. - If the Knicks do somehow lose out on Carmelo Anthony, THJ is going to be busy. He was the focal point of the offense on Friday, which is something he really didn't do last season or even at Michigan.
Hardaway Jr. shot 6-of-15 from the field for 25 points with five boards, two assists and three 3-pointers. The first-team All-Rookie player also shot an astonishing 12 free throw attempts, making 10 of them. We'll see what happens with Melo, but THJ is definitely a guy to watch.
Cole Aldrich - He beasted guys out there much like Jonas Valanciunas did last year. In fact, I like to think that his play on Friday was the reason the Knicks waived Lamar Odom, which is probably wrong. Oh well.
He owned the paint, grabbing 15 boards with nine points, two assists and three blocks. He could be looking at a timeshare with Samuel Dalembert at the five. Keep an eye on him because we all know how often Sammy disappears.
Nik Stauskas - I'll admit I didn't like the Kings taking Nik with the eighth pick. You'd think Noah Vonleh would have been a nice fit next to DeMarcus Cousins, and taking Stauskas is basically a forfeit on Ben McLemore as a starter. Obviously, coach Mike Malone loves him and he was gushing over him in his post-game interview.
I was most surprised by his slashing ability. That shouldn't come as a huge surprise at 6'5", but he really took on contact very well. The U of M product made 6-of-7 from the line, which could be an interesting aspect to his game. He didn't slide his feet as well as I probably should have and ad a couple lazy fouls. When it was all said and done, he scored 14 points with three assists, two steals, two blocks and no 3-pointers.
I think it's clear he's taking Ben McLemore's job. He's on the radar right now in standards.
Bruno Caboclo - He has so much wingspan it would send Jay Bilas into a tizzy. There are rumors that the 6'9" forward has a 7'7" wingspan and I'm here to tell you that's not a Paul Bunyan-type exaggeration. His hands were almost down to his knees when his arms were at rest and he did a nice job of getting into passing lanes. Plus, his jumper is actually pretty solid and he wasn't a poor ball handler either. Of course, he has a lot of learning to do. I could see him making an impact in 2015-16.
Jordan Clarkson - The Lakers lost Jordan Farmar, and they may have already found a replacement. Clarkson shot 7-of-15 from the field for 21 points with four boards, three assists, two steals and two 3-pointers. I could see him making the team, but he might not crack the rotation right away. The Lakers will have a thin roster because of Kobe Bryant's contract, though.
Gal Mekel - I love watching Gal run pick-and-rolls. He's a creative passer and should now be looking at minutes with Shane Larkin in NY.
Russ Smith - I didn't get to watch Russdiculous, but he scored 20 points. I'll check him out on Sunday.
Yuki Togashi - He's 5'7",143 pounds and playing in the NBA Summer League! He's a winner in my book!
Losers
Ben McLemore - It's hard to believe what a tough time B-Mac is having in the pros. The Kansas product didn't perform off the dribble at all in Vegas last year, he was a disaster last season, and he kicked off his 2014 summer league on a low note. McLemore turned the ball over eight times and shot 2-of-8 from the field for 11 points, three rebounds, two 3-pointers and four fouls.
Earlier this month, he said he didn't want to just be a spot-up guy, but he wasn't even that. The second-year wing shot just 29 percent on his spot-ups (Synergy) last year while not showing any shred of being able to score on his own.
He's in trouble and I'd think the Kings are entertaining trade offers. For what it's worth, the Kings were trying to trade B-Mac for the sixth pick in the draft. Personally, I wouldn't trade the sixth pick for three McLemores. Fantasy owners can lay off.
Noah Vonleh - I'll admit I only caught the last quarter of this game because I was at the Andrari Parkins Bowl. He looked fairly tired late in the game and seemed to be settling for shots. Vonleh was a terrific shooter at Indiana and he did take four 3-pointers last night, but he missed them all on his way to a hideous 0-of-13 shooting. He missed both free throws, too. Yes, a 0.00 true shooting percentage on 15 total shots. That has to be a summer league record, and may be the worst way he could have started his career -- excluding injury.
We still have to give him the benefit of the doubt, though. The Hornets did not bring back Josh McRoberts, so Vonleh has a tremendous chance to get significant minutes. The Bobcats (RIP Rufus btw), selected Zeller in the lottery last year and he was quite inept on offense. Here's a look at how he scored last season: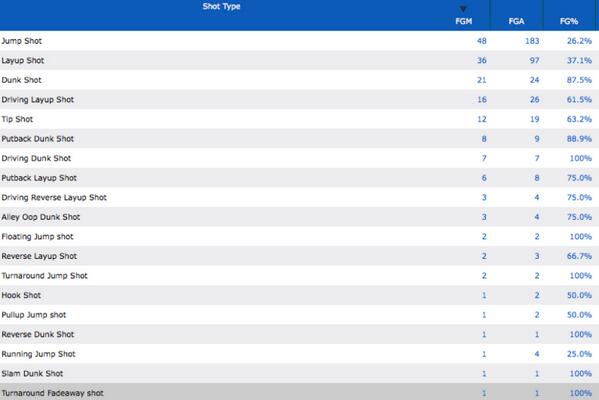 Not good. We'll see how Vonleh does on Sunday.
He's one of my favorite players to watch and it's for the wrong reasons. Ledo doesn't really believe in making an under-the-radar play and he tries to get on SportsCenter every time he touches the ball. He had some very sloppy turnovers, dribbled into double teams and took a lot of the patented 16-20 foot Brandon Jennings contested fadeaways.
Ledo finished shooting just 4-of-14 from the field for 14 points with fives boards, two assists, two steals and one 3-pointer. He has the talent and just needs to listen to his coaches a bit more. Of course, fantasy owners can ignore him for now.
Kendall Marshall - He didn't play well, scoring four points with five boards, four turnovers and one steal. I think we all know he overachieved last season.
Thanasis Antetokounmpo - He did not play as well as his brother, committing seven fouls in 14 minutes. Antetokounmpo is going overseas next year.
Jeff Withey - He added weight, but it doesn't look like it helped him. Withey had three blocks, seven boards and eight points in 25 minutes. He probably missed his chance.
I DID IT! I WROTE A COLUMN WITHOU MENTIONING LEBRON! If you're into that, check out Doctor A's LeBron piece from yesterday.