At long last, we finally get a Western Conference Finals with the Spurs and the Warriors. While we did get a Western Conference semifinal in 2013, that's the only playoff matchup for these two franchises in the Kawhi Leonard and Stephen Curry era. The Spurs won that one in 2013 and eventually lost to the Heat in the NBA Finals. Things are a little bit different now.
The way that these two teams made it to this point has some stark differences. Obviously the Warriors may have had the easiest 8-0 run in recent memory while the Spurs have had to battle. Hey, people are calling the Warriors "boring" despite how they have the most exciting style in basketball perhaps ever.
Basically, it'll be one of those "irresistible force vs. immovable object" type of series with the Warriors ranking first in offense and the Spurs ranking first in defense. In fact, it'll be just the second time the No. 1 offense and defense faced off against each other in the playoffs during this decade (Pacers-Heat in 2013, H/T Ben Golliver of SI). Although, the Warriors have been incredible on defense lately.
Season Recap
Spurs won 2-1
Spurs offensive rating: 112.9
Warriors offensive rating: 100.7
Pace: 98.1
Spurs won rebounding at 54.6 percent (also a very high 35.2 offensive rebounding rate)
Noteworthy injuries
One game missed for Spurs: Kawhi Leonard, Danny Green, LaMarcus Aldridge, Tony Parker
One game missed for Warriors: Stephen Curry, Klay Thompson, Draymond Green, Andre Iguodala
Two games missed: Kevin Durant
Perhaps the biggest story for Spurs-Warriors during the season was when they rested everyone on national TV. Plus, Kevin Durant only played in the opener on the first day of the season, so we really don't have a big sample. In other words, the season series stats are basically irrelevant. The Mega Death only played against Kawhi Leonard for just seven minutes all season, but it did struggle in that time — all of that was in the opener, so chalk that up to chemistry.
One other fun wrinkle is Kevin Durant vs. Kawhi Leonard. These two have played against each other in the playoffs for 18 games with KD's OKC teams winning two of the three series. However, we really didn't get much of this matchup during the year. They only played against each other in the opener.
Warriors
Lineups
Here are the lineups with more than 10 minutes in the playoffs.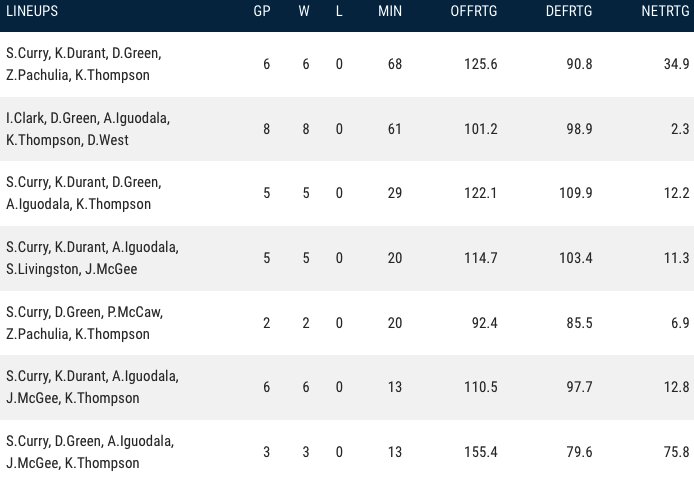 Good grief. All of them are positive and the starters just rolled their opponents. In case you missed it, I covered some things on the Warriors defense on Tuesday, so definitely check that out. Short version: Dubs crush in PNR defense, they limit scoring on cuts and they're the best switching team.
While their defense is going as strong as ever, their offense actually hasn't quite hit its apex yet. One thing that the Warriors aren't doing quite as well as usual is catch-and-shoot scoring. During the NBA season, they led the NBA with a 58.3 effective field goal percentage (eFG%) on catch-and-shoot while also led the NBA in attempts at 29.5 per game. During the postseason, they're down to 52.8 eFG%. That's still pretty solid, but there is actually room for growth.
A big reason for this is Klay Thompson struggling on those shots. Thompson has been way down on catch-and-shoot scoring at just 47.5 eFG%, which is way down from his 61.8 during the year. He's healthy, he's had time off and he's getting huge minutes, so Klay could have a signature series. There is also not much #NightLife in San Antonio.
While Curry hasn't quite busted out with KD in the lineup excluding that 37-point explosion in the closeout Game 4 vs. Portland, he still doing quite well. Curry is cruising on efficiency, posting a 70.1 true shooting percentage next to KD. Pop is going to have a tough time trying to limit the best off-ball guard in the NBA and he may not have enough defenders in the cupboard. Oh and Kevin Durant is really good.
Draymond Green has arguably been the best Warrior in the playoffs. He was second on the team for treys in the second round and obviously his defense is part of the reason why they've coasted. They've only had one game in the playoffs within five points in the final minute. Earlier this year, Green had some concerns about fourth-quarter play, so we might actually see how that goes in this series. Andre Iguodala should also be major factor.
Spurs
The Spurs are a little bit banged up right now. While Kawhi Leonard (ankle) is fully expected to play in Game 1 and the good news is he'll have four full days off from his ankle sprain on Tuesday, he still may not be 100 percent. Plus, Rotoworld only has one noteworthy ankle injury for Kawhi in his NBA career. Tony Parker (leg) is also out for the year, but is that a bad thing?
On Thursday, we saw Dejounte Murray really shine against the Rockets with as much polish as he's shown all year. He had a terrific stat line of 11 points, 10 rebounds, five assists, one block, two steals and one turnover in 24 minutes. He did have that 24-point gem against the Cavs during the regular season, but Thursday may have been the most head-turning game from a player eval standpoint. This comes after a DNP-CD and it is almost certainly only because of Kawhi Leonard didn't play. Now, you would think that Murray has earned a look at more minutes as the backup behind Patty Mills. You could also argue that Murray is a better fit against the Warriors for his length. The Warriors expose bad defensive players as well as anyone maybe ever, so Parker would likely be torched. Murray has a lot of physical tools, but he's been a little reckless up until recently. Sure, we love highlights, but he's really recognizing where he should be on both ends. I thought this was cool to see him understand where the offense is going and how he can put his defender in a bad spot:
LOVE Dejounte finding the open spot on the floor. Little things like this were not there earlier this season. pic.twitter.com/DI1N2huaqN

— Michael Gallagher (@MikeSGallagher) May 12, 2017
Of course, this was really pretty:
Ooh this is delicious from Dejounte. pic.twitter.com/LALsO48gDx

— Michael Gallagher (@MikeSGallagher) May 12, 2017
Expect to see some Murray lineups with Patty Mills, as well.
Lineups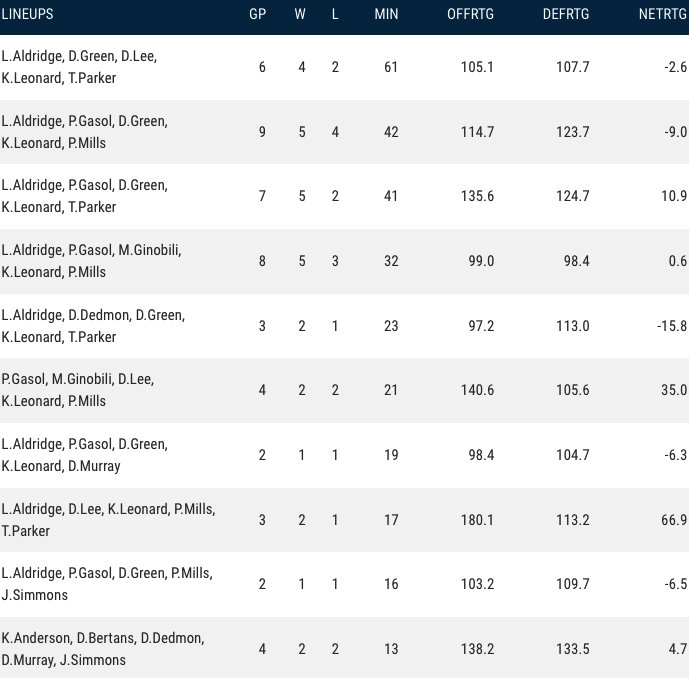 It's almost shocking to see those top two lineups in the negative for net rating. Plus, really none of those five most used lineups had eye-catching success. This will be a very, very tough challenge for Pop and he'll need plenty of time to figure out some new rotation staples.
As great as the Spurs are, the number one question in this series is how can they make the Warriors not play well? We know they'll be using the Mega Death Lineup for around 10 minutes per game in a close contest. So what should the Spurs do?
One thing they probably shouldn't do is roll out Pau Gasol and LaMarcus Aldridge lineups. They were not very good against the Rockets together and they only had a -17.9 net rating in their 30 minutes on the court against the Warriors. If Draymond Green is shooting well, this lineup may not be out there at all. 
Who got the Juice now? Well, Pop does because it looks like Jonathon Simmons is his new toy. He also had a 20-point game in the opener and now he's playing his best basketball. Simmons would get burned on defense for a bad switch or lack of communication, which is part of the reason he fell out of the rotation. Now, he's playing too well not to be out there. He might be the answer on Stephen Curry or he could go on Klay. Danny Green is also a remarkable transition defender, so he should be able to find his minutes against the Dubs. Green was really, really good against the Rockets. At the point guard spot, it'll be heavy Mills with maybe some Dejounte in there. Pop actually talked about Murray more than Simmons after Game 6, so he may trust him finally.
One other thing I wanted to mention was time of possession of the ball on offense. Kawhi Leonard handles the ball 5.2 minutes per game since the Parker injury, which is up from 3.4 during the regular season. Here's how the ball was possessed in Game 6 without Kawhi (in minutes).
Mills 5.9
Dejounte 3.7
Simmons 2.9
Aldridge 1.8
Manu 1.8
Anderson 1.5
Pau 1.5
Green 1.2
Another ball-handler to go with Mills and Kawhi will be a big story to watch. Hey, the Spurs are going to have to score a ton.
Prediction
Warriors 4-0
The Warriors are just too good right now. Kawhi is going to have to drop 40 multiple times while Aldridge will need to play like he did in Game 6 for every game. Juice will also need to go off.
One thing I just wanted to add was James Harden in the clutch. In case you missed it, I went over LeBron James, Kobe Bryant and Kevin Durant, but here's how Harden has done in his career in the clutch. Not terrible, but not good with a downward trend.