Thanksgiving is Thursday. That seems crazy to me. Anyway, we are getting close to the quarter pole of the fantasy season and yet we still have some rotations up in the air. Those rotations will drive us crazy, but the upside is just too high to ignore. That'll be our focus this week:
Follow me on Twitter @MikeSGallagher for stats, analysis, Vines and more. Feedback welcome, too.
 
Two games - Blazers, Bulls
 
Three games - Nets, Mavs, Nuggets, Warriors, Rockets,  Pacers, Lakers, Heat, Pelicans, Thunder, Raptors, Jazz
 
Four games - Hawks, Celtics, Hornets, Cavs, Pistons, Clippers, Grizzlies, Wolves, Bucks, Knicks, Magic, 76ers, Suns, Spurs, Kings, Wizards
 
 
All of these players are owned in less than 50 percent of Y! leagues and there are also some shallow options for each position, too. 
 
Point guard
 
Zach LaVine, Wolves - The Wolves are playing LaVine at shooting guard again. In the last three games, LaVine has played 31.8 percent of his minutes next to Rubio. That was almost non-existent earlier this season after ZL Smooth flopped in Summer League and in the preseason season. With those minutes next to Rubio, the Wolves have a positive net rating of 12.9 in that playing time, so it's working to a degree. Coach Sam Mitchell is all about results.
 
In those three games, LaVine averaged 15.0 points, 3.3 boards, 2.7 dimes, 0.3 steals and 2.0 treys. If he can continue to flirt with 30 percent of his minutes next to Rubio, he should have nice value. Although, the Wolves have gone smaller more often because Nemanja Bjelica (knee) hasn't been himself. I wouldn't consider LaVine a terrific add in 10-team leagues, but he should be owned in standards.
 
Update: The Wolves will start Kevin Martin over Tayshaun Prince on Monday, which sort of confirms the LaVine SG experiment is on.
 
Jose Calderon, Knicks - For years, Calderon was one of those guys that the normal NBA world wouldn't like and the fantasy world would be all over him. He was a terrific shooter, he had some assists and he didn't turn the ball over. That's gold.
 
Well, he's 34 years old and has torn like five muscles in his leg, making him one of the most injury prone players in the NBA. However, he's coming into the week with some nice momentum over his last three, averaging 9.7 points, 5.7 dimes, 1.7 steals and 2.3 treys in his 31.7 minutes.
 
The Knicks are actually winning games and Calderon isn't quite as exposed on D as he's usually been — Porzingis defensive backbone??????
 
Anyway, you might remember the Knicks traded for Calderon because they thought he was a terrific fit in the triangle for the reasons stated above. Nobody in your league will say "Rats!" when you pick him up, but Calderon has a nice floor with 26-28 minutes. Plus, he'll have to stay healthy.
 
Cory Joseph, Raptors - The fantasy world is different now. The old days used to be all about picking up the backup when a player goes down. Now? It's all about figuring out which lineup combination will step up.
 
With Jonas Valanciunas (hand) going down, the Raptors should be ready to go smaller more often. We still don't know how long JV will be out with his broken hand, but it's likely going to be a few months. Here's a look at what the Raptors did with their lineups in the second half against the Lakers on Friday sans JV: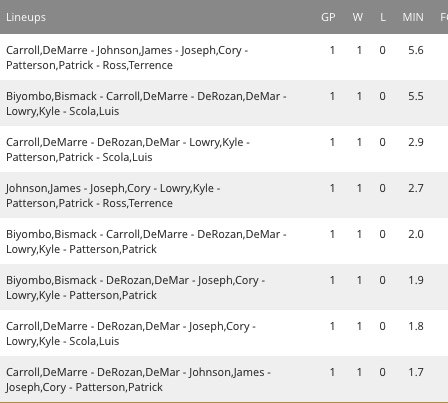 That's a lot of small ball and Co-Jo has been a key player in the rotation. Coach Dwane Casey loves putting No. 6 on the point guard for defense to take some pressure off Kyle Lowry and maybe that's why Lowry is breaking out.
 
Anyway, Joseph has ninth-round value on the season and I'd expect him to trend up slightly. All things equal, I'd pick him up over the Raptors bigs below.
 
Matthew Dellavedova, Cavs - I'm not the biggest Delly fan. Kyrie Irving (knee) is getting close, Mo Williams (ankle) won't be out long and Delly has a very low usage rate. He's arguably had two of his best games of his career, but I'm still not ready to cut anything of value to get him.
 
Patrick Beverley, Rockets - Ty Lawson is not good right now. He might find himself out of the rotation at this rate. Here's his shot chart: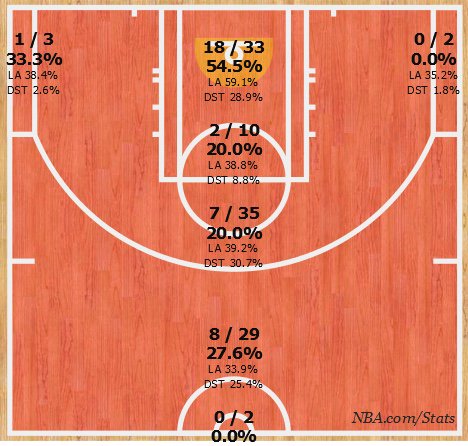 Gross. Pat Beverley should be back this week and should take over the starting job. He was very good at hitting treys and picking up steals, so he has a decent floor. The demand won't be high on Bev, but just keep that in mind if he returns early.
 
Shallow
 
D'Angelo Russell - He had his best game and the Lakers are probably going to want to take to keep their top-three protected pick. His arrow is pointing up after a career-high scoring night on Friday. He's playing a lot better off the ball, which will be key. I like him as a pickup in almost any H2H format.
 
I'm not really sure why T.J. McConnell is just 36 percent owned. Yeah he's not good on defense, but at least he makes the other players better around him. Trust the process.
 
Ish Smith, Pelicans - He should have been owned out of the gate.
 
Shooting guard
 
Gary Harris, Nuggets - He's had three good games in a row. In his last three games, Harris has averages of 17.0 points, 2.7 boards, 1.3 assists, 1.3 steals and 2.0 treys on 61.3 percent from the field and 87.5 percent from the line. Here's his shot chart in that span: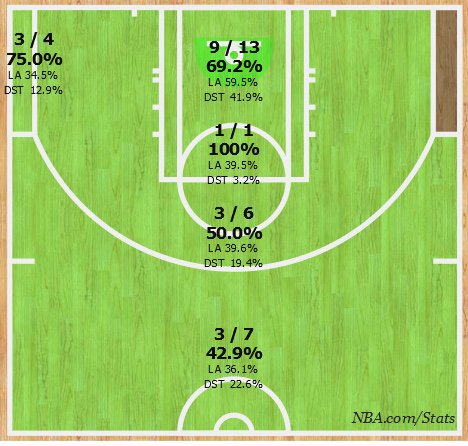 That is really nice. Harris is lapping the field for SG minutes because Jameer Nelson is blowing plays on defense and Randy Foye has also looked lazy at times. Harris had some bright shots, but he's still not too much of a high-ceiling SG. He's kind of a poor man's C.J. McCollum, but is worth a look in standard leagues.
 
 
Manu Ginobili, Spurs - He is what he is. Manu is No. 53 on Y! right now per game, but we all know he will miss a lot of time. He's actually been tremendous off the ball more and that should continue. Kawhi Leonard for president.
 
If you don't have a harsh limit on pickups per week, you should pick him up. Chances are nobody will be waivering him after you cut him when he misses time.
 
Jeremy Lamb, Hornets - Are we buying Lamb? Is this like the old Lamb but maybe with some new flavor. Like some Gyro meat? Deliciousness aside, he's playing really well. In his last five, he's averaged 11.8 points, 5.2 boards, 2.2 assists, 0.6 blocks and 1.0 treys.
 
Lamb was an absolute catastrophe with OKC and he lost playing time to guys who aren't even in the league anymore — Perry Jones III will be back, though. Almost every stat I can think of can diffuse Lamb as a pickup, but he's been putting up mid-round value since he got playing time with the Hornets. I wouldn't bend over backwards to add him, but I'd give him a look if I hated the last guy on my roster.
 
 
Langston Galloway, Knicks - NY64? Galloway is ranked 64th per game and has been a better surprise than the Super Smash Bros. Shoutout to anyone who lived the N64 life growing up.
 
Galloway has been phenomenal as a 3-point shooter, making 55.3 percent from that range. He's hit 1.9 treys per game to go with averages of 10.7 points, 4.1 boards, 2.1 dimes and 1.2 steals. He won't be this hot, but he's managed to be one of the best shooters since the preseason. As a side note, he's the anti-Summer League case because he was a disaster in Vegas. But I digress.
 
I'm still not sold, but definitely give him a look to see if he can keep it going. I like him more than any of the point guards, all things equal.
 
Shallow
 
Avery Bradley is only owned in 64 percent of leagues, which is criminally low. He should be owned in 100 percent. His added range looks like it's for real.
 
J.R. Smith is piping hot and his post-break run last year was no pipe dream. He should be a mid-round player this season and should be owned basically everywhere.
 
Small forward
 
C.J. Miles, Pacers - He's burned more people in fantasy than the arsonist with the oddly shaped feet, but Miles has been more like kilometers because he's been killing it so much. He has found a nice little spot as the shooting guard with three good games.
 
There's no data on this, but C.J. Miles is probably the most in-game injured wing in the NBA. I'd still be a little apprehensive in adding him, but he's hot like Hanzel in a favorable system for him.
 
Omri Casspi, Kings -  Rudy Gay (shoulder) is only day-to-day with his shoulder strain. The good news is that it's to his non-shooting shoulder, but the bad news is that he's had surgery on that shoulder before.
 
Casspi came off the bench on Saturday, scoring 11 points with 11 rebounds, two assist, one steal and one 3-pointer in 32 minutes. He'll likely be looking at minutes in the low 30s and should have a better game than this one for the next week.
 
The Kings love their space and their stretch fours, so Casspi should have some decent value while they're healthy, too. 
 
P.J. Tucker, Suns - If you drafted Markieff Morris, you're probably a hot little potato right now (yeah, two Zoolander references in one column — Z2 in Feb!!!).
 
He did have a monster 20-point game on Wednesday because T.J. Warren was ill, so we can probably throw that out. The Suns are staring to like the spacing more in their offense with Mirza Teletovic, so it might not be long before we see Tucker and Warren together. They've only played together for 19 minutes all season, so that'll have to change.
 
Jared Dudley, Wizards - The Wizards added him for a reason. He has seen his minutes go up every game in his last four, scoring nine points with two treys in 27 minutes on Saturday.
 
The Wizards will be using him as a stretch four a ton despite how Dudley can't defend most power forwards. He's trending up in a big way and you can probably pick him up in 16-team leagues right now.
 
Rondae Hollis-Jefferson - If coolness was a fantasy category, Rondae would be a must-own player. He's one of the nicest guys in the NBA and he played in Daryl Morey's ping-pong tourney in Las Vegas in Summer League. How cool is that? (he also rocked some Bred 13 lows in the tourney for you sneakerheads out there)
 
RHJ is coming off his best game with a 13-point, 11-board game against the Celtics on Friday. His minutes are trending up, but he's really going to have to crush it on D to have fantasy value. Rondae's offense isn't there yet, so his ceiling is really just 100 or so. The minutes will be there enough for owners in 16-team leagues to grab him.
 
Shallow
 
Tyreke Evans should be back soon, so you have to add him. He does have three surgeries on his knee in the past year, so he's going to be risky. You have to add him, though.
 
Power forward
 
 
Dwight Powell, Mavs - I'm not sure why he's so widely available. He is very good per-minute and he's playing minutes at both power forward and center. If aging Zaza Pachulia or Dirk Nowitzki need to miss time, Powell would have more value. He should be owned in pretty much any competitive league.
 
Patrick Patterson, Raptors - He played six minutes at center on Friday and he should benefit from the JV injury. Patterson is a good fit for the offense because DeMar DeRozan and Kyle Lowry both like to drive, which should leave him open for treys.
 
Two-Pat is far from a must-add guy, but he should have some value in 14-team leagues while JV is out.
 
Mirza Teletovic, Suns - The Suns destroyed the Nuggets with the 3-point shot (more on that below). Mirza is also outplaying Markieff Morris in a big way, too. Maybe it's because of his knee injury, but Morris is struggling.
 
He's going to have a nice upside because both Brandon Knight and Eric Bledsoe love the drive-and-kick plays, but he's still not quite worth an add in 12-teamers. You have to keep an eye on him in all leagues, though. Markieff is not helping the Suns.
 
Jerami Grant, 76ers - He hasn't been good and the return of Robert Covington hurt him a bit on Saturday. Grant can stuff the stat sheet and just needs to improve on his shot selection. He's a 14-team guy right now.
 
Luis Scola, Raptors - I'd take Two-Pat over him and Scola's output shouldn't change much. If he's still on your wire, it's probably for good reason.
 
Shallow
 
Marvin Williams, Hornets - He is top 50 on the season and yet he's just 58 percent owned. This does not compute. Marvin won't be this good, but you have to add him everywhere in the new CHA system.
 
Center
 
Nikola Jokic, Nuggets - OK, so in case you missed the blurb on the Player News page about Mike Malone blasting his team, let's go over it again because it is very important:
 
Coach Mike Malone said the Nuggets have some guys on the team "that pick and choose when they play hard, and those guys aren't gonna play."
"You're going to play hard or you're going to sit," Malone said. "I don't care who you are." Malone was furious with his team giving up a ton of 3-pointers to blow a 17-point lead. "I must be speaking Chinese because these guys are not getting [how to defend 3-point shooters]," the coach said. He said he "didn't like the effort from a bunch of guys" in the game, so he's talking about a handful of players. The Nuggets get the Warriors on Sunday, so that'll be fun for their 3-point defense.
 
OK, so given how the Nuggets are a waiver-wire gold mine right now (get it?????), I watched the Nuggets again to try to figure out who Malone was talking about. Here is a list of how I broke down all of the 3-point shots from the Suns in the second half:
 
Brandon Knight makes gorgeous ISO 3 against Danilo Gallinari.
 
Eric Bledsoe makes 3-pointer on terrible miscommunication on PNR with Gary Harris and Darrell Arthur.
 
Bledsoe misses 3 even though Arthur left him wide open in transition. (not a make but HORRIBLE D)
 
Bledsoe makes 3 on terrible job by J.J. Hickson and Jameer Nelson off screen.
 
Jon Leuer makes 3 because Nikola Jokic doesn't close out at all.
 
Knight misses 3-pointer after Will Barton didn't fight through screen, but Knight gets long O-board and makes a 3 because Barton crashed the boards too hard (wasn't near Knight) and didn't even bother to defend Knight.
 
Knight makes 3 because Jokic didn't close out and Randy Foye didn't defend at all.
 
Teletovic makes 3 because Gallo didn't fight hard through screen.
 
Knight makes corner 3 because Gallo was slow to get up and didn't pick up Teletovic, so Nelson had to help on Teletovic to leave Knight wide open with extra pass.
 
Ronnie Price left wide open because Jameer Nelsondoubled way too hard and there was no rotation to help.
 
Knight makes 3-pointer because Emmanuel Mudiay and Kenneth Faried did not handle the pick and roll well to leave him WIDE open.
 
OK, so I know this is probably excessive, but if you listen to the actual sound bite of Malone (here), you know why. Malone wants to win and it's no surprise after the circus he had to deal with while with the Kings. 
 
Anyway, Nikola Jokic was probably the No. 1 guy on top of the hit list, which is too bad. He earned his first start on Friday and stunk it up. He had a 23-point, 12-board game earlier in the week and Malone sang his praises before Friday.
 
Even though he was a disaster, it's correctable stuff. He was in position to make stops and defend, but he just didn't know when to close out and when not to. Here's a look at the last two possessions that led to Jokic's benching:
 
Oooooooof. He didn't close out on two shooters, which had to sting for Malone because he hates giving up open looks.
 
OK, so this is probably the longest breakdown you'll see about a player in Waiver Wired, but it's worth the research. Jokic is a good defender, but he just needs some coaching. He's a solid post-up defender, he can stretch the floor with his J and he can play in an up-tempo style. He's basically the perfect fit and all that upside makes him someone you have to add. J.J. Hickson was no good and Joffrey Lauvergne can't really defend in the post like Jokic can. I would add him and own him for at least another week. If he stinks, I promise we'll get you another pickup soon. In other words, I'd rather take a 10 percent chance on a top-40 player over a 40 percent chance of a top-100 player all day. Jusuf Nurkic is still not close to a return.
 
 
Tristan Thompson, Cavs - Coach David Blatt made it abundantly clear Anderson Varejao probably won't be playing big minutes even with Timofey Mozgov (shoulder) out for two weeks. On Saturday, Thompson played 40 minutes against the Hawks, scoring nine points with 16 rebounds and two blocks.
 
As you could probably expect after his tremendous postseason, Thompson is doing more work on the glass than Windex. He has a 27.5 defensive rebound rate to go with his 11.5 O-board rate on the season.
 
Thompson has also been a lot better in keeping his TOs down and he's also improved on his steals. Another nice thing about Thompson is that he hasn't missed a game since the 2011-12 season.
 
He could bust out with the extra playing time and usurp some more minutes from Mozzy — that's probably not usurping, but what a cool word, right? Anyway, he should be a top-75 guy in the next two weeks and could use the momentum to get him more minutes once Mozzy is back.
 
Joffrey Lauvergne, Nuggets - He is apparently going to make his return this coming week. On the season, Lauvergne was surly with averages of 10.7 points, 6.3 boards, 2.0 assists, 0.3 blocks and 1.0 treys. He was putting up early-round value in those three games, but a lingering back injury cut his season short.
 
As alluded to above, Lauvergne was exposed a bit on the post at EuroBasket and in the preseason, so that'll likely get on coach Mike Malone's nerves. Still, he has a very nice upside and maybe he picks up 22-24 minutes of playing time. He should be a nice per-minute guy.
 
 
Bismack Biyombo, Raptors - I hope you're not adding him for offense. In his 64 minutes next to DeMar DeRozan and Kyle Lowry, Biyombo has s tiny 8.1 usage rate. It's really not much better overall at just 13.3, too. Biyombo is just one of 12 players to have his shots off offensive rebounds account for over 20 percent of his plays (at least 15 possessions). Jonas Valanciunas is one of 14 players with at least 50 post-up plays while Biyombo has just five on the season and he's a bad post-up player too. OK, you guys probably get the picture his offense won't be there. 
 
 
If you're adding him, it's basically just for blocks. Although, he is shattering his career low for block rate. He doesn't really do anything else either and having some new teammates will hurt him, too. Biyombo was surprisingly good as a starter last year, but the Hornets' system was a big reason why.
 
He's a lower-upside Willie Cauley Stein and I'm not being very aggressive in grabbing him. I'm actually more excited about seeing Lucas Nogueira — no don't pick up Bebe.
 
Clint Capela, Rockets - He's made it pretty clear that he should be the main man on nights Dwight Howard is out.  On the season, Capela has made 72.6 percent from the field and 48.4 percent from the line for averages of 7.5 points, 6.6 boards, 0.6 steals and 1.4 blocks. Here is his shot chart: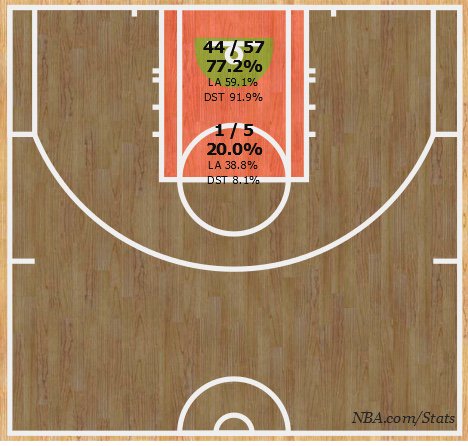 He's a nice poor man's Hassan Whiteside.
 
Shallow 
 
Mason Plumlee is an interesting case. He could be a 11-9-1.7 guy, but he can't make free throws. It depends on your format, but he's a decent add in H2H. I'd rather own Jokic in a shallow, for what it's worth.