It's a different NBA with the way teams rest players. If a team is good, bad or tanking, there will be nights off. On Saturday, we saw a healthy Brook Lopez miss his first game of the season for rest while the Spurs did the DNP-OLD on Tim Duncan and DNP-BAD on Danny Green -- he hasn't been too bad, but DNP-LETDOWN is too long. The resting issue is just something fantasy owners will need to keep an eye on going forward. If one of your veterans has a road-road back-to-back in a three-game week, you might want to be careful about using him.
Taking advantage of rest is tough to do. In daily season-long leagues, it's pretty easy because you can spot-start a backup with upside. In deeper Daily Roto leagues with game limits, you can stash the high-upside backups and plug them in there when it's their turn to put up numbers. Weekly league owners should be a little tougher on their low-end guys once they get rest. If a player hasn't been playing well and he's getting rest here and there, you can cut him and not feel as bad. When it comes to rest in DFS, no doi.
Here's a look at the games for Week 20 along with the pickups for each position:
Four games: Hawks, Hornets, Cavs, Warriors, Clippers, Grizzlies, Bucks, Pelicans, Knicks, Magic, Spurs, Kings, Jazz
 
Three games: Nets, Bulls, Mavs, Nuggets, Pistons, Rockets, Pacers, Lakers, Heat, Wolves, Thunder, Suns, Blazers, Raptors, Wizards
 
Two games: Celtics
 
Point guard
 
Patrick Beverley, Houston Rockets (owned in 50 percent of Yahoo! leagues) - I'm not sure why he's only owned in 50 percent of leagues. He should be owned in all leagues as a guy who looks like he could be a top-60 player now that his competition is gone.
 
Patrick Mills, San Antonio Spurs (owned in 12 percent of Yahoo! leagues) - The Spurs are close to their rest regiment. Mills only really needs to hit 22 minutes to put up decent value and he's actually put up sixth-round value since Feb. 1. Of course, Manu Ginobili missing time definitely helped his usage rate and play-making chances. Point guard is kind of weak for pickups this week, so it's not like you should be rushing out to get Mills. The Spurs have a decent schedule and Tony Parker should get some games off.
 
Mario Chalmers, Memphis Grizzlies (owned in 21 percent of Yahoo! leagues) - The Grizzlies are using some interesting combos these days to fill the void left by Tony Allen (knee). Here's what their last three games look like with lineups playing for at least five minutes: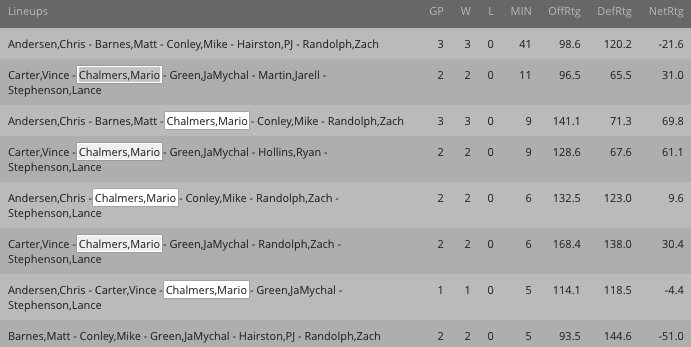 All of those games were close and Chalmers had the best net rating among players with at least 10 minutes per contest. He also played 33.3 percent of his minutes next to Mike Conley. His minutes increased in each of those three, posting averages of 13.7 points, 2.7 rebounds, 4.0 assists, 3.3 steals and 1.0 treys on a tidy 67.3 true shooting percentage.
 
The Grizzlies are starting to space the floor more and Chalmers fits in the up-tempo style. He could fall off a bit once Allen returns, but he's looking pretty good here.
 
Shane Larkin, Brooklyn Nets (owned in 4 percent of leagues) - He's playing really well in his last two and maybe the departure of Joe Johnson can help him out a bit. In his last two, Larkin averaged 15.0 points, 2.5 boards, 6.5 assists, 0.5 steals and 1.5 treys. He was awful for about six weeks heading into the break, so I'd still like to see him do something on Tuesday against the Raptors. 
 
Jerryd Bayless, Milwaukee Bucks (owned in 19 percent of Yahoo! leagues) - It doesn't sound like Michael Carter-Williams (knee) will be back any time soon and he is out today. He is not practicing and he doesn't have a target date yet. Plus, he's dealt with knee injuries before.
 
While Bayless should be picking up minutes in the upper 20s, he is not going to do much on offense. It'll be Giannis Antetokounmpo running the show and he's been great, but that's besides the point. Just saying the name "Giannis Antetokounmpo" is exciting. He's so good.
 
In his three games without MCW, Bayless averaged 11.7 points, 2.3 boards, 3.3 assists, 0.7 steals and 2.0 treys. That's slightly misleading because he exploded on Monday with 18 points. He'll likely be around 10 points, 1.5 treys and a few other stats. He's really just a Band-Aid for owners dealing with injuries at the guard spot.
 
Norris Cole, New Orleans Pelicans (owned in 26 percent of Yahoo! leagues) - I'm probably lower on Cole than anyone who watches the Pelicans, but his minutes will be there now that Eric Gordon (finger) is out for the season. Toney Douglas is also a pickup if you want to torture yourself.
 
Shelvin Mack, Utah Jazz (owned in 11 percent of Yahoo! leagues) - He's not exactly lighting it up, but the minutes are there and coach Quin Snyder wants him to shoot treys.
 
Ronnie Price, Phoenix Suns (owned in 4 percent of Yahoo! leagues) - I'm not really buying and maybe Brandon Knight comes back, but feel free to give Price a look
 
Shooting guard
 
Gary Harris, Denver Nuggets (owned in 32 percent of Yahoo! leagues) - The loss of Danilo Gallinari (ankle) has really set up Harris nicely. On top of the occasional minutes at the three, Harris is getting all he can eat at shooting guard. Will Barton is back to playing mostly the three, so the consistent minutes are definitely going to be there.
 
In his last five games, Harris has logged a whopping 38.1 minutes per game, averaging 17.2 points, 3.2 boards, 1.4 assists, 1.8 steals and 2.4 treys. He put up an 18.3 usage rate and a 59.9 true shooting percentage. Here's what his shot chart looks like in that span: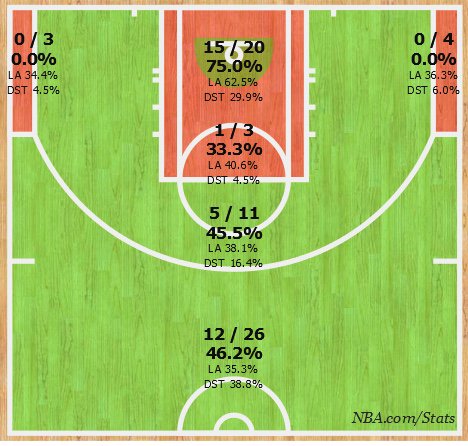 Who needs corner 3s anyway? That's pretty good at the rim, but it should be added 29.2 percent of his buckets came in fast break. He's playing really well off passes from other guys right now and is definitely locked in to his role. The upside isn't too high, but he should be a mid-round guy going forward. He's the top pickup this week.
 
Markel Brown, Brooklyn Nets (owned in 4 percent of Yahoo! leagues) - My guy! The Nets have tightened up their rotation these days. In their last two games, only Markel Brown and Wayne Ellingtonhave logged minutes at shooting guard. Brown has set it off like that movie with Queen Latifah in his last two games with averages of 21.0 points, 4.5 boards, 4.0 assists, 0.5 steals, 3.0 treys and 0.5 steals on 57.1 percent from the field. 
 
About a month ago, Brown looked like he was out of the picture. After all, he basically wasted his 29 starts as a rookie last season with horrible numbers. Well, he's grown and the Nets might as well play their kids. Brown should be able to keep his minutes in the upper 20s and he could be a sneaky pickup in 14-team leagues. One more good game and I'd think about adding him in 12-team leagues. 
 
Sean Kilpatrick, Brooklyn Nets (owned in 0 percent of Yahoo! leagues) - To be clear, he's logging almost all of his minutes at small forward, but Yahoo! has him at SG only right now. Anyway, Bojan Bogdanovic isn't that good and Saturday night was a good example of that. Kilpatrick is the former top scorer in the D-League busted out for a career-high 19 points against the Wolves on Saturday, adding three rebounds, one steal and three 3-pointers. Yes, Brook Lopez and Thaddeus Younghelped his case, but Kilpatrick was really impressive. The Nets have arguably the worst wings in the NBA and they don't have a first-round pick next year, so why not let Kilpatrick run and sign him?
 
He's grown a lot as a scorer with a lot of new moves in his arsenal and it looks like he worked on his 3-point shot. Kilpatrick isn't really an add in most leagues, but just keep a close eye on him. 
 
Josh Richardson, Miami Heat (owned in 4 percent of Yahoo! leagues) - So much for Richardson losing value with Joe Johnson coming into the fold. Earlier this week, coach Erik Spoelstra went with an eight-man rotation. However, Spo went to a nine-man rotation in the last two games before garbage time or injuries.
 
In the four games with Joe, Richardson averaged 7.3 points, 3.3 boards, 2.5 assists, 1.3 steals, 0.3 blocks and 1.0 treys. He also dislocated his finger on Thursday, so his output could have been even better.
 
Richardson has easily leapfrogged Gerald Green and a lot of it has to do with his defense. Here are his SportVU numbers:
 


Nice. He's been really good on defending twos. Of course, Mr. Hassan Whiteside was a factor here. Richardson is only a deep-league guy, but he's been fun to watch as a Mini Mario kind of fantasy asset.
 
Stash Special: Alec Burks, Utah Jazz (owned in 36 percent of Yahoo! leagues) - He is on the comeback trail and could be back soon. Burks was really struggling at the time of his injury, so he's not really an add unless you have an IR spot or have hot garbage on your bench.
 
Small forward (this is a weak group, I know)
 
Shabazz Muhammad, Minnesota Timberwolves (owned in 10 percent of Yahoo! leagues) - He's definitely scoring. In his last four games, Muhammad averaged 16.8 points, 5.3 boards, 0.3 steals, 0.3 blocks and 0.8 treys. That's decent for DFS, but that leaves a lot to be desired for season long. Since he left UCLA, that's been the story for Muhammad. He is really just a scorer and not much else. He's really just a points league guy or someone to monitor.
 
If you're reading this for DFS research (props, by the way), Muhammad is pretty much logging minutes at straight three. He did get a lot of run at the four two weeks ago when Gorgui Dieng had a bad game, but that hasn't continued. He's still an option in the right matchup.
 
Bojan Bogdanovic, Brooklyn Nets (owned in 42 percent of Yahoo! leagues) - I'm probably lower on Bojan than most. He's a lot like 'Bazz because he is just a scorer. He's actually shot the ball at the rim a lot since Joe Johnson departed and he's had some success there, too. 


In the six games sans Iso Joe, Bojan averaged 15.7 points, 3.5 boards, 1.3 assists, 0.2 blocks and 1.8 treys. If you're in a standard league, he's basically a one-category player with some treys. Give me Markel or even Kilpatrick over Bojan for upside.
 
Lance Stephenson, Memphis Grizzlies (owned in 11 percent of Yahoo! leagues) - Not sure I could ever get on board adding Lance. He's one of the most meme'd players of all time, so he has that going for him. Besides some decent games this week, the best news is that Danny Granger reportedly stopped a fight between Lance and the Heat back in 2012.
 
Chase Budinger, Phoenix Suns? (owned in 0 percent of Yahoo! leagues) -The Suns only have one other small forward and it's P.J. Tucker, who looks pretty gassed. You would have to be in a deep league to add this former U of A Wildcat.
 
Stash Special: DeMarre Carroll, Toronto Raptors (owned in 71 percent of Yahoo! leagues) - He doesn't have a timetable, but he could be back this month.
 
(I wouldn't call Omri Casspi a pickup, but a 33 percent ownership percentage seems low; you can say the same for Evan Turner)
 
Power forward
 
Jerami Grant, Philadelphia 76ers (owned in 18 percent of Yahoo! leagues) - The 76ers kept Jahlil Okafor (shin) and Nerlens Noel (knee) in Philly for Sunday's game in Miami, so Grant is headed for major minutes again. He does play some minutes at the three, but it will almost be all PF minutes while the 76ers try to piece together their frontcourt rotation — big things on the horizon for Robert Covington, by the way.
 
Since the break, Grant has made a respectable 44.1 percent from the field and 70.3 percent from the line, averaging 8.8 points, 5.1 boards, 2.1 assists, 1.7 blocks and 0.7 steals. He is almost like a smaller version of Noel and should be owned in standard leagues.
 
Nikola Mirotic, Chicago Bulls (owned in 70 percent of Yahoo! leagues) - He was one of the bigger surprises on Saturday. Mirotic made his return with 16 minutes against the Rockets, scoring seven points with two rebounds, one assist, one steal and two 3-pointers. As bad as he was before his two surgeries, he probably has to be owned now.
 
Darrell Arthur, Denver Nuggets (owned in 6 percent of Yahoo! leagues) - Danilo Gallinari (ankle) gets a good chunk of his minutes at power forward and it's not like Kenneth Faried is a minutes monster. That should mean Arthur gets some decent run. He's not a scorer, but he can fill it up in several categories.
 
Michael Beasley, Houston Rockets (owned in 1 percent of Yahoo! leagues) - He is Super Cool. Beasley getting minutes on Saturday when he wasn't supposed to is kind of interesting. You have to be a super cool and very deep league to add him, obviously.
  
 (Mirza Teletovic is only owned in 52 percent of leagues, but that should be a lot higher)
 
Center 
 
Alex Len, Phoenix Suns (owned in less than 100 percent of leagues) - If he's on the wire, your league is [trash emoji].
 
Ian Mahinmi, Indiana Pacers (owned in 34 percent of Yahoo! leagues) - He's been pretty decent in his last 10 games, averaging 9.5 points, 7.8 boards, 2.1 assists, 1.2 steals, 1.6 blocks and 1.8 turnovers. He's going to be kind of boring, but Myles Turner hitting the rookie wall might actually help him. Coach Frank Vogel bringing Turner off the bench to neutralize Marvin Williamswas kind of a bad sign. As a side note, who would have thought neutralizing Marvin was important these days? What a year he's having.
 
Mahinmi's fouls are surging and he's not a shooter at all, but you could do worse.
 
Joffrey Lauvergne, Denver Nuggets (owned in 3 percent of Yahoo! leagues)- While the Lauvergne PF experiment has pretty much been toast, it also looks like the Jusuf Nurkic plan has been in a hot toaster since yesterday. King Joffrey is a worth a look, but he will be up and down.
 
Richaun Holmes, Philadelphia 76ers (owned in 0 percent of Yahoo! leagues) - We might not see Jahlil Okafor (shin) or Nerlens Noel (knee) for a few games. The duo did not travel to Miami for today's game and they might be resting even more going forward. After all, the 76ers only have a four-game lead on the Lakers for the No. 1 spot in the lottery.
 
The 76ers did start Carl Landry for 10 minutes and even Elton Brand picked up 13 minutes on Friday. Holmes still managed a nice line in 25 minutes, scoring 13 points with eight rebounds, two assists, one steal, one block and one 3-pointer. Not bad.
 
Besides the two old guys, Holmes is the only healthy option at center. He likely only needs 25 minutes to put up value because of his block rate and ability to put up other stats.
 
David Lee, Dallas Mavericks (owned in 51 percent of Yahoo! leagues)- The Mavs are basically going to split the center minutes between Lee and Zaza Pachulia. Owner Mark Cuban has said the team brought on Lee because Zaza was worn down. Lee will likely hang around 20 minutes, which makes him more of a 14-team guy.