Ban injuries. Monday brought some brutal news to the NBA world when an MRI revealed Dejounte Murray tore his ACL and he will miss the rest of the season. Perhaps no guard was expected to have a bigger breakout than Dejounte after coach Gregg Popovich gave him the keys to the offense, and now the Spurs are without Murray, Tony Parker, Manu Ginobili, Kyle Anderson, Kawhi Leonard, and Danny Green.
Adding DeMar DeRozan helps, but the Spurs have a gaping hole to fill on offense right now. Starting with Dejounte, he was trending up as a primary ball-handler in the preseason, posting a 29.3 usage rate in the preseason. That's well above his 20.7 last season and it almost certainly would've been around 26-28 during the 2018-19 year. Last season, Kawhi had a 31.3 usage rate, Manu Ginobili had a 21.2 usage rate, Tony Parker had a 20.5, Kyle Anderson had a 13.6, Danny Green had a 16.6. Obviously those players weren't on the floor at the same time, but that all adds up to 126.9, so yeah they're basically needing to replace a whole lineup's worth of usage even if you subtract DeMar DeRozan's 28.5 usage rate from last season.
So from a scheme standpoint, the Spurs are probably going to look a little different. Last year, no team had a higher percentage of possessions come from a spot-up play and the Spurs have been in the top five for that department in each of the last four seasons. In other words, Pop likes the spot-up stuff, which could be good news for a few guys — we'll get to that. Dejounte's offense came from about 33 percent in pick-and-roll scoring, and the Spurs will obviously lean on that play a bunch just like basically every NBA team.
There was also a lot talk of transition and up-tempo style, and sadly Pop said he wanted Murray to just push the ball after he gets a rebound. Last season even in a non-featured role, Murray still accounted for 17.2 percent of the transition possessions for the Spurs. His defense is going to be a big loss as well and his 2.0 steals he had after the break were a big cause for the higher transition play rate. Nobody will be able to fill that hole.
Personally, I was looking forward to Dejounte perhaps more than any other guard and he cracked my top 50 for nine-cat leagues over the weekend. That said, let's not get too down on what already happened and let's move forward here.
Back to the up-tempo style stuff, Rudy Gay said that the Spurs can still play up-tempo with Derrick White as a possible starter, and Gay also really talked up White on Monday. "He's extremely talented and is capable of leading this team," Gay said. That clearly leads us to the main beneficiary.
That would be Derrick White and even some hardcore NBA fans may not know much about him. In 2016-17, White wasn't even the starter on the opening night at Colorado and his rise has been somewhat meteoric to be a first-round pick last year. He had almost no hype coming out of high school and one of his few offers was from a culinary school, and now he's expected to cook up defenders as the starter. Similar to his career path, he basically goes from a limited role his rookie year and he's almost a lock to add 20 minutes per game to his playing time compared to last year. No word if the Spurs want him to make pre-game meals or anything, though.
Last year, he didn't play too much with just 8.2 minutes per game, averaging 3.2 points, 0.5 dimes, 0.2 steals, 0.2 blocks and 0.5 treys. What stands out most about White is his shooting, making an impressive yet unsustainable 61.5 percent of his 13 treys. Of course, we can't exactly extrapolate a guy who took just 31 shots last year and six in the playoffs, but White was also productive at Colorado. In 34 games, he averaged 18.1 points, 4.1 boards, 4.4 dimes, 1.2 steals, 1.4 blocks and 1.7 treys on a 57/40/81 shooting line. He was also a fantastic finisher at the rim in college at 68.1 percent, and he shot a respectable 43.7 percent on his two-point jumpers with a very low assisted rate at 28.8 on those Js. These stats all translate very well to the NBA for guards. For what it's worth on the small sample, he was unassisted 56.3 of the time on his buckets last season. The NBA doesn't track unassisted buckets for summer league, but I'd venture a guess it was probably in the 20s. He can get his own shot and he'll be getting a slew of spot-up treys in Pop's system.
Speaking of Vegas, back in July White was a star in the Utah Summer League, averaging an event-high 23.0 points with 6.7 boards, 7.0 dimes, 1.3 steals and 1.0 blocks on 45 percent from the field. White did take a step back in Vegas, but he still had 1.0 blocks in limited playing time as he lost his shot with just a 36 field goal percentage. We really can't go off his preseason stats either, but he hasn't shot the ball well with a decent 21.2 usage rate. Although, the 107.9 pace is at least noteworthy and indicative that the Spurs do want to move the ball more when he's out there.
Coach Gregg Popovich has also talked up White, and on Monday he said White was going to play a lot anyway even before this Dejounte news. Pop said White "improved quickly" and he's going to put White in the mix some place. White also was the one who subbed in for Murray at the time of his injury on Sunday, so that could be a tip into coach Pop's thinking.
OK, so what about his fantasy value? He's an absolute must-target player in even shallow leagues. He should be very effective as a spot-up shooter and will get plenty opportunity in Pop's system that has so many of those play types. He's never really been a distributor of the ball, so White probably won't be able to get to five dimes per game. What may be most impressive about his value is his block rate, which has been terrific since his days at Colorado. It's not easy for a guard to hit close to 1.0 blocks per game, but it's a possible outcome for White on his 6'4" frame with a 6'8" wingspan. Again, the system suits his skillset extraordinarily well and I would probably draft him before 100 in nine-cat leagues.
It won't be just White that benefits, of course. Patty Mills is likely to see an increase, but he's not the type of guy to take a step forward. In fact, per 36 minutes without Dejounte Murray and Tony Parker on the floor, Mills only had 13.9 points, 3.1 boards, 4.9 assists, 1.1 steals and 2.2 treys on 39.6 percent from the field. Mills kind of is what he is regardless of role, so I would easily prefer White.
This should also add another layer of upside to DeMar DeRozan. Last year, we saw him reach new heights as a passer with a career-high 5.2 dimes per game. Most impressively was his output in dimes leading to threes. Last year, his passes led to 205 treys, which crushes the 123 he had two years ago — had six more games last season and just 98 more minutes. This could also be a positive for White and all the perimeter players.
Here's a look at DeMar's Synergy numbers from last year and 2016-17.
Last year: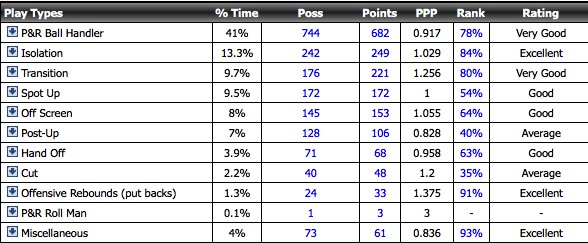 2016-17: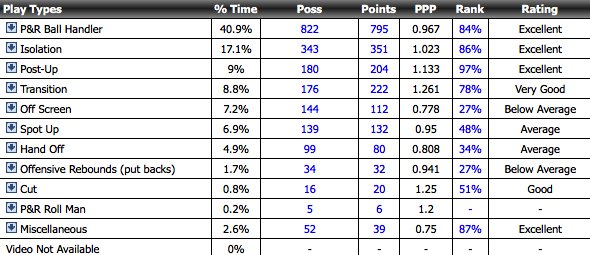 You can see his PNR ball handling plays were similar, his isolation went down and his spot-up plays also went up. Those are somewhat encouraging signs that he'll be able to adapt into the Spurs spot-up heavy system, and he could also make them more efficient in PNR in general. Although, he hasn't been a great passer out of PNR, so we'll see how this helps LaMarcus Aldridge.
DeRozan undoubtedly gets a boost here with the Dejounte Murray news. He wasn't a player I typically targeted, but now I'd consider him at the third and fourth round turn. Although, I'd probably be taking someone like Tobias Harris in this spot, but either way DeMar's durability with coach Pop could take him to another level.
Besides that, there's not much here. Sure, LaMarcus gets a slight boost and this puts Bryn Forbes on the board as a deep-league target. Hey, maybe Marco Belinelli could do more big-ball dances in super deep leagues, too. The Spurs could go for a trade or something, but Pop has hinted he wanted to play guys like White even more. This could also make it more likely that DeMar starts at SG, which could help Rudy Gay get more run. Gay will certainly slide in your draft, but he had a great offseason and again there is a massive hole to fill.
Gay possibly sliding up could even open up minutes for guys like Jakob Poeltl and Pau Gasol. Poeltl's role was looking a little murky, but now he should find at least 20 minutes per game.
One more week until the season, you guys.