SENS CLIMBING CELLAR
The Ottawa Senators (3-2 SU, 2-3 O/U last five) are making a move to escape the Eastern Conference basement. The Sens had a difficult schedule that saw them play five games in eight days but managed to grab three wins, covering the -1.5 twice. To add, Ottawa hasn't lost in back-to-back games since October 21, a span of eight games.
The Sens will travel to Carolina to take on the struggling Hurricanes on Monday. Carolina has dropped four straight games, being outscored 15 to 7 which includes a 4-1 loss to Ottawa last Saturday. Petr Mrazek should get the start in goal for the Hurricanes. The goalie has allowed three goals or more in 5 of his last seven starts. Grab the Sen's plus-money ML +200.
CAPS ARE OVER THE TOP
The Washington Capitals have been an over-machine in the early part of the 2019-20 season. Heading into the start of this week, the Capitals are 13-3-1 O/U which is by far the best mark in the league. Washington plays Monday (Arizona), Wednesday (Flyers), Friday (Canadiens) and Saturday (Bruins).
With the heavy schedule, the Caps will likely split starts between Braden Holtby and Ilya Samsonov. Holtby has allowed less than three goals in a game just twice over his last seven while his last Under was back on October 5. Samsonov's last four games have seen totals of six, 11, seven and nine goals.
We are riding the Over for each of Washington's four games this week.
NO PLACE LIKE SIN CITY
The Vegas Knights (2-3 SU, 2-3 O/U last five) wrapped up a four-game, six-night road trip on Sunday and will finally get back to T-Mobile Arena Wednesday night when they'll take on the Chicago Blackhawks (3-2 SU, 2-3 O/U). The Knights haven't been playing their best hockey lately but a trip home to face the West's worst road team in the Blackhawks should help right the ship.
The Blackhawks have yet to win in regulation on the road this year and have just one win in seven games. A lot of their struggles can be blamed on their scoring woes. They are potting just 2.50 goals per game which is the fourth-worst mark in the league. That number gets even worse on the road as Chicago is burying just 1.86 goals a game as the visitor.
Take the Golden Knights in regulation (3-way).
WINGS WANDER OUT WEST
Robby Fabbri has found a new home in Detroit as the Red Wings (2-3 SU, 1-5 O/U last five) traded for the forward last week. The move showed immediate returns as he sniped two power play goals in his first game — a 4-2 win over the Bruins. However, the excitement may not last long as the Wings take their seven-game road losing streak to Anaheim on Tuesday.
The Ducks have held their opponents to an average of 1.83 goals in their six wins at home this year. That's bad news for Detroit as they are averaging 1.29 goals per game over their ugly road losing streak. With the Red Wings having scored two or fewer goals in 10 of their last 15 games, take their team total Under 2.5.
GOALIE PROFILE: Frederik Andersen, TORONTO MAPLE LEAFS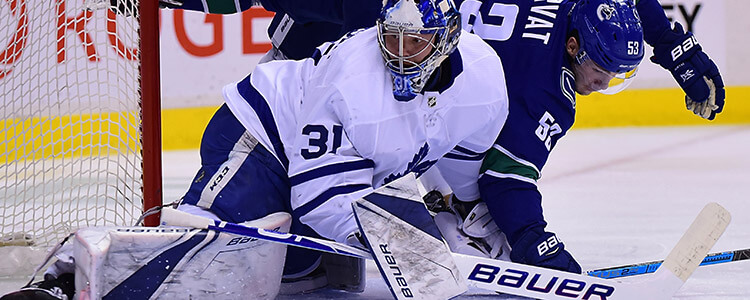 Freddy Andersen has put his early-season struggles behind him. Last week the netminder picked up five of a possible six points in three games while stopping 91 of 95 shots. He has a 2.22 goals against average and a .929 save percentage over the last four weeks.
The Leafs are on the road for seven of their next eight with their next stop in New York to face the Islanders on Wednesday. The Islanders have won 11 of their last 12 but have been doing it with the defense more than their offense. New York is scoring 3.0 goals per game, while allowing 1.3 goals against over their last five.
With Freddy having a decent 2.69 GAA after three or more days of rest, this will be a great spot for the Under 6 for the Wednesday night matchup. Nassau will be rocking as the home crowd is still bitter at John Tavares — who will stroll into his former place of employment wearing the "C" for the Leafs.
INJURY UPDATE: F Mitch Marner, TORONTO MAPLE LEAFS
Mitch Marner left Saturday's game with a lower-body injury and didn't return. He also didn't travel with the team to Chicago for Sunday's 5-4 loss. The talented winger will now be out up to four weeks as the team reported on Sunday night.
This may have the biggest effect on Toronto's power play where Marner was responsible for a lot of zone entries. The Leafs were an anemic 3-for-34 over their last 10 games heading into Sunday's game with the man advantage. Losing Mitch will almost certainly hurt those already depressing numbers. Facing the Islanders' seventh-best penalty kill on Wednesday also won't help the matter.
We liked the Under 6 as mentioned above and we will also double down on the Leafs team total Under 3.5.
HAT TRICK TRENDS
• The New Jersey Devils are 7-1 O/U at home this year and will face the Ottawa Senators (3-3 O/U away) Wednesday night. The Vegas Knights are also 7-1 O/U at home and will face a Blackhawks team Wednesday that is coming off a nine-goal game on Sunday.
If you're an Under person, the best matchup early in the week looks like the Edmonton Oilers at the San Jose Sharks on Tuesday night. The Sharks are 4-5-1 O/U at home this year while the Oilers are one of the more frequent Under road teams as they are 3-7 O/U on the road this year.
• Last weekend, we hit our +345 three-team 1P Over parlay by following some basic first-period trends. Here is another go for Tuesday night's slate: The Boston Bruins and Florida Panthers are a combined 14-6 O/U on first-period totals in their last 10. The Columbus Blue Jackets at the Montreal Canadiens (15-5 O/U 1P last 10), and the Arizona Coyotes at the St. Louis Blues (15-5 O/U 1P last 10) round out this three-teamer.
• Over the last four weeks, home teams are winning at 53 percent on Mondays, 61 percent on Tuesdays and 62.5 percent on Wednesdays. The Under has been hitting with more frequency over the last month as well, especially early in the week. The Under is hitting at 53 percent on Mondays, 70 percent on Tuesdays and 44 percent on Wednesdays over the last four weeks.