LET'S GET DANGEROUS
The NHL is a game of bounces, better known as puck luck, but teams that create and allow a high volume of quality scoring chances — high danger chances — are obviously more susceptible to the Over. On Friday, two teams who are top-10 in high danger chances for and against will square off when the New York Rangers (2-3 SU, 3-2 O/U last five) visit the Ottawa Senators (4-1 SU, 1-4 O/U last five).
No team has more high danger chances than the Sens in November as they also sit fourth in high danger chances against. Their 5-6-1 O/U record in their last 12 games isn't inspiring but the Sens have the third-highest expected goals for and the seventh-most expected goals against over that stretch. The Rangers, who are averaging 7 goals total a game this month, sit tenth in high danger chances as well as third in high danger chances against.
Both teams are hitting the Over at Under 50 percent but Ottawa will be on their third game in four nights while the Rangers are in the second game of a terrible stretch that will see them play seven games in 11 days. We like the Over 6.5 with two teams that are in the top-four in shots allowed over the last three weeks.
OVER VALUED
The Nashville Predators (0-5 SU, 3-2 O/U last five) have not been rewarding backers of late. As of Friday, betting $100 on each of Nashville's last nine opponents would have returned a profit of $970. That's what happens when a team goes 1-8 SU as a favorite in nine consecutive games.
Editor's Note: Drafting is only half the battle. Dominate all season long with our Season Pass! Use our NEW Lineup Adviser, get our Weekly and Rest-of-Season rankings and projections, track all of your players and more on your way to a championship! Click here for more!
Goaltending has been the biggest problem for the Preds lately as they are second-to-last in save percentage over the month of November. Goalie Pekka Rinne has allowed 18 goals in his last four games.
With the St. Louis Blues (2-3 SU, 0-5O/U) on deck for Saturday's tilt, we are riding the slide of the overvalued Predators and will be putting our money on the Blues' ML.
THIS BUDS FOR YOU
The Leafs are 1-0 SU under new coaching. The Buds played a tight game for new bench boss Sheldon Keefe and will bring the momentum of snapping a six-game losing streak into Colorado (3-2 SU, 2-3 O/U last five) on Saturday night.
Colorado is missing a ton of firepower on their top line and will likely face Toronto's Frederik Andersen who is 3-1 with a 2.11 goals against average on one day's rest this year.
The Avs are 5-2-2 O/U at home this year while the Leafs have done their best scoring on the road and are 7-3 O/U on the road this year. If you prefer to play totals, trends point to the Over, but we are going to ride the Leafs who may be coming together as a team with the recent changes.
Take the Maple Leafs ML on Saturday night.
PLENTY OF PLAYER PROPS
Player props in hockey aren't as popular in the hockey betting circles as football but that doesn't mean there isn't great value to be had. Team's best goal scorers are plus-money plays with near +1000 odds for two or more goals. Offensive defensemen have plus-money odds for collecting one assist while goalies have -120 odds for O/U save totals. Here is a list of player props from the league's hottest players.
OTT F Jean-Gabriel Pageau anytime goal: JGP has been on fire of late scoring 10 goals in the month. The Ottawa forward is undervalued and can return +199 to backers. Ottawa takes on the Rangers on Friday night and the Rangers have allowed the most goals in the Eastern Conference in November.
FLA D Keith Yandle Over 0.5 assists. The Florida D-man leads all blueliners in helpers over the month as his ample PP time (eight PP assists) puts him in a better spot to hit this plus-money play. Florida plays back-to-back games on Saturday and Sunday.
VAN G Over on saves total: It doesn't matter who Vancouver starts in net on Saturday against the Capitals, one thing is for sure: Washington will fire pucks and Vancouver will allow shots. The Caps are averaging 34 shots a game in November while Vancouver is allowing just over 30 a game. Take the Over on Vancouver's saves (Markstrom or Demko) on any number below 33 shots.
GOALIE PROFILE: Pekka Rinne, NASHVILLE PREDATORS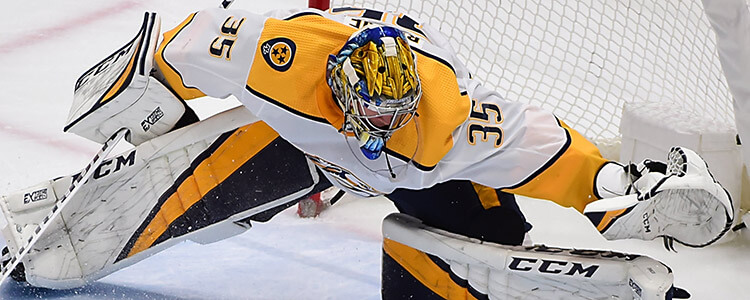 The 2018 Vezina trophy winner has been pulled in back-to-back starts. Rinne has allowed an unthinkable 18 goals in his last four games while the Predators continue to lose. We don't expect the Preds' management to throw the goalie back out on Saturday night against the Blues. If Nashville goes to backup Juuse Saros, we could easily see the Predators playing a tight game in front of their No.2.
In Saros' last four starts, his team is 1-3 O/U with the three Unders averaging just three goals combined. Facing a Blues team that is top-10 in goals against, we are willing to take the Under 5.5 and hope the Predators feel the pressure to end their losing ways by playing a tightly checked game in front of their backup.
INJURY UPDATE: D Torey Krug, BOSTON BRUINS
Bruins defenseman Torey Krug has been out of action since November 12th but is targeting this Saturday for his return. In his absence, the league's best powerplay unit went 2-for-9 (22 percent) on the PP but was scoring on 31 percent of their powerplays with Krug in the lineup. The Bruins' defenseman is third in the league in powerplay ice time by a defenseman.
The Bruins will face the Minnesota Wild on Saturday night. The Wild are a top-10 penalty-killing team but no one in the league can stop the Bruins with an extra man this year as they average one PP goal per game with Krug in the lineup. Krug only helps the Over on Saturday night.
HAT TRICK TRENDS
• Everyone loves to play the Overs but there is some great value in the Unders, especially with the Dallas Stars and Winnipeg Jets at home. Dallas is 2-8 O/U at home this year and will look to keep that trend going Saturday night when they host the Chicago Blackhawks (4-5 O/U on the road). Winnipeg has been equally good at profiting Under backers on home ice as they are 2-8-1 O/U at home and will entertain the Blue Jackets (4-4-1 O/U on the road) Saturday night.
• On Tuesday, the top three 1st-period Over teams all hit for a nice +370 payout. The Boston Bruins, Colorado Avalanche and Edmonton Oilers are all hitting first-period Overs at 80 percent in their last 10 games and all three play on Saturday. The Columbus Blue Jackets, Ottawa Senators and Florida Panthers are hitting the first-period Over at 70 percent in their last 10.
• Everyone loves a good home dog and over the last week they have been returning a profit to backers. Heading into Thursday, home dogs had hit a 54 percent over the last week and even better across the last 30 days, cashing at 55 percent. This weekend's schedule doesn't have a lot of home dogs, but the L.A. Kings on Saturday and Detroit Red Wings on Sunday are plus-money home plays.