Happy Kevin Durant Day, you guys! If we knew KD would make his debut on Dec. 2, there's no way he would have slipped out of the first round in any draft. He was about 20 percent better than anyone else last season on total fantasy value. Tonight's return means he's missed 20.7 percent of the year, so his fantasy owners should be pleased. As long he stays healthy, anyone who took him should get what they bargained for --especially in head-to-head leagues. Will KD be the No. 1 player the rest of the way, though?

There is a certain pterodactyl that has thrown a wrench in this equation. Anthony Davis is actually on pace to outproduce KD's output from 13-14 this season, which speaks volumes about how much of a beast he is this season. I think we all can agree that Davis is not a fluke and he's going to continue this massive output.

The big knock on Davis — justifiably so — has been his injury risk. Davis has missed 18 games in his rookie season and 15 in 2013-14. Those injuries were somewhat fluky with a fractured finger last season as the major culprit and an ankle sprain from his rookie year. NBA players hurt ankles. It happens.

So, does KD have a greater injury risk than AD? I think he does and that means I think we should view Davis as the top asset in fantasy basketball. A foot fracture is no joke and this graphic from InStreetClothes.com about fifth metatarsal fractures pretty much sums it up:

There are three cases when a player needed an additional surgery and eight reoccurrence cases. Based on that info, we are looking at around a 25.8 percent chance of a reoccurrence. Plus, Durant does have a chance to have other injuries, obviously. Despite being an Ironman in his career and only missing 14 games in his first seven seasons, I think we all can agree that KD's chances of missing time in the future are much higher.

Another negative on Durant was that he did some major work while Russell Westbrook was out during the season. When Westbrook was on the court last season, KD had a 29.9 usage rate to go with a 54.5 effective field goal percentage and a 19.9 assist percentage. When Westy was off the court, Durant had a 35.6 usage rate, a 57.1 eFG% (!), and his 21.1 assist percentage was also up. Coach Scott Brooks loves playing them together, so we probably won't see KD be such a megastar in fantasy this season (assuming Westy stays healthy).

All that said, KD is going to ball out. Personally, I own him on three fantasy teams and am extremely pleased that he's back so soon.

He's going to play 30 minutes tonight and I'd guess he is not going to touch his 32.7 usage. Just for the fun of it, I'd put my guess at 22 points, seven boards, three assists, two steals, one block and two 3-pointers tonight.

I can assure you we will have some usage on KD next week, but let's get to the usage of guys from this season:

Before we do, I had a lot of people on Twitter (you can follow me at @MikeSGallagher) use the term usage rate incorrectly, so I just wanted to clarify it again. In its simplest form, it's basically this:

The times a player ends a possession (field goal attempts, free throws and turnovers)/his team's possessions

It's a rate, so it's going to be a percentage. If a player takes two field goal attempts on the first two possessions, then his usage is 100.0 percent. It also has nothing to do with his minutes and there are a ton of players who log big minutes and post low usage (we'll actually get to some of those guys later). It doesn't directly affect assists, 3-pointers, steals, blocks or rebounds either. OK, here we go:

Russell Westbrook - We had to start with him, right? It's hard to believe we only had three games of Westy without Durant, but here we are. Westbrook led the NBA in usage rate last season and he could wind up doing it again. He was a monster with KD off the court last season and in those 39 minutes, he posted a laughable 45.3 usage rate. That would be crazy talk for almost anyone else, but it's really not for Westbrook.

In his three games this season, he had a 40.7 usage in 65 minutes — that leads the league obviously. He's also posting a career-high 56.5 effective field goal percentage (eFG%), but that's obviously the first act of Small Sample Size Theatre. Plus, don't forget that Brooks' teacher's pet Derek Fisher isn't around anymore. Here's a look at the lineups Brooks used with KD and Westy last year via NBA Wowy (minimum of 30 minutes):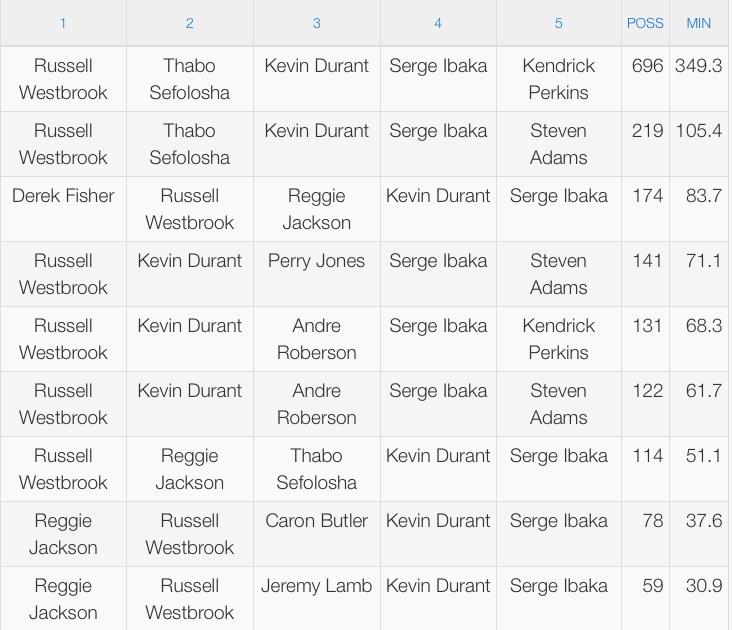 You'll notice Westbrook was used a lot with Reggie Jackson and even as a three on occasion. You would think Westy at the three probably won't happen quite as much, but he should get a lot of run at the two next to Jackson — Brooks has already confirmed this will happen too.

KD is going to be on a minutes limit for a week, so we should get a bunch for 40-ish usage Westy for a while. He's still going to be a beast and should hit his value on daily fantasy sites. After all he put up 32 points, seven boards, eight assists, one steal and three 3-pointers in just 24 minutes against the Knicks on Friday. He's still a first-round asset in standard leagues.

Dwyane Wade and Chris Bosh - Wade has returned and he's posting a sizable 36.3 usage in his last two games. He was around 30 before his hamstring injury and it seems like a good bet we'll see him near 30 on the season.

Excluding his rookie year, Wade posted his lowest usage rate last year with a 27.9. Obviously, LeBron James zapped his usage rate and Wade had ridiculous usage rates of 34.9 and 36.2 in his last two seasons without LeBron in 2008-09 and 2009-10, respectively. He's probably not going to be in the mid-30s neighborhood, but the low 30s usage would really help his fantasy value.

I'll admit I was shocked that Wade is looking to play around 32 per game. He played that much on Sunday and he was going to be around that amount of time on Monday, but the Heat were blown out. Even if he posts 28 minutes, he should be able to score 21-24 per game thanks to the high usage and tremendous eFG%. He'll be a good option in daily in the right matchup, but owners in season-long will always want to entertain trading him because of the injury risk. I'd put him at about 55-60 if we drafted today.

As for Bosh, Wade is obviously hurting his usage. When Wade is on the court, Bosh has a usage of 25.6 compared to 34.8 without the former Finals MVP. On top of that, his eFG% is actually down with Wade, so it would appear Bosh's 21.5 points per game is a bit of a fluke.

I still view Bosh as a second-round guy if we drafted today, but I probably won't be touching him in DFS at his current price unless the matchup is right.

Quick note: I don't think Josh McRoberts getting more minutes will negatively affect Bosh.

Marreese Speights - Mo Buckets, less problems? Among players with at least 20 minutes per game over their last five, here are the top nine is usage rate: Russell Westbrook, Dwyane Wade, Marreese Speights, Kobe Bryant, Chris Bosh, James Harden, Blake Griffin, DeMarcus Cousins and Carmelo Anthony. It's pretty crazy Speights is in that group, huh?

That sky-high usage of 34.2 has led to 17.0 points, 7.0 boards, 1.2 assists, 1.0 blocks and 0.2 steals on 50.7 percent. That's good for eighth-round value without much else on the stat sheet besides the points. Usage rate is important, you guys.

He's actually had a usage greater than 30 in seven of his last eight. However, that happened just once in his first seven games. The high usage seems very fluky to me and I don't expect it to continue. David Lee is close to a return and Speights is certainly going to lose some minutes. Lee is also probably going to come off the bench, so that is really going to zap Speights' usage. He's not worth owning in standard leagues.

David West - Among players with at least 20 minutes per game, he ranks 10th in usage since his return in that span. That 32.8 crushes his 21.9 from last season and I think there is really no way he's going to be below 25 this season considering how thin Indy is on the offensive side of the ball.

While this is just two games and Roy Hibbert (ankle) didn't play in them either, it's still a great sign to see him used so much. He didn't really put up big number to go with his 16 points per game, so he's a very sneaky buy-low player right now. I also think he's a steal at 6.9K in FanDuel tonight.

Danilo Gallinari - He is not doing much on the stat sheet these days. Obviously the 18.7 minutes per game are the big reason, but he's also posting his lowest usage rate since his rookie season at just 17.4. He has the hat trick for awful stats with a career-low 34.7 percent from the field.

Gallo is taking just 13.4 percent of his shots at the rim, which is absolutely awful and there's no way a player can shoot near 45 percent unless it's someone like Kyle Korver or Stephen Curry. He's not getting clean looks and is forcing his shot. There is a lot of rust and he will get better, but he's much worse than I thought.

Based on what we've seen it's pretty simple with Gallo for me: The Rooster is not someone I'd want on my fantasy team. Cut him in a standard and try to trade him in a deep league.

Markieff Morris - His usage is actually down from last season at just 22.0, but he's up in percentages for assists, blocks, steals and defensive rebound rate. Those non-scoring aspects of his game explain why he's been a third-round guy so far this season.

Besides how he's really struggling from the 3-point line at 23.8 percent, the similarities from last year are fairly uncanny. He's shooting 48.7 percent from the field this season and made 48.6 last year. Plus looking at a shot breakdown, it's the same story (this season is the top two):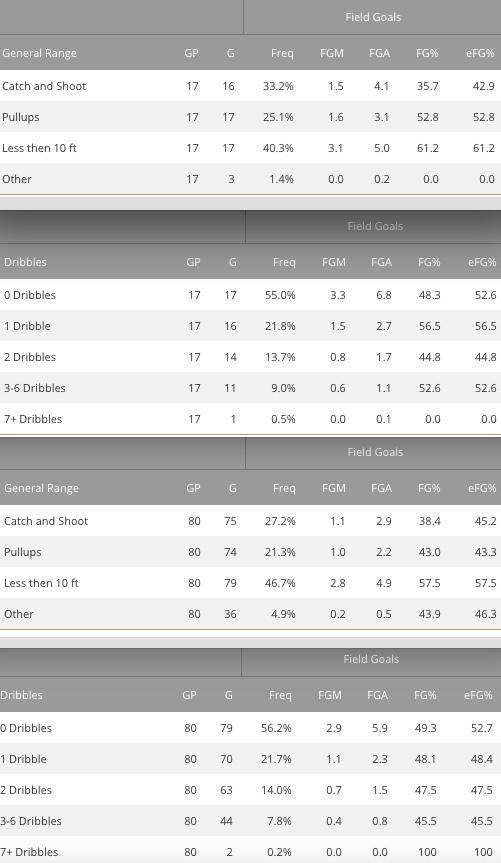 That's a lot of data, but the effectiveness on pull-ups this season is really helping his field goal shooting overall. He is also doing a great job on shots from within 10 feet.

I think Markieff is for real and he might actually climb into the top 30. As for DFS, he's becoming a little easier to trust. In fact, his 30.9 minutes per game is actually misleading because garbage time has been a factor. In his six games with less than 30 minutes, four of them were games decided by 20 points (the other two were foul trouble). I think he's close to 33 minutes the rest of the way.

The low usage guys

If you play on daily fantasy sites, these are guys you're generally going to want to avoid. These guys don't take a lot of shots, so that means they're not going to score many points. If a guy is going to have a big day on DFS, most of the time it will be because of points — that's not always the case, of course.

For season long, it is really just a knock on points, but there are a lot of guys with high effective field goal percentages, which kind of negates the low usage. Here are the bottom 10 in usage rate with at least 30 minutes per game on the season:

DeAndre Jordan (10.1) - Low usage and high efficiency still leads to points. Jordan is making a league-leading 74.1 percent of his shots. Here are all of his shot makes based on his shot type this season: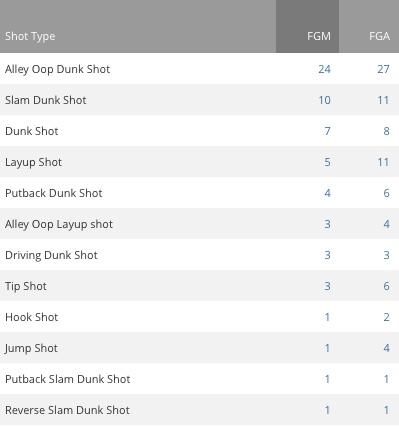 Amazing. He's basically a lock to lead that category this season. He does so much in boards and blocks that he'll be able to keep his fantasy owners happy.

Wesley Johnson (11.8) - He's actually ranked 77th in fantasy over the past two weeks, but not because of scoring. Johnson has just 9.1 points per game in that span, but his 1.3 steals, 0.7 blocks, 0.9 triples and 0.4 turnovers are helping him a ton. His usage has taken a dive since the return of Swaggy P (The Return of Swaggy P sounds like the title of a movie), but that's fine. Wes has a single-digit usage in three of the Swag games, but again it's fine. He'll get other stats besides scoring. Scoring is just one category. His fantasy owners can expect him to flirt with top-100 value.

Channing Frye (12.8) - His usage was 17.3 with the Suns last season, but it's dropped this year. His usage is also dipping since Victor Oladipo returned and he only had an 8.2 on Sunday in Phoenix. Frye only posted No. 176 value in the past two weeks and his arrow is pointing down. He's probably not droppable because he's really slumping, but I would try to sell him after he has a couple hot games. As for DFS, I don't think I've used him since 'Dipo returned.

Kyle Korver (14.1)- I touched on Korver while talking about Gallo and he takes just 2.6 percent of his shots at the rim. His shot chart is always magnificent: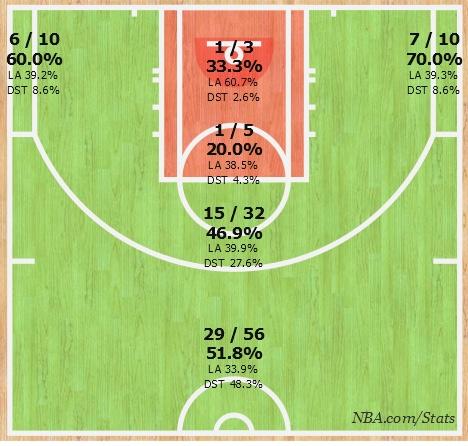 He's posting No. 26 value on the season and he's a lock to be top 50 as long as he's healthy.

Joakim Noah (14.6) - The emergence of Jimmy Butler has really hurt him while the Bulls having a somewhat healthy roster hurts, too. His usage is down from 18.7 last season and his assist percentage is also down 4.2 percent. When he's on the court with the starting five, he's posting a usage of 10.3. Noah is very hard to use in DFS while the Bulls are healthy and I don't see him posting top-50 value on the season.

Harrison Barnes (14.7) - When you're in the starting lineup with Stephen Curry and Klay Thompson, you're not going to have a high usage rate. Although, Barnes does only have a 20.7 usage when he's not on the court with those two, so coach Steve Kerr just doesn't give him shots. He's also getting 55.6 percent of his shots off without a dribble. Barnes is at 50.0 percent shooting on the season and I would expect that to see a slight dip while his usage might drop even more with David Lee back. He has No. 95 value right now, so I would try to sell high.

Nerlens Noel (14.9) - Sam Hinkie Hinkie'd us yesterday. Noel was a late scratch due to a hip pointer and the late scratches on Noel will likely continue. Noel is not going to be a great scorer and is another guy you won't want to use in DFS. He's also just at 173 on the season in standard leagues and I'd be surprised to see him get over 100. Michael Carter-Williams and Tony Wroten are usage monsters and the shots just won't be there. Plus he isn't getting to rim like many thought.

Ben McLemore (15.0) - Even with DeMarcus Cousins out in the last two games, B-Mac only posted a 16.7 usage. That's a really bad sign to me. On the bright side, he has an eFG% of 58.7 this season on his catch-and-shoot attempts, which obliterates his 45.3 last season. I think he'll be better as the year goes along, but he's going to have to be red hot to get into the standard convo. Maybe if Rudy Gay misses time, he'll get it going.

DeMarre Carroll (15.2) - Like his teammate Korver, Carroll is putting up top-60 value despite the low usage rate. That has dropped a bit and he's at 87 over the past two weeks. I think he'll be around 110 at the end of the year, but I'll never use him while the Hawks are healthy.

Courtney Lee (15.2) - He was actually posting first-round value, but he's only been No. 171 in the past two weeks. His 60-plus percent from deep was clearly unsustainable, but I still think Lee will be around 120ish the rest of the way.

Enjoy the games tonight and good luck to you DFSers out there!