Buy low (from Jonas Nader)
Brandon Knight- With Eric Bledsoe expected to miss the rest of the season following knee surgery, Knight is set for a massive spike in usage. Knight and Bledsoe weren't the best fit in the backcourt because neither player is an excellent passer, but we saw what Knight could do when he was the man back in his Milwaukee Buck days. Look, I get that the Suns are a disaster right now and Knight is coming off two sub-par performances, but he could be a monster down the stretch. He hasn't even cracked the top 170 for standard-league value over his last 10 games with averages of 17.0 points, 4.5 assists, 2.4 boards, 1.0 steals, 1.8 3-pointers and 3.5 turnovers on 40.4 percent shooting from the field, so he should be available at a reasonable price. But then again, I don't blame you if you want to completely avoid the Suns.
DeMarre Carroll- The Raptors signed him to a four-year, $60 million deal during the offseason for a reason, and he is so much better than he has shown this season. Since returning from his knee contusion, Carroll is averaging a mere 8.0 points, 4.3 boards, 0.7 steals and 1.3 3-pointers on 34.6 percent shooting from the field. This is a guy who finished as a top-55 asset in Atlanta during the 2014-15 campaign, so it's not like he can't turn things around. Carroll is still a little banged up and I'm hoping that his plantar fasciitis doesn't flare up again, but he should be super cheap right now and his workload should increase very soon.
Goran Dragic- It's been a rough season in Miami for the Dragon, and you know things are bad when Garrett Temple is ahead of him in the rankings over the last 10 games. In that span Dragic is averaging just 12.1 points, 6.1 assists, 3.7 boards, 1.3 steals and 2.7 turnovers on 45.2 percent shooting from the field and 61.1 percent from the free throw line (yikes). In case you're wondering, that's good for top-130 value. He is currently battling a swollen left wrist and a weird right thumb injury, but I'm confident that he will get it going soon. Plus, Dwyane Wade is not going to stay healthy forever…
Harrison Barnes- We keep hearing that Barnes is nearing a return, and it's no secret that the Warriors are a little banged up at the moment. Barnes has been on the shelf since Nov. 28, but he still has top-60 value on a per-game basis with averages of 13.4 points, 5.0 boards, 1.9 assists, 0.9 steals and 1.2 3-pointers on 50.0 percent shooting from the field. He could have some limitations right out of the gate, but you shouldn't hesitate to trade for him of you're in a good position in your league standings. It also helps that the Warriors have one of the best playoff schedules in the NBA.
Derrick Favors- The Jazz are in serious trouble at the moment and have been devastated by injuries, and Favors has missed the last three games due to back spasms. It's pretty rare for a player to miss this much time due to back spasms, but I'm still not convinced that he will be out much longer. With Alec Burks (ankle) facing a lengthy absence and Rudy Gobert (knee) still rehabbing, Favors could have a featured role in the offense when he returns. If you can get him for a discount, now is the time to make a move. He has season averages of 16.8 points, 8.6 boards, 1.5 assists, 1.5 steals and 1.5 blocks per game. Move over, Jeff Withey.
Sell high (from Mike Gallagher)
DeMar DeRozan - He is making a ton of shots right now. In his last 11 games, he averaged 26.5 points, 5.1 boards, 4.2 assists, 1.4 steals and 0.5 treys on 48.2 percent from the field. Check out his shot charts in his last 11 (top) and his first 22 (bottom):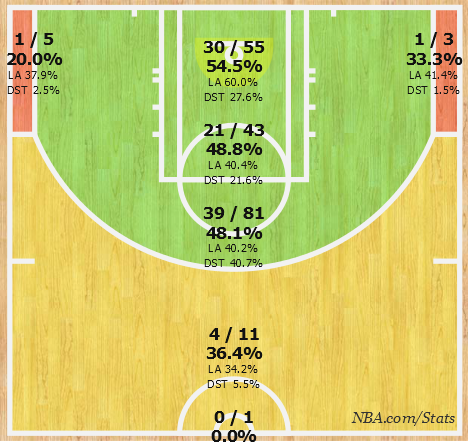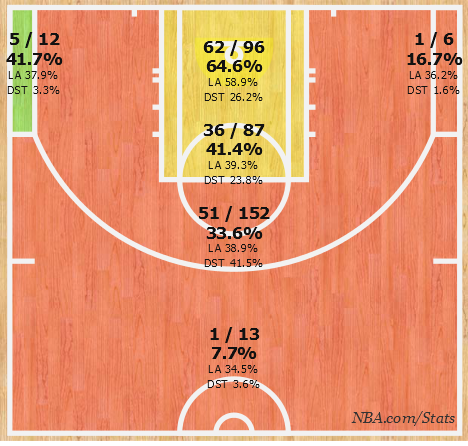 That is night and dayRozan. He is clearly going to cool off, so you can probably sell high on him for top 40 value right now — this is for standard leagues.

Ricky Rubio - He is coming off two awesome games, handing out 31 dimes and just four turnovers. Rubio is one of those ticking time bomb injury guys, so this is probably a good time to cash in. There is probably an owner in your league who is salivating over those dimes, so he is your guy/girl to go after as a trade partner. Although, I do think Rubio will be great if he stays healthy, so you probably will want to shoot for top 40.

Tyreke Evans - Same thing here. He's had a few really good games, but Evans has three knee surgeries in his last two summers. If you've been watching him, he is taking on a lot of contact and it seems like he is due to get hurt — more than Rubio, in my opinion. Like Rubio, he should be great in his system and this is all about winning while you're ahead.

Jarrett Jack - He's playing terrific ball with plenty of dimes with a little bit of everything, too. his contract is up next year, but the Nets simply have to trade him for assets. They need so much help right now because they have traded away their future.

Nerlens Noel - Stay with me here. Noel has looked wonderful with Ish Smith in his last three, but teams are going to defend it better. He is getting almost all dunks right now.

Once teams don't hedge on pick-and-roll basically at all, the dunks won't come as often. Plus, Jahlil Okafor's playing time is going to rise eventually, so that will also hurt Noel. Perhaps most importantly, Noel tends to miss games because the 76ers don't play their guys at less than 100 percent.

If you can ship him for something like top-40 value, I would be all about it.

Ish Smith - Everyone has Ish Smith-mania. I am a huge Ish Smith fan, but a couple Twitter followers have been saying they can get Kristaps Porzinigis for Ish. I would do that in a heartbeat. I have him in every league and am more or less trying to use him as a throw-in guy.