Yeah, so the Cavs are pretty good. They did have a sweep in both of their two first rounds, but they only had a +10.2 net rating in those eight games. As a reference point, the Spurs had a +16.7 net rating in their 67 wins this season — all for naught, we know. In other words, the Cavs played some close games in those two rounds. Well, that didn't happen in Game 1 in perhaps the most dominating game of the postseason. Check out how their lineups did on Tuesday: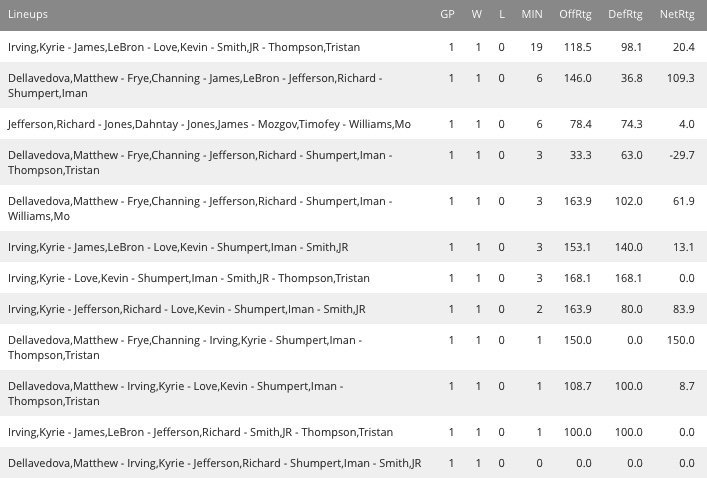 Yeah, only one of their lineups put up a minus in net rating. It was bad and the Raptors were simply in over their bird-shaped heads. LeBron James killed the Raptors more than a meteor, finishing with 24 points, six rebounds, four assists, two steals, one block and four turnovers. In the first half, he was 7-of-7 from the field with an average distance of 1.3 feet per attempt (per ESPN). Yes, his shots were about the same distance from the rim as your face is to the screen you're reading. It was bad. On the game, here's what his shot chart looked like: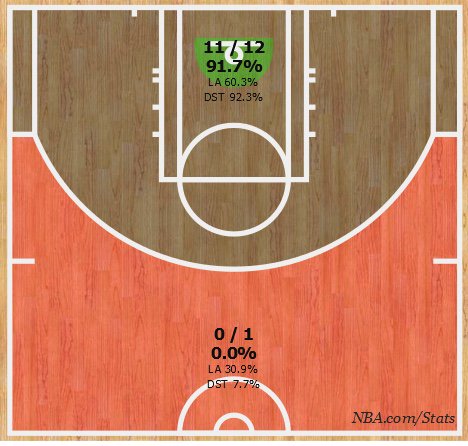 Goodnight, nurse.
Kyrie Irving was awesome, as well. He struggled for the most part against the Raptors and really in the entire season based on last year. However, he's been on his game this postseason, posting a fantastic line of 27 points, two rebounds, five assists, two steals, two blocks and one 3-pointer in 30 minutes. His shot chart was also really nice: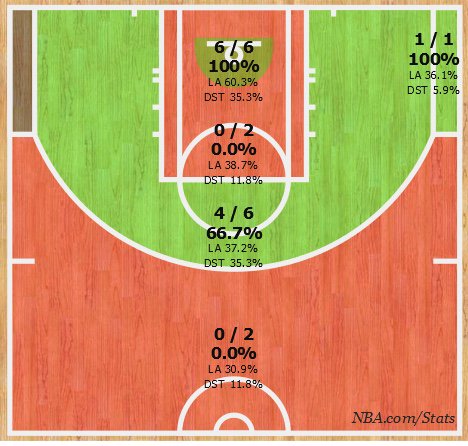 The Raptors just can't give up that many shots at the rim. Irving only had 2.5 makes per game at the rim during the regular season, so those six are very surprising. The amount of straight-line buckets the Cavs had just can't happen.
Kevin Love was a little disappointing with just 14 points, four rebounds, three assists, one steal and two 3-pointers. The same goes for Tristan Thompson with six points, seven boards and one steal. There were just too many easy buckets to count on those guys.
Let's not waste too many words on the Raptors here. Here's what their lineups looked like: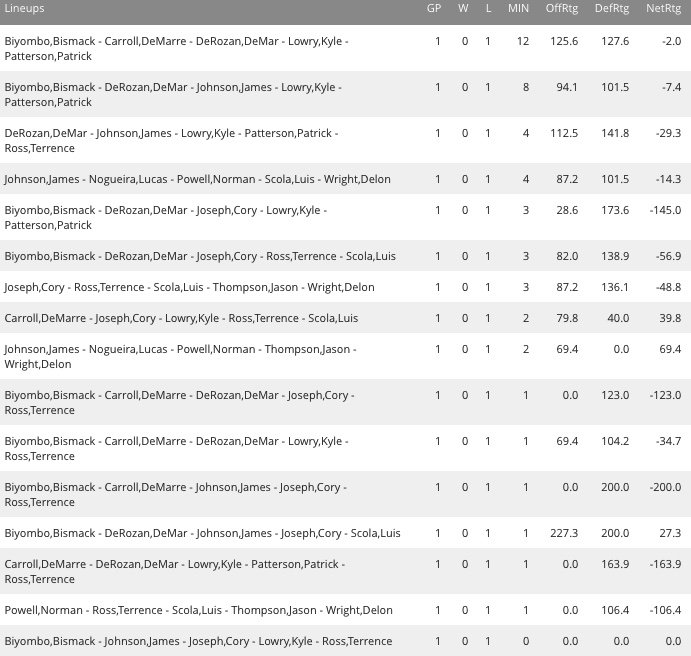 Quite shockingly, their starters were only -2.0 in net rating in their 12 minutes. The problem is they really don't have the depth to play them together in long stints. Coach Dwane Casey pretty much has to stagger those guys right now, which is part of the reason why they gave up so many big runs. Their first, second and third priorities are to keep the Cavs from getting easy buckets. That should mean more Bismack Biyombo and Patrick Patterson lineups.
Going forward, the Raptors can't go small anymore. That also means they have to start out on a high note to avoid chasing threes with smaller lineups. They're in trouble. Get well soon, Jonas Valanciunas (ankle).
Power Balls
Hey, the lottery held up! It's just the fourth time in 22 years the top team won the first pick. Plus, the lottery held up 1-14 for the first time ever (unofficial, per Mike Sports Bureau). Of course, we didn't need the lottery with Dikembe Mutombo tweeting this morning. I'll leave the rest to Joel Embiid (foot):
👀👀👀👀👀👀👀👀👀 #What pic.twitter.com/FDPgusa6t2

— Joel Embiid (@JoelEmbiid) May 17, 2016
Dikembe was right pic.twitter.com/OieBhWdVzo

— Joel Embiid (@JoelEmbiid) May 18, 2016
Nice
Sam Hinkie got the 76ers to this spot and he doesn't have a job right now. I'll save you the mismanagement stuff with the Colangelos, but anyone who thought Sam Hinkie didn't do a good job just didn't understand what he was doing. Anyway, they are going to have a chance to draft either Ben Simmons or Brandon Ingram next month. I'm hardly an expert on the subject, but it looks like Ingram is a better fit for coach Brett Brown's offense. Simmons might be more NBA-ready, but the 76ers don't really care about this season. Can we get a 13-page Hinkie letter PLEASE????
The Lakers got really lucky to hold their spot and now they'll get the leftovers of Ben Simmons or Brandon Ingram. It's also a big need for the Lakers and 76ers to get a wing, so those teams have to be happy. Trust the process indeed.
If you missed it, here's a quick summary of who gets what:
Celtics get the Nets pick (3)
Nuggets get Knicks pick (7)
Raptors get Nuggets pick (9)
Suns get Wizards pick (13)
I'm not sharp enough so speak on the prospects yet, but that'll change soon. Can't wait for Las Vegas Summer League.
Tuesday News and Notes
The Heat announced Josh Richardson and Justise Winslow will participate in Summer League. Winslow rolled his ankle in Vegas last year, so we didn't get a great chance to look at him. Last week, Winslow said he'll focus on his offense later in his career and it'll come to him. I'd bet that starts in July with more freedom as a focal point. Richardson actually wasn't impressive in Summer League last year. He still was a lot better than expected with 11.8 points per game in 26.1 minutes per game. He was also one of the better defenders at the event. Expect Richardson and Winslow to dominate.
Hassan Winslow (knee) will reportedly not have surgery on his knee. If he only had a Grade 1 MCL sprain and there was no other damage, he probably doesn't need a procedure to clean out his knee. Obviously this will be the biggest summer of his life.
Willie Cauley-Stein said George Karl didn't utilize him properly. We know, Trill. We know.
I will also let Joel Embiid have the last word.
The #3 Pick from the 2014 draft is gonna be ready too... Let's get it

— Joel Embiid (@JoelEmbiid) May 18, 2016