Three weeks are in the books and some trends are starting to take shape. As usual, the goal here is simple. We're looking to highlight the games and teams circling the best Vegas totals and play calling outlook. For a full player by player outlook on the week, make sure to check out my thoughts in the Week 4 Worksheet.
Team Outlooks
| Team | Spread | ImpTotal | @ | Spread | ImpTotal |
| --- | --- | --- | --- | --- | --- |
| New Orleans | 4 | 24.8 | San Diego | -4 | 28.8 |
| Carolina | -3 | 26.8 | Atlanta | 3 | 23.8 |
| Indianapolis | -3 | 26.0 | Jacksonville | 3 | 23.0 |
| Detroit | -3 | 25.3 | Chicago | 3 | 22.3 |
| Kansas City | 4.5 | 21.3 | Pittsburgh | -4.5 | 25.8 |
| Cleveland | 7.5 | 19.5 | Washington | -7.5 | 27.0 |
| Oakland | 3 | 21.5 | Baltimore | -3 | 24.5 |
| Dallas | -3 | 24.0 | San Francisco | 3 | 21.0 |
| Denver | -3 | 23.5 | Tampa Bay | 3 | 20.5 |
| Los Angeles | 7.5 | 17.8 | Arizona | -7.5 | 25.3 |
| NY Giants | 4.5 | 19.0 | Minnesota | -4.5 | 23.5 |
| Tennessee | 4.5 | 17.8 | Houston | -4.5 | 22.3 |
| Seattle | -2.5 | 21.8 | NY Jets | 2.5 | 18.5 |
| Buffalo | n/a | n/a | New England | n/a | n/a |
*Lines from BetUs
As a quick note, the Colts and Jaguars have the third highest over/under of the weekend, but play in London this weekend, which has a 9:30 Eastern kickoff and is not a part of the main slate. FanDuel offers a full Sunday-Monday slate as an option if you want to get players from this game into lineups.
The only options from that game I'm going out of my way to get into those contests if I'm playing them is Allen Hurns ($6,100) and Julius Thomas ($6,000). Hurns has gotten off to a slow start, but totaled 14 receptions for 221 yards and two touchdowns in his two games against the Colts a season ago as Vontae Davis gave lead receiver Allen Robinson some trouble to the tune of Robinson catching just five passes for 84 yards combined in those two weeks. Thomas started off the season solidly with 64 and 71 yards receiving before his 13-yard performance a week ago against Baltimore, but the Cots have yet to force an incompletion on any of the 15 targets that opposing tight ends have seen so far this season.
San Diego hosts the Saints in what will be Drew Brees' first game back in San Diego since he left the team in 2005. The Chargers are the target here as the Saints are allowing 448.3 yards of offense per game. They rank dead last in the league in rushing defense at 149.3 yards per game and have are allowing 37.5 fantasy points per game to opposing backfields so far, the most in the league. That means go ahead and let arrows fly on Melvin Gordon ($7,600) even if his price has now crept up into the top-10 at the position.
The San Diego passing game will be a popular source of roster viability, but that shouldn't push you away from them. New Orleans has allowed the most red zone plays (53) and the most plays inside of the 10-yard line (35) in the league while 25.3 percent of Philip Rivers' ($8,500) pass attempts this season have come from the red zone, the highest rate of all quarterbacks. The Saints have allowed seven 300-yard passers in their nine road games since the start of last season and are going across the country on a short week in this one.
Both Travis Benjamin ($6,600) and Tyrell Williams ($6,400) are priced comfortably to fill out rosters as third wide receivers for you rosters and both offer upside as they've seen 21 and 20 targets each on the season. Williams has been getting the most work near the end zone as he leads the Chargers with six red zone targets (26.1 percent of the team total). If you're punting tight end this week, Hunter Henry ($4,500) is the stone cold minimum. Henry played all 59 snaps filling in for Antonio Gates last week, catching all five of his targets for 76 yards.
Washington has the second highest team total of the week behind the Chargers as they host Cleveland. The Browns have allowed 16 or more points to all three quarterbacks they've faced so far, which would be right on value for Kirk Cousins ($7,600) doubling up his salary with the upside for more. Cousins is fourth in the league in passing yards per drive as Washington has been the third most pass-heavy team in the league so far.
As far as targeting his playmakers, DeSean Jackson ($6,900) has been a top-24 scorer in two of his opening three games and the Browns are expected to be without Joe Haden again in this game. Jamison Crowder ($6,000) leads the team in targets and has also been used near the end zone. 32 percent of Jamison Crowder's targets on the season (eight of 25) have come inside the red zone, the highest rate for all receivers with double digit targets. This also sets up as a good week to see Jordan Reed ($7,500) tap into his ceiling. Cleveland has allowed the second most receptions to opposing tight ends and the 6th most yards.
The last game I'll touch on here is the Lions and Bears game that has a total that has been rising all week. With so many likely to look at the aforementioned Rivers and Cousins, Matthew Stafford ($8,300) could go criminally under-owned this week regardless of game type. Last season, Stafford was the QB1 and the QB2 overall in his two games against the Bears and has picked up where he left off a season ago with two top-4 scoring weeks to start the season.
Marvin Jones' ($7,600) salary has jumped, but he's still the hottest receiver going and if we love Stafford, we have to be interested in Jones by default. 50 percent of Jones' receptions have gone for 20 or more yards, the highest rate of any player with double digit receptions and he has accounted for 41.4 percent of the Detroit receiving yardage.
This game also features some cheap backfield options. Dwayne Washington ($4,500) is the minimum salary and already enters the game with the goal line job locked up for Detroit. Washington's snaps have gone from two (three percent), to 11 (14 percent) to 25 (36 percent) through the first three weeks and is better suited to fill in the vacated role that Ameer Abdullah had in this offense than Theo Riddick. Chicago has faced the most rushing attempts on the season at 36 per game and the passing game should provide ample scoring opportunities in making Washington an upside play this weekend.
Jordan Howard ($5,600) will be taking over for the injured Jeremy Langford. With backup Ka'Deem Carey also questionable coming in, Howard is a good bet to find value based on touches and cost alone and there's some underlying upside as the Lions are allowing a league high 5.3 yards per carry to opposing running backs on the season.
Howard isn't the only Bear on the board, either. It may feel like point chasing, but Zach Miller ($5,000) is in a great spot to build off of last week's 8-78-2 line. The Lions have already allowed three top-3 scoring tight ends and five touchdowns to the tight end position after allowing the most touchdowns to the position in 2015.
Play Splits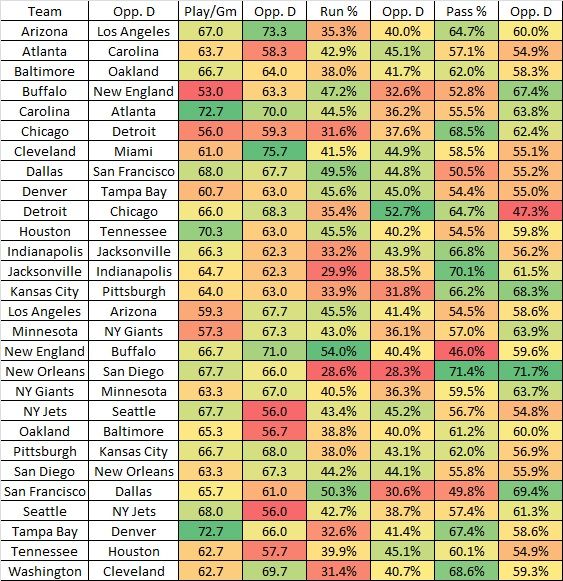 Carolina is in place to run a lot of snaps and Atlanta is allowing opponents to run a lot of plays themselves. Carolina also has the largest road total this weekend to go along with any volume. Cam Newton ($9,300) is the most expensive quarterback on the slate, but is in a similar spot as he was in Week 2 where the matchup is strong, but there will be more popular quarterbacks owned over him due to that high cost. Newton has struggled versus pressure, completing just 13 of 30 passes with two interceptions while under pressure, but he shouldn't run into much resistance here as Atlanta ranks 31st in sack rate (2.2 percent) after ranking 32nd a year ago (3.3 percent).
To go along with Newton, Greg Olsen ($7,900) is an superb spot this week. Atlanta is allowing the second most points to opposing tight ends and has allowed four touchdowns to the position so far in three games. Olsen leads the team in targets (27) and all tight ends in team receiving yardage share (31.9 percent).
The Chiefs passing game could be in a favorable spot for volume as well. Jeremy Maclin ($6,900) has disappointed so far through three weeks, but this is a spot where he can be sneaky play while carrying almost no ownership. Maclin's slot snaps have steadily gone up, going from 37 percent, to 45 percent, to 55 percent last week. That slot usage can be a factor as the Steelers allowed six receptions to Jamison Crowder in Week 1, another six for 78 yards to Tyler Boyd in Week 2 and a slot touchdown to Jordan Matthews a week ago. To tack on, Sean Davis, the main slot corner for the Steelers is banged up, meaning Justin Gilbert may be pressed into coverage on Maclin.
Travis Kelce ($6,500) is also in play for those who can't afford Olsen and Reed, but aren't comfortable going to the bottom of the position. Kelce has already been a top-7 weekly scoring in two of three games to start the season after having just four such weeks in 2015.He has accounted for 25.1 percent of the Kanas City receiving yards, the second most of any tight end behind Greg Olsen (31.9 percent) and the exact same number he had in 2015. The Steelers are 31st in passing yards allowed and as they rank 22nd in yardage allowed to tight ends (69.3 yards) as they've been killed on intermediate receptions and yards after catch, something that is in Alex Smith's and Kelce's wheelhouse as he's led all tight ends in yards after in each of the past two seasons. Tack on that Ryan Shazier is out this week for Pittsburgh with a knee injury and Kelce could run into another strong week.
Record scratch from last week, but Ezekiel Elliott ($8,100) is another prime spot to see a ton of volume as Dallas could run a lot of plays and San Francisco is facing a ton of runs from their opposition. The 49ers have allowed back to back 100-yard rushers and with Dez Bryant expected to miss this game; Elliott will be the main cog in the offense once again. Elliott's 76 touches through three weeks are just seven short of where DeMarco Murray was through three weeks in 2014 when he had the most touches in a season over the past 15 years at 449.