Seven weeks in and we've got a decent handle on trends and tendencies at this point. As usual, the goal here is simple. We're looking to highlight the games and teams circling the best Vegas totals, point spreads and play calling outlook. These aren't the only plays of the week, but some of the best plays surrounding those circumstances. For a full player by player outlook on the week, make sure to check out my thoughts in the Week 8 Worksheet.
Team Outlooks
| Team | Spread | ImpTotal | @ | Spread | Opp |
| --- | --- | --- | --- | --- | --- |
| Green Bay | 3 | 24.8 | Atlanta | -3 | 27.8 |
| Kansas City | -2.5 | 26.3 | Indianapolis | 2.5 | 23.8 |
| Oakland | PK | 24.8 | Tampa Bay | PK | 24.8 |
| Seattle | -3 | 25.5 | New Orleans | 3 | 22.5 |
| Washington | 3 | 22.3 | Cincinnati | -3 | 25.3 |
| Arizona | 3 | 22 | Carolina | -3 | 25 |
| New England | -6 | 26.3 | Buffalo | 6 | 20.3 |
| Detroit | 2.5 | 21.5 | Houston | -2.5 | 24 |
| NY Jets | -3 | 23.3 | Cleveland | 3 | 20.3 |
| San Diego | 4 | 19.8 | Denver | -4 | 23.8 |
| Philadelphia | 4 | 19.5 | Dallas | -4 | 23.5 |
| Minnesota | -5 | 22.8 | Chicago | 5 | 17.8 |
Atlanta hosting Green Bay is the prime game for expected fireworks this week. The Packers rank second in the league in red zone opportunities per game (4.2) while Atlanta ranks third (4.0). I'm going to hit the Green Bay side of things a little later and focus on the Atlanta side since they have the highest individual team total of the week.
Green Bay survived a week ago despite missing three starting cornerbacks against Matt Barkley at home, but stopping Matt Ryan ($8,500) and Julio Jones ($9,200) with a depleted crew on the road is an entirely different story. Ryan has averaged over 8.0 yards per pass attempt in six of seven games this season, the most in the league. No other players have more than four such games. Sam Bradford (19.1 points), Matthew Stafford (27.5) and Dak Prescott (19.5) have lit up the Packers, so Ryan will be my main focus when paying up at the quarterback position this week.
Jones is $1,300 more expensive than the next highest receiver in terms of pricing on the main slate, but with so much value open at the running back position, it's not overly difficult to work him in if you really want to use him. Jones carries a big ceiling to justify that cost as 40 percent of Jones' receptions have gone for 20 or more yards, the highest rate of all players with 20 or more catches on the season.
With Tevin Coleman expected to be inactive this week, Devonta Freeman ($6,900) becomes a solid option this week with the expected volume spike despite the potential matchup concerns. Freeman enters Week 8 ranking 11th in yards from scrimmage per game (96.7) amongst running backs despite having just 36.5 percent of the Atlanta touches on the season. Coleman is leaving 11.1 touches per game on the table and Freeman should scoop up about two thirds of those. Green bay has been a run defense to avoid, but they've also only been tested once on the season. Over their six games, the only team rushing for over 100 yards per game with the Green Bay meeting removed is the Cowboys. The Lions, Vikings, Bears, Jaguars and Giants are averaging just 85 rushing yards per game combined outside of facing the Packers. Atlanta comes in rushing for 114.6 yards per game and their backs average 176 yards from scrimmage per game. I definitely think the Packers are a good run defense, but I think they're in the middle of what their season totals suggest and what Cowboys game suggests. With 25 plus touches and all of the receiving and goal line work, Freeman is still a sound play.
One of the reasons why you may choose not to use Freeman is that Spencer Ware ($7,400) is still egregiously underpriced this week right above that price point. Kansas City is tied with the Patriots for the highest road team total this week and Ware is in a prestige spot once again to do the bulk of the damage for the Chiefs offense as the team remains cautious with Jamaal Charles. The Chiefs have thrown the ball just 47 times the past two weeks, the lowest of all teams to play both weeks as they have run the ball on 58.6 percent of their plays the past two weeks after 31.7 percent of their plays over their opening four games.
Ware has accounted for 75 percent of his team's rushing yardage (4th among running backs) and 18.9 percent of the receiving yards (first) despite having 37.2 percent of the team touches (13th). 42.1 percent of the runs against the Colts have gone for 5 or more yards, the second highest rate in the league and Indianapolis is allowing 162.1 yards from scrimmage to opposing backfields, the second most in the league behind San Francisco (188.9).
In this week's second largest over/under, the Colts side shouldn't ingored at home, either. Andrew Luck ($7,900) is a bargain given his recent performances as he's posted 18.7, 22.2, 24.4 and 27.8 points over his past four games. The Chiefs are generating no pressure on the quarterback, ranking 29th in sack percentage and have been torched in two of their past three games by high-end passers in ben Roethlisberger and Drew Brees.
T.Y. Hilton remains a strong value as well. He enters this week second among all receivers in targets per game (10.9) and third in the league in receiving yardage. Hilton runs 55 percent of his routes from the slot and another 23 percent from the offensive left side, so there are no worries about any potential limits that Marcus Peters may present as Peters lines up on the defensive left side for 92 percent of his snaps per Pro Football Focus.
I don't expect the return of Donte Moncrief ($5,400) to compromise Hilton's targets and although I have tempered expectations for players returning from multi-week injuries, Moncrief can be used in tournaments as a stacking partner for those using Luck as the Chiefs are allowing the most points to opposing wide receiving units.
Oakland at Tampa Bay is flying a bit low this week in terms of excitement, but there's a lot to like here. On the Tampa Bay side, Jacquizz Rogers ($6,600) is still in play as a value option and is stacking volume. Rogers has 62 touches in his two games as the starter with over 100-yards from scrimmage in each as 44.9 percent of his carries have gained 5 or more yards, the highest rate for all backs with 50 or more carries on the season.86.7 percent of the rushing attempts against Oakland have gained positive yardage, the highest rate in the league and the Raiders are allowing 155.6 total yards per game to backfields.
Mike Evans ($7,900) is the next receiver down from Julio Jones in terms of pricing and he leads the league with 12.5 targets per game. Evans has finished inside of the top-15 in scoring every week except for his matchup with Denver on the season and the Raiders have allowed a league leading seven 100-yard games to opposing wide receivers on the season.
On the other side, both Amari Cooper ($7,500) and Michael Crabtree ($7,100) are on the board here. The Buccaneers have allowed four different wide receiver pairing to post double digit points in the same game already and both enter this week as top-10 scorers on the season despite there being a massive touchdown gap between the two. 29.2 percent of Crabtree's points are from touchdowns, while just 5.4 percent of Cooper's have stemmed from touchdowns.
Play Splits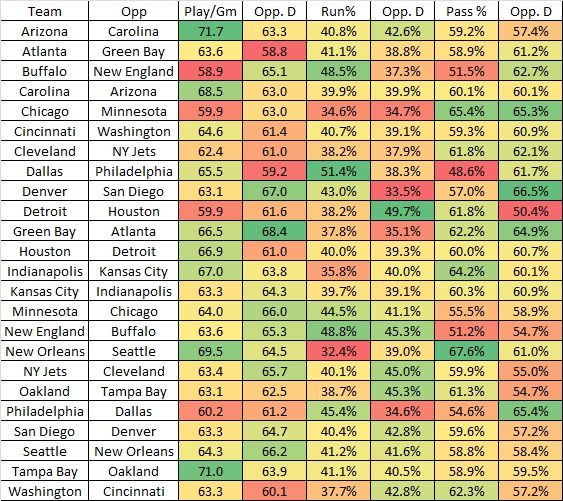 Here's where we'll get into Green Bay a bit as not only does this game have the highest total of the week, but it should feature a ton of snaps with Green Bay remaining extremely pass heavy.
Ty Montgomery ($6,500) is now listed as a running back and that nearly removes him from my board this week. As a receiver, he was a great value given how tight the receiver pricing typically is on FanDuel, but he's hard to use in the running back spot with Ware, Rogers, Freeman and an extreme value such as Devontae Booker ($5,600) laying on the table, all players that carry higher probability to reach the end zone.
Instead, I love the spot Randall Cobb ($6,800) finds himself in this week. With Jordy Nelson tying up Desmond Trufant and owners chasing the big game that Davante Adams ($6,600) had a week ago; Cobb should continue this hot run he's on in the middle of the field versus Brian Poole. Cobb has 11 or more targets in three straight games with 14.8 points or more in all three of those contests.
Things set up strong for New England to run the ball against the Bills at some point this weekend. Whether it's a part of the initial game plan or stacking volume late, LeGarrette Blount ($6,600) remains comfortably priced on a site that is driven by touchdown production. Scoring touchdowns is Blount does best, too. Since re-joining the Patriots in 2014, LeGarrette Blount has a rushing touchdown in 50 percent (12 of 24) of his games, the third highest percentage in the league over that span behind DeMarco Murray (53.6 percent) and Cam Newton (60 percent). The Bills have allowed 30 runs of 10 or more yards, the second most in the league behind San Francisco (33) on the season and the Patriots have led by two or more possessions for 40 percent of their offensive plays, the highest rate in the league. Until he's priced north of $7,500, you should be making a Blount tournament lineup every week.