Last week we kicked off this series with guards scoring around the rim, but this edition will focus on the forwards. In the introduction, I discussed how awesome LeBron James is around the rim, so check that out along with some info on the guards.

Speaking of LeBron, I just wanted to get my two cents in on Cramp Gate. People need to chill. He's had cramps before and muscles just don't work when they're not getting enough oxygen. Yes, he's the greatest player in the world and could probably dominate at 55 percent, but he was nowhere near that with his self-proclaimed bionic leg not anywhere near optimal condition.

Good forwards

Kevin Durant

He's really the only player even close to LeBron James in efficiency around the hoop. Durant increased his shooting around the rim to an extremely efficient 77.5 percent, which is up from 71.1 in 2012-13. It's the second time he's shot above 75 percent at the rim in a season and his percentage has trended up since his 60.2 percent in his rookie season.

Durant's overall efficiency actually dropped off from last season due mostly to a drop off in his non-restricted-area shots in the paint and from beyond the 3-point line. He missed just two dunks all season and really improved on taking contact on his layups. Obviously, there's no concern about the reigning MVP dropping off and he's a no-brainer pick at number one in fantasy drafts next season.

Kawhi Leonard

Excluding the offensive juggernauts, Kawhi Leonard is one of the best small forwards in the NBA in scoring the ball efficiently. He attempted 33.6 percent of his shots at the rim to get him to 52.2 percent from the field. When adding his career-high 37.9 percent from downtown, he ranked seventh in the NBA for effective field goal percentage. Leonard actually got stronger after the break after his broken hand injury, posting a 53.1 percent in that span.

Like most Spurs, he can thank coach Gregg Popovich. Leonard had 59.3 percent of his buckets come via an assist, including 57.0 percent at the rim. By comparison, LeBron had 36.4 percent overall and just 43.7 percent of his buckets at the rim come via an assist. The Spurs continue to rank among the elite in getting great shots and Kawhi will continue to do so as long as he's there.

Additionally, his jump shot improved three percent from 2012-13 and he has room to grow at just age 22. His fantasy owners enjoyed Kawhi putting up top-five value after his return from injury and I'm not betting against him to put up first-round value next year. Ka-Buy Leonard? Sorry, I'll show myself out.

Blake Griffin

Some people foolishly will say Blake deserved to be a First Team All-NBA forward, but he really came on as an offensive weapon this season. While his field goal percentage did drop from 53.8 percent in 2012-13 to 52.8 percent last year, his offensive arsenal grew quite a bit. Here's a side-by-side comparison of the two seasons (2013-14 on right):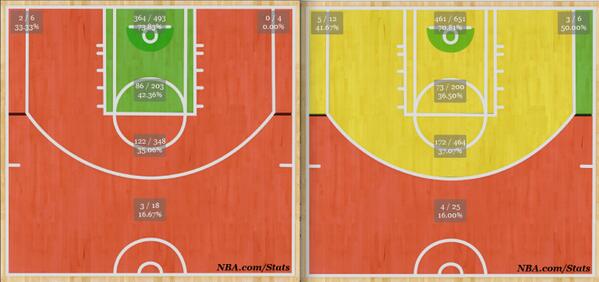 While he did shoot a lower percentage around the hoop, those shots account for 47.9 percent of his total in 2013-14 vs. 46.0 in 2012-13. Part of that was due to Griffin settling for less 4-10 foot shots and his improved jumper made his on-ball defender play him a bit tighter, making it a little easier for him to get to the rim.

Griffin's offensive issues have never really been from the field and we'll all be watching to see if he can shoot 71.5 percent from the line again. For what it's worth, his free throw percentage trended up as the year went along, so he at least has a chance to flirt with 75 percent next year.

Thaddeus Young

Ah, the Sixers. They were last in the NBA in offensive efficiency and first in pace. Their inefficiency led to Thaddeus shooting a career-low 45.4 percent from the field, which was a far cry from his 53.1 percent last season.

It's not too tough to explain since he attempted a whopping 3.7 triples per game — up from 0.1 in each of the past two seasons. While the 45.4 percent is a somewhat tough pill to swallow for fantasy owners, it wasn't too inefficient for the Sixers because the treys translate to an effective field goal percentage of 51.7.

Thad would have been in really bad shape had he not been able to get to the rim. While he did shoot an underwhelming 60.3 percent at the rim, he ranked sixth in the NBA in attempts. Those shots accounted for a massive 44.0 percent of his total shots during the season. In fact, if those shots were subtracted from his total, he would have shot just 33.7 percent from the field.

Coach Brett Brown is from the Gregg Popovich school of thought regarding getting more shots at the rim, so the high volume should continue next season. If he gets some help on the outside — the Sixers ranked last in 3-point percentage — Young should get back over 47 percent and even closer to 50.

Anthony Davis

He's been in the news recently for adding 15 pounds of muscle and that he is expected to take some 3-pointers this season. If he is going to take more treys, that could mean AD shoots a lower percentage. Personally, I'm not worried.

Davis was beyond his years at the rim, making 67.6 percent of his shots at the rim, which accounted for 44.5 percent of his total. While he may have just one eyebrow, he has a multitude of moves to get his shot off with as little impact from the defense as possible. Here are his most common shot types from last season: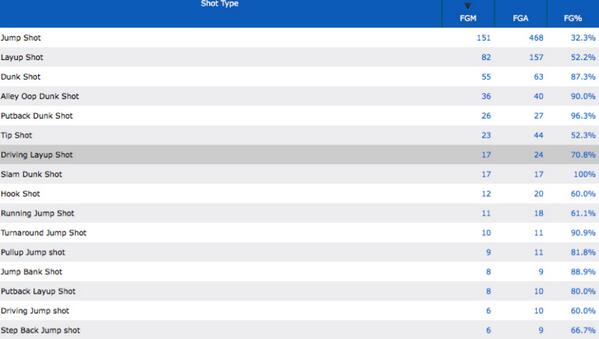 It's great to see how terrific he is in so many areas. Particularly, he excels on offensive rebounds, hook shots and off the dribble. I wrote a bit about Davis adding a 3-pointer earlier this week, so here's some of that in case you missed it:

He is expected to add some corner 3s to his arsenal. This was a move made popular by Serge Ibaka a couple years back and it paid off. Two seasons ago, Ibaka shot 35.1 percent from deep and he actually increased it to 38.3 percent last season. While Ibaka did shoot a pristine 54.4 percent from the field last year, his 38.3 percent from 3 equates to 57.5 effective field goal percentage — because treys are worth 150 percent as much as twos. It's certainly not a stretch to think Davis can hit treys at a similar efficiency as Ibaka. In fact, he shot 56.3 percent on shots greater than 20 feet last season. Although, he only attempted 16 of those on the entire season, so it's not a strong indicator due to small sample size.

Basically, he's trying to be the best offensive big man in the league. His two holes are low-post and adding a 3-point shot, so he certainly would be an offensive stud if his offseason efforts work out. He is 21 years old.

Kenneth Faried

This isn't a hard one to figure out. Chances are if you see him on a highlight it's for just one reason: The Manimal dunking. Although, the best dunk of the year came at his expense when Terrence Ross threw one down on him. I still have this wallpaper on my phone.

To the surprise of nobody, Faried shot 54.5 percent from the field with just 12.8 percent of his shots coming from outside of the paint. He wasn't spectacular or anything in terms of efficiency from within three feet, making 65.6 percent of his 12th-ranked 483 attempts.

His game isn't going to change any time soon and his presence on the glass will always keep him close to the hoop. The Manimal hasn't shot below 54.5 percent in any of his three seasons and he'll likely keep that going in his fourth season in 2014-15.

A few others with nice shooting at the rim: Andre Iguodala, Terrence Jones and Tobias Harris

Bad forwards

Carmelo Anthony

When it comes to inefficient volume scorers, there are not many worse than Carmelo Anthony. He actually had his second-best season behind the 3-point line at 40.2 percent and while making a career-high 167 treys, but he really fell off around the rim en route to a 45.2 percent from the floor. Here's his shot chart: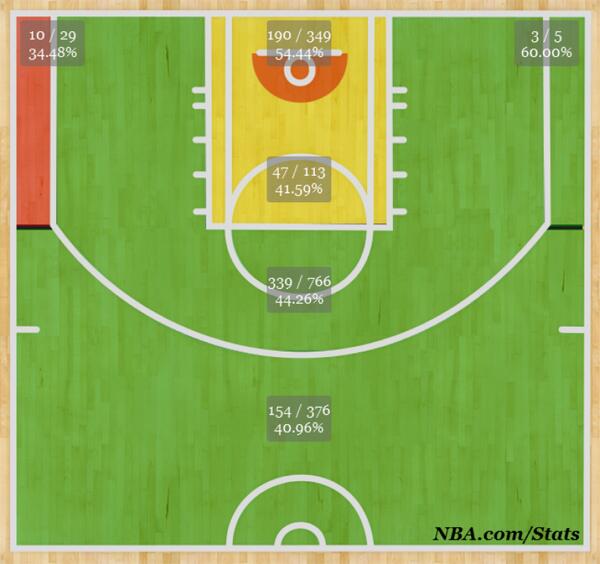 He also shot just 53.0 percent at the rim last year, and these last two seasons were his only two below 55 percent since his rookie year. Perhaps it had something to do with Mike Woodson or it could be Melo aging a bit.

He shot a ridiculous 766 mid-range shots last year, which is the second most of any player in a season in the past four (LaMarcus Aldridge with 899 in 2013-14, and LMA's 13.1 mid-range shots per game were the most since Michael Jordan's 15.1 in 2001-02). Melo's mid-range shots accounted for a stunning 46.6 percent of his total — the first time he's ever been above 42 percent in any season.

Clearly, his style of play has changed. Part of that has to be due to his head coach. There are few others who embraced attacking the rim like George Karl, so the drop was to be expected once he was dealt to NY. Mike Woodson's teams have never really attacked the rim and they set a record for most team triples in 2012-13. Hey, Woody actually let J.R. Smith shoot an NBA-record 22 treys in a game, right? I'm pretty sure George Karl, Smith's coach in Denver, would have never allowed that —he shot above 50 percent from deep each of the four times he attempted more than 15 treys, and never shot more than 18.

We'll definitely re-visit this issue on Melo once the Knicks hire a coach, so make sure you check out my NBA Week in Review on the week that news hits. As it stands right now, I would say Melo's percentages are going to take a bit of a trend down just because that incredibly high mid-range total from 2013-14.

Ersan Ilyasova

Yep, if you drafted him this past season, he's probably on your "never again" list. As you can expect, his shot chart is really, really bad: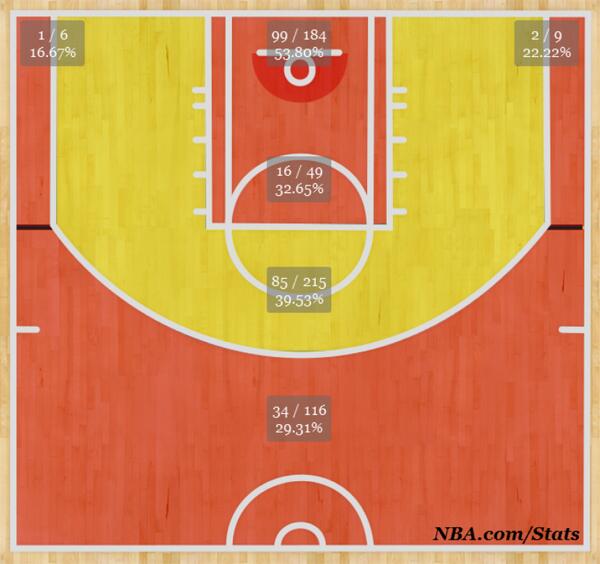 As far as players with a decent sample size go, there are not many worse than this guy. His 44.1 effective field goal percentage matches Brandon Jennings. This massive dud came as a huge surprise after he torched the NBA after the break in 2012-13. In that span, he posted a sterling 54.6 effective field goal percentage and put up high-end fantasy value.

He's never really been a guy who attacks the basket and is kind of the poster child of a guy you don't want on you fantasy team with respect to field goal percentage. A power forward taking less than 40 percent of his shots in the paint is absurd — Ryan Anderson notwithstanding. No thanks.

Zach Randolph

When a power forward only has 46.3 percent of his buckets coming off an assist, that's usually going to lead to some relatively inefficient scoring. In fact, that assisted percentage ranked dead last among all power forwards and centers with at least 20 minutes per game. As a result, Z-Bo shot a very ugly 53.8 percent at the rim.

If you're going to draft Randolph, you're basically just going for points and boards. He's never really been a guy who translates to Roto leagues and I won't be drafting him.

Tristan Thompson

Tristan had a buzz bigger than insects in Texas last season when the Longhorn decided to change his shooting hand. While he actually increased his free throw shooting from 69.3 percent in 2013-14 from his previous career FT% of 58.6, he did drop a bit on his shooting from the field. Thompson shot 47.7 percent in 13-14 and 48.8 percent in 12-13.

His shooting at the rim dropped off with the change, making 58.8 percent in 2012-13 and just 55.7 in 2013-14. As far as his distribution went, it was more or less the same outside of just a few more mid-range jumpers in 2013-14.

Thompson was a big letdown after a stellar preseason. He fell off a cliff with output in blocks in steals, so he's certainly not a guy you'll want to target in drafts next year.

Ryan Anderson

You're definitely not drafting Ryan Anderson for field goal percentage. He shot just 51.3 percent at the rim last year and has never been over 59 percent in any season. His shots at the rim accounted for just 22.0 percent of his total, which was more about the small sample size. He was rolling before he went down to injury and I would love to see him come back strong next year.