Well, so much for the offseason. Thursday had a ton of news and most of it involved some high-profile players. The NBA offseason is a little different than some of the other sports. While things really die down for MLB and NFL following the season, the NBA's draft is the very next week. After that, we'll have tons of analysis of the rookies and younger players at summer leagues from July 6-21.

You'll want to check out our player news page as much as you can, but I'll basically be looking at the bigger stories of each week and breaking them down a little more thoroughly here.

You can follow me on Twitter Follow @MikeSGallagher
//

Joel Embattled

The biggest news of the day was that Joel Embiid suffered a foot fracture and will undergo surgery on Friday. The extent of the injury is not yet known, but he sounds like he's out for summer league.

There are a ton of ramifications from this injury. The most obvious is that this really hurts Embiid's chances of being the top pick. The Kansas product suffered a stress fracture to the lumbar region of his spine last season, and now this injury has presumably come in a workout. Whether it's fair or not, we're all going to be thinking Greg Oden here because of how Oden showed some durability concerns coming into the draft. Although, Oden had a few more injuries even before he entered Ohio State. I tried to do a little digging on Embiid to find out if he had any injuries before Kansas, but came up empty. That said, foot and back injuries are not good for a 20-year-old big man.

With Embiid now losing value, this is obviously going to help the other elite rookies. Before the combine, the prevailing thought was Embiid, Jabari Parker and Andrew Wiggins were at the top, then it was everyone else. Now with Embiid down, Parker and Wiggins seem like they're going to battle for the top spot. The Cavs were reportedly closer to Parker, which makes him the most likely to go off the board first.

Another interesting player affected by all this is Dante Exum. The Cavs are going to work him out this week and it would be much less of a shock of Exum going number one than Anthony Bennett was last year. Exum is an absolute freak and can play both guard positions. I still don't think the Cavs would take him at number one and the workouts are likely just to gauge whether they'd be willing to trade back and take him at three or so.

Speaking of which, the loss of Embiid as an elite player changes the value of the draft picks. Let's put this in fantasy draft terms: The past few years all the talk has been whether to take LeBron James or Kevin Durant as the top pick. If you evaluated them evenly, those two picks have the same value to just you. However, there is a big drop off from the second to the third pick because that caliber of player is nothing compared to the aforementioned two. That's kind of where the 76ers are at their third pick. They were looking at getting one of the three best players in the draft and possibly their No.1 player on their board, but now their chances of coming away with their favorite player on the board seem to be much less. By the same token, this also helps out the Bucks with the No. 2 pick. Plus, if Embiid slides to the Magic, Jazz or Celtics, it gives those picks much more value. After all, Embiid is believed to be the best center prospect in the past decade or so. It just takes one team to want to roll the dice.

Check out the last section of this article for my latest Mock Draft.

Kawhi not now?

Coach Gregg Popovich said that he's going to start drawing up plays for Kawhi Leonard. Previously, Leonard only saw looks due to how the offensive flowed, which is a bit of a surprise considering he ranked in the top 10 for effective field goal percentage among qualifiers.

Kawhi was actually awesome in isolation, making 42-of-84 attempts to rank fifth in the NBA (Synergy). He also ranked in the top seven for scoring as the PNR ball handler, post ups and off screens. Yes, it's kind of crazy Pop didn't go to him more often.

As you've probably heard 100 times by now, Kawhi ranked fifth after he returned from his hand injury on Feb. 26. There is no way he should go past the second round and I'm planning on targeting him in the top 10. I wouldn't be shocked if he finished in the top three.

Patty Mill$

The Knicks are believed to be interested in unrestricted free agent Patty Mills. Why wouldn't they be? He ranked in the top 10 among qualifiers for effective field goal percentage last season at 56.5 — no Knick backcourt/wing player ranked in the 50 — and was also at 56.0 in the postseason.

Many of Phil Jackson's teams had a sharp-shooting, score-first point guard while he'd let his system create the assists. Building off the eFG% points in the first Mills paragraph, he had a ridiculous 65.5 effective field goal percent on his 216 spot-up shots last season. *Ace Ventura voice* Yummy!

If he gets starters minutes with the Knicks, it could be a stat fest. He's only played over 30 minutes just four times in his career, so it should be interesting to see if he can get that kind of playing time. Regardless, I'd put him as a top-70 guy should be get 26 or more minutes. He did come in at No. 80 last year in just 18.9 minutes despite a somewhat average usage rate of 22.5 percent.


Dwyane Wade 3.0

In his press conference on Thursday, Pat Riley said Dwyane Wade should absolutely "reinvent" himself. Riley didn't get into it, but it's not too tough to figure out what he means. It is about being able to stay on the court.

Earlier in his career, Wade would go to the rim at will and would take on too much contact. It's led to a lot of bumps and bruises and his knees just aren't strong enough to take the impact from playing around the rim. In his first two seasons, Wade attempted 47.3 percent of his shots at the rim. Those numbers have trended down and he hasn't attempted more than 42 percent in any season since.

He was taking many more mid-range jumpers this past season with 38.0 percent of his shots coming from that range, which is his highest percentage since 2008-09. He didn't really come off screens or as a spot-up shooter with those attempts accounting for just 18.8 percent of his shot total in 2013-14 (Synergy).

He'll need to be able to score more without using his dribble, and I'm not too sure he can do that. Wade didn't really suffer any bad injuries and he was still only able to play in 54 games in 2013-14. You have to be crazy to draft him, especially in weekly leagues.

Roses are ready

For the second offseason in a row, we're forced to listen to Derrick Rose injury talk. The good news it shouldn't be nearly as bad since the former MVP said he would be able to play in a game right now.

His season-ending meniscus tear is small potatoes compared to his ACL tear from back in 2012. Typically, meniscus tears will sideline a player from 4-8 weeks depending on the severity and whether it was to the medial (inside) or lateral (outside) meniscus. Rose's was a medial tear, which has a usual prognosis of 4-6 weeks, so he's obviously taken an absurd amount of time to get healthy.

If Rose is just getting to 100 percent now, that means he's taken almost seven months to recover. That's at least five times as long as how long it should have taken. He was going in the first round of drafts last year and I wouldn't even consider him in the top 15 in upcoming drafts. Someone in your league will take him in the top 10.

What's Love got to do with it?

Thursday brought another big update on the Kevin Love sweepstakes with the Warriors now making Klay Thompson available in a trade. That would clearly be the best player they've seen offered to them and it should certainly get the Wolves' attention.

The Nuggets have quickly got in the mix to trade for Kevin Love as well. They are reportedly offering Kenneth Faried, Wilson Chandler and would flip Arron Afflalo to them to get Love. Presumably, they would be using the 11th pick in the draft to get Afflalo.

Another deal is the Celtics offering the sixth pick, 17th pick and someone like Kelly Olynyk or Jared Sullinger. Recently, those reports have been shot down, saying it's not enough to get it done. That's kind of obvious because they aren't getting a stud back.

The Wolves aren't in a great position because Love's desire to be traded has lowered the trade market on him because of how there is such an obvious need to trade him. There should be some better offers on the way.

Melodrama again

Hey, we actually went a few days without a Melo update. That changed on Thursday with the likely UFA saying he had a "great" meeting with Phil Jackson and Derek Fisher last weekend. What else is he supposed to say, though? If he said he had a terrible meeting, that could potentially have cost him money and would ultimately hurt the Knicks this summer.

Secondly, Melo isn't LeBron. He's not the kind of player you bring on your team and you're instantly a championship contender. The Knicks went 37-45 for the 19th-best record in the NBA. Plus, they even won the last two games of the year without him — the Nets and Raptors were resting guys, but still.

On top of the Knicks, there were some recent developments in Melodrama with the Rockets and Heat. Dwight Howard has said he's always been a fan of Melo and there are reports of the Rockets as the frontrunner to get him. In case you were under a rock last summer, they pulled off the biggest news of the offseason to reel in Howard. General manager Daryl Morey is as crafty as they come and will figure out some way to get Melo, assuming the All-Star wants to join.

Pat Riley said getting Carmelo Anthony would be a "pipe dream" in his press conference on Thursday. However, he did add the 2010 scenario of getting LeBron and Chris Bosh was also a pipe dream. In other words: Ignore this one.

Another LeBron decision

Ah, the fun part. The two biggest reports to come out in the past two days have been ESPN saying LeBron is likely to opt out and the Sporting News saying he is "very likely" to stay with the Heat. In other words, the most likely scenario is that he will sign a new long-term deal with the Heat. That deal would likely be a five-year, $129 million contract.

On top of those reports, there was a bogus report flying around the internet that he enrolled his kids in an Ohio school, but that was shot down moments later from some of the team beat guys. I don't think he's going anywhere and I'm sure you're just as tired of reading about him as I am. OK, maybe not as tired as me.

Oh Rage, Julius?

The news on Randle won't die down and he seems to be as mad as the Mad Rapper. Every day he's responding to how he doesn't need foot surgery. In case you missed it, Yahoo! Sports reported that Randle will need foot surgery following the draft. The Kentucky forward has vehemently denied this report and even gave Woj an @ mention on Twitter. Not smart, Julius.

He has been working out for a lot of lottery teams and it's been mostly positive news. The power forward absolutely shouldn't slide out of the top 10 and he could make an impact in his rookie year as a top-five player in this draft class. Randle would obviously need to be in the right situation.

Buck shots

To the surprise of nobody, the Bucks are looking to make some moves. They had one of the most disappointing seasons in recent memory after they were believed to have a solid offseason. As it turned out, just about every signing was a major failure. Larry Sander, Ersan Ilyasova, O.J. Mayo, Zaza Pachulia, Gary Neal, Carlos Delfino and Luke Ridnour. That's basically NOPE⁷.

When teams have such a massive offseason fail, it's going to take a few years to bounce back. Remember when the Sixers traded for Andrew Bynum? Yeah, they know they have their hands full. That seems like the plan for the Bucks and there are rumors that they will be trading Brandon Knight or Larry Sanders.

The problem is that they don't have any young depth behind those two guys. Ramon Session was a success for the Bucks in his time with the team, but it's hard to believe the team trusts him as their franchise ball handler. Meanwhile, the Bucks had one of the worst interior presences of any NBA team because Ersan Ilyasova — also on the block — doesn't know how to get to the rim. John Henson seems like a safe bet and did show some signs of life as an offensive weapon.

If the Bucks are able to pull off a deal for a lottery pick, the two players they select are likely going to be favorites for Rookie of the Year. They really had no offense and coach Larry Drew should try to get his new guys up to speed quickly.

Kobe Cabana

Kobe Bryant was spotted at the World Cup and said his knee is 100 percent. This shouldn't be a surprise after there was speculation for much of the season that he would make it back on the court. The news on Kobe started to go south until early February before he was officially ruled out for the year on Mar. 12.

Being ruled out did come as a surprise as his initial prognosis to return was on Jan. 28. Obviously, we have to give Kobe the benefit of the doubt here. This is the same guy who was ruled out "indefinitely" with an ankle sprain and he was back out there for the very next game last season. Plus, he missed the two following games because his ankle was so bad.

It's pretty obvious that Kobe will be at 100 percent after a catastrophic 2013-14. It's going to be really tough to say what he might do as far as being one of the best players of the world goes. He was actually getting to the basket more in 2012-13, which led to a fantastic 46.3 percent from the field. What's more, his 1.7 triples per game led to a career-high effective field goal percentage of 50.4.

I don't think you can take him in the first round and maybe in the top-20 picks, but I'd be looking to pounce in the third depending on which other players are there.

Charlotte Hornets are back!

If you grew up in the 90s, you probably had a Larry Johnson Charlotte jersey. The Hornets brought 'em back on Thursday and they look pretty cool (except no pin stripes!).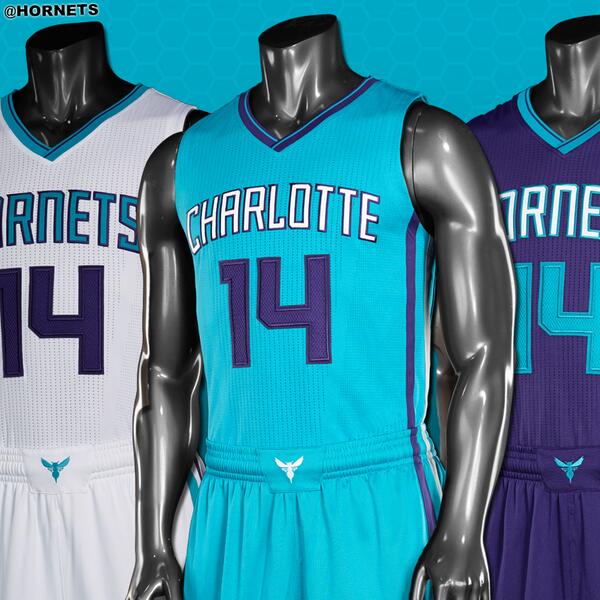 MKG!
Quick Mock
1. Cavs - Jabari Parker - They were close on Parker vs. Embiid, so now it seems like a near lock.
2. Bucks - Andrew Wiggins - The only way to fly.
3. 76ers - Dante Exum - This one really hurts Philly. I think this pick gets traded one way or another.
4. Magic - Marcus Smart - Another huge winner from the Embiid news. Perhaps the biggest.
5. Jazz - Julius Randle - Everything I read from Utah suggests they love Randle. Although, they would much rather have Exum or Parker. Deal?
6. Celtics - Aaron Gordon - Gordon alley-oops could be fun with Rajon Rondo.
7. Lakers - Joel Embiid - Someone has to take him.
8. Kings - Noah Vonleh - He has a decent jumper and the defensive upside fits nicely next to Cousins. Sacramento has wanted a complement for DMC for a while.
9. Hornets - Doug McDermott - Would this mean Josh McRoberts isn't coming back?
10. Sixers - Jusuf Nurkic - The Sixers still need a center next to Nerlens Noel.