Yesterday was pretty cool for DFS. One of my friends Gabey Harber took down two of the top 10 finishes in the FanDuel Slam. Gabey does a lot of stuff for RotoGrinders and you can find him on Twitter @CrazyGabey.
 
Anyway, he did his damage with my favorite strategy: Stars and Scrubs. The key to that plan is finding two guys who have a very high ceiling based on their value. Basically, it means they have a chance to score 30-35 points while their price tag is near $4K on FanDuel. This allows you to play multiple superstars. For instance, Gabey had Kyrie Irving, Russell Westbrook and Anthony Davis in his lineup last night.
 
So what gives a guy a high ceiling? First and foremost, you're going to need a guy to get 25 minutes of playing time that night. There are some guys who can put up points in 20 minutes, but you're leaving yourself a small margin of error. Basically, they're going to have to be extremely efficient and/or put up defensive stats.
 
The other big thing is usage rate. Every week, I'll write a column focusing on usage rates with Use It or Lose It. To sum it up, you're going to want a guy to have his usage at around 20, which means he's involved in the offense as much as an average guy. An example of a bad guy would be Iman Shumpert, who played 28 minutes on Wednesday and only had a usage rate of 8.4. Obviously, that's not going to get it done.
 
Points aren't the only stat to matter, but small forwards and shooting guards are absolutely going to need the usage rate to be there. Point guards and big men can get away with lower usage rates because they'll do more than score. Plus, steals and blocks will be difference makers in GPPs.
 
Obviously, there are a handful of players unable to put up numbers. So I thought it would be cool to just go over all the eye-catching minimum guys (under $4,000). Most of these guys will need a break with an injury, but many of them are on here because they're capable of playing multiple positions. That means, there are multiple avenues to step up when a team gets an injury. Some of these guys are not great options, but I get a lot of questions about them on Twitter (usually because they have minutes going their way that night).
 
Follow me on Twitter @MikeSGallagher
 
Lance Thomas - He's not under $4,000, but I had to throw him on here because he plays tonight and I don't think Carmelo Anthony plays. Here's a look at how often he was used in lineups on Saturday: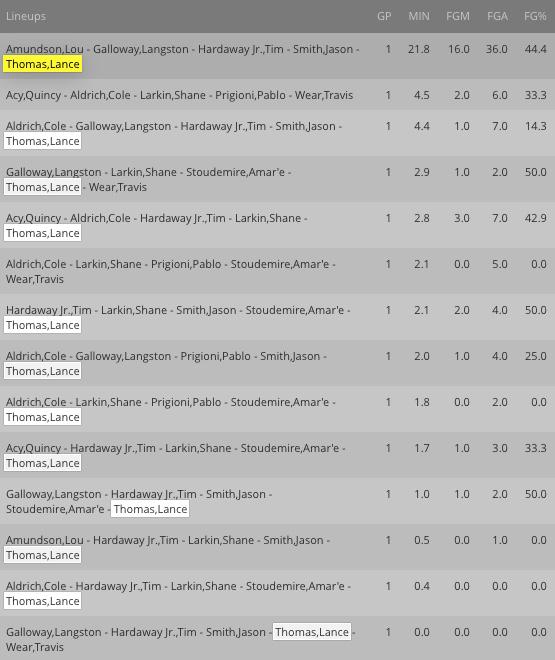 Translation: $$$
 
Jordan Clarkson - He won't be cheap for long. Use him at every chance you can right now. I covered him in detail on Tuesday.
 
Zach LaVine - Well, he is an obvious choice after a very impressive game on Wednesday. LaVine i more of a score-first PG, so he'll have a decent floor in a good matchup. Of course, there's a time limit on his value with Ricky Rubio around the corner.
 
Jerami Grant - This is probably my personal favorite. He is taking a ton of chances and that's all his fantasy owners can ask for. He's hit his value four of his past five games. Coach Brett Brown loves him.
 
Kyle Singler - His usage is really low, but keep an eye on him. If any of the starters get hurt, he'll gain value. Of course, he has a very low ceiling.
 
Bojan Bogdanovic - He is back in the doghouse. Once the Nets trade someone, it should help him out because the Nets will want to develop him. Alan Anderson is in play, especially on the nights the Nets sit guys.
 
Gary Neal - His minutes haven't jumped much and that has a little to do with Lance Stephenson being healthy. If Born Ready goes down, there's a chance he puts up numbers. Neal's usage rate is 24.5 this season. That's gold.
 
Jae Crowder - He should get the biggest increase in minutes once Tayshaun Prince is traded/cut. He needs a good matchup, though.
 
Spencer Dinwiddie - If D.J. Augustin goes down, Dinwiddie would likely see minutes in the mid-20s. Maybe more depending on how well the Pistons play.
 
Perry Jones III - A very low usage guy, but he'll need to step up on the nights without Russell Westbrook. For what it's worth, you're probably going to want to roll with Dion Waiters on those nights.
 
Randy Foye - He hasn't been able to stay healthy, but he'd step up if/when Arron Afflalo goes down. Foye is also on the block.
 
JaVale McGee - I'd say 95 percent of the time I wouldn't go bargain hunting at center. Because you can only use one, it leaves you a small margin of error. Plus, McGee is not going to play many minutes.
 
Andre Miller and Garrett Temple - John Wall is dealing with a couple things, so Miller might get some starts. He won't have a high ceiling, though.
 
Danilo Gallinari - If he starts logging 26-28 minutes Gallo could be a nice option. He showed some signs on Wednesday, scoring 11 points with two rebounds, two assists, one block and three 3-pointers.
 
Trevor Booker - He gets minutes in the 20s when any of the three big men in Utah go down. Plus, his rebounding rate is good.
 
Jonas Jerebko - He plays both forward spots, so any injury to a frontcourt guy would help. Plus, an injury to a shooting guard would push guys around. Brandon Jennings' higher usage out of the picture also helps his case.
 
Omri Casspi - He's been successful in his starts without Rudy Gay, averaging 18.0 points, 4.0 boards, 2.0 assists and 0.5 steals.
 
Cleanthony Early - The Knicks will need to tank hard.
 
Aron Baynes - If Duncan sits, he's in play (again, be careful with cheap centers).
 
Lou Amundson - He's stepped up in the last two. Plus, 32 minutes on Wednesday! Give him a look tonight.
 
Dante Exum - The milk has gone bad and his usage rate is too low anyway. Exum will start, but he's not going to get the ball in his hands enough to be a consistent factor.
 
Travis Wear - If Melo goes down, Wear is in play. Although, he's been passed by Lance Thomas.
 
Nikola Mirotic - His price has plummeted. If any of the three bigs go down (Taj, Joakim and Pau), he's definitely in play.
 
Mike Scott - The Spurs East will rest guys. Scott has a very nice usage rate and will hit his floor on a start.
 
Ryan Kelly - Low usage and doesn't do much else. He'll need Wes Johnson and Nick Young to miss time.
 
Kirk Hinrich - Unless Rose and Butler are out, he's not in play. Low usage rate.
 
Tony Snell - Just like Shumpert mentioned in the intro, Snell's usage is in the dumpster most nights. Unless Butler and someone else misses time, he's not a guy I'd like to use.
 
Patrick Mills - If Tony Parker sits, this is the guy you'll want to use and not Cory Joseph. Mills usually has an awesome usage rate when he gets minutes.
 
Anthony Bennett - If Thaddeus Young gets dealt, Bennett could be in play. Although, he might need Nikola Pekovic to get hurt too, which is going to happen.
 
Kosta Koufos - He'll need Marc Gasol to miss time, but he's solid per minute.
 
Tarik Black - Coach Byron Scott loves him. Once Jordan Hill goes down, you'll want to consider him. It also helps he's a PF.
 
Shane Larkin - Langston Galloway has trumped Larkin. And don't forget the Knicks didn't pick up his option, so he's probably gone next year.
 
Derrick Williams - He plays both forward spots, but Carl Landry getting significant minutes has put a damper on his run.
 
Cory Jefferson - The Nets are tanking, so Co-Jeff might get some extended run.
 
 
Buy Low, Sell High
 
 
OK, so not everyone gets down on some DFS. Here's a quick-hit approach on some guys showing some misleading value:
 
Buy Low
 
Nicolas Batum - He's finally coming around on the non-scoring stuff. However, Batum has made just 34.0 percent from the field in his last two weeks. If you can get him at a price of a top 80-100 guy, do it. For what it's worth, a lot of people ask me about cutting him.
 
Kyle Lowry - He has been kind of awful since DeMar DeRozan returned. Lowry was a first-round guy last season with team healthy. If for some reason his owner forgot about that, go get him. You might be able to get him for a top 25-35 guy, which works.
 
Mike Conley - He's banged up, but this guy is a top-25 player. If you can convince his owner you "need" a point guard, maybe it'll go down.
 
Sell High
 
D.J. Augustin - I love DJA and write about him on Use It or Lose It about how he's going to light it up. However, the Pistons are looking to add a point guard and he's a very inefficient shooter. Plus, the TOs are there. If you can unload him for a top-50 guy, do it. I think he'll be a 60-75 guy for the next month, though.
 
Derrick Rose - Simply put, it's only a matter of time before he misses time. Rose is also making way more threes than usual. If you have him, trade him now.
 
Thaddeus Young - He is going to lose minutes with Kevin Martin back because Gorgui Dieng at the four has worked.
 
Rajon Rondo - Trade him for anything you can.  Hassan Whiteside would be great. I'd take Jordan Clarkson over him, too.
 
Khris Middleton - He is putting up early-round value in 2015. I think he'll be a mid-round guy.
 
Nerlens Noel - He's shooting the ball well from the line right now, so his value is off. I'd try to trade him for a top 50-60 guy.