Welcome to the first Buy Low, Sell High of the season! If you're new to the idea, let's just go over some concepts to think about when it comes to making a deal.
 
Two for one deals are your friend, especially in shallow/standard
 
If you're reading this, it's pretty obvious you care about your fantasy team. Generally, that means you're going to be very aware of the waiver wire and can make pickups much better/faster than your competitors. 
 
However, that ability has a downside because it often means you're going to have to cut someone. That cut player will likely be better than someone's last bench guy, so you might not be able to get him back once you let him go.
 
That's the beauty of a two-for-one deal. If you can trade two of the guys for one, you're basically making your team more potent at the top and you can pick up another guy — possible deal him again later.
 
The bottom line is your bench players are your bench players for a reason. If you have to throw them in to get a deal done, do it. 
 
Not everyone values players the same way
 
Some fantasy owners just don't like certain players. You can't sell someone a guy if he doesn't want him no matter how much you think you're helping him/her make the team better.
 
This is a big reason why it's sometimes better to communicate on trades. It makes more sense to email/text/call someone to find out if they're interested in a guy. If they're not, then you're basically wasting your time.
 
 
If everyone thinks he's a buy-low or sell-high player, then he's not
 
To dumb this down, if a guy is out for the season, then nobody is going to want him.
 
An important thing I always try to remember is that you should target an owner and not a specific player in a trade. Any information is helpful. If you know that an owner is a Knicks fan, they may want Melo (obviously this isn't always true) or if you know you took a player right in front of them and they complained about it, then maybe they still like that guy.
 
A great tool to use is the cumulative stats for your league. This is obviously built in for Roto, but owners in H2H leagues should know their weaknesses. People will believe numbers over opinions. In other words, telling them they need rebounds is not as influential as showing them they're last in boards on the year.
 
OK, so this probably isn't going to be the normal buy-low, sell-high column you'll see. Personally, I can't stand when I see columns about trying to trade a guy you just picked up after his one big game. People in your league can't be that dumb.
 
Buy low
 
Serge Ibaka - Players can go in slumps. It isn't always about shots and every once in a while shot blockers just aren't getting their chances. Ibaka has just 1.3 blocks per game on the season which is half of his career average of 2.6.
 
So what's up with that? The Thunder have actually been really bad in keeping teams away from the basket, ranking third in shots allowed from within five feet. That's usually where the shot blocker will get their chances, so this looks like a fluke. He'll be back around two soon.
 
He's also turning the ball over a lot, which isn't a huge surprise because he's usually all catch-and-shoot or just dunking the ball. As it turns out, he's still doing that a lot with a whopping 93.5 percent of his shots coming on one or less dribbles.
 
As far as his offense goes, he's actually been great. While only attempting 27.2 percent of his shots from within 10 feet, he's still been able to turn in a 54.2 field goal percentage. Plus, he has a career-high 2.3 treys.
 
He's been a mid-round guy so far, but he's easily a top-12 guy in nine-cat leagues.
 
Carmelo Anthony - Another obvious one here. Melo is just not making shots and he's taking a lot of them, so he's among the worst players to impact a fantasy team's field goal percentage.
 
As you might expect, he's just not getting open looks. Anthony has been open (a defender six-plus feet away) just 8.1 percent of the time so far while he's taken 16.9 percent of his shots with a defender right on him (less than two feet). He's a quick look at his shot distribution based on defense:

Basically, he needs to take better shots. Melo attempted by far the most isolation shots last season and it looks like he'll do it again. Still, he's likely trying to learn a new system in the process and it should start to click soon.
 
Additionally, his boards are way down, he has a career-low steals average and his 75.0 percent from the line is also his worst ever. He'll be fine and is still a top-15 guy. You might be able to get him as a top-25 guy.
 
Kawhi Leonard - We were pretty boisterous when it came to Kawhi Leonard. A lot of people think he's a bigger bust than JaMarcus Oden, but he really hasn't been that bad. He's still be a top-90 guy on a per-game basis, which is better than Rajon Rondo, Carmelo Anthony, Joakim Noah, Paul Millsap, Blake Griffin and Kobe Bryant. 
 
All that we're missing is the scoring and Leonard said he's still dealing with blurry vision. His doctors told him it'll get better and we have every reason to believe them. Based on some research, there's really no indication that conjunctivitis has long-term effects. 
 
If his owner gets caught up in points, you can probably steal him.
 
Side note: Points are one category.
 
Andre Drummond - He's been a totally different player. He used to be all dunks, but now the Pistons are actually asking him to create his own shot.
 
The big thing is his post-up moves. Interestingly, the more he's dribbling, the worse he is at making shots. Check this out:
 

Now here's what 2013-14 looked like:
 

 
It's a pretty clear inverse relationship this season and the Pistons really need to get him in a better spot on pick-and-rolls. His field goal percentage is about 20 percentage points lower, which doesn't even make sense for a guy that is so close to the basket (all shots are from within 10 feet).
 
The Pistons are throwing so much at him that he's basically a rookie again. He'll get better. Of course, that doesn't include free throw shooting.
 
Kenneth Faried - Man, talk about buying low. On Friday he was benched for Alonzo Gee. Gees up, I guess.
 
Anyway, there's really no way the Nuggets are going to bench him again after he just got paid. Chances are his owner reached for him and he will obviously be willing to wait, but if that's not the case, see if you can get him cheap.
 
 
Sell high
 
Kevin Martin - He is actually going to be very good for the Wolves. Martin could be a top-50 guy, but the injury risk is just too great. 
 
Larry Sanders - The Bucks rotation is just too messy. They're running an 11-man rotation right now and it's going to result in too many inconsistent games.
 
Thanks to 3.0 steals per game in his last three and 2.5 blocks in his last four,  Sanders is really exceeding his fantasy value. Plus, he's shooting a fluky 71.4 percent from the line. Lastly for on the court stuff, he has five fouls in each of his last three games. That'll be a problem.
 
Sanders has also been hurt a lot in his career and he's had a couple close-call injuries this season. He's kind of a ticking time bomb and I'd rather cash out now if it meant top-60 value.
 
 
Jeff Green - He might be the biggest surprise of all. Despite ranking 16th in the NBA in minutes last season, he was barely a top-100 player due to horrible shooting.
 
He has caught fire from deep with 2.5 triples, which explains why he's a top-20 guy right now. On top of that, he's shooting 45.4 percent from the field. Green is getting a lot of clean looks and has been unreal off the dribble. Check out this season (top) compared to last season (bottom):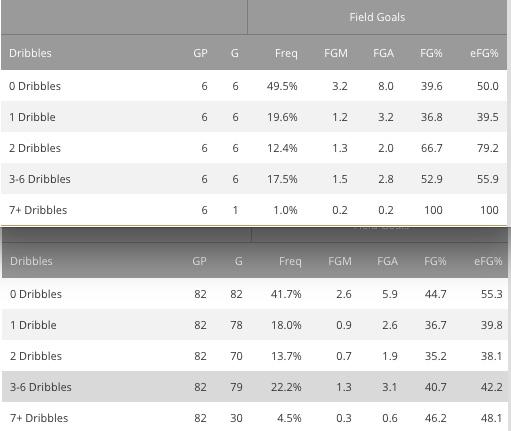 There's really no way this can continue, but he should at least be a little better. The Celtics as a whole are better on offense, so that should allow Green to be a more efficient player with less contested shots.
 
He's more of a top 50-65 guy than what he's doing right now.
 
DeMarre Carroll - Before Al Horford went down, Carroll was very quiet in the ATL offense. He was only scoring nine points per game despite getting 30 minutes per game.
 
Once Horford went down, Carroll's shots skyrocketed and it's a big reason why he was around 13 points with only a couple more minutes per game.
 
This year, he's still getting a similar amount of shots as the post-Horford 2013-14, which is probably not going to happen once Horford gets it going. Plus, Carroll also has 2.0 treys per game on the year at an unsustainable 47.6 percent from deep.
 
He's probably worth owning, but I'd happily unload him for a top-75 guy.
 
Amare Stoudemire - I hope I don't need to tell you to sell high on STAT, but here ya go anyway.