There sure are a lot of storylines to affect fantasy value. The trade deadline is heating up and the shut-down candidates are becoming even clearer.
 
When you trade away or for a guy, you have to take into account the team's plans. If they're not making the playoffs and they aren't a young "project" player, they could see fewer minutes. Younger players are also stashes on those bad teams, too.
 
Buy Low
Kyrie Irving - He really hasn't hit his stride yet, but the efficiency is really coming on. Check out his shot chart in his last four: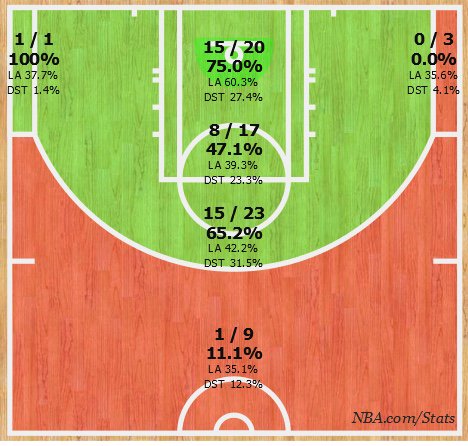 To put up a 61.1 TS% to get to 25.0 points per game with just 2-of-13 from 3 is pretty nice. Once those treys start falling, it'll be really nice for Irving's patient owners. His breakout from deep last year is why he busted loose in fantasy. Expect him to start getting really hot.
Derrick Favors - Here he comes. Favors is going to ditch his soft mattress and put up some firm numbers. In his last two games, he averaged 14.5 points, 9.5 boards, 5.0 blocks and 2.5 turnovers. The shooting numbers aren't great and he said there is some rust on his mid-range. Favors should be a top-20 player going forward as long as he's healthy.
Bradley Beal - He is shooting the ball well, but the steals, assists and treys are not up to snuff. I doubt Beal's owner would look to dump him, but maybe he's spooked of the leg issue. I'd probably try to get Beal in a multiple-player deal because Beal by himself probably will make the owner less likely to deal him.
Reggie Jackson - This could change in an hour, but I'd expect Jackson to have a bigger role while Kentavious Caldwell-Pope (groin) is out. The Pistons went with a Jackson and Brandon Jennings combo for 5.1 minutes last night, so there should be a few more minutes for RJ. He's been only a late-round guy in his last 10 due to poor shooting and high turnovers, so see if you can pluck him for top-75 value.
Mike Conley - He's been horrible in his last five. In that span, Conley averaged 10.2 points, 4.4 boards, 8.2 assists 1.2 steals and 0.4 treys on 34.9 percent from the field. The usage is way down and he's not making treys, so the scoring side has to improve. Conley's owner is probably in a bad mood after his Achilles issue. You can probably get him for like top-80 value. 
Jonas Nader is doing the sell-high list, but here's a quick one from me:
 
LaMarcus Aldridge - Hey, maybe we all should delete our Twitter accounts. Here is what his shot chart looks like since he deleted his account: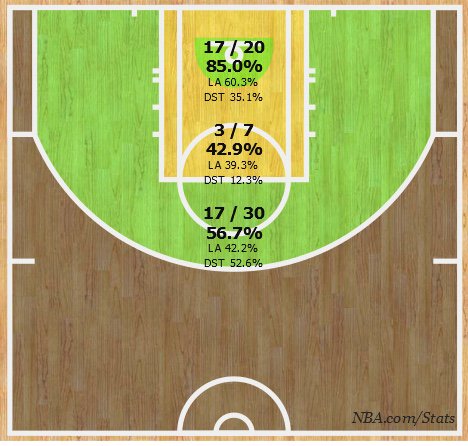 Wow, that's some great work around the rim and on mid-range. That's also not sustainable and this is coming without Tim Duncan (knee), so he's in his peak chance right now. He also put up an unsustainable 2.0 blocks per game to go with that 72.7 true shooting percentage. Aldridge was more of a mid-round guy before this outburst, so dealing him for top 30-40 value makes sense.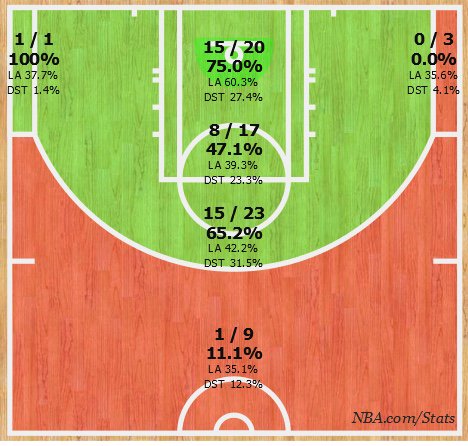 Sell-high players (Jonas Nader)
Jeff Green- This one should be painfully obvious. Green has been a top-10 player over his last five games, averaging a ridiculous 23.0 points, 4.8 boards, 1.4 assists, 1.6 steals and 2.2 3-pointers on 58.7 percent shooting from the field. You're kidding yourself if you think he can maintain that pace, and keep in mind that he is a candidate to be traded before the Feb. 18 deadline because he is on an expiring deal. Move him quickly.
Marvin Williams- He has been one of the biggest surprises of the season, but I still think his role will take a slight hit now that the Hornets are starting to get some bodies back in Cody Zeller, Nicolas Batum and Michael Kidd-Gilchrist. Williams has been a top-25 player over his last five outings with averages of 17.0 points, 7.0 boards, 1.2 assists, 1.0 blocks, 1.0 steals and 2.8 3-pointers, but you will have to be firm in trade talks because his name doesn't carry a lot of weight. 
Markieff Morris- Yes, I know it's only been one game, but Morris' 30-point explosion on Tuesday vs. the Raptors sent shockwaves across the fantasy landscape. The mercurial forward added 11 boards, six assists, two blocks, one steal and one 3-pointer in 41 minutes, and coach Earl Watson suggested that he wants to make him a focal point of the offense. To be clear, that could be true for the next couple of weeks, but there's no way that the Suns will keep him in Phoenix past the trade deadline. Morris has been a troublemaker all season and the Suns want a fresh start, so something has to give. A move away from Phoenix would likely be bad news for Morris unless he ended up on a team like Toronto, so it's not a bad idea to test the waters around your league to see what other owners are willing to give up.
Anthony Davis- He's healthy again and has played well in his last three, averaging 23.7 points, 11.7 boards, 3.3 assists, 2.3 blocks and 1.7 steals in 38.0 minutes per game. However, he is still very prone to injuries and the shut-down risk is still there with the Pelicans losing their last two games and sitting on a 18-30 record, so I'd move him in exchange for a top-10 player in a heartbeat. To be clear, I'd just be really nervous to own him down the stretch.