Let's start with some bad news. Eric Bledsoe is out "indefinitely" due to knee surgery. He had his meniscus partially removed, but the Suns could bring him back at some point. When I heard the news, there were two things that I took away from it.
 
The first was the signing of Leandro Barbosa. The team brought him on well before the injury news came down. That means it's possible the team kept his injury under wraps and made the move knowing Bledsoe was going to miss time. They shut him down, then the news of his meniscus tear didn't come until almost a week later. If you had your star player get shut down with a knee injury, would you wait a week for an MRI? Didn't think so. I hate to play devil's advocate, but Barbosa was so far off the radar, then he picked up some momentum as a player that signed. If you're Barbosa, the news of Bledsoe missing time would seem like a great opportunity. I don't know. It just seems so shady.
 
I probably wouldn't be bringing this up if it wasn't for the Knicks. They have been caught keeping injuries/surgeries under wraps. Anyway, it changed my perception on injuries. Basically, if a team signs a guy to a 10-day deal and it's as an insurance policy, the hurt player might be a little more hurt than the team is letting on.Obviously, this should be assumed 100 percent of the time.Just something to think about.
 
The other is how much this sucks to see another point guard go down to a knee injury. Bledsoe is going to miss a lot of time and the Suns are not going to be the same. He moved down to 97 in the Top 200 going forward.
 
Buy Low
 
Paul George - He's slumping right now. Over his last seven games, George is shooting just 26.2 percent outside of the restricted area (34.7% overall in that span). His bread and butter is the mid-range game and he's not burying shots at all.


This slump coincides with Danny Granger coming back, but it's creating a bit of a false negative. While I do think Granger makes the Pacers' offense worse and more stagnant -- and the stats do suggest that based on the lower offensive efficiency with Granger -- it shouldn't be affecting George this much.


Teams are closing out a little more on George's mid-range jumpers, so that could be an issue. He's still skilled enough to get to the hoop. I'd see if you can get him for early-second value.
 
 
Larry Sanders - Talk about a buy-low player, right? Sanders was ejected from Saturday's game for an elbow to Steven Adams. He's a troublemaker and there really is no way his season can get any worse. He's going for the holy trinity of disappointments: terrible play, injuries and being a knucklehead.
 
Still, blocks are gold in fantasy and there are few that can erase shots like Sanders. The Bucks have no help inside and John Henson's low-post game isn't developed enough to get him shots from the center spot on a consistent basis, so it would make more sense to play Henson at power forward a little more. Although, Henson's lack of a jumper is going to make him somewhat easy to defend.
 
Brandon Jennings - He can't shoot worth a lick these days. Jennings' shooting percentage on his jumper dropped to just 26.9 percent and he's only shooting 34.9 percent on his layups, which might be worse. Here's a look at his shot chart: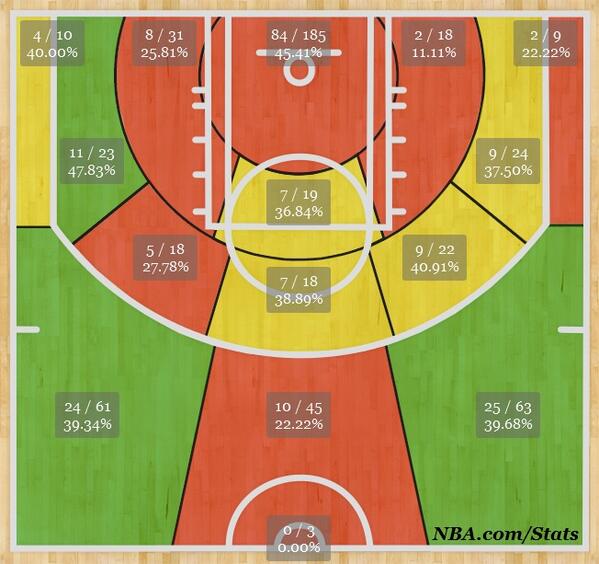 Now, I'm not going to tell you he's going to turn it around on offense, but there are a lot of other aspects to his game. He should get better and Will Bynum getting playing time can take some pressure off Jennings.
 
Bradley Beal - There are two things holding Bradley Beal back right now: shooting percentages and minutes. While those are two of the most important assets for a fantasy player's prospects, there are still some signs of life. It's also shocking how Beal is scoring the ball since returning.
 
In his 13 games back from injury, Beal shot 45.1 percent from beyond the arc and just 37.6 percent on his two-point shots.  He's improved so much this season. Here's a look at his shot charts from the past two seasons (this year on the left, last year right)"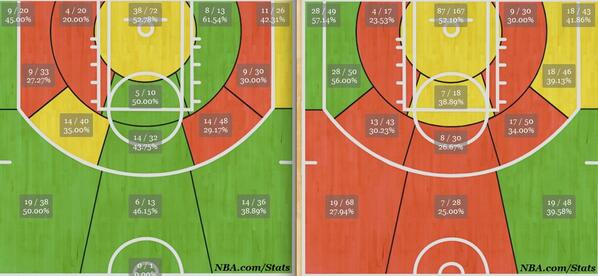 He's amazing from above the break and most of his mid-range stuff is better too. The Wizards won't be playing him 40 minutes per game like back in November, but 33 mpg seems reachable. I would love to try and buy low on him and you can probably get him at top-75 value right now.
 
 
Kyle Korver - This is probably the low point of his season. He's had five single-digit scoring games in his last seven. There isn't a chat that goes by without someone asking about a silly trade offer involving Kyle Korver. For some reason, people just don't realize how good he is. He's not a one-category guy and can add value all over the place. Of course, it does help he has a ridiculous shot chart: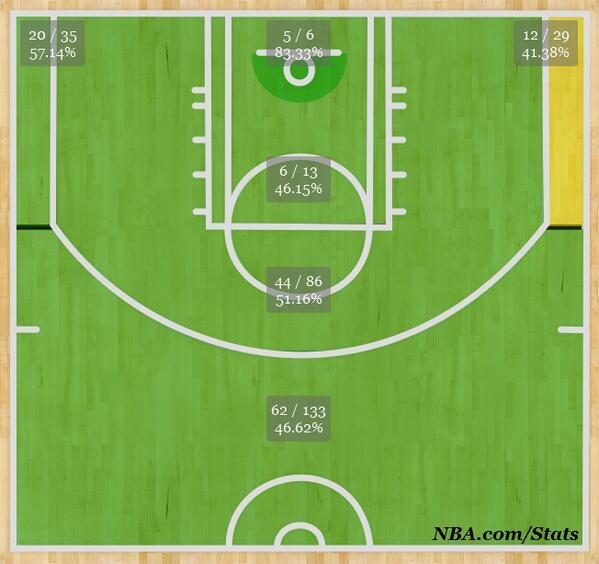 Korver is a stud.
 
Sell High 
 
Terrence Jones - To be clear, Jones is an absolute must-own player and he's putting up some mid-round value right now. He's really just a sell-high guy because he's not going to be this good. He is coming off a 19-point, 17-board game on Saturday and his last five have been great. Over that stretch, he averaged 11.6 points, 11.6 boards, 1.4 blocks and 0.8 steals in 30.8 minutes.
 
Greg Smith is back and that will change the way coach Kevin McHale will change his rotation. Jones has been part of the solution as the backup center.
 
Anderson Varejao - This one is all about the injury risk. Varejao's value is reaching its apex and he has yet to suffer an injury yet this year. He's played in more games this year (36) than any of his previous three.
 
Over his last 10 games, AV put up a 9-13 line with plenty of other goodies. Trade him before he gets hurt.
 
Joe Johnson - This one is obvious. When Deron doesn't play, Joe puts up big numbers. The Nets are hoping Deron Williams will be back for next week, so Johnson owners should expect a big dip. He's barely worth owning.
 
 
Pickups worth dealing away
 
Iman Shumpert - J.R. Smith got back in the mix on Saturday and the Knicks really have no choice to stick with him. The Knicks are going to try and trade him away and we all know that's not going to happen. That would be like trying to sell a Chevy Nova on Craigslist for $17 million over three years.
 
Shumpert is having a great start to 2014 with averages of 14.3 points, 6.3 boards, 2.5 assists, 2.2 steals and 3.2 triples on 52.6 percent from the field and 87.5 percent from the line. His value can't get much higher.
 
C.J. Miles - His minutes have dropped off to just 24.5 with Luol Deng around in the last two games. In his three previous games, CJM averaged 32.3 minutes per game. Even in the light minute totals, he blew up. That probably won't continue since he's not a efficient scorer.
 
Shaun Livingston - He's barely worth owning with only a one-game week on the horizon. Deron will be back soon.
 
Timofey Mozgov - I'm not sure if this is obvious or not. JaVale McGee will be back at some point
 
Kendall Marshall - He can pass and that's about it. Marshall ranks second-to-last in defensive rating behind Richard Jefferson (minimum= 26 minutes per game). The Lakers have been shredded badly in the past week and have a defensive rating as a team of 115.9 over their last four, which is almost 30 points above the top-ranked Pacers.
 
Mike D'Antoni doesn't care about D, so it's not likely to be a deal breaker for Marshall for the time being. Plus, it's not like Steve Nash can defend anyway. 
 
I would try to trade him away ASAP.
 
 
Pickups with staying power
 
Gerald Green - Eric Bledsoe is out and Green is now the second-best option on offense. It's hard to believe after such a disastrous year with the Pacers last season. He has to be owned everywhere.
 
Randy Foye - He's hot again. There are not many better shooters after the All-Star break, meaning Foye heating up early could be a dangerous scenario. I'm buying. Here's his shot chart over the last five: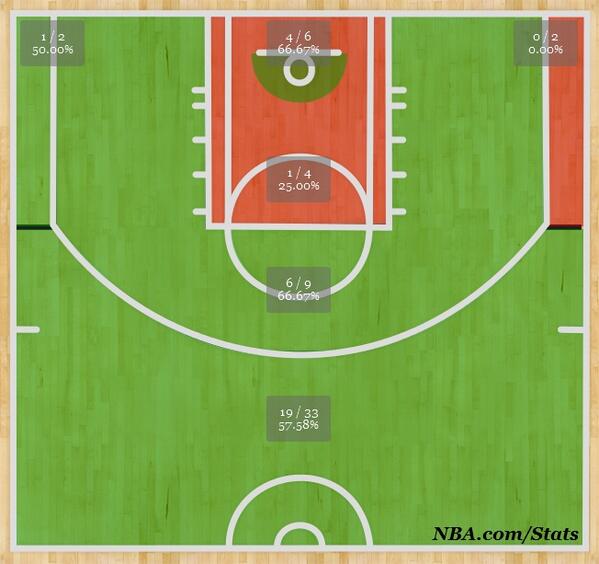 Darren Collison - He has to be owned, obviously.