Buy low
 
Jimmy Butler - His shot is totally off right now. Here's what his shot chart looks like over his last six games: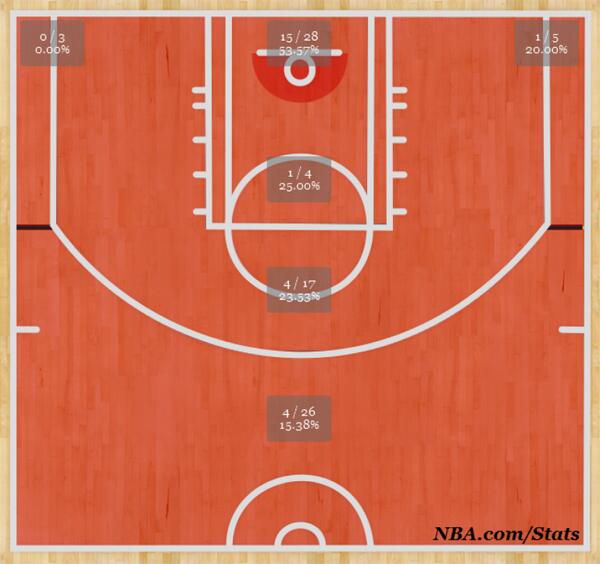 Over the course of the season, his shot chart is bad, but it's just not as pathetic as the one above. He's shooting just 25.1 percent on his jumpers on the year, but he's not really bad in any other aspect of his scoring. By comparison, Butler shot 31.3 percent on his jumpers last season, so he really shouldn't be this horrible.
 
Scoring aside, Jim-Bu putting up decent numbers. Butler has 1.9 steals per game and should be among the league leaders the rest of the way. He's played 44.0 minutes per game over his last six and should be close to 40 mpg than 35 the rest of the way. If you can deal with someone who will shoot 43 percent or so, Butler should be helpful.
 
Marc Gasol - His jumper is not falling right now. This season, he's made just 35.0 percent of those attempts, which is way down from the 44.0 percent from last season. Outside of that, he's more or less the same on his ways to score.
 
Actually, his usage rate is up from last season with a 22.9 percent this year compared to 19.4 percent last year. The Grizzlies defense has been a shell of itself this season with very similar personnel, which has actually helped Gasol's possessions per game go up by almost two. Even when Tony Allen comes back, his possessions per game have been higher than last year, too.
 
Gasol's minutes have been way down up until a few games ago, so the 32.4 minutes per game on the season is a little misleading.
 
Larry Sanders - His fouling has dropped quite a bit in his last five games with just 2.5 per game over 27.5 minutes. That is a huge increase from prior to that stretch, averaging 3.7 in only 23.9 minutes. Yes, that's a 7.4 fouls per 48 minutes. 
 
Sanders kind of solved his fouling issues down the stretch last year, but his blocks did go down. More recently, he was bumped to the bench and nothing is quite as unsettling to fantasy owners quite like one of their players getting bumped to the bench, especially in Milwaukee. As long as he gets minutes, he'll produce. 
 
Monta Ellis - His fantasy value is dipping and it has a lot to do with his free throw shooting. Ellis is shooting just 68.8 percent from the line in January and that would be his worst month in free throw percentage since March 2006 — his rookie year. On top of that, he's taking 5.5 attempts per game, so the low conversion rate is killing his actually value.
 
Free throw shooting is pretty much isolated. It isn't really affected by defenses, minutes or splits with other players. In other words, this free throw slump is just bad luck and he's going to snap out of it.  He doesn't really have anything else falling off outside of 3-pointers and his steals are up. If you can sneak him at top-40 value, you're golden.
 
Roy Hibbert - Well, after it looked like he wasn't going to have any more efficiency issues, he's having them in a big way right now. Here's what his shot chart looks like over his last 11 games: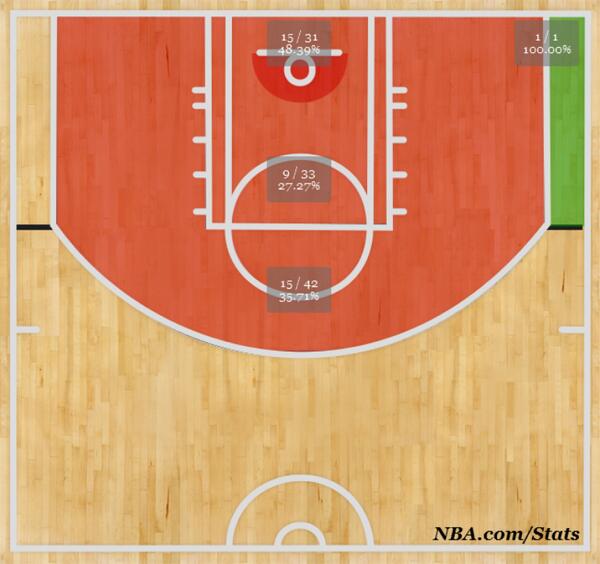 That's 35.7 percent in the paint, which doesn't even make sense. His hook shot has been the main culprit, making just 4-of-14 in this cold 11-game span. He's also just 1-of-8 on tip shots, so that's as bad luck as it gets. As far as the hook shots go, he was making 58.6 percent of those prior to this stretch. As for the tips, that's way down from his 11-of-23 before. He's on the short list of centers to try and get on the cheap. Plus, he was a beast in the second half last year.
 
Andrew Bynum - Just kidding.
 
 
Sell high 
 
Trevor Ariza - His last eight games have been a little crazy. In that stretch, Ariza averaged 13.8 points, 7.4 boards, 3.8 assists, 2.6 steals and 2.1 triples on 43.0 percent from the field and 92.6 percent from the line. This is really just about the law of averages. He really just can't keep this up. Not to mention, Ariza does have his share of injuries in his career.
 
If you can get him for top-40 value, do it. Although, I highly doubt you can get that done. You would probably have to work a multiple-player deal out to kind of cover up the sell-high factor.
 
Dirk Nowitzki - The Mavericks sat Dirk on Wednesday. That wouldn't be a big deal, but it wasn't on a back-to-back set. He's also slumping in his recently. Over his last seven, he shot 41.8 percent on mid-range, and 26.9 percent from beyond the arc. Those are the bread-and-butter areas for Dirk, so the slump might have been the motivation for sitting him down. That's a guess, obviously.
 
Anyway, there's really nothing particular to why he's a sell high. It's more based on the paradigm of older dudes just running out of gas. Dirk's game does translate to the type of player who can just keep it going because he doesn't bang, but the slump is a little concerning. He's still putting up first-round value on the season and I'd probably deal him for third-round value. 
 
Joakim Noah - He's a fantasy superstar in January. This month, Noah averaged 14.2 points, 14.8 boards, 5.4 assists, 1.8 blocks and 1.2 steals on 48.4 percent from the field and 75.8 percent from the line. There really is no reason to think he can't keep it going either. It's all about the injury risk. The Bulls are trying — and failing — in going into the tank and they're not going to play Noah at the first sign of trouble. He had his plantar fascia come to bite him last year and the high usage rate this year is worrisome.
 
Of course, if you're going to trade him, you should be asking for top dollar. Anything less than top 15 isn't enough.
 
Jameer Nelson - He's really hit on all cylinders this month, averaging 15.8 points, 3.6 boards, 7.8 assists, 0.5 steals and 2.5 triples on 42.4 percent from the field and 94.1 percent from the line.
 
His minutes were trending down a bit at the very end of 2013, but the loss of Nikola Vucevic has evenly spread out to almost everyone. Once Nik comes back, most of the Magic players are going to take a hit. Coach Jacque Vaughn likes Victor Oladipo on the ball and his usage hasn't really even come up yet and it's really just been his dimes. In 2014, VO has 4.5 assists per game; that's a big increase from his 3.7 per game in 2013.
 
The Magic are arguably the second-worst team in the NBA and will certainly be looking to trade away any asset they can. Nelson would undoubtedly take a hit on another team and his value really can't get much higher than it is right now.
 
 
Rudy Gay - This one isn't a sell high right now, obviously. Gay has an Achilles strain and it's probably going to lead to some tendinitis. Players tend to miss games over longer periods of time because of this ailment, most recently Luol Deng comes to mind. Andre Iguodala is another one from a couple of seasons ago.
 
Gay was putting up third-round value with the Kings thanks to shooting 54.0 percent over his last seven games. He was just hitting shots rather than missing them, which was the opposite of what happened in Toronto. So on top of the injury concerns, he should have a regression back to his sub-par shooting percentages.
 
If Rudy can get back into the mix in the next week, his owners might want to look to trade him about a week after once his value is solidified again.
 
 
Pickups with staying power
 
Kris Humphries - It pains me to say, but Hump looks like he's for real. He's actually sixth in among centers for total blocks in January.
 
Jodie Meeks - He's actually been a second-round value over the past two weeks. Meeks won't be this good, but he's going to have another good month of value.
 
Ryan Kelly - Coach Mike D'Antoni is about as predictable as the weather, but Kelly is getting some serious burn. If a power forward can shoot treys or block shots, he gets the benefit of the doubt in my book.
 
Randy Foye - He's shooting the lights out right now and that's nothing new. Plus, Foye has been a second-half guy.
 
Pickups worth trading away
 
Courtney Lee - Tony Allen isn't going to lose his minutes. The Grizzlies have really taken a major hit in defensive efficiency and that's a big reason why. Lee owners should expect a hit and I'd trade him away at all costs.
 
James Johnson - Ditto.
 
Kendall Marshall - The Lakers will get the cavalry back and he will lose a lot of minutes. Steve Nash isn't really a concern, but Jordan Farmar and Steve Blake are.