Let's just take a second to address the Lakers. Here's how I would rank the whole team based on fantasy value with some notes mixed in. To be clear, the only guy I'd say I'm a fan of would be Jodie Meeks.
 
Pau Gasol - His groin injury is not serious and the Lakers are likely just sitting him down to get him to 100 percent. Gasol has been fantastic before his injury and there's not much of a reason to get overly concerned about his value going south with all the trade rumors.
 
Jodie Meeks - He's such a stud right now. Coach Mike D'Antoni is moving him over to small forward just because he knows he can't take him out of the lineup. His owners should not be worried.
 
Steve Blake - He'll be used at both guard spots which should really help his value. Blake was outstanding before he went down with his elbow injury and the Lakers will get him his stats one way or another.
 
Nick Young - He's a bit safe compared to the other players and should still get his points and treys.
 
Ryan Kelly - The loss of Gasol for now means Kelly has most of the power forward minutes to himself.
 
Jordan Hill - If you want upside, you could say Hill is a better add than Young. Obviously, it's all risk.
 
Kendall Marshall - Most of his value lies in the thoughts of the Lakers making a trade. Marshall could still have another week of value, but he's obviously on the chopping block.
 
Kobe Bryant - All things equal, this is where I'd rank Kobe. Of course, if you're in first place in an H2H league, that changes things.
 
Jordan Farmar - His hamstring injury is going to keep his minutes way down.
 
Robert Sacre - He doesn't really block shots or do anything outside of score.
 
Wes Johnson - Meeks at the three really hurts Wes.
 
Chris Kaman - There are just too many injuries on Kaman to pick him up.
 
Steve Nash - Ditto.
 
Xavier Henry - Triple ditto? Oh, and he can't make shots from the field or from the line.
 
Manny Harris - He'll be cut.
 
Buy Low
 
Nicolas Batum - His fantasy value is kind of bottoming out and it's not for the reasons you'd think. Batum's blocks have dipped a little with just 0.4 per game over his last eight outings. On top of that, his shot from beyond the arc has really fallen apart, making just 26.1 percent from 3-point range. His 3-point percentage has dropped in every month this season.
 
The main question coming to mind here is about his left finger. After some digging, there really has been nothing in post-game interviews or anything about him dealing with that problem. His 3.3 trey attempts per game are very troubling, but they should be on their way up.
 
He still has third-round value in my eyes.
 
Damian Lillard - He could do no wrong back in December thanks to a superb shooting line of 44/47/89. In January, that dropped off to 42/36/88, which certainly isn't bad, but the 3-point percentage went down. He also attempted fewer shots from deep. Here's his shot chart from January (right) compared to December (left):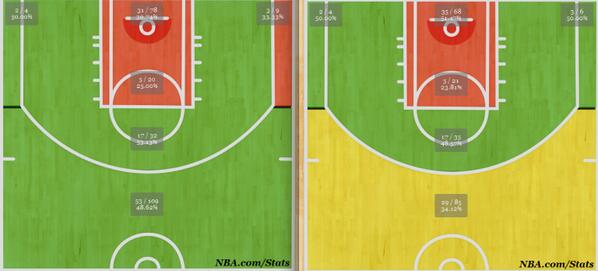 The one good thing about his shot chart is around the rim. Although, that was a product of fast break. In January, he scored 15.8 percent of his points on fast break vs. 8.8 percent in December. The Blazers get a lot of points in fast break, so that 8.8 percent from December is a huge fluke.
 
Lillard should get hot again and should be a considered as a top-15 guy.
 
Jonas Valanciunas - His blocking has evaporated in a big way and it's cost him some major fantasy output. Despite playing 26.9 minutes, he only blocked 0.6 shots and stole 0.2 per game. Basically, he's Zach Randolph with 10 less points per game, which is not good.
 
The good news is he's keeping his fouls down and the Raptors are going to him more on offense. He's scored 16.4 points per game on 58.2 percent from the field.
 
Kawhi Leonard - I can't believe so many people are cutting him. Kawhi was putting up third-round value before going down and the Spurs are not the same without him. Most players with hand injuries tend to hit the ground running upon their return, so I wouldn't expect an adjustment period.
 
Plus, the Spurs are going to rest some of their older players, which should drive up Kawhi's usage rate.
 
Amir Johnson - Amir's ankle is making a bit of a false negative on his value. His past two games have been a disaster and the terrific play of Patrick Patterson has exaggerated how bad Johnson has looked. 
 
He's shooting the ball well from the field and from the line, so his upside would be great as long as his minutes come along. It's a bit unfortunate to see coach Dwane Casey go with Patterson in some clutch spots, but Amir should be fine. 
 
Trey Burke - He's bad right now. Like, really, really bad. Here's a look at his shot chart over his last 13 games: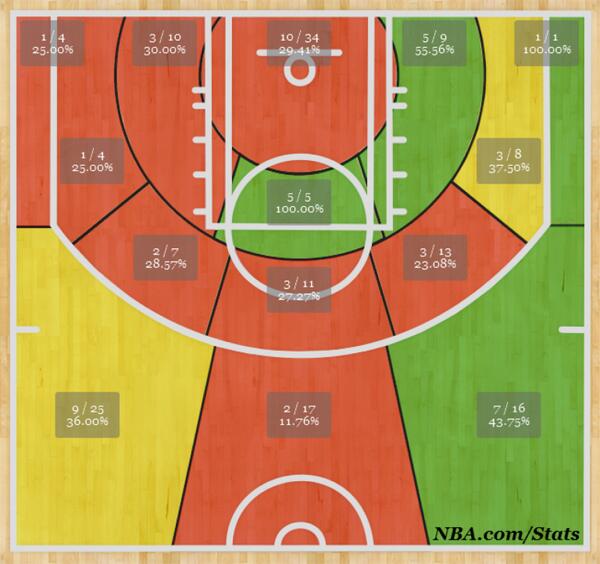 Man, those shots within eight feet are horrible. We knew he was going to be bad around the basket, but not this bad. Of his 34 shots within eight feet, only 21 were within three. He needs to stop shooting those little floaters, which has really hurt him. Burke also shot 30 percent on his mid-range shots in that span.
 
This is just a buy-low chance because his value is so low. He's not going to shoot 34 percent on the season like he did over this aforementioned span. It should be more like 38-40 and hopefully he'll live up to his name and start hitting some more treys, too.
 
 
 
Sell High
 
Andrew Bogut - Believe it or not, Bogut is putting up first-round value over the past 14 days on a per game basis. He's been horrible at shooting free throws all season and hasn't made a free throw in 2014 yet, but teams might be looking to foul him. 
 
Bogut always seems to get hurt, but I have to admit he's not as reckless as he once was. His contested rebounding percentage is 37 percent, which is pretty good, but it's not at an elite level like Andre Drummond or Joakim Noah.
 
If you can deal him for a top-40 guy, you would be helping yourself.
 
 
Tyson Chandler - He has a shoulder stinger right now and it's not a concern. However, Chandler has a laundry list of injuries over his career. His past three seasons have been somewhat healthy ones, but there is a sense he's going back to his old ways.