Buy Low
 
Paul George - Yeah, we're going to tackle Paul George again.
 
In 2014, he's shot 35.1 percent on his mid-range attempts and 26.0 percent on all of his jumpers, which is well below his 45.3 percent on mid-ranges and 35.6 percent on jumpers from back in 2013. What's more he shot 67.0 percent in the restricted area before Jan. 1, and now he's at just 56.4 percent in 2014. If you're into pictures, here's his shot chart: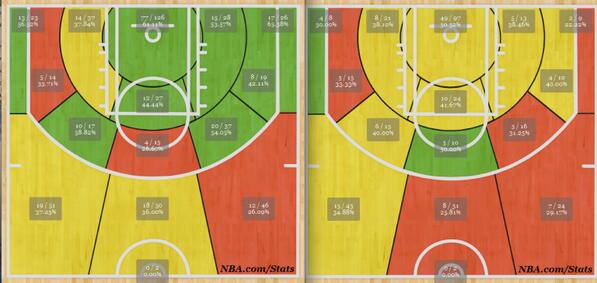 The big issue is on the right side of the court. Of course, inside of eight feet has really dropped off, which can be attributed to him not finishing at the rim. He's been struggling in post-up a little more, also had fewer points in transition and has been blocked more. His 3-pointers have really dropped off and he's getting less shots.
 
The Pacers have a bit of a cake walk for the rest of the month and it's only a matter of time for George to get it going again.
 
Jeff Teague - He came pretty close to hitting rock bottom on Saturday night. Teague did not play down the stretch in favor of Lou Williams in a close loss. The point guard has really been off his game since returning from injury in his last five. Here's a look at his shot chart: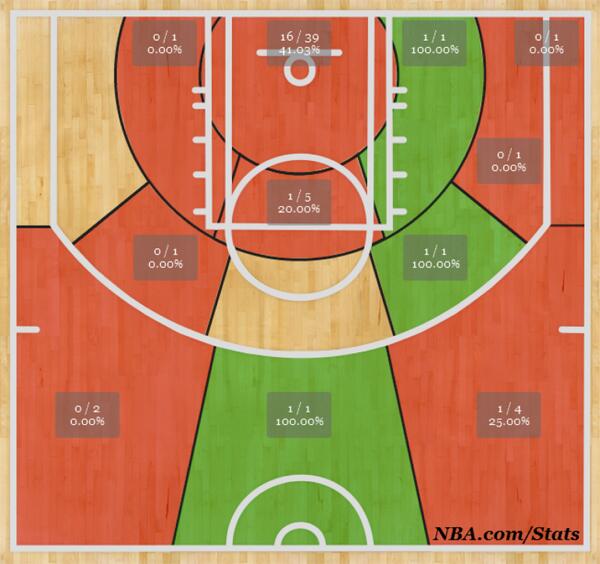 The strange part is that he's getting good shots. He's taken 68.4 percent of his shots from within eight feet, which is elite for a point guard. Teague has been roasting guys on the perimeter and maybe he just needs to use Kyle Korver more on the weak side as opposed to play side to limit the help from coming as much. Mike Scott as a stretch four could also help open things up. 
 
Coach Mike Budenholzer has some good schematic setups and hopefully can get his point guard some more uncontested looks at the rim. He's an easy buy-low target.
 
Klay Thompson - His shots from inside the arc have been the problem. Klay made a higher percentage of 3-pointers than 2-pointers in January. Here's his shot chart from 2014: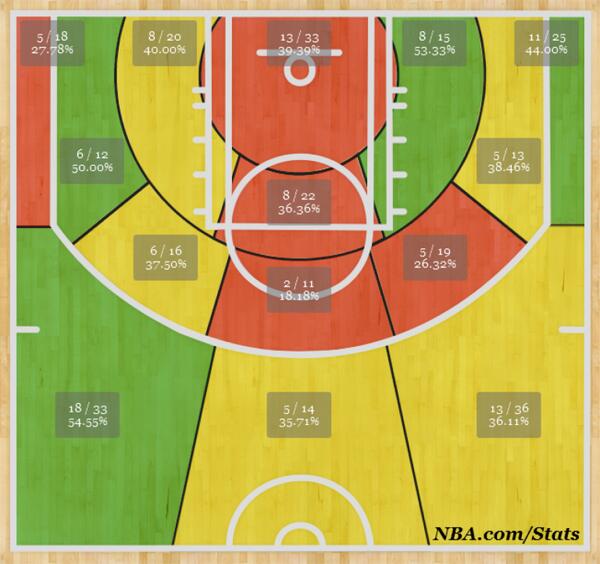 He's really struggled inside of eight feet, which has been a strong suit of his game for a while now. Thompson really showcased his ability to get to the rim in the preseason with how teams aggressively close out on him — justifiably so — so he should get it going very soon.
 
 
Sell High
 
Paul Pierce - The sell-high window got a little smaller after Sunday night with his nine-point game in 17 minutes. Pierce played great while the Nets were shorthanded, but things will undoubtedly go south now that Deron Williams is back. If you can dump him at sixth-round value or less, go for it.
 
Kenneth Faried - The stats are there — and we'll get there in a second — but he's horrible. The Nuggets have no idea how to defend and a lot of it is because of Faried. The funny part is Brian Shaw's former team, the Pacers, are one of the best defensive teams in the NBA based on scheme and help defense, so it's a bigger knock on the Nuggets more than anything. To take this tangent even more off point, J.J. Hickson has been terrible on defense, as well.
 
Anyway, Faried's numbers are looking pretty good. Over his last nine, he's averaged 12.8 points, 7.4 boards, 1.4 assists and 1.4 blocks on 57.3 percent from the field.
 
I just don't see him earning his playing time with the way he's playing defense. It's cost him minutes before and it's likely to do it again. He should be available for almost anything.
 
Brandon Jennings - A new coach is always fun and Jennings is currently playing well. Let's address his play first with the shot chart of his last four games (left) vs. his season (right):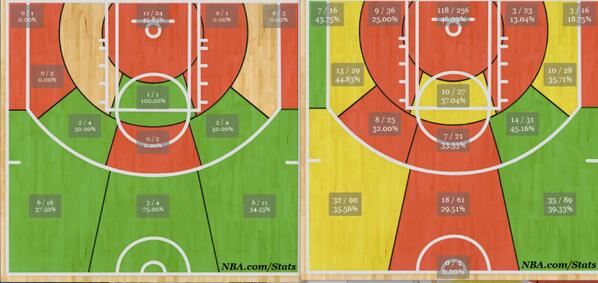 It's pretty obvious his recent outburst — by his standards — of 43 percent over his last four has been due to knocking down his 3-pointers. Jennings doesn't get many wide-open looks on the perimeter because the other guys on the court are not adept at kicking out to shooter. Plus, Jennings is not active without the ball whatsoever.
 
On top of the improved scoring, his stats are pretty solid in other areas. Jennings has 2.0 steals, 4.3 boards and 9.5 assists over his aforementioned four-game span. In simpler terms, this is problem the high point of his season to date.
 
So how does a new coach affect his output? Well, John Loyer is a defense-first coach and has been Cheeks' man for a while. 
 
 
Kevin Durant - Just kidding.
 
 
Request Lines
 
Rajon Rondo - He really played well on Sunday and the Celtics clearly are going all out with regards to giving him minutes. It's almost shocking to see how much the Celtics are playing him. I don't think he's going to be able to keep this up and is a huge injury risk. Rondo is likely near his apex in value already.
 
Kyle Lowry - The trade deadline lurking makes him an interesting sell-high player. If Lowry does get dealt, it will likely destroy his arguably top-15 value right now. The Raptors are in the mix and really have a good shot at making the playoffs. If you're going to pull the trigger, it should be for third-round value at the very least.
 
Jared Sullinger - Sully went off on Friday for a career-high 31 points with 16 boards and he's rolling. Over his last four, he averaged 23.8 points, 13.8 points, 1.5 blocks, 0.8 steals and 1.0 triples. He's going to go off the rest of the way and I wouldn't be selling high unless it's for top-50 value.
 
Jamal Crawford - He's been on another level and he's obviously a sell-high player. Of course, in order to sell high, you need a patsy to fall for it. Crawford's value is likely going to be in the 60-90 range the rest of the way.
 
Blake Griffin - His usage rate should take a bit of a dip with Chris Paul, but it's hard to call him a sell-high because of it. If you're looking to deal him, third-round value seems fair. If that price seems low, it's because of his regression in free throw shooting.
 
Jonas Valanciunas - JV still hasn't hit on all cylinders yet, especially on defense. The good news is he's doing well on offense. Valanciunas has scored 14.8 points per game over his last 10, shooting a very impressive 57.9 percent from the field. 
 
He's also seen his minutes climb to 28.0 per game and the Raptors have been running more of the offense through him. The team said they were going to run their offense through him in the summer, so there should be more of this on the way. JV is one of my guys.
 
Luol Deng - While he is a buy-low player to some degree, I don't consider him a buy low unless it's at an extreme discount. He's only really getting action in isolation and his field goal percentage looks like it'll be in trouble. Plus, his Achilles issue should be a recurring issue.
 
Danny Green - Everyone knows about Green by now. He'll have one good game, then three bad ones.
 
Larry Sanders - If his owner is really panicking, Sanders is worth a basement bargain price.