Editor's Note: Rotoworld's partner FanDuel is hosting a one-day $110,000 Fantasy Basketball league for Friday night's games. It's $25 to join and first prize is $12,000. Starts at 7:30pm ET on Friday. Here's the FanDuel link.
Amir Johnson - When he gets going, he's an elite fantasy asset. Hopefully his ankle is OK (he sprained it a bit on Thursday).
Khris Middleton - I would say he's the second-best Buck to own in fantasy.
Timofey Mozgov - It's not too far-fetched to think Mozzy can go 10-8 with 1.5 blocks. That's solid considering his percentages.
Greivis Vasquez - Everything worked out in his favor tonight. He's a nice pickup.
O.J. Mayo - He's just a 3-point shooter, so that means the FG% is not going to be nice and he teams are really going to close out on him quickly on kick-out passes.
Ramon Sessions - The Bucks are not going to get him enough space to make 3-pointers, so he'll only be a points, dimes and steals guy. His free throw output is kind of negated by his field goal shooting.
Jeff Adrien - His presence is kind of hurting John Henson. Yeah, I don't think anyone saw that coming.
Danny Granger - Yeah, I'm not interested. I'm probably the low man on Granger compared to the Rotoworld team of Doc A, Bruski and Knaus. Here's his shot chart.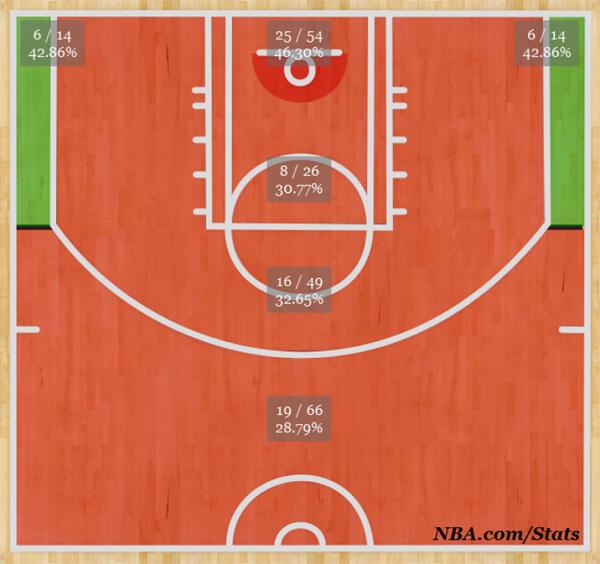 Trevor Booker - He looks like he's a little hurt. Booker played just 21 minutes in a triple-overtime game.
Chris Singleton - He'll go away once Kevin Seraphin comes back.