Wednesday was nuts, you guys. There are a lot of wild rotations these days, so let's take a look at some of them and what it could mean going forward. We'll also do some buy-low, sell-high stuff tomorrow for those who haven't seen their trade deadline pass yet.
 
Boston's lineups in their last two: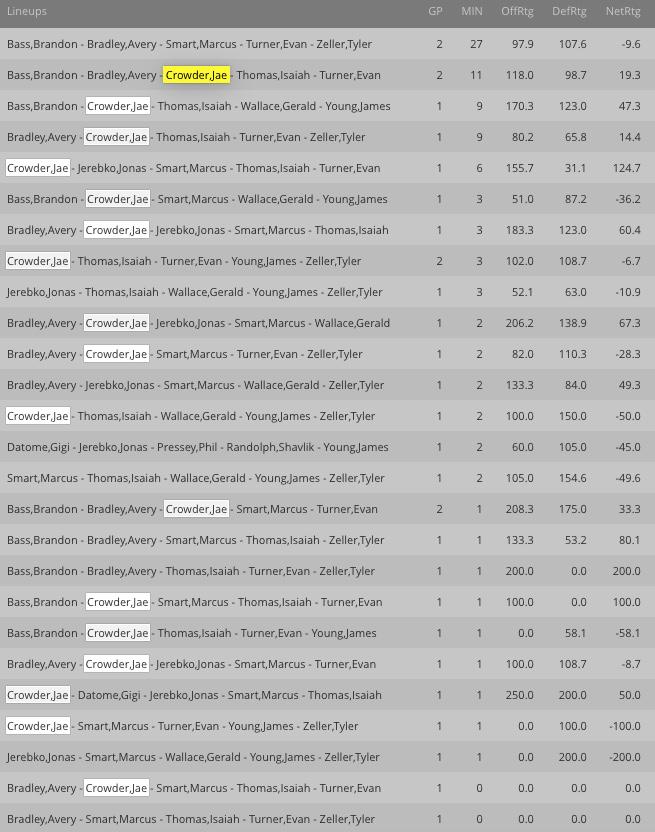 The big thing here (in case that highlight feature wasn't clear) is Jae Crowder at the four. He is logging a lot of minutes there because the Celtics have no depth. However, Kelly Olynyk should be back soon and it looks like Jonas Jerebko has earned himself some minutes. I'd guess about 12 minutes for KO come from Jae, which is bad news bears for his fantasy value. Brandon Bass will probably lose about 7-8 minutes, as well. Gerald Wallace should lose most of his playing time. Zeller will probably see a 5-6 minute decrease. That accounts for about 25-28 minutes right there, which seems like a fair expectation for Olynyk.
 
Isaiah Thomas and Marcus Smart are also logging minutes next to each other. That's important for Young's fantasy value. However, he's really cooled off and having the ball less is going to hurt him. He's more of a 16-team guy now. It's also worth a mention coach Brad Stevens used a IT4-Smart lineup next to Avery Bradley for four minutes.
 
Nuggets lineups from last night: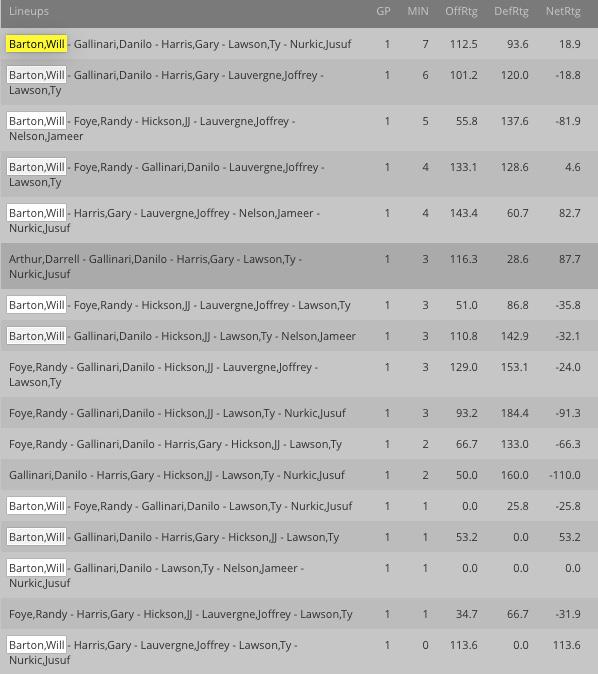 Holy cow that's a wild rotation. Will 'The Thrill' Barton logged serious minutes because of the injury to Darrell Arthur. Danilo Gallinari also logged huge minutes at the four, too. 
 
Before we get to the healthy guys and what their outlook looks like, let's go over the injuries. Kenneth Faried (thumb) and Wilson Chandler (hip) probably won't miss much time. Jusuf Nurkic is going to miss a lot of time due to a lateral ankle sprain and I'd guess Darrell Arthur is out for a bit, as well.
 
So with the versatility of Gallinari right now, you'd think he's a lock for 30 minutes. However, I would wager he has knee soreness because of the sudden ramp up of minutes. He's still worth a look in standard leagues and probably should be grabbed. Barton's value is tied to Wil-Chand, so it's hard to add him with Chandler hoping to play Friday. With Arthur and Nurkic out, Lauvergne looks like a decent add. I don't think the Nuggets care about J.J. Hickson much.
 
Here is the Suns lineup from last night: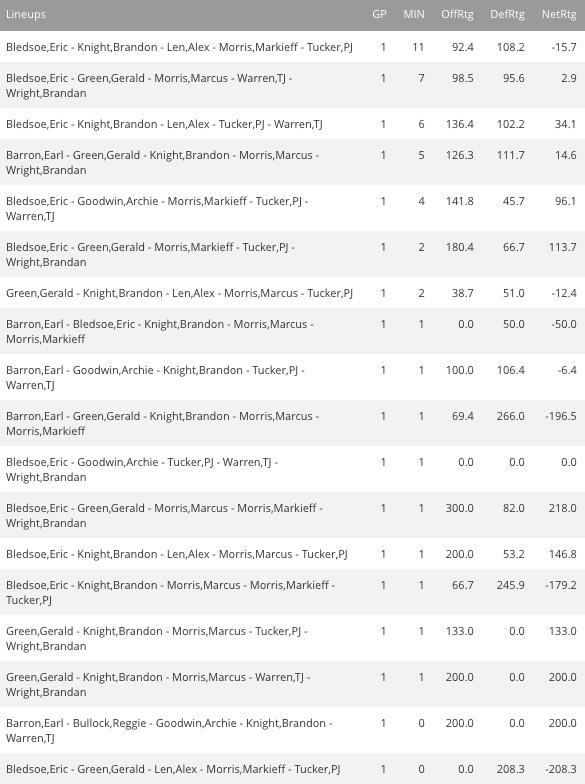 Ugh. The minutes on the wing are extremely unclear. P.J. Tucker also played a lot of minutes at power forward with Markieff Morris essentially benched. That allowed us to get 20 minutes of T.J. Warren. Markieff is fine, so his fantasy owners shouldn't worry. He's just missing jumpers. Don't worry. Also, P.J. Tucker is almost a must-own player right now. Brandon Knight and Eric Bledsoe are also good to go. Alex Len is a beast.
 
Besides that, it's a total mess. Still, we have four guys with clear roles, so why even bother in fantasy for the fifth guy? If you do, Gerald Green seems to be out of the dog house. He's great per-minute, but the Suns just aren't playing him consistently. Marcus Morris is also getting less run compared to last week.
 
The Bulls rotation from last night: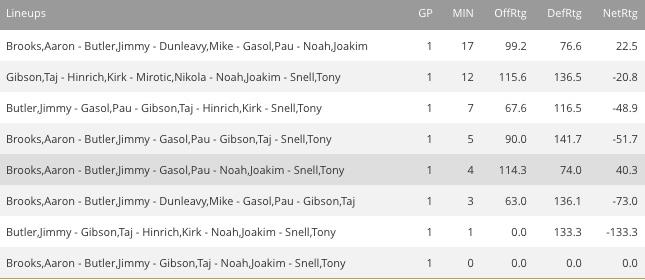 That's a tight rotation right there. Coach Tom Thibodeau usually has a tight rotation, so that shouldn't surprise us. The big news here is 12 minutes of Nikola Mirotic at small forward. If he get can find a way to get that number to 15, he's on the radar in standard leagues. Plus, any injury to a frontcourt guy is huge.
 
Aaron Brooks played 28 minutes, which is huge. If he's there for good, he's a must-own player. Kirk Hinrich probably won't play much more than 20 minutes because Thibs said he thinks he's not capable of playing big minutes anymore.
 
If Brett Brown's rotation last night was a blackjack hand, it would have busted. 22 lineups last night. Oh man: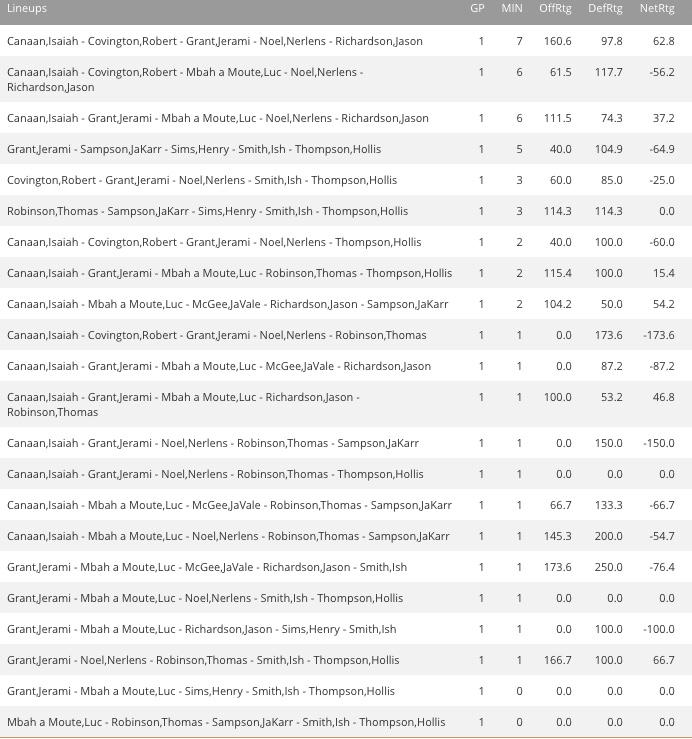 Where do we begin? First and foremost, we have to mention that Robert Covington was basically benched for two quarters. I would not worry about Covington at all. He's their best offensive player and it's not close.


Jerami Grant came on last night with his most minutes ever at 33. He won't play that much, but I think he's set for around 26-28 now. Give him a look in 14- and 16-team leagues, especially points formats. Jason Richardson was great and scored 16 points, but beware of the rest and injury.


Isaiah Canaan has his job locked up and should play 30-34 minutes. Nerlens Noel is obviously safe. We'll see what happens with Thomas Robinson, but he might be an interesting DFS/points guy.


The Knicks are a joke. Here is their rotation from last night.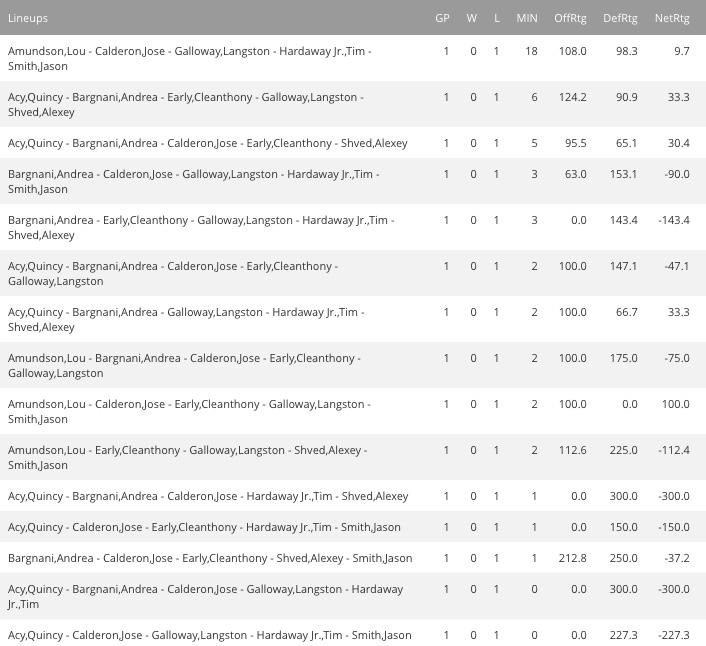 Yikes. Jose Calderon was hurt in the fourth quarter, so we're going to see a lot of the Alexey Shved-Langston Galloway backcourt. Yes, this is for real, Knicks fans.


Tim Hardaway Jr. seems like he'll get a lot of run. Lance Thomas was out, so that explains a little bit here. Cleanthony Early should have more of a chance, too.


Believe it or not, Andrea Bargnani led the team in usage rate last night at 30.7. He's going to be the primary weapon on offense, which is a cruel punishment to their fans. He's actually on the radar in fantasy leagues. I would never add him, though. I'd rather have Michael Beasley or Henry Walker.


We'll be back tomorrow with the Buy Low, Sell High stuff. Also, shoot me a tweet @MikeSGallagher for guys you're curious about and I'll cover them. Thanks!