Well, it was nice knowing Kevin Durant this season. The reigning MVP and best isolation scorer in the NBA is out for the season. After finishing the year as the No. 1 player in fantasy five consecutive times, he's almost a lock to finish outside of the top 100 for this season (currently 96th). He'll likely finish with averages of 25.4 points, 6.6 boards, 4.1 assists, 0.9 steals, 0.9 blocks and 2.4 treys on 51.0 percent from the field and 85.4 percent from the line. Sadly, he can be cut in most leagues.
 
So what now? It's going to be a lot of Russell Westbrook and he may have a chance to break the single season record for usage rate. He's only 0.4 behind Kobe Bryant now, but his usage rate has actually dipped in his last two games. The good news is that Enes Kanter will be back for Sunday, so he should be very good.
 
We know what to expect from Westbrook, but how about the rest of the guys?
 
Here's a look at the OKC lineups used from the last three games: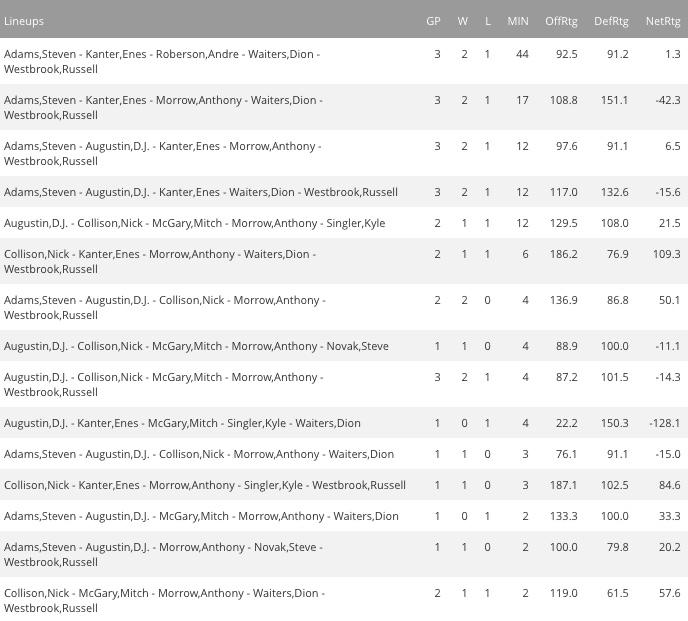 To take it a step further, here are the lineups since Sunday with Westy and Adams while Kanter is on the bench.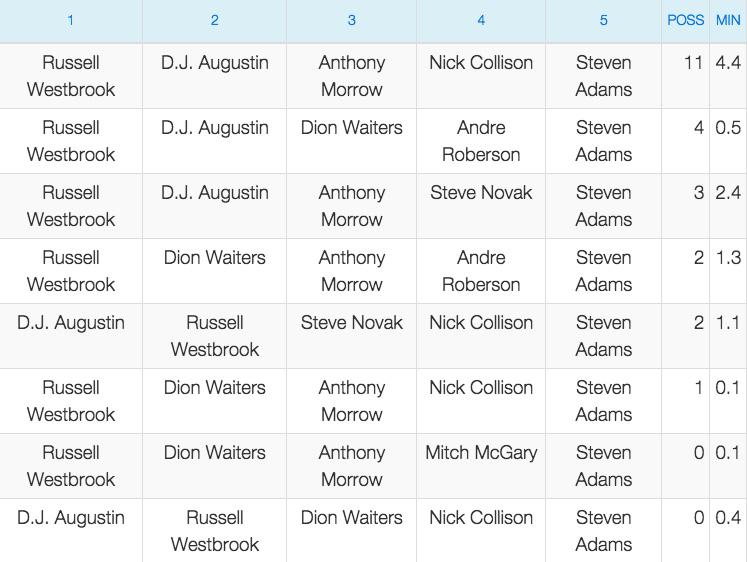 Yikes.
 
Let's take a look at it player by player for minutes and usages in the last three: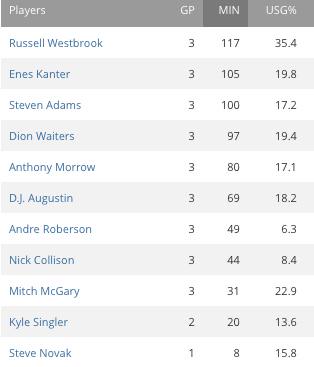 Steven Adams - This man is going to put up numbers. We can probably expect him to hand double-doubles with a couple blocks going forward. He might be a top-50 guy. Add him right meow.
 
Enes Kanter - We'll see how his ankle is, but you'd think he'd be less than 100 percent.
 
D.J. Augustin - He should get more minutes at combo guard and as the backup PG. DJA might have the highest ceiling on a nightly basis, but he will have several bad games mixed in. If you need dimes, give him a look.
 
Anthony Morrow - He is a great system fit for Westbrook as a floor spacer. Morrow dropped 20 points his last time out and could be a good bet for 2.5-3 treys per game.
 
Dion Waiters - He'll get the shots, but he's going to have too many 2-of-12 lines for me to add him in most leagues. Plus, he doesn't do much else.
 
Andre Roberson - He will play more, but he just doesn't have a high enough usage rate to grab in most leagues. Roberson is also going to take minutes away from Kyle Singler, who has a higher fantasy ceiling.
 
Perry Jones - He'll get some minutes at the stretch four if Kanter is hurt, but he's not going to take shots. Jones really missed his chance to shine earlier this year with his leg contusion.
 
Jeremy Lamb - You have as many FGMs as Lamb in the past three weeks.
 
Nick Collison - He's out for 10 days, so that means we'll get more out of...
 
Mitch McGary - He's a capable rebounder and scorer, but he looks like a baby calf on defense. He's probably only going to be an 8-10 guy until Collison gets back. I'd grab someone else.
 
Steve Novak - He might be good for one Aaron Rodgers celebration per game.
 
Russell Westbrook - He'll be fine.
 
 
Now it's playoff time just about everywhere. If you made it this far, you need to take some time on Sunday to figure out your plan. If you're in a league that allows transactions for the day of (meaning if it's 9 am on Sunday, you can still make moves for your Sunday lineup), you have slight advantage. Although, you'll absolutely want to make a move now before your acquisitions count for next week.
 
I was thinking on Thursday night that this year is unlikely any other. Personally, I'm in a weekly playoff matchup and it's close. I had 10 active player spots and 10 guys ready to go. However, there are just so many possible guys that could rest that I picked up a guy just as an emergency because I saved my moves. Jeff Green is on my team as an emergency for today and he also has a game for tomorrow, as well.
 
We discussed this last week and how important it is to keep track of the road-road back-to-back games, so check that out. I also looked into that in Use It or Lose It, so check that out.
 
Here's a look at some of the trouble games for teams on a road-road back-to-back along with the teams in those sets in home games:
 
Monday:  Minnesota (Rubio and Co. might miss this one), Washington (I'd be a little careful here)
 
Tuesday: Toronto, Miami (VERY important game, so should be fine), San Antonio
 
Wednesday: Indiana, Miami (VERY important game again), Portland (Stotts says he's not sitting guys), Oklahoma City
 
Thursday:
 
Friday: Golden State (someone is sitting this weekend), Minnesota (not b2b, but they could sit guys), Portland
 
Saturday: Golden State (this game is much more likely), Atlanta (they might have clinched), Oklahoma City, Denver
 
Sunday: Oklahoma City, Houston, Minnesota, Memphis