Dwight Powell - He's kind of a must-own player.
Avery Bradley - Pick him up if he was dropped.
Manu Ginobili - One of the best low-minute players in the NBA. Coach Pop special.
Mario Chalmers - SUPER NINTENDO CHALMERS. Maybe the team change can get him going. So far, so good.
Meyers Leonard - He is taking shots, so maybe he's not out for the season after all.
Robert Covington - Sauce stinking it up helps Cov.
Lou Williams - Pretty good chance he was dropped, but he's been really bad this month before the solid Monday. 
Jeff Green - Not a good upside guy, but that's three pretty impressive games.
T.J. Warren - SCORIN' WARREN! Check out his shot chart in his last four: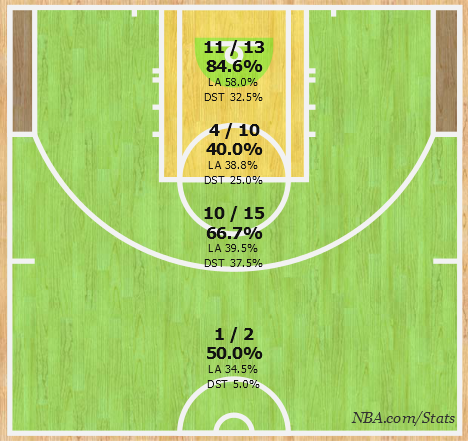 C.J. Miles - I'm not a Miles guy because he's such a roller coaster.
Taj Gibson - He's been the second-best CHI big.
Alex Len - Baby steps. We gotta see him do it with Markieff Morris back, though.
Noah Vonleh - He probably has the inside track for the most PF minutes, assuming Leonard is out.
Mirza Teletovic - You'd think Markieff comes back soon.