Editor's Note: Rotoworld's partner FanDuel is hosting a one-day $80,000 Fantasy Basketball league for Tuesday night's games. It's $25 to join and first prize is $9,000. Starts at 7pm ET on Tuesday. Here's the FanDuel link.
Yuck. What a mess on Monday. We had the Rosie Perez Bowl in Philadelphia and it was as messy as you'd expect. Here's a look at the lineups from that funniest game of the year: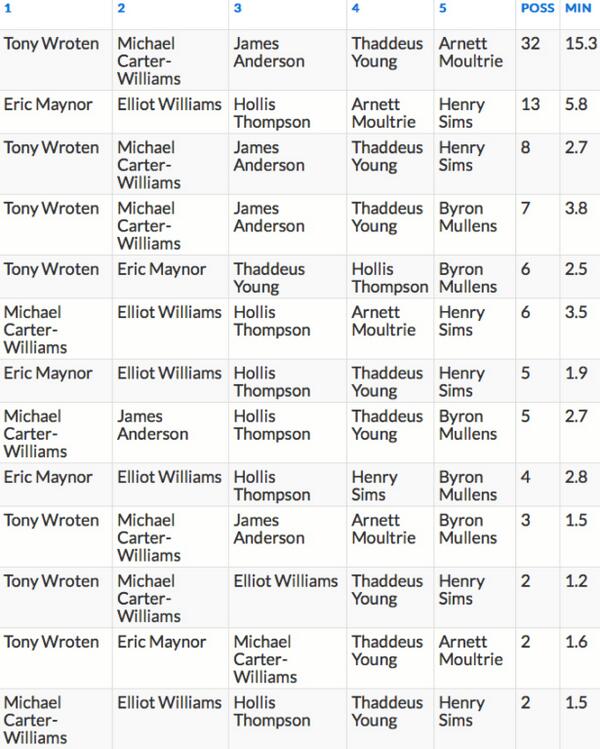 Bucks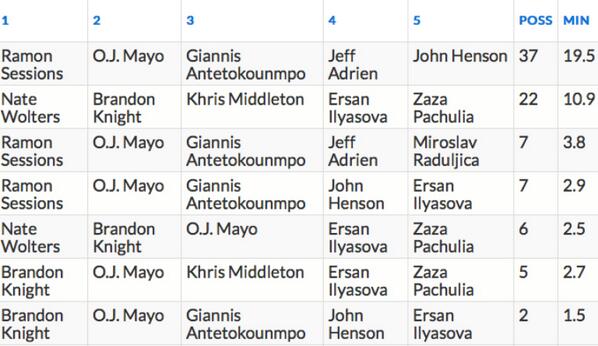 Fun stat: The Knicks are the 2nd team this season to go 50/40/87 on percentages (FG/3P/FT) and lose (OKC to ORL on the Tobias dunk game).


Derrick Favors - I saw some questions about him being cut in the chat today. Dumb. I know.


Giannis Antetokounmpo - You know the deal. He had 13 points, six boards, four assists, four blocks and one 3-pointer. I'm saying.
 
James Anderson - He hasn't busted loose yet, but he had 13 points with three treys. That's gold.


Tony Wroten - He's shooting a lot better and I think coach Brett Brown told him to go nutso on the shots at the rim. I'm paraphrasing.


O.J. Mayo - If a guy hits just 3-pointers all night, that's usually a fluke. He can't do anything else and can't score on his own. The Sixers have the worst 3-point D in the NBA. 


Matt Barnes - He has some nice value over the next three weeks.

 
 
J.R. Smith - I'm not the biggest J.R. fan, but he's getting minutes. He is getting more shots again and the Knicks need help for Melo. It's also probably time to start talking about what happens if coach Mike Woodson gets fired.
 
Ramon Sessions - He's a great fit. As a Wolters owner, there is a lot of concern here. I'm kind of buying Sessions.
 
Kelly Olynyk - The Celtics did not need to guard DeMarcus Cousins and it led to big minutes from KO. I'm not a huge fan of adding him. It's going to be a matchup fest.
 
 
Vince Carter - This is what he does. He'll have his big game on occasion and will fall off. There's little resin to add him in shallower formats.
 
Tim Hardaway Jr. - The Knicks are going back to his catch-and-shoot ways, but it hasn't translated yet. There should be better games ahead.
 
Jeff Adrien - I'm kinda buying and it actually makes a lot of sense for the Bucks to give him some run. He's a great presence on the glass and the Bucks don't take good shots. Adrien finished with six points, 10 boards, one steal and one block. It did come in Philly, though. Yo Adrien!
 
Byron Mullens - Not a bad line for Mullens, but it was garbage time. Moultrie is so bad. Sooooooooooo bad.
 
Brandan Wright - He's got the offensive side down, but where are the blocks? It's really hurting him.
 
Alexis Ajinca - He went off, but he's kind of done it before.
 
Amare Stoudemire - He only played 20 minutes in the start and it didn't go well. He's not worth owning in almost any league.
 
Henry Sims - Sure. First guy off the bench.